Chapter.One of Materia – Cosmic Gate's planetary new artist album, is available for download!
---
Cosmic Gate is off to a great start in 2017 with their new artist album release Materia Chapter.One available now. The nine recordings are filled with impressive collaborations including the lead single "Fall Into You" featuring JES, "Edge of Life" featuring Eric Lumiere, and "Dynamic" featuring Ferry Corsten. Each track has the signature Cosmic Gate melody and bassline that you have come to expect from the duo. Fans of "Wake Your Mind", Nic & Bossi's previous artist album, will want to add the Materia album to their Cosmic Gate collection today!
The album flows beautifully because of the dynamic tracks that it features. While there are pounding club tracks with basslines that you'll fall in love with, the album stands out with tracks such as Fireflies featuring Julie Thompson. It features the perfect harmony of Julie's voice paired with the haunting chillout trance you won't hear on main stage. Cosmic Gate's Materia Chapter.One is a true artist album and feels like a piece of art that was given much thought from start to finish.
The full album is available now for purchasing or streaming through your favorite portal, including Spotify and iTunes, click here for streaming options!
Stream Materia – Chapter.One on Spotify:
---
Cosmic Gate – Materia – Chapter.One Tracklist:
Cosmic Gate & JES – Fall Into You (3:27)
Cosmic Gate & Ilan Bluestone – Spectrum (Album Mix) (4:14)
Cosmic Gate & Eric Lumiere – Edge Of Life (Album Mix) (4:41)
Cosmic Gate & Ferry Corsten – Dynamic (3:19)
Cosmic Gate & Alastor – Fight The Feeling (Album Mix) (5:14)
Cosmic Gate & Tim White – The Deep End (Album Mix) (6:00)
Cosmic Gate – am2pm (3:03)
Cosmic Gate & Julie Thompson – Fireflies (Album Mix) (4:23)
Cosmic Gate – Halo (Album Mix) (5:08)
---
Love Cosmic Gate? Check them out on the upcoming Materia Album Tour in a city near you!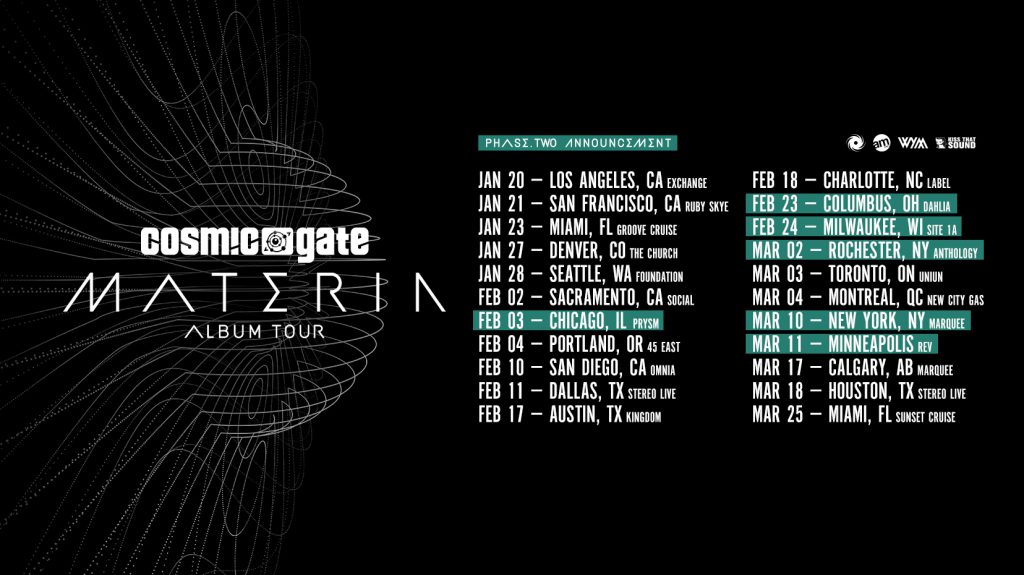 ---
Connect with Cosmic Gate on Social Media:
Website | Facebook | Twitter | Instagram | SoundCloud