EDX is primed for a global takeover in 2016.
---
Even though he seems to be traveling frequently, he still regularly releases episodes of NoXcuses radio, hosting a weekly show on Sirius called #NoXcuses. For the first time ever, EDX's famed radio show and event brand, No Xcuses, is joining forces with the tastemaker label, Enormous Tunes, to further solidify their standing as game-changing players within dance music.
Featuring a star-studded lineup including EDX, Nora En Pure, Croatia Squad and Antonio Giacca, along with additional guests from the No Xcuses and Enormous Tunes family, the No Xcuses vs. Enormous Tunes Bus Tour will hit major cities across the U.S. and Canada, starting in February and running through March 2016.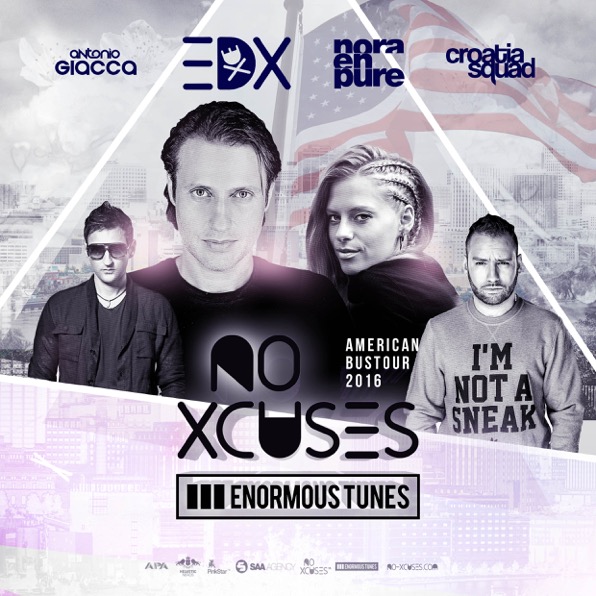 Specific cities and dates for this tour can be found at the below, for tickets please click HERE!
No Xcuses vs. Enormous Tunes Bus Tour Dates:
| | | |
| --- | --- | --- |
| 2/19/16 | A.I. | Washington , DC. |
| 2/20/16 | Webster Hall | New York, NY |
| 2/21/16 | Coda | Philadelphia, PA |
| 2/22/16 | Higher Ground | S. Burlington , VT |
| 2/24/16 | Barrymore's Music Hall | Ottawa, ON |
| 2/25/16 | Le Belmont | Montréal, QC |
| 2/26/16 | Royale | Boston, MA |
| 2/27/16 | The Hoxton | Toronto, ON |
| 3/2/16 | The Grasshopper Underground | Ferndale, MI |
| 3/3/16 | Altar | Pittsburgh, PA |
| 3/4/16 | SWAY | Columbus, OH |
| 3/5/16 | Concord Music Hall | Chicago, IL |
| 3/10/16 | District 30 | Sacramento, CA |
| 3/11/16 | Ruby Skye | San Francisco, CA |
| 3/12/16 | Sound Nightclub | Los Angeles, CA |
I first saw EDX at Marquee Dayclub in Las Vegas – he happened to be playing there on my birthday in 2013. EDX is known for his awesome deep / progressive house sets, and catching one under the hot desert sun was a great way to celebrate another year on earth. I've been keeping an eye on him ever since then, I was glad to have a chance to interview this globetrotting DJ.
---
Will the NoXcuses radio show on SiriusXM continue in 2016?
Yes, we are getting into our 6th year, and it's something I've been dedicated to since the start. It's really challenging to always have a fresh and updated mix, but I simply love the show. It's good to have something you can give back to your fans for free each week.
Where did the phrase #NoXcuses come from? and where did the name EDX itself come from?
We searched for a long time, and somehow #NoXcuses came up as the best phrase to describe my personality, dedication, and approach to everything.
Being Italian and Swiss, your music seems to be derived from influences of both countries. Who are some of your influences from those areas or elsewhere in general?
I completely agree. I'm very lucky to have both sides inside me and I'm glad you can feel this through my music. In general, I was very influenced by the Italian Disco era, some Belgium warehouse techno, and the early German electronic sound from '92 up.
At what age did you experiment with a piece of electronic equipment or instrument? Do you play any other instruments?
When I was about 16, I spent all night playing around with a Roland MC-202 – simply dope, I even missed Carl Cox's set that night. Today, I can only play keys, but when I was younger I was ok at strings too.
You seem to always be traveling. What is your favorite thing about touring, and does it get exhausting?
I love to travel and I love to meet people. Touring combines this in the best way possible. It's fulfilling to see thousands of smiling faces on the dance floors somewhere on planet earth, and many of them love you because one of your songs got them involved. Even if I am on tour, I always try to stay very focused and keep working each Monday morning…
Do you have any crazy flying or traveling stories?
There are many crazy stories. Travel-wise, sometimes I cross a country or even continents, twice or three times a weekend. Luckily enough, airplanes are becoming very comfortable these days… Some of this traveling can put pressure on someone, but once you get back all of the great energy from the kids on the dance floor, this all turns into vibes.
Given all the travel, you obviously have performed at many different venues. What is your favorite venue and why? Do you prefer a club or festival environment – and what venue makes you feel most at home?
I am pretty used to playing both setups. I personally feel I fit very well in clubs, but festivals are giving me so much exposure and to see thousands of raging people from a huge stage, is absolutely INSANE!!!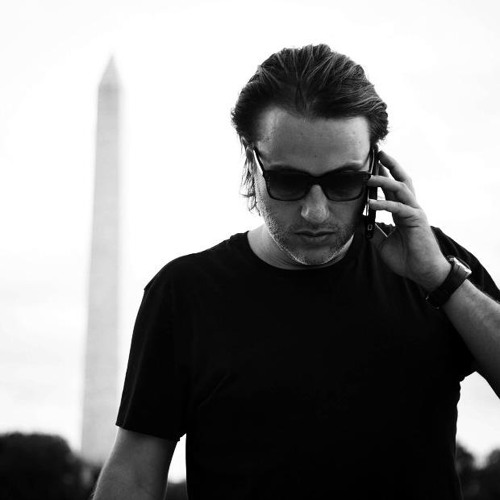 What is your favorite dessert?
Hard to answer… Maybe sex? No seriously, I believe I definitely love Crema de Papaya con Cassis the most. 🙂
Who has been the most fun to collaborate with or host as a guest on NoXcuses Radio?
Didn't really have many guests on my NoXcuses show so far. I like to work with people that really live for the music. Someone I really deeply love for the love he puts in his work as an artist is Croatia Squad. Glad we can consider each other friends for over a decade!
Your remix of "We Go Home" is great, I can't wait to hear it live this festival season. Are you happy with the response to this track?
I recorded this remix in April. The label and The Avener decided to release it too late in my point of view, but I am sure that a great production always will get the deserved love from the audience. Really looking forward to the hard release of that mix, especially when sunshine and summer are closer… It's a great song with vocals by Adam Cohen.
Can we expect any more fun collaborations or releases in 2016?
Well, my latest collaboration is my bus tour with the leading indie dance, deep house label Enormous Tunes, and the amazing Nora En Pure, Croatia Squad and Antonio Giacca, starting in only a few weeks. Can't wait to meet all the people on this tour. It's a dream that has come true for us artists going on a bus tour across the U.S. and Canada… Music-wise, stay tuned for a lot of music!
---
Follow EDX on Social Media:
Website | Facebook | Twitter | Instagram | SoundCloud