Hard Summer Music Festival 2016 was the biggest edition yet, with an overall attendance of almost 150,000 people. This is way up from a couple of years back in 2014 when the attendance broke a record with 80,000 attendees. Amazing performances from Baauer, Ice Cube, Boys Noize, Zeds Dead, Major Lazer, several Dirtybirds, and tons more including an epic campground lineup of artists curated by Brownies and Lemonade made this past weekend some of the best music experiences I've had at a festival this year.  The venue was massive, with one of the stages (the green tent) placed outside of the actual racetrack structure. Walking from there to the purple stage, located on the opposite side within the racetrack, easily took 10 minutes.  I noticed that the mass amount of people and the limited number of paths to enter/exit would have made it difficult for anybody in wheelchairs to easily get around and especially out of the venue. This recap will fill you in on my experience of the festival, which was overall very positive!
Arriving at HARD Summer Music Festival 2016…
On both days of the festival, the only items I felt necessary to bring with me were my camelback, my money, my phone, my license, festival ticket, sunglasses, external battery, a towel, and an extra thin-sleeve shirt all in a drawstring bag. The huge venue would surely call for a massive amount of attendees, so my ride parked near the south-west portion of the racetrack stands during the first few hours of the festival. Although I got into the grounds about 45 minutes after getting into line both days, others who entered on the east side and even some friends of mine waited well over an hour to get in! For someone to have to miss 2 hours of music due to getting in just seems unfair.  The expected rate of entry is something that should be better projected and accommodated for during the planning, much more so in blistering heat like there was this past weekend in Fontana.
The water installations sounded like a great idea, but there were very few of them and all so high up that the wind kept most of the mist above people's heads. The layout seemed confusing to many people who had trouble navigating the venue just from the provided map, and like I mentioned it was a stretch. However, this made sound bleeding completely non-existent and left plenty of room for some of the additional features of the festival like the Jaegermeister bar-house that was next to some food vendors near the main stage. The Smirnoff Stage was another destination for music that featured some artists already on the lineup like Ekali, AMINE EDGE & Dance, Ape Drums, and many more for a second helping of going HARD. Plenty of water stations were present at the venue, but they were admittedly pretty far spread out for a crowd of over 100,000 people. I don't feel like the amount of stations was so low that it was inherently hazardous, but there was plenty of room to add more places to remain cool and refill water. There were lots of food options and vendors were extremely friendly to everyone so far as I could tell.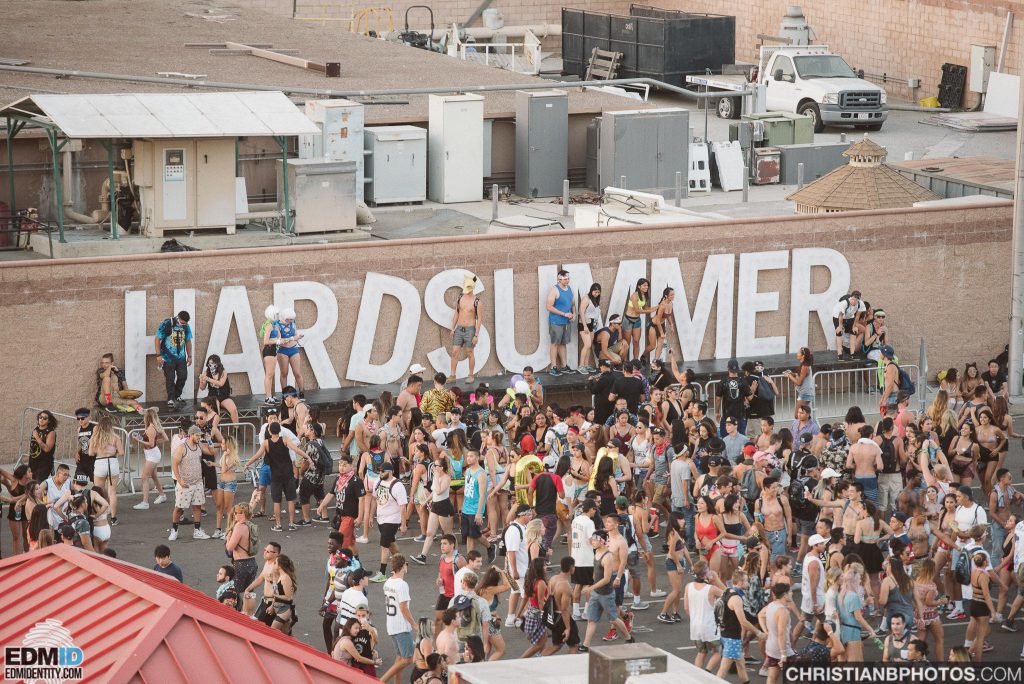 Navigating the music wasn't exactly a breeze.
This was a harder task than I was expecting because of the large number of attendees as well as the vastness of the venue; in-soles would've been a smart idea. I also had lots of acts that I wanted to see, so many that I effectively experienced a couple of green tent acts on my list since I was waiting in line next to it for such a long time. Josh Pan was the brilliance that I started my Saturday with, and I couldn't have asked for a more eccentric bass set than what I got. The sound was really phenomenal this summer, and I'm glad that the Green Stage in particular was absolutely perfect for the lineup who played there all weekend. Making my way through to the Pink Stage, I saw attendees already pretty confused, flustered, and crowded at a few major points around the bleachers. I avoided going back and forth between the Green Stage and the Pink/Purple Stage because I could only imagine that it was going to eat up loads of time making my way through. Realizing this, I rationalized going through the middle only to hit up the Harder Stage for a great open grassy area. So many people were moving at this stage, and it was also a very effective place for people to chill towards the end of the night at sets like Pretty Lights on Saturday night.
Hard Summer this year had some interesting set times in that really good acts were placed a bit earlier than people might normally want but also played sets later in the day. This made it possible for attendees who arrived super-early (getting inside before 2:30PM or so) to catch a set from somebody and use their later times elsewhere, but also for people who didn't get in until after 5PM to see an act like AC Slater or Ghastly towards the end of the night. Of course, this would be compromising people's headliner plans a bit, which would be a strain with Dillon Francis, Cube, Boys Noize, Mr. Carmack, Herobust, Major Lazer, Flosstradamus, Porter Robinson, and many other sought-after big names. My overall experience was definitely a bit chopped up, but I chalk it up to having several times when I would enjoy watching 4 different acts at once. I ended up seeing about 2 sets per hour, with my lower priority acts for about 20 minutes and my die-hard acts for a full hour. The stages themselves were pretty packed because of the massive number of attendees, but it was possible for me to get around the distance of the sound booth even at the most packed stages of the weekend.
I was beat by the heat during the day.
The heat at Hard Summer 2016 was outrageously clear, with only the Green and Pink Tents having protection from the sun overhead. The other three massive stages had crowds which were almost completely in the sun, only manageable by carrying/refilling loads of water every couple of hours. For those who were waiting in line to get into the venue, however, this issue was not very well addressed by the festival organizers. If there was a way to make sure that patrons were kept cool while having to wait an inexcusably long time before getting in, people wouldn't have overheated in line. A water hose, mister, or manual water guns could've been used for those who waited so long is no mystery, especially after observing how things went during day one. If Hard Summer returns to such a hot venue and continues to begin so early in the day, addressing this will be expected from all who attend.
Inside the venue though, cool down locations were pretty easy to access, although water refill stations did get a bit dark though towards the onset of the night. There was also an option for attendees to purchase a hydration pack for pick up at the venue via Vibedration, which is what I used to make sure I had water at all times. Nonetheless, heat was a leading topic for attendees who expressed any dissatisfaction with their weekend.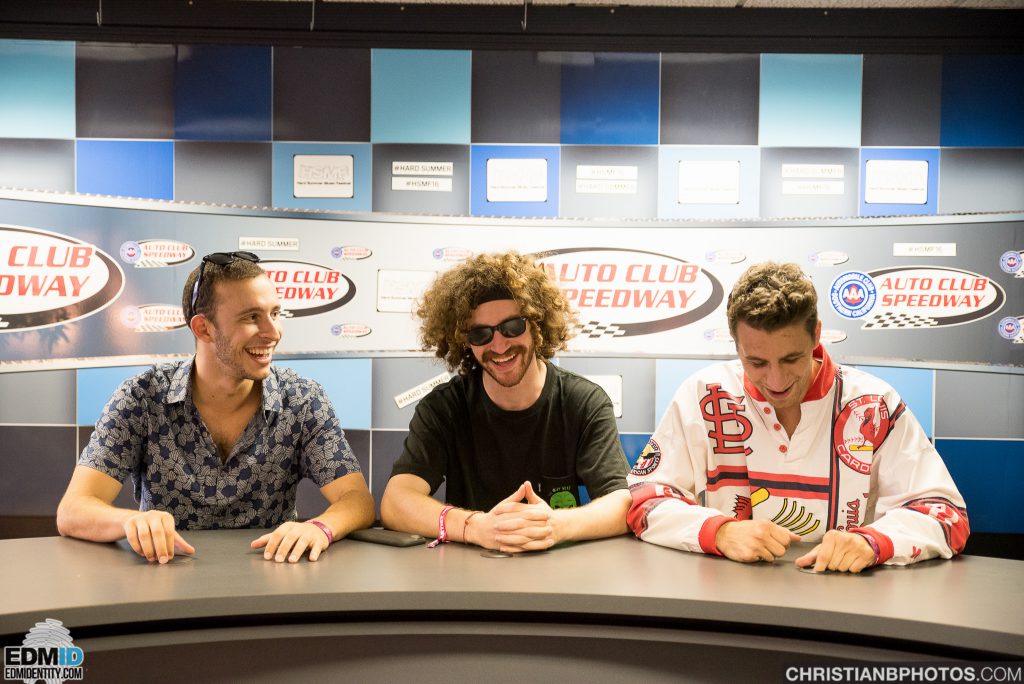 Overall, my HARD Summer weekend was great.
I had tons of anticipated acts at this year's Hard Summer, many of whom were on the undercard and had sets earlier than 5PM. Because of that, getting to the venue by no later than 3PM was a pretty crucial deadline for me and my immediate crew. I also had an interview with Justin Jay that took place after him and his friends played a set with fantastic vibes at the Pink Stage. While he's a producer/DJ, he works with many people on stage including singers, guitarists, a saxophone player; the whole band feel comes life when they're on stage. There were highlights at all stages to accommodate the wide variety of interests among the crowd. What makes HARD such a special musical experience for attendees is the inclusion of some of the hottest rising acts to hit the scene among the better-known veterans.
Heading to the Purple Stage was next on my agenda to meet up with my homies at Louis the Child, who had so much growth in the first half of festival season at Coachella and other huge events. They played a couple huge hits like their remix of "Blasé" and their big original "It's Strange (ft. K.Flay)" which got the crowd swaying and smiling. One of the most beneficial things about this Purple Stage was that you could still hear the music while walking away from the stage for a wide range, yet there was no sound-bleeding with the HARD Stage or even the Pink Stage. The spaced out venue absolutely paid off in this sense, and I did talk to many friends who liked the big EDC-like layout as much as I did. Constantly being able to hear music from almost anywhere is a huge plus for the experience in general but also for exposing people to some great acts that they may initially just be passing by. Following my interview, I walked over to the Harder Stage where Madeon had most of the grass area filled with people shuffling and jumping along to his set. I've only seen Madeon a couple of times over the last couple of years, and this was definitely a newer performance than what I'm used to hearing. His high energy sets are so well guided by his live performance abilities, and the stage setup had a phenomenal presentation of the acts I witnessed at the Harder Stage.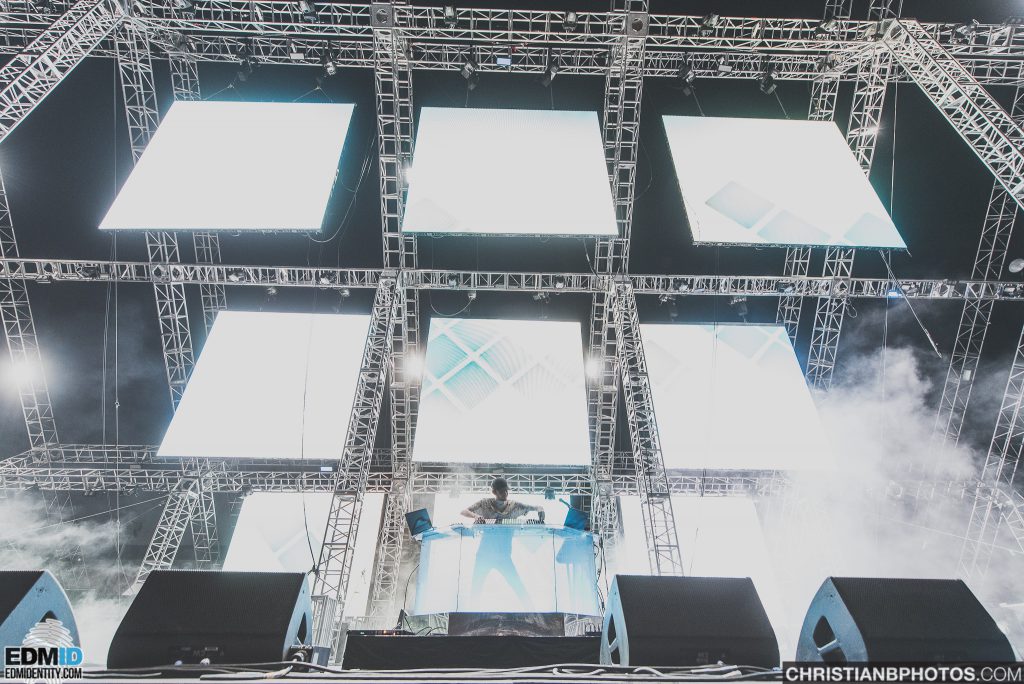 I got back to the Purple Stage for the last few songs played by Belly, who had a stunning guest appearance from Kehlani that I was so stoked for. Belly had a great stage presence, and was rapping really well onstage, but I couldn't catch quite enough of his set to see how the crowd was feeling it overall. By the time I arrived, I suspect others had made their way to the stage in excitement for the man up next. The absolute biggest name on Saturday's agenda, for me at least, was Mr. Carmack. Revered as a trap god for well over a year now, Carmack has built his performance up in a big way after releasing tons of new music since the end of 2015. The audience turnout was only limited to "huge" since Ice Cube surely attracted a huge amount of fans who would otherwise have been at the Purple Stage.
Aside from a slightly rocky start that seemed to come from sound issues, Carmack slid right into his groove and got into the mixing. There's something so grand about Carmack on the stage playing so many of his own original bangers, and fusing them together with some outrageously intricate results. The set was definitely a highlight for anyone craving the experience of crisp-sounding trap, bounce-heavy bass, smooth DJing, and all things turn up party. After the hype of Carmack's started coming to a close, my homie had to check out what Flosstradamus was like. It was his first big music festival, and I couldn't deny him the opportunity to witness the classic trap duo doing their thing on stage. Their stage setup was so impressive, and they were decked out in some legit camo gear to get the crowd pumped to go HARD.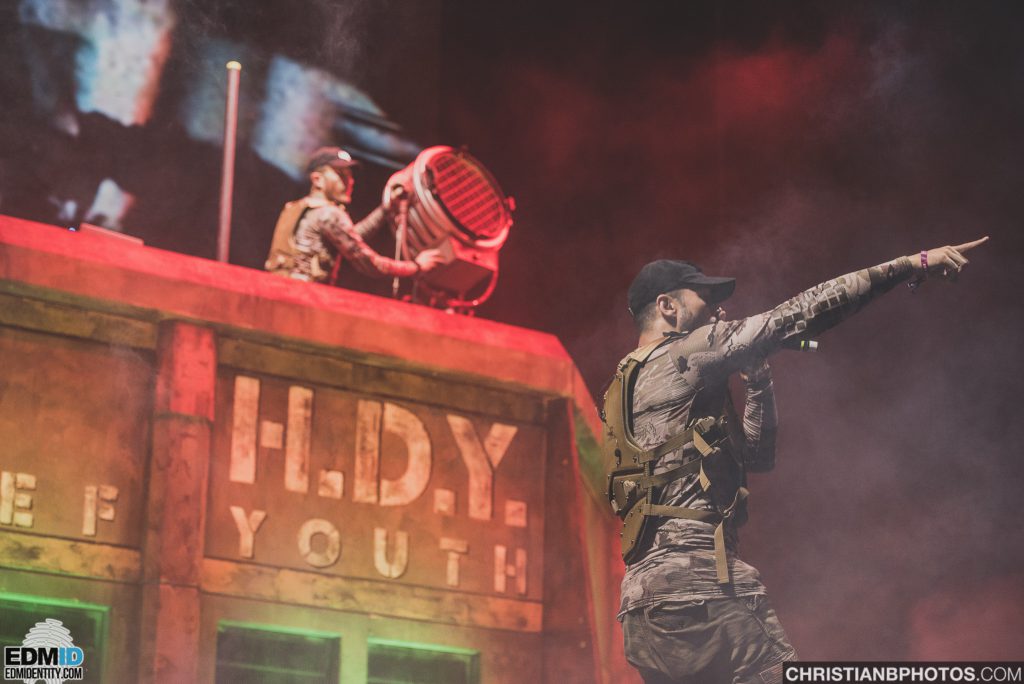 Following the hype, I headed to the HARDer Stage to finally be able to see Pretty Lights for my first time. Ever since discovering him, I've been incredibly eager to be a witness to the world of a performance by DVS. While I was initially captivated by the glitch-hop and highly synthesized take on soulful music making, Pretty Lights made EDM so smoothly palatable to me in my first months of being exposed to it. The live experience was a jazzy fusion of organic and electronic elements, and a bunch of incredible color displays to chill out to on the grass under the dark sky. Although I was in paradise at this set, there was one huge stop left before calling it an end to day one: Herobust. The Green Stage was out-of-the-way from the other stages, but hosted some of the illest names on the lineup such as San Holo, Slushii, Ghastly, and plenty of others to come Sunday. Doing the Hard Summer 2016 trailer justice, Herobust delivered a powerful trap set that will see him become a trendsetter for the genre in coming months. Once again, the Green Stage delivered with fantastic sound, and a very comfortable environment that had space to move and people having a great time. Parking next to the exit was a massive blessing, and leaving during Herobust's last song was a pro move to make; sorry to anybody who got caught in the giant herd of people exiting the grounds and parking lot!
Sunday brought a slightly different musical agenda, with my first several hours focused on checking out several acts that are playing for the first time or whom I've put off at previous events.
Team EZY, who has a track featured on the OWSLA Worldwide Broadcast Album, was playing right along side the line to get into the venue, and I caught the last five to ten minutes of the set once inside. While the name was totally unfamiliar to me until recently, the set I heard sounded like loads of fun, similar to something you might hear Branchez or Alison Wonderland play at a HARD event. If I get the chance to see Team EZY again, the name will be a higher priority of mine. It was still early, before 4PM, when the Bixel Boys came onstage: because I see the Bixel Boys so often on lineups at shows/festivals in So Cal, I've passed them up every single earlier opportunity. Although HARD Summer didn't seem like the ideal place to see them for a first time, I couldn't have been happier that I stopped by. Dancing was non-stop in that green tent, and again there was enough room to even make it way up close to the DJ booth itself. However, soon enough it was time to head towards the rest of the four stages through the newly discovered tunnel path from the night before. Jai Wolf was next on my list, despite having a set on the main stage, where the crowd was definitely feeling the strength of the heat. While the sun was hot, the set was hotter, and the sea of people that was already present there proved that most everyone was having a good time.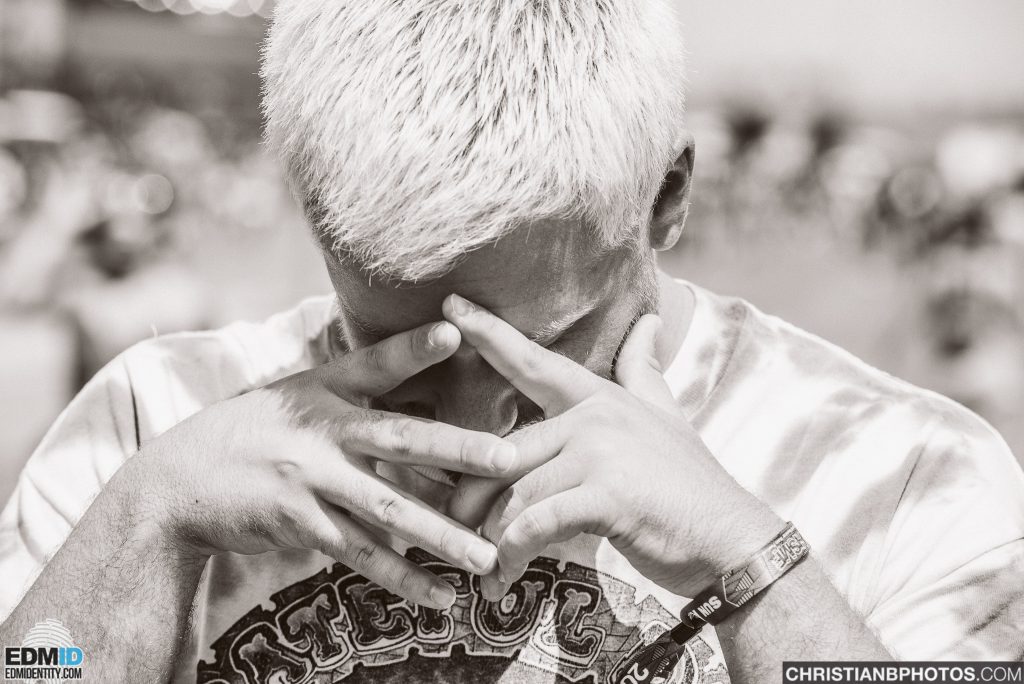 As a major SoCal music festival that used to take place in Downtown LA, HARD Summer constantly recruits some of Los Angeles's best talent. KAYZO was definitely one of the hardest acts I heard all weekend, catching the last 20 minutes of happy hardcore, dubstep, and a couple of absolutely hype drops. People were stomping through the heat and jumping along while KAYZO even amped up the flock of people just walking alongside the main viewing area of the stage. If bass is what you thirst for, make sure to catch KAYZO when you can and check out his latest EP to see why this guy was perfect to have as a part of a HARD lineup. Fortunately for me, OSHI was scheduled to play on the same stage immediately after. There was no one I looked forward to more than the young kid from London, still relatively new to the electronic music scene. With such a vast repertoire of future music but so little experience playing SoCal festivals, I wasn't sure exactly what deviations from a trap set I would hear. Much to the pleasure of me and all others around me, he surveyed his own influences in the game with tracks by Carmack, Ghastly, and his own remix of Kali Uchis's "Ridin' Round," most responsible for his rise to fame. Though I have a soft spot for a handful of his slower paced productions, I wasn't surprised that they weren't played much with the bangers and other faster tracks that he included in his set. I think Oshi still has plenty of growth left in his performance aspect, which we can expect to see develop as his name gets put on many more lineups to come.
When it comes to bass, Sunday's music covered all bases(ha-ha).
With only about half of the day done, I had already seen five very different performances. This doesn't even take into account the great house vibes that were constantly flowing through the Pink Stage and the Smirnoff House. After a bite to eat and a bit of working my way closer to the sound booth of the main stage, my crew and I were prepared to see Zeds Dead. It was considerably cooler by this point of the day, and a refill on water before making my way over to a very dense crowd was more than enough for me to rage my face off. I had seen Zeds Dead at a Mad Decent Block Party event in San Diego, but the stage setup at Hard Summer toppled what I saw there. They mixed incredibly between a few different genres that brought out the spirit of HARD Summer in everyone surrounding me.
Dillon Francis is a name that we've seen grace the HARD Summer lineup for a few straight years, and is one that has made us laugh, dance, and smile for even longer than that. His new setup this year had everything from topical music selection, amazingly funny visuals, and that warm LA swag he carries with him(my guess is he hides the swag with his buddy Gerald). Kicking things off with the Pokémon theme song and going straight into his moombah take on Skrillex's "Red Lips" remix, Dillon's set once again embodied what Hard Summer has consistently meant to me ever since first attending. I was much further out from the stage than for any previous sets but was still able to hear the music very well from where the food vendors were stationed. After a less-than enjoyable flurry of sound issues at his set last year, this year's performance was an outright masterpiece. Some of the funniest visuals included Diplo's face swapped over the Pokémon Jinx, Dwayne "The Rock" Johnson, and a spider-looking creature made up of a Guy Fieri head, hamburger abdomen, and fries for legs.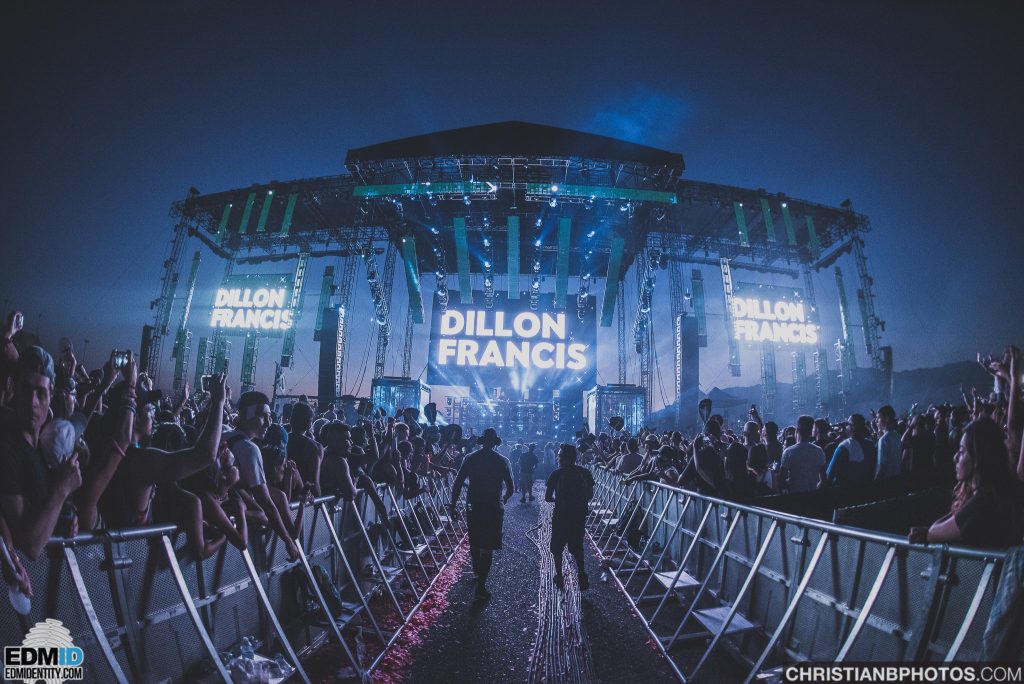 By the time about half of the set was finished, I had to leave Dillon Francis to catch another very highly anticipated set for my weekend: Boys Noize. Sacrificing the first portion of Boys Noize ended up being completely worth it, hearing many of his newer tracks once I arrived at the HARDer Stage. Boys Noize is an outstanding DJ, and the grass was effectively transformed into a massive green dance floor. Among some of my favorites from his new album, "Euphoria," "Dynamite," and title track "Mayday," were played to a crowd of fans who seemingly couldn't get enough. Despite seeing plenty of tired attendees relaxing on the floor, plenty of us were clearly still pumped enough to rage.
In an ambitious attempt to see four different closing acts, I found out that Ghastly was taking the place of Jackmaster at the Pink Stage and headed straight there. Passing by the Purple Stage led me to hear DJ Mustard play "F*ck Donald Trump", with anyone who knew the words singing right along to it. It was incredibly amusing, but I had a schedule to keep to if I were going to hit all of my last spots for the weekend. Ghastly at the pink stage was one of the most jaw-dropping sets I saw, and I can't remember being that impressed by a DJ since witnessing Skrillex a couple of years ago. I would be hard pressed to find a more promising star-in-the-making after watching Ghastly, whose set I stayed at a bit longer than anticipated. The Purple Stage was a close next stop where Kaytranada, the funky fresh Producer/DJ with a recent album "99.9%" was a soothing cool down. After so much house and heavy bass music, funk/soul served as an excellent choice for keeping my feet moving without bruising them.
Major Lazer was performing on the main stage, several hundred yards away from the Purple Stage, which allowed me to hear four or five songs while passing by towards the exit tunnel. The energy was wild as you'd expect from people who were going as hard as possible in the final hour of music. Ending at the Green Stage again was a great choice for ease of getting out promptly as well as enjoying an epic trap party. Milo & Otis have been some of my favorites ever since their TWONK team days in 2013. They have musical taste that would appeal to my 90's born self, combining new elements of EDM with some of the hits that I remember hearing at middle school and high school dances. Milo & Otis have a great stage presence, and their swag is a special blend of Ludacris-era nostalgia and the developing trap/dance music scene. After a full two days of going Hard, my shoes were scuffed with experience and my feet were begging for mercy; but the weekend was a real treat to my ears and eyes.
While the summer comes to a close, I know I'm not the only one with my mind on next year's festivities. The location of the next event is going to be a topic worth listening for among anyone interested in attending again so keep an ear out for it! My fourth successful Hard Summer is now in the books, and now the wave of festival season will cool off as rising acts will start to build up the reputation it takes to be part of next year's Hard Summer celebration.
---
Connect with HARD Summer Music Festival 2016 on Social Media:
Website | Facebook | Twitter | Instagram | SoundCloud