Dillon Francis played a Wednesday night show at Surrender Nightclub in Las Vegas on May 4th!
I had a short and unplanned stop in Vegas this past week (Wednesday through Friday) and decided to make the most out of my trip and see anyone I could. At the moment, Vegas is coming out of the lull of the winter off-season and the party is just starting. Coming off event announcements, new residencies popping up left and right, and back to back events happening, you never would guess that Vegas hibernates a bit during the winter! During the day and night multiple clubs all over the strip are once again kicking things into full gear in preparation for the hot summer months in the desert. Wednesday is usually a slower night before early to mid May, so being able to get a ticket to Dillon Francis at Encore's Surrender Nightclub at the last-minute was a welcome surprise.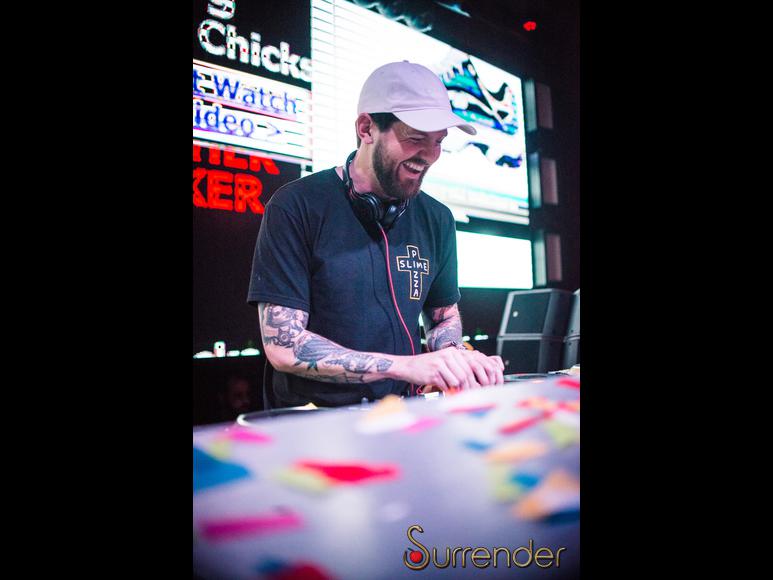 When I arrived in Vegas, the strip was a little busier than I expected for the particular dates of the week. I was unaware that multiple business conferences were taking place at nearly every hotel when I got there. Several legal, intellectual property and pharmaceutical industry conferences came to the strip and after getting to Surrender to see Dillon Francis, I was so surprised to see the club packed with business people and nearly no one my age.
The men and women I spoke to were from all over the country and were in their 40's, 50's and even 60's. Many of them had never seen a club of this scale, and almost none of the people I met knew Dillon Francis's music. The typical club crowed arrived a little later to bolster the numbers inside the club itself. It was definitely an interesting group of people who you may not always find together in a Las Vegas nightclub. I would say the youngsters were slightly outnumbered in the grand scheme of things.
Dillon came on around 1 AM with some awesome remixes of Galantis and Major Lazer tracks, and my personal favorite which is a "Get Low" x Backstreet Boys "I Want It That Way" mashup. His signature "IDGAFOS" style visuals were just as entertaining as his stage persona always is. Dillon Francis is always one that brings the most to the table every set I get a chance to see him. He's always doing his best to incorporate great music, unique visuals, and bring the crowd one hell of a party. Surrender is a great club, it's well lit and decorated easy to navigate and has plenty of places to sit down outside next to the pool, so the combination of this crowd with Dillon Francis here was an awesome experience.
---
Follow Surrender Nightclub on Social Media: