This year's PHXLIGHTS Festival grounds landed infield on the Phoenix Raceway, giving party goers their first chance in the new realm.
---
PHXLIGHTS was like stepping into a different realm. Much like the Greek legend of Persephone, the Goddess of Spring, who was abducted and taken to the underworld where she ruled as queen, festival goers last weekend were abducted into a different world; but instead of fairies, it was aliens, and instead of Hades and Persephone ruling the underworld, it was Martin Garrix and Wenzday ruling the infield.
The 2023 edition of PHXLIGHTS offered ravers their first trip to the infield at the Phoenix Raceway. This was a completely new experience and gave the night an exclusive, exciting vibe. The news of the festival being hosted inside the raceway was released only a few weeks prior, so the new entrance was all the buzz. The raceway must have been built to be sound proof for the insanely loud races that take place, because walking up to it, you would have no idea that a music festival was even going on, if it weren't for the lasers bouncing off the desert mountains behind the track.
The journey took us past our old stomping grounds of the raceway parking lot, where last year's festival took place. Legend has it, woke souls of lost ravers are still wandering around the raceway parking lot, in search of their next light show, doomed to forever be locked out of the raceway. Just kidding about the rave legend, obviously, but definitely not kidding about being locked out. I think I speak for everyone when I say about damn time!
As we breached the sound barrier, we descended into a completely new world. The path stretched onwards and I thought to myself "oh, this hill is going to be killer on the way out." The long path downwards taking us under the racetrack felt like Persephone's descent to the underworld. Finally, the path brought us to a steep stairway (thankfully equipped with a pair of escalators) and we breached into the night sky, finding ourselves in a different domain; the dominion of bass in outer-space, equipped with dancing aliens, spaceships, and astronauts.
The venue itself had a very "festival" type feeling to it, with multiple structures for bars, snacks, and vendors, there was no shortage of accommodations. There was even a playground when party goers could take shuffle lessons or play dodgeball, and a food court lounge. But the absolute coolest thing about the infield was the access to multiple REAL bathrooms, not porta-potties, for the GA crowd. Indoor plumbing is no longer reserved for the GA+ and VIP splurgers.
The music between both nights of the festival are the perfect example of duality; two separate ideas co-existing as one.
Just like Persephone is both the Goddess of Spring and at the same time the Queen of the Underworld, bass music was existing in multiple forms all weekend. All too often, things are categorized, neatly tucked into a corner, with clear definitions and rules of engagement, but PHXLIGHTS tested those limits and broke the constructs of our neat little reality and gave bass lovers a party fit for the rulers of the Underworld down on the raceway. Bass lovers could pick their poison, with options of dubstep, melodic bass, and bass house all weekend long.
Friday Night was an absolute party, and what party isn't complete with a total emotional rollercoaster? The night was full of high energy sets with slow, lyrical breaks. Complimenting the sounds of the night were out-of-this-world laser shows under the sky and and eerie green smoke that seemed to linger, further adding to the space ambiance. The overarching genre for Friday night was melodic bass with a side of dubstep. Each set more crowd-pleasing than the last, this line up really knew how to pull together to give us the bassy realm that PHXLIGHTS is known for.
Kicking off the night on the main stage was Seds Vortex followed by Moksi who started the weekend off with a quick and dirty performance, equipped with beeps, wubs, and you guessed it, bass. The perfect entrance music for our new realm in the Bass Underworld.
Local Arizona artists Zanni, Guestli$t, Jonis, Svnday Drvr, Mahsiv, and Myrtle supported the night with their own intimate stage, Invasion, put on by Beatbox. The additional stage was a creative and artistic set up. The dance floor was under an actual spaceship with lights that resembled the true origins of the Phoenix Lights. This set up perfectly soundtracked the venues and food court areas. No matter where or when you ventured, there was a party going on.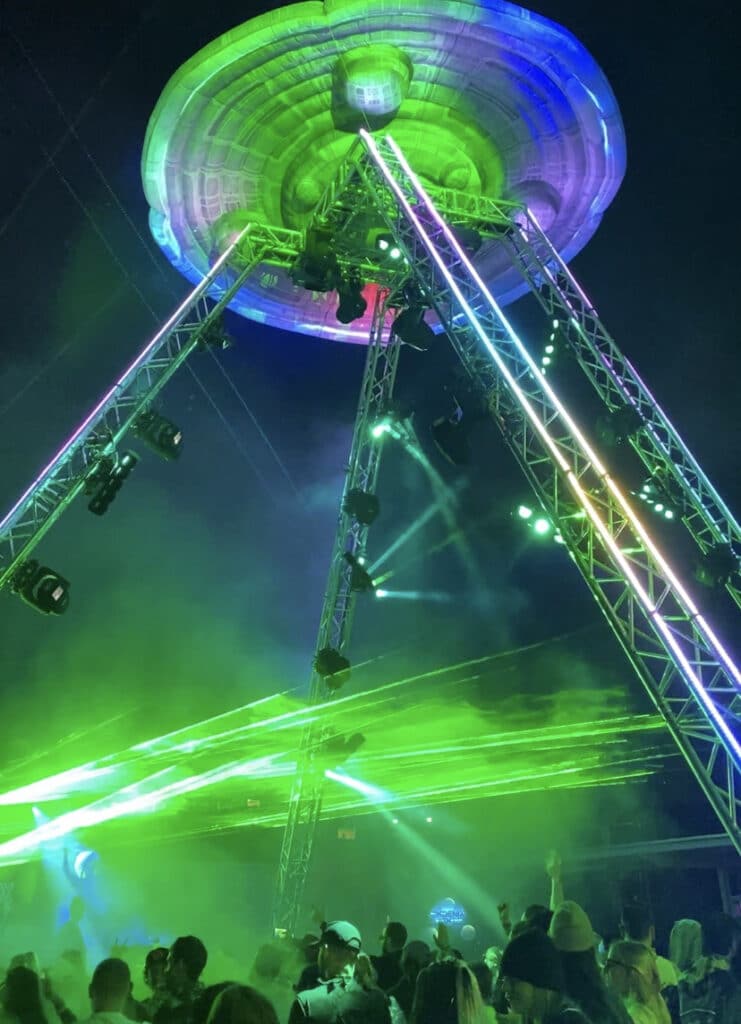 Though Invasion was smaller on scale, I have to say the sound quality was better than some spots at the main stage. It was so immersive, which is my favorite part about a show. There were times at the main stage when standing directly to the right of the sound booth, I felt the sound quality wasn't up to par. Your girl needed more bass to really feel connected to the music. Granted this is the first ever set up in the race way, and overall the sound got better as the night continued (while I simultaneously floated closer to the stage) so I think it was spotty because other areas by the stage had better acoustics.
I have experienced many other Relentless Beats set ups and I think they can go heavier. I look forward to their next venture inside the raceway because the foundation they are building this set up on is solid. What they lacked in sound consistency, was made up for in production value! Holy Guacamole! There was no shortage of strobing lights, laser beams, and colorful visuals. They even had a surprise for us at the end, which I won't spoil yet!
On The Mothership, the main stage, Trivecta brought both energy and the feels with his set, including an absolute killer live guitar solo, showcasing his talent not only as a producer, but also as a guitarist. He set the tone for the night with a melodic bass set, equal parts bass and feels. Early on, he eased us in to our emotions with his song "Drinking Like Kings," with the lyrics "and then we all grew up." His set included a sick-ass remix of "Wellerman," a fan-favorite sea shanty, but, of course, made it dubstep. Visually, Trivecta really stayed on theme. His light show was an excellent addition, and really put the LIGHTS in PHXLIGHTS. His journey took us to a dead, haunted forest where we eventually met the death himself, the Grim Reaper. His visuals really exemplified the whole descending into the underworld vibe that the new set up invoked.
We continued on our melodic bass journey through space and time on Friday night and next San Holo played a bass bro, crowd-pleasing set, continuing the melodic bass/dubstep combo that was the overarching theme for the night. His set sampled ZHU's "Faded" and a high-paced remixed "Mr. Brightside." San Holo also played his originals "bb u ok?" and "Light," perfectly fitting the duality of emotional, uplifting melodies, and then dropping us into the bassy, dubstep rhythm that the crowd ate up. San Holo knew what the crowd wanted, and he gave it to them.
Afrojack brought the energy back up and turned the main stage into an absolute party. A kaleidoscope of bass genres, Afrojack switched from dubstep, to trap, to bass house and then back to dubstep, all in his one hour set. Keeping with the night's melodic vibe, he sampled David Guetta's "Titanium," another fan favorite and the perfect sing along song for this crowd, which of course, we did. What's better way to hammer home the in your feels vibe?
Closing out the main stage on Friday Night was legendary Martin Garrix, and showed us why he's king.
Much like Persephone was abducted and taken to the Underworld, Martin Garrix abducted ravers and took them to his kingdom. Similar to how Hades rules the Underworld, Martin Garrix ruled our world Friday night. His set changed up the vibe a bit, leaving behind the melodic bass mold that the rest of the night carried, and gave us a big room, progressive house set. You know what they say about big room… big builds and big drops. Martin Garrix's set perfectly complimented the highs and lows structure of the sets proceeding him.
Martin Garrix's slot allotted him a full hour and a half set, which allowed him to properly build and then release, typical of big room shows. Though he gave us a break from the melodic, sing songy, bass realm, he did keep us on our emotional rollercoaster with hit songs like "Hero" and sampling soulful Lewis Capaldi's "Someone You Loved." Keeping with the crowd pleasing etiquette, he even mixed The White Stripes. Martin Garrix showed us why he's king and ruled our hearts and bodies. He really ended on a bang and lit up the night with actual fireworks.
Saturday night brought the same kind of energy, but left out the emotional tolls; no feelings, just head banging and booty shaking. A welcome reprieved to my tired emotions (and body). Of course bass music was rampant, as is precedent with PHXLIGHTS, but Saturday was the other side of the same coin that we heard the night prior. We traded melodic bass with bass house! My absolute favorite!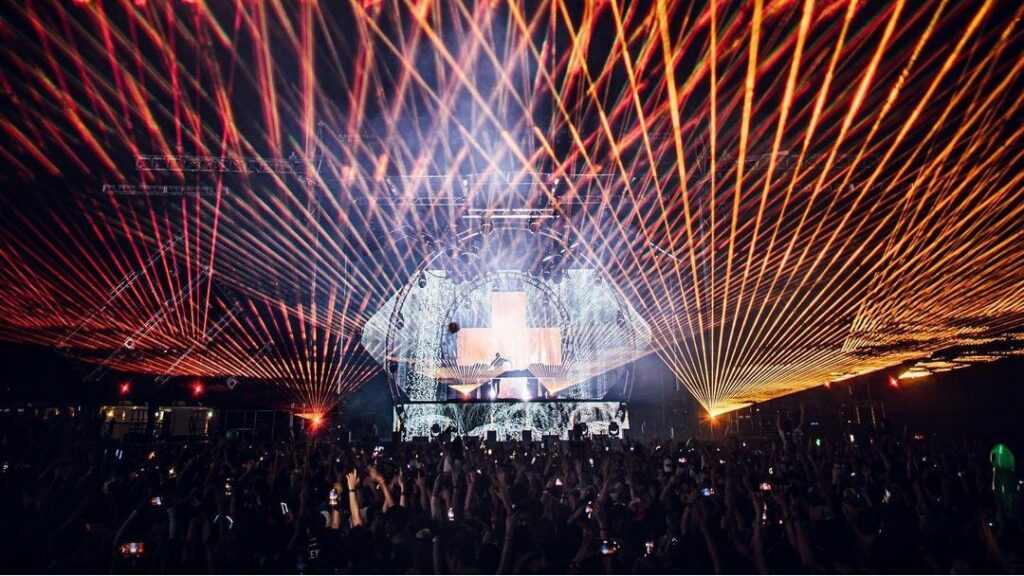 Immediately the vibe of the night was lighter and dancier. With the more consistent rhythms and house beats, dancers could easily catch a vibe and cut loose on the dance floor. Arizona's own Pat Riot dropped an absolute banger of a set, satisfying both house and bass lovers. Those shuffling classes were sure to come in handy during this bass house set. The bass kingdom was alive in dance.
Now every kingdom needs a Queen, and, in my humble opinion, the all supreme ruler of PHXLIGHTS Saturday night was without a doubt Wenzday. Her journey as an artist is the musical expression of duality. Hearing her heavier origins compared to her most recent styles of bass house and tech house, showcase her range and growth as an artist over the years. This whole Persephone analogy really comes to life when talking about Wenzday. Not only was her set one of my favorites from the whole weekend (tied with Martin Garrix) she was one of only three female producers at the entire festival. In a predominantly male industry, seeing a Wenzday playing the main stage with acts like Crankdat and Ganja White Night was amazing! She even treated us to a little tease of a new song she has coming out next month.
The Invasion stage kept up with the tempo for the night and featured Arizona artists like Zeuz, OGK, Alex the Lad, Peachy Keen, and Qüez. There was a familiar face during the Brunch Bro's B2B set feating Elwer and JUR. Lujan (yes the same one that opened for Markus Schulz a few weeks ago in Tempe) was invading the dance floor with his sick beats.
Wenzday wasn't the only one with a trick up her sleeve, AC Slater also had a surprise he was just waiting to spring on us.
AC Slater put on an epic bass-house set that had us going absolutely feral and tearing up the dance floor with his funky beats and banging bass. Not only did he continue the house heat but brought out surprise guest BIJOU, an absolute house music legend. It's ok to fan girl a little bit, I did too. Just don't make it weird.
Of course, a PHXLIGHTS Festival wouldn't be complete without some absolute neck breaking, filthy dubstep. ISOxo and Ganja White Night did not disappoint and absolutely annihilated every last nerve ending in my neck and spine. It was worth it. The second night of the festival ended on a bang just as much as the first night. This year's tour de bass at PHXLIGHTS left no stone unturned and really scratched that bass itch that just never goes away. He had plenty of stomping dinosaurs and evil robots attempt to take over the infield. And then just like that, the festival was over.
The festival perfectly personifies the symbolism of Persephone; only instead of the duality of the Goddess of Spring and the Queen of the Dead, it's the duality of bass music. This is what I mean by duality – both house and dubstep co-existing at once. PHXLIGHTS is always known to play heavier, bassier sets, even from not as heavy producers. It's this festival's trade mark, making it a breeding ground for a harmonious bond for these otherwise opposite genres.
This symbiotic relationship makes for some really unique and enjoyable sets. Dubstep and house can co-exist and you can enjoy both, just as Persephone is a floral Goddess and ruler of the Underworld. Embracing duality means you can embrace contradicting ideas and have a good time for both. When you let go of what you think you "should" or "shouldn't" like and the idea of having to fit into predefined labels, you can just enjoy the moment for what it is, whatever it is. You can be both a headbanger and a house head. You can be whatever you want. Embracing duality just stops you from gatekeeping yourself out of a good time, and PHXLIGHTS was an out of this world good time. As Crankdat said "respect for the underground and the overground."
As the human cattle made our long ascent up the pathway up out from under the racetrack and from our own personal Underworld, I couldn't help but appreciate the asphalt. Gods know Arizona is a dusty state and let me tell you, I did not miss the dust the herd kicked up when leaving from other outdoor venues, say perhaps Rawhide. Relentless Beats certainly is settling nicely into the new kingdom and I am eager to see what else they do. Will this raceway ever compete with the famous Las Vegas Motor Speedway? Only time will tell.
---
Follow PHXLIGHTS: