Markus Schulz dazzled Tempe last month with his intimate "Down the Rabbit Hole" club set showcasing his dark trance style.
---
Markus Schulz dazzled club-goers last month at Sunbar, a premier nightlife venue located in the heart of Tempe, Arizona. He played a perfect blend of typical trance elements mixed with his own dark, heavier influences leaving all party-goers wanting more. Between the hypnotic sounds of the DJs that performed and the cultured crowd creating a fun environment, the night was nothing short of the reputation that preceded it. Markus Schulz lived up to his legendary reputation. 
Adjacent to Arizona State University, Tempe is known for its many music venues for shows of all genres. While Sunbar does have its tendency to draw college-aged patrons, the festivities successfully lured out a more sophisticated crowd, making it a night of mesmerizing splendor for the senses. Through the night, the crowd of trance enthusiasts was carried through a post-apocalyptic maze, complete with a slide down an elemental rainbow.
A good crowd only adds to the favorable experience, and there was no shortage of crowd etiquette at Sunbar that night.
Trance has a way of drawing out a more experienced and situationally aware crowd than typically found in a college town. It was an enjoyable crowd overall, as most folks were aware of their swaying limbs and very diligently stayed in their own personal spaces. Something as simple as situational awareness from dancers can easily make or break even the best of nights, but the crowd at Sunbar was certainly a positive group to participate in. At times, it seemed the crowd embodied a symbiotic life form, ebbing and flowing as space on the dance floor opened and closed as it moved as one.
Phoenix local Lujan warmed up the crowd with an excellent two-hour trance set, keeping up with the theme for the night.
Lujan hyped us up and got us warmed up and ready for the journey we were about to take Down the Rabbit Hole. Comparing this set to the after-hours techno sets that he's well known for in Phoenix, this opening set highlighted his incredible range and skill. He was the perfect chameleon and adapted his set to the sounds of the night. Sunbar slated the two acts together perfectly to create a cohesive experience.
I love opening because I get to set the tone of the whole night for anyone playing after me including the headliners. When I'm playing a longer opening set, it's like a journey. I get to start my set with something more sonically pleasing, then build up the energy to a heavier dance-friendly sound getting the crowd warmed up and comfortable with a taste of energy. It's a great honor and gift for me to open for headliners as a good opening set and the art of DJing is sometimes a lost art in today's world.

Lujan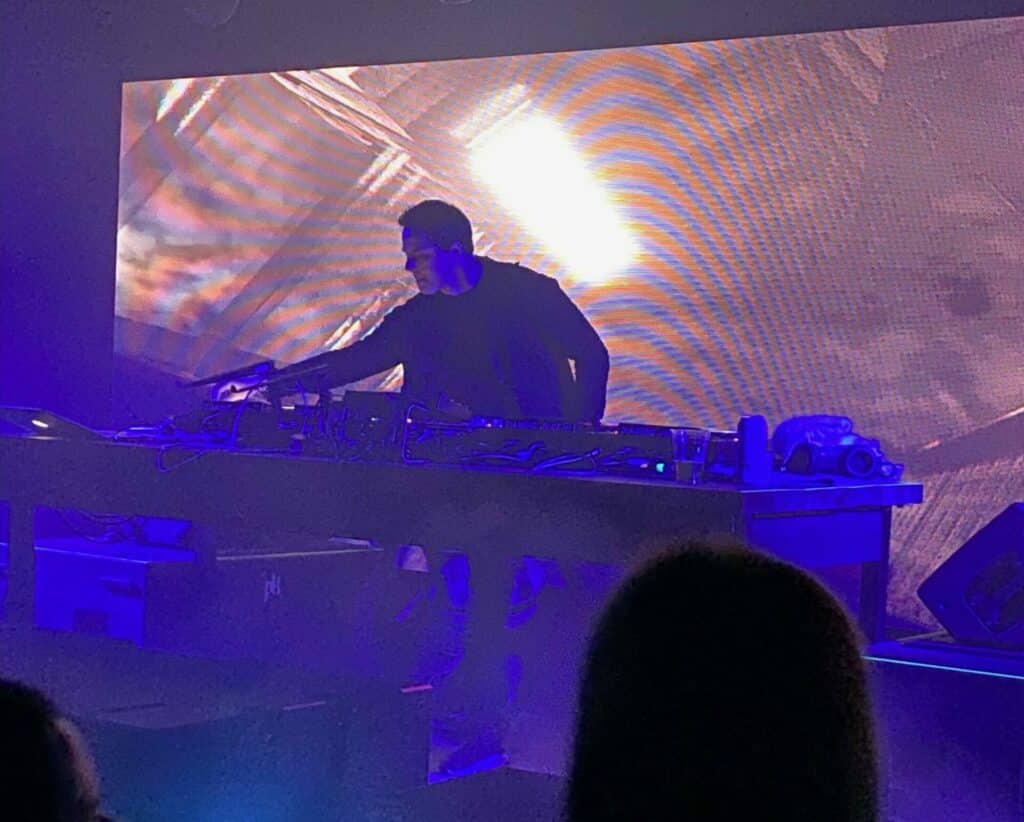 Then, Markus Schulz marked the beginning of his three-hour set with a simple question: "Are you ready to go Down the Rabbit Hole tonight?" and we descended into the madness from there.
High-energy sounds of techno and trance, paired with darker visual elements that resembled the heavy industrial metals in the Alien or Matrix movies, kicked the night off. From the start, there was a feeling of an animalistic survival instinct on the dance floor, an almost guttural bass pulling you into a hypnotic state of trance.
Throughout his show, Markus Schulz had a way of using monochromatic colors to dictate the mood, a typical (and effective) rave tactic. After fighting for our life in the clutches of evil dark robots seeking to take over the world, the colors faded to blue. This brought us back up to high, euphoric sounds invoking distant memories of the Sonic the Hedgehog video game, an instant switch from survival to nostalgic bliss.
From there, his visuals dove off the blue platform into a deep, dark sea of moody red which transitioned perfectly into his "Dancing in the Red Light." Markus Schulz played iconic tracks like Benny Benassi's "Satisfaction" and Tiesto's "Adagio For Strings," to the delight of many old-school members of the scene. The use of color throughout his set, specifically red, awakened something primal which connects the mind and body to the red root chakra. This was perfect for his overall ambiance. As the night carried on, the pinwheel of colors continued to dazzle the crowd into a frenzy of dancing bliss. 
Before even realizing it, we were two and half hours into his set and had journeyed through all the colors of the rainbow, ending up right back where we started, right back in the lava pits of Mordor, complete with its soundtrack of dark drops. Markus Schulz had a way of lifting you up, only to drop you back Down the Rabbit Hole again.
After three hours of succumbing to his hypnotic sounds, Markus Schulz ended the night with the melodic verse "I don't want this feeling to end," perfectly capturing the joyous feeling trance music is known for and the desire to never leave Wonderland.
---
Follow Markus Schulz:
Website | Facebook | Twitter | Instagram | SoundCloud | YouTube | Twitch