"Find Your Way" to some speakers and stream the new deluxe version of bb u ok? featuring remixes from Chet Porter, Elohim, and more.
---
San Holo continues to champion his "Stay Vibrant" philosophy and after releasing bb u ok? to much praise last year he's gifted his fans with a deluxe version that breathes new life into the original. Clocking in at 33 tracks across two discs, this edition features remixes from LP Giobbi, Elohim, Chet Porter, and Nils Hoffmann along with even more from the bitbird community including Tsu Nami, Laxcity, and more. But bb u ok? Deluxe doesn't just feature remixes, as he's also gifted fans with a new original track titled "i don't feel anything anymore."
This brand new song from San Holo is the last song on the first disc and is meant to make you feel something deeply. It begins with a sweet auto-tuned poetic verse that leads into an atmospheric synth and the strumming of his acoustic guitar. There's a touch of static, yet the song remains crystal clear before you're met with an arpeggiated synth and banging of the drum that winds up to your classic burst of San Holo's vibrancy. The song then ends gently, with a peaceful riff and plucking of the strings.
The second disc is where you'll discover the noteworthy remixes. The title track "bb u ok?" received much of the love on the deluxe version as it was remixed reverently by LP Giobbi, Tsu Nami, Sam Day, Laxcity, Skygate, Darby, and kittito. These artists provide their unique twists on the track as they incorporate their own sounds and alter the vibe.
One remix that stood tall is Melbourne-based producer Darby's take on "bb u ok?" which takes the song to new heights. Its cinematic energy and stuttering synth chords along with glitchy effects offer some curiosity about how intense the bass is going to be. Not to worry, he definitely provided as he shows off deep thunderous bass to complete the track.
More special treats arrive for "find your way," which receives a Lo-fi remix by San Holo himself, in addition to versions from Elohim and Hundaes who put their own creative spin on the tune. Further, "you've changed, i've changed" is reimagined by Chet Porter while "black and white" is reworked by Nils Hoffmann.
While Chet Porter's take on "you've changed, i've changed" has a nod to the original sound, he's given his remix more pop-infused energy. The beginning sounds similar to the original, but with the reverb toned down. Then comes the airy notes from the keys and the beating of bongos, creating a childlike wonder about the track before the thumping of a kick drum and the lyrics begin and listeners are greeted with the original notes of the bassline. Near the end, Chet Porter dives deeper into the house realm to get everyone moving.
The deluxe version of bb u ok? is full of the emotional tracks we were gifted in 2021, and now a wide variety of remixes that will be sure to remain on playlists for the rest of the year. So, "find your way" to some speakers, and be sure to listen to the album on your preferred streaming platform.
Stream San Holo – bb u ok? Deluxe on Spotify:
---
---
San Holo – bb u ok? Deluxe – Tracklist:
Disc One
i am thinking of you
IT HURTS! 
new one (feat. Bipolar Sunshine) 
bb u ok? 
black and white 
i just wanna fucking cry (feat. The Nicholas) 
heal (↑%) 
lonely in LA 
the great clown Pagliacci
i get lonely around people, too 
thoughts and chemicals (feat. American Football) 
MY FAULT 
make this moment last 
find your way (feat. Bipolar Sunshine) 
do you see me? 
FEELS RIGHT 
ewing street 
wheels up (feat. Rivers Cuomo of Weezer) 
you've changed, i've changed (feat. Chet Porter) 
one more day (feat. Mija & Mr. Carmack)
i don't feel anything anymore
Disc Two
find your way (San Holo Lofi Remix)
bb u ok? (LP Giobbi Remix) 
find your way (Elohim Remix) 
black and white (Nils Hoffmann Remix)
you've changed, i've changed (Chet Porter Remix) 
bb u ok? (Tsu Nami Remix) 
bb u ok? (Sam Day Remix) 
bb u ok? (Laxcity Remix)
bb u ok? (Skygate Remix)
bb u ok? (Darby Remix)
find your way (Hundaes Remix)
bb u ok? (kittito Remix)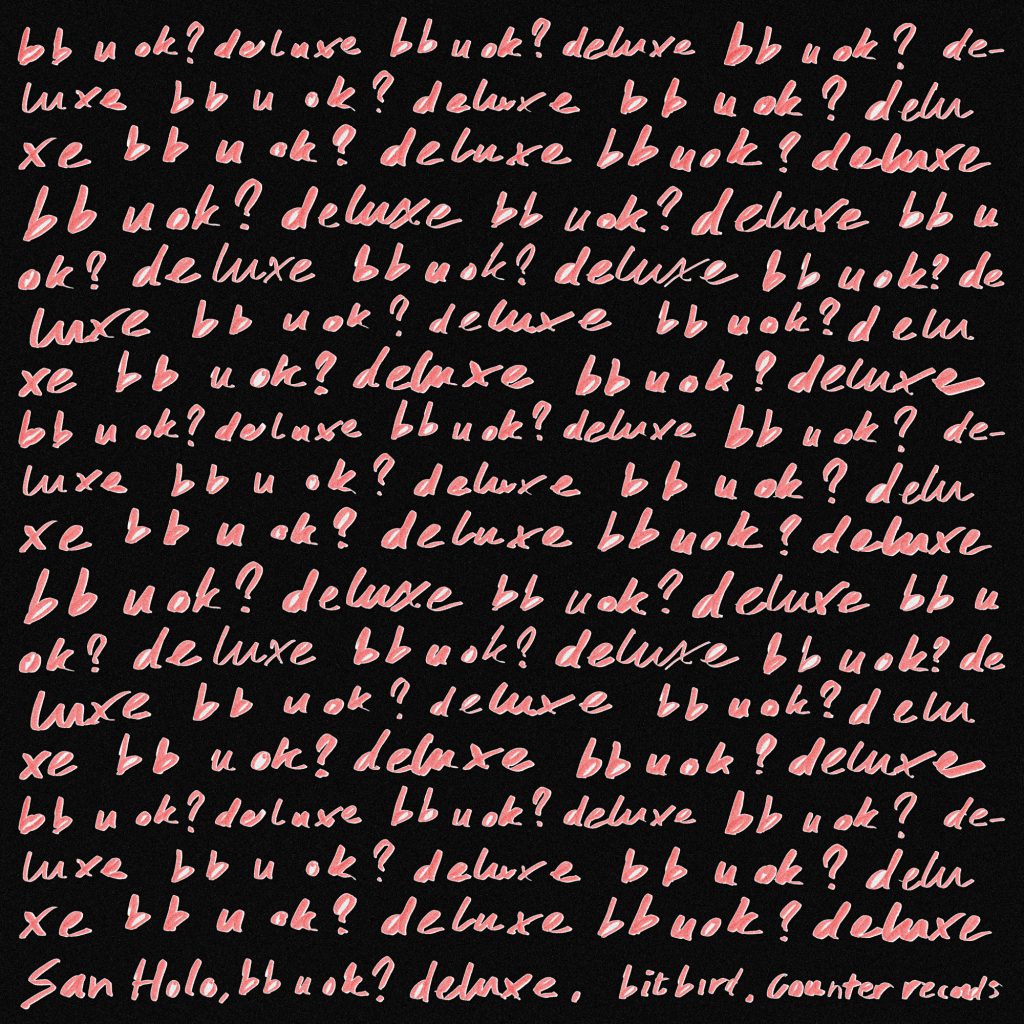 ---
Follow San Holo on Social Media:
Website | Facebook | Twitter | Instagram | SoundCloud | YouTube