Rising bass phenom MYTHM sat down with us to chat about his debut EP on Deadbeats, thoughts on the scene, and plenty more.
---
If there's one rising talent in the bass music scene who's been steadily propelling upward as of late it most certainly is MYTHM. Hailing from Canada with a deep-rooted love for bass music and a keen ear for 140 dubstep, this DJ and producer has perfected a sound all his own in just a few short years of releasing music. It didn't take long for him to gain the support of major artists and entities in the scene, like TRUTH's Deep, Dark, & Dangerous and J. Kenzo's Artikal Music with a loyal and growing fanbase in tow.
MYTHM's latest release, the Brutalist EP, marks yet another milestone in his career as it comes to fans via Zeds Dead's Deadbeats just a few months following his debut track with the label on We Are Deadbeats Vol. 5 last year. Kicking off the EP is its title track, which became an immediate favorite with a growling bassline that builds in intensity as it plays out. It's clear why Zeds Dead has been rinsing this one in their live sets lately; this tune carries a heavy, head-nodding wow factor.
The project's second track, "Pressure," has been released as a single a few weeks prior to the rest of the EP. MYTHM shows off his range by taking a different approach with this jazzy, distorted dubstep tune while still sticking to his signature 140 bpm and telltale sword-slashing samples. "Two Face" completes the EP and if you've been lucky enough to catch a set from MYTHM recently, there's a chance you've heard a tease of this one. This dynamic tune is begging to be played on a sound system with its sinister bassline that's spot on to his signature sound.
MYTHM's Brutalist EP is out now on all streaming platforms, so head over to Spotify or your preferred platform to take a listen and keep reading for our interview!
Stream MYTHM – Brutalist on Spotify:
---
Hey Mikey, thanks so much for taking the time to chat with us today! We're stoked to have you on the site again. Since starting the MYTHM project four years ago, you've quickly gained a substantial fanbase and support from highly respected underground labels like Infernal Sounds, Deep Dark & Dangerous, and Artikal Music. Was there one particular "aha" moment that made you feel like your career had truly taken off?
I'd say definitely getting a release and signing to J:Kenzo's label Artikal was a huge moment for me. With Kenzo being an originator in the UK dubstep scene, his support along with many other OG's really pushed me in the right direction with where I wanted to take MYTHM. The name of the EP, 'Technique', was also the name of my debut tour and the release sat at #1 on the Beatport dubstep charts for some time, which was very exciting for me. 
Speaking of "aha" moments, this debut project on Deadbeats would surely be one of those. How does it feel to be working with not only one of the biggest imprints in the bass realm but one from your home country? 
Deadbeats has been a goal of mine for a while so it's pretty nuts seeing everything come to fruition. They have been at the top of the top when it comes to labels for years now and some of my favorite artists have released with them. On top of that, with the label being Canadian, it definitely feels like a special spot for me, being Canadian myself. 
The whole EP is fantastic but the title track "Brutalist" definitely stands out and has been getting rinsed by so many different artists for months. Can you speak on the process behind creating this track or what sparked the idea? 
I went to my first Tipper event last year. It was Tipper and friends in Suwanee in Florida. I had never been to a Tipper event and to be quite honest, I was unfamiliar with any of the artists playing. In short, it was one of the craziest experiences ever in regard to a music event for me. I left feeling very inspired and afterward wrote "Brutalist," probably one of the biggest tunes of my career so far, and "Pressure." "Two Face" was actually a track I made almost two years ago and I wanted to save it for a special release. I'm glad I did because it pairs great with the other two. 
The last time we spoke was in 2021 and you mentioned that a goal of yours was to play the Black Box in Denver. Fast-forward a year and you've done just that, what was that experience like? Was it everything you'd imagined? 
Yeah, so I've played Black Box twice now actually. The first time was during my 'Technique' tour in 2021 and I headlined. The second time was also November, but in 2022 and I was direct support for N-Type. The Black Box is easily one of my favorite clubs I've ever played. Everything about it from the sound system to the crowd, it's always spot on. Shout out to Nicole for holding things down over there and big love to the entire Denver crew.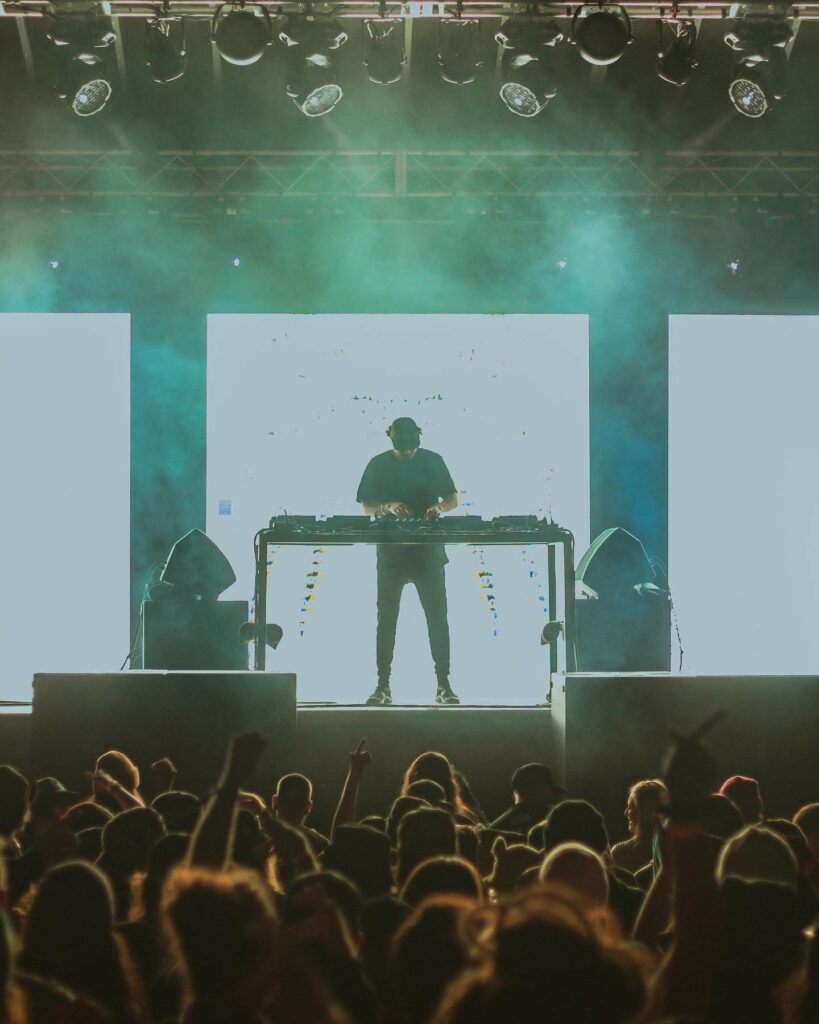 After playing countless club shows at the beginning of your career, 2022 was the first year you began playing festivals, and some pretty major ones at that. Do your sets differ between a club setting and festival setting? What factors go into reading the energy of the crowd? 
When it comes to my sets whether it's a festival or a club, I always freestyle so there's no difference in how I approach a set between the two settings. When it comes to festivals, the set time is a big one when it comes to reading the energy of the crowd. If it's a daytime set and you can gauge that people are more on a relaxed vibe then maybe playing banger after banger might not be the right fit. Use that opportunity to play more chill stuff that you normally wouldn't play and dial it back. When it comes to a club situation it's the same thing, it all depends on the set time and how many people are in the crowd. 
Last year also saw you make a huge move to the US, what are some culture shocks you've experienced both in and outside of the scene? 
To be honest there's not much of a culture shock here other than the gun laws and all that kind of stuff. It spooks me out since for the most part, we don't nearly have the same gun issues here in Canada. Other than that, there's not much of a difference when it comes to in and outside of the scene. 
Speaking of the scene, what are your thoughts on the current state of the bass community post-pandemic? With the explosion of show announcements and plenty of drama, how do you think everyone can do their part to keep our scene sacred?   
The bass music community is stronger than ever at the moment. Everyone is excited and hyped about all this new talent that blossomed through the pandemic. Seems like every day there's a new artist wowing people and keeping artists on their toes. Lots to look forward to for the future with the scene right now for sure.
In regards to drama, I'd say everyone sometimes just needs to take a deep breath, get off their phones, and remember why we all are in this community together as a family, and that is the music. We are very lucky to be able to have this experience and we shouldn't let drama or whatever egotistical factors come into play. Leave that all at the door and let's get back to the music. 
Finally, you have a massive year ahead of you and even teased fans with news of your debut album. Can you give us a few hints as to what else is in store for the MYTHM project in 2023, and what bigger goals you hope to achieve?  
Yeah, my debut album is done and I'm now in the process of sorting out a release plan. We will see what happens, but wherever it lands, this is going to be the next chapter of my saga. In regards to hints, I'll be announcing a dream booking soon at a venue that is a huge deal for anyone to play at. Other than that, it's a bit too early in the year to tell what's going to be coming my way. Festival season is shaping up to be a big one like last year and I've got some sick releases lined up, plus working on some exciting new collabs. Bigger hopes? I'd say locking in a release with my dream label and playing shows with my favorite artists or even going on tour with one of them. 
---
Follow MYTHM:
Facebook | Twitter | Instagram | SoundCloud | Bandcamp