MYTHM has quickly risen to the top and taken over the bass scene, bringing fresh 140 sounds and a creative mindset with him along the way.
---
MYTHM has taken this corner of dubstep by storm. He's in the studio consistently working on his craft and teasing fans with clips of mind-blowing projects. He's still burning hot off the trails of his recent The Underworld release on Wubaholics. Not only that too, but MYTHM also just released his collaborative EP and first vinyl drop on Intrinzicmusic, Phantom, with Chad Dubz, Ankou, and Chrizpy Chriz. If you haven't figured it out yet, MYTHM is a force to be reckoned with.
While the pandemic put a halt on many aspects of artists' lives, MYTHM thrived with his sound and honed in on his craft even more as he continued his ascent in the scene. His burning passion and kind heart have already earned him loyal fans and the attention he deserves. And for anyone who loves those deep, 140 sounds, he's a sound sculptor you without a doubt need under your radar. (There's a reason he was one of our bass artists to watch this year, after all.)
MYTHM is also constantly active on social media, talking about projects he's working on and EPs he's wrapping up. One of those unreleased gems is a collab with Ternion Sound that fans who attended Infrasound Family Reunion were lucky enough to hear rinsed out for the first time. Now, with the world slowly opening up, we have high hopes of catching a set from the producer in the states very, very soon.
As MYTHM continues to reach new heights in the bass music scene, we jumped at the opportunity to chat with him to learn about his production process on his new Phantom EP with Chrizpy Chriz, how he's grown his fanbase, and much more. Listen to the guest mix he spun for Deep Tempo on SoundCloud and read on for the conversation to get a more intimate look inside his mind.
Stream MYTHM – Deep Tempo Guest Mix #44 on SoundCloud:
---
Hey Mikey, thank you SO MUCH for taking the time to chat more with us today. We're really excited to get to pick your brain and find out more about you. 
Hey, thanks so much for having me, stoked to be a part of this. 
You recently released Phantom EP on Bandcamp with Chrizpy Chriz. What was the production process like in creating this release and what drew you to Chad Dubz and Ankou for remixing duties? 
With this collaborative release it was different from most of the collabs I've been a part of because we made this EP together in person, compared to most collabs, especially right now due to covid, are being made online. It was super exciting because in-person collabs are definitely a lot more organic and fun. The backstory to this was Chris stayed at my place for a month last summer and in that time we wrote this EP, plus a couple of other tunes. In regards to the remixes, the label Intrinzic suggested Ankou and Chad Dubz. We agreed immediately and then they reached out to them and that was that! 
Compared to The Underworld which is available on all platforms, what was the decision behind releasing exclusively on Bandcamp with a vinyl edition, along with the NFT?
The decision behind that was Intrinzic and when they shared with us their creative process behind the NFT, which is something me or Chris have never been a part of, we were happy to go with it. The choice to go with vinyl was again their decision and I was gassed since it was my first ever release on vinyl.
You have a signature sound that everyone clearly cannot get enough of, without trying to snag your secrets. What do you do to really get into the creative zone in the studio and make those MYTHM tunes we all know and love? 
Honestly, it depends. Sometimes I have an idea of what I want to do before I get in the studio, sometimes it's just freestyling and being inspired by other artists. I like to make sure that I never force things either. If the creative juices aren't flowing at that moment I take a break, workout, or eat some food and then get right back to it. It's really important to take breaks, especially ear breaks. I try to take those every 45 minutes to an hour. 
We were super jealous of everyone at Infrasound who got to hear that collaboration with Ternion Sound played out. I know you've got a lot of love for those dudes. What was it like working with them and is there anything you can tell us in regards to its official release?
Man those guys are the future, for real. So much love for them and everything they are doing for the scene. They really put a unique spin on 140bpm music and are huge inspirations for my work. They've been very supportive for quite a while now and working with them just feels right. The collab that debuted at Infrasound was made just a couple of days before and when they told me they were going to debut it at the festival I was so hyped. We have similar styles of workflow and so working with them felt very natural and the production session flowed very smoothly. In regards to the collab itself, can't say anything about it just yet. 
Over the past year, you've made huge strides as an artist and have quickly gained a loyal fanbase. What has it felt like being on the receiving end of so much love from fans, tastemakers, and fellow artists alike? 
It truly is surreal to me what has happened in just a year. I'm so grateful for everything that has come my way. I have been grinding hard since the beginning of when COVID hit last March and now to see it all really starting to pay off, well, I couldn't be happier. I feel so connected with my fans even though I haven't met them in person yet, but when I do, man, it's going to be special for the both of us. The support from fans and other artists just really makes me that much more excited to play shows again. To all my fans and supporters out there, your love and support means the world to me and truly fuels everything I do, and always reminds me why I love to do what I do.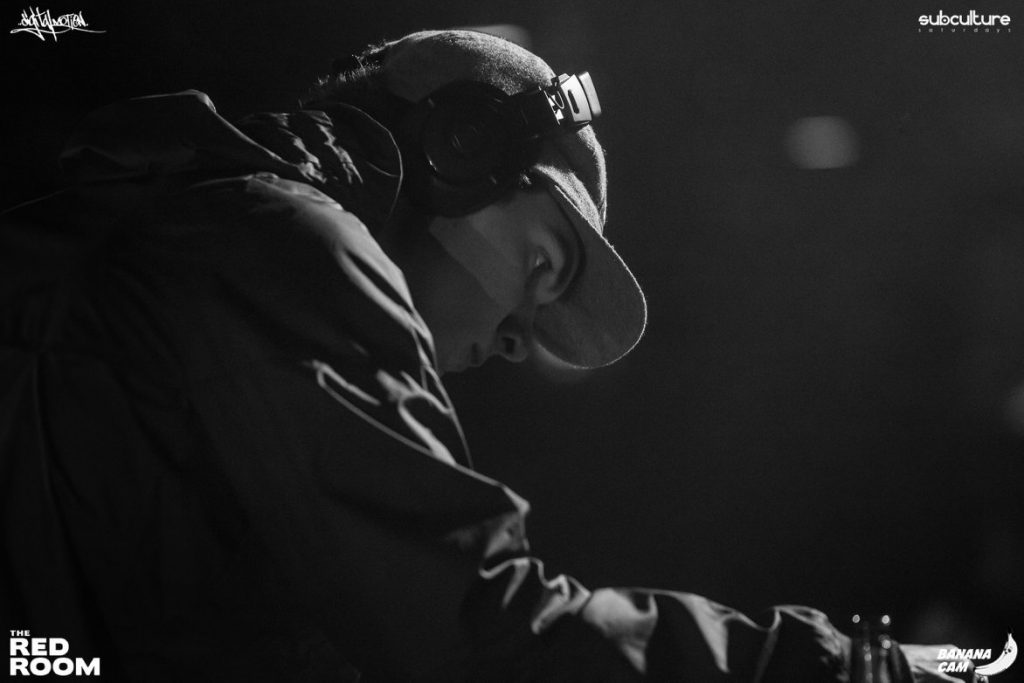 Even though shows still aren't going on in Canada, as soon as the borders open, is there anywhere, in particular, you have been dying to play? If so, what/where is it, and why?
Two words: Black Box. I have heard nothing but amazing things about that venue from the sound system to the all-around community and culture that surrounds it. It's home to the Submission crew and they do things properly. I can't wait to throw down a set there, and Denver where it's located in general just looks like a great time and bass music thrives throughout that city. If I ever moved to the U.S, I would probably have Denver high up on the list of places I would live. Big up the Denver crew! 
For those who have not yet been inducted into the MYTHM fanbase, what can you tell the newbies about your set curations? What can people expect who's not yet seen you play? 
With my sets, I freestyle all of them. No planning, nothing. I know what BPMs I'll be spinning, but other than that I don't know what song is going to come after the next. I feel that when a set is planned, for me at least, it takes away a certain excitement it. The feeling of really doing things on the fly is always something I thrive in and If you're in the crowd you can really take in that energy from a DJ when they ride that journey with you front to back. 
Every release of yours has blown us, and others, out of the water. What release/stream do you feel has truly been a defining moment for you at this point in your career?
Appreciate you saying that. I would say my ANARCHY EP that came out on Wormhole in October last year was a release that put me on the map. It really put my foot in the door and caught a lot of people's attention. Much love to Benji and my Wormhole family for making that happen. In regards to streams, my all-original set for Electric Hawk's "In Unity" stream was huge for me considering it was filled with unreleased original tunes that no one had heard yet and I was saving them for that moment. 
Looking back on your career so far, what's been one of your favorite or defining moments on your artistic journey that you can share with us?
I would say since the pandemic has hit, this has been an all-around defining moment for MYTHM and my journey. I can't wait to see where I am in a year from now and I'm just riding all this momentum until I can start playing shows.
Finally, what can fans expect from MYTHM for the rest of 2021?
Steady releases till the end of the year and expect more collabs with some of my favourite artists. Also, My biggest release to date is coming out on vinyl on a UK Dubstep label and I can't wait for everyone to find out where it's landed. Finally, after summer, once I will be able to play shows and have my visa sorted for the U.S, my team and I are planning something very big. It's going to be a defining moment for me and my career as an artist. 
Thank you again for chatting with us, we're looking forward to when we can finally catch an in-person set from you!
Thanks again for having me, it was an absolute pleasure. Till next time.
---
Connect with MYTHM on Social Media:
Facebook | Twitter | Instagram | SoundCloud