We sat down with Tristan from dubstep duo TRUTH to chat about music, the scene, and their upcoming DDD100 compilation.
---
As the dubstep scene in America continues to grow, one collective, in particular, has secured a seat at the forefront of the movement in recent years- Deep, Dark & Dangerous. Led by New Zealand and US-based duo TRUTH, this label is known for consistently showcasing the best in underground bass music and has developed a large and dedicated fan base along the way.
Since 2014, Deep, Dark & Dangerous has delivered countless releases that have tantalized their faithful following, and now they've reached their 100th milestone. To celebrate the occasion, they've unveiled DDD 100, a 24-track compilation of the latest from their roster of artists. While most of the tracks found on the compilation come from returning heavy hitters like Ternion Sound, Distinct Motive, Leo Cap, and The Widdler, there is also a handful from recent additions to the DDD family, such as MYTHM, NotLö, and Chef Boyarbeatz.
This compilation wasn't all that TRUTH had in store to celebrate the release as the duo played an intimate set in Portland that saw Tristan cross the Pacific Ocean from New Zealand to play with Dre for the first time post-pandemic. Not only was it special for the two artists to take the stage together once again, but they played a three-hour extended set in a 360-style set up to make the night one that fans in attendance won't soon forget. If you missed out on the show, have no fear because TRUTH will be streaming the entire performance on their Twitch channel on Saturday, November 12, as well as fresh mixes from more of the Deep, Dark & Dangerous crew.
Following their Portland performance, we were lucky enough to chat with Tristan about that unique set, their massive release that's on the horizon, and plenty more. Stream TRUTH's collaboration with Youngsta and N-Type, "Connected Illusions," on Spotify, pre-save DDD100 on Bandcamp, and read on for the conversation!
Stream TRUTH, Youngsta, N-Type – Connected Illusions on Spotify:
---
Hey Tristan, thanks so much for chatting with us, and congrats on 100 releases of Deep, Dark & Dangerous! As the label has done a fantastic job carving out a very signature sound over the years, what factors go into choosing the tracks for a release such as this one?
Hey, thank you for chatting with me; I'm excited to spill the beans!

When signing a release, I think it's important for me to emphasize that no two cases are ever alike, just as no two EPs or albums are alike. Each is unique in its own way. I think this is especially the case as Dre and I are both first and foremost artists, and we take a creative approach to everything, which sometimes feels like we are reinventing the wheel every time, but it keeps things exciting! For a "normal" release, an artist may approach us with a demo, and we may then ask for more music to listen to, or we might hear a track in a mix or at a show and track it down to see if we could release it on the label, or maybe we have an artist with an ongoing relationship to DDD who sends us a dope EP and we're just like "this is done." 
You mentioned that we have carved out a sound, thank you for saying that. To quite some degree, that's been a subconscious process. When we first started the label, there weren't that many labels stateside pushing the sound we are into, so this has just grown from signing and releasing music we love and want to play or listen to!

With all that aside, the DDD100 project is an interesting one because we knew it was coming up quite far in advance, but also, the timelines to get vinyl made at the moment are utterly insane. We also had this concept of the whole album being collaborations between artists. So when we started the project, the first focus was on finding four or five tracks we loved to go on the album vinyl sampler. We were really lucky with that and are absolutely stoked with the wax! The fans seem stoked – it's been our fastest-selling record in a while.
Then, we felt like there was a bit of breathing room. We wanted an album that is all killer and no filler: something that represents the label's past, present, and future, but we also wanted to include as many artists featured on the label as possible. Because the timeline or lead-in to a digital release is relatively much shorter than a vinyl, we were able to take the pressure off and let people work at their own pace and make the absolute best music possible for the album while also keeping the music very fresh.
Your two tracks on the compilation are collaborations with Youngsta, N-Type, and Pushloop. What was the process like working with these artists, and was there any specific reason you chose to feature collabs instead of solo tracks?
The process of making these two tracks was quite different, and I'm sure you'll notice they are sonically very different too.

With the Youngsta and N-Type collaboration, the two of them were touring New Zealand, and I managed to go pick them up one day and drag them into the studio to birth that track! We were all present and had a lot of fun together. We've got a long history with both of those guys. They were both some of the very first DJs in the world to play dubstep and signed us to their labels early in our career. Tempa, Wheel & Deal, and Youngsta, in particular, gave us a huge outlet for our music, with Tempa releasing four or five of our vinyl records in the early 2010s.
We've also been collaborating with them for years on and off. I remember a few times in probably 2010 going to N Types house in London to make music. With Youngsta… he, Dre, and I released a whole album/side project called "Shadow People" a couple of years ago. My point is it's been a long time coming, and these guys represent the roots in many different ways; we respect them immensely.
With the Pushloop / Kwizma collaboration. Both artists have released EPs with DDD, three in the case of Pushloop, but we'd never worked together. "Cataclysm" was a WIP that had been sitting neglected for a while, and I sent it to Jon Pushloop, who flipped it and made the WIP super dope but not quite finished. We played it out a few times, but "somebody" was supposed to finish it (all producers out there will understand)… then along comes Kwizma, quite close to the album deadline, having just rebuilt his studio and hungry to have some fun working on a track. I sent him the stems, and he obviously had a blast because what he sent back we instantly loved, and so did Jon, and we decided to put it on the album!
We know the DDD imprint has seen a huge growth in recent years, especially post-pandemic. What has the journey of both ups and downs been like through 100 releases?
Whew, it's been such a massive journey! We first started out as a monthly night which Dre and I decided to throw back in 2012 when we both lived in San Francisco. Ten years ago now! It also grew into a radio show, and then we decided about a year later it would be cool to make a full-on record label.
We deliberately started pretty slow, with TRUTH releases only to begin and very intermittently releasing music. But things got serious around six years ago when we released a couple of seminal releases (as far as the label is concerned. Our first compilation was a snapshot of things to come from a whole collection of artists. Soon after that, we released DMVU – Bloccd, which was a tune that absolutely blew up, made DMVU huge, and gave us a big boost for the label as far as motivation and visibility were concerned.
From then on, we haven't looked back! We've been incredibly lucky to have put out a lot of music we love from legendary artists. We've helped artists grow and mature and tried to help nurture their progress. We've had support from so many amazing festivals, allowing us to showcase the Deep, Dark & Dangerous sound via stage takeovers where we can program a whole night at a festival stage.
Through all that, Dre and I live on separate continents, so sometimes it's hard to get hold of one another, but we make it work. Overall it's been amazing, really. A lot of ups and truly not many downs. None I can remember, anyway!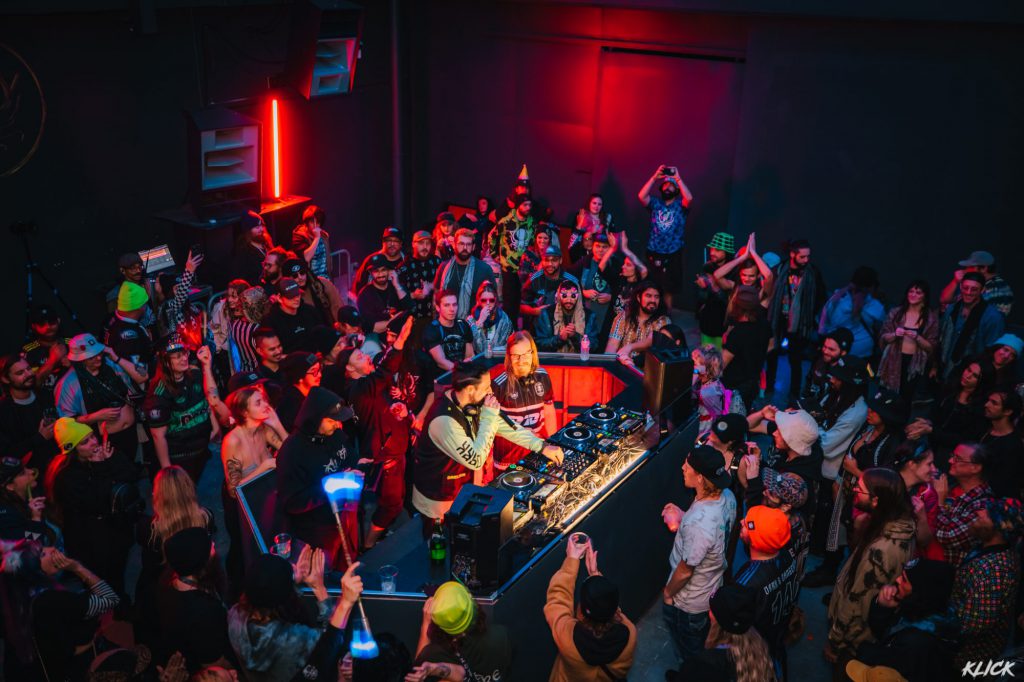 Speaking of ups and downs, the underground bass scene has recently seen its fair share of those. Being New Zealand-based and having experienced the US scene as well, what are your thoughts on the current state of the music scene in the US, both on the smaller underground bass scale and a mainstream festival scale?
My experience of the USA scene has been "at a distance," to be honest. From New Zealand, everything looks pretty rosy, and in my opinion, the US scene is one of the most healthy worldwide. I mean in terms of events being thrown, the depth of talent among artists, the burgeoning growth of sound system culture as a whole, and the quality of the crowds. Can I labour the last point a little more: people in the USA really know their stuff. Obviously, that's a generalization, but you can play underground dubs, and people know them. People research and learn about the history.
The only show I've played in the US since the pandemic was in Portland just this last week, and it was incredible! For starters, it sold out within hours of us announcing it. We played a three-hour back-to-back set surrounded by the crowd, so I feel very lucky to have been able to do that.
We recorded that set and will air it on the 12th of November (this Saturday) as part of a DDD100 live stream we're running.
Additionally, the "deep dubstep" movement has grown exponentially in the states, with more people recognizing/talking about 140 dubstep and the like. Do you feel as though the genre is rising in popularity?
It truly does seem that way. I feel that because we are so deep within the sound, it's really hard for us to gauge things properly. We're caught up in the matrix and aren't in an objective position to judge. From a personal perspective, the growth has been amazing, and long may it continue! 
As for the current state of bass festivals, what are your thoughts on legacies like The Untz and others struggling or going under in recent years? Or some of the smaller first and second-year events that failed to complete their payouts following the event?
Unfortunately, this has always been a reality for running festivals and events. However, the recent massive cost of living rising worldwide is hurting events in particular. People just don't have the disposable income to attend every single gig they would like to, so they are forced to pick and choose a lot more. It sucks seeing incredibly hard-working and deserving people like The Untz struggling.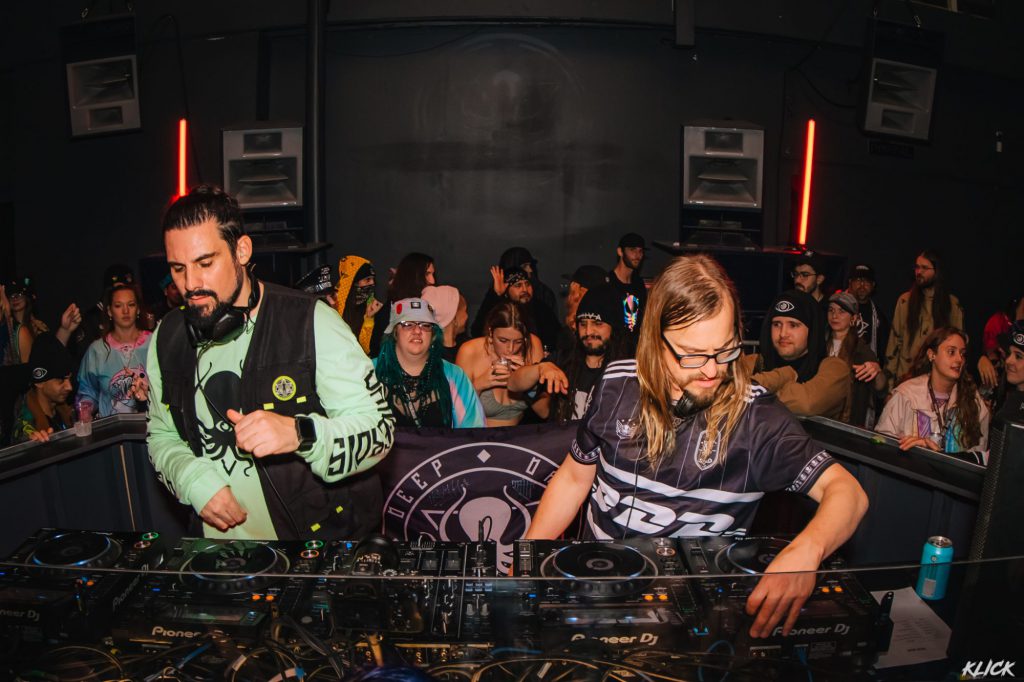 Switching back over to Deep, Dark & Dangerous, the mix series you've been doing the past couple of months has popped off, from you guys putting smaller artists in the spotlight to returning legends like Ternion Sound and J. Kenzo. Has this series been just as fun for you as it has been for fans, and can we expect plenty more where these came from?
The mix series has been a lot of fun to put together! As you rightly point out, the idea is to spotlight some artists who deserve more limelight and showcase some of the legends in the scene. Sometimes I sit back and reflect that I want the list of guests to look like our dream festival lineup where both budget or what's popular isn't a factor. The series wouldn't be possible without Lita Lotus, who pulls so many of the strings with the mixes and makes things work, so a massive shout out to her.
Speaking of which, I have to plug the other fun and dynamic side of the label, which is our exclusive subscriber series! Every week, we release a new track to our subscribers on Bandcamp. We try to alternate between an established artist one week alternating with an up-and-comer the next. The music is fresh, and all top-quality stuff. We won't release something we wouldn't play ourselves. People who subscribe get every single thing the label releases. So while it would be worth it for the exclusive track each week, you're also getting two EPs or an album every month, as well as sample packs and random merch drops (so far, pins and vinyl, but other stuff is coming too).
And finally, what kind of future goals for the DDD project do you guys have your sights on?
We're always on the lookout for new amazing music to release on the label, and that's not going to stop. We already have an insane release schedule mapped out for the next 12 months. The clothing label side is also on the up, but I'm not at liberty to divulge any secrets; just keep your eyes peeled there. More takeovers of festivals and venues (an exciting one is coming up in December where the label is taking over Meow Wolf in Denver. That's going to be next level.)
Dre and I are always discussing a full-on DDD world tour, so perhaps 2023 is the year for that. It's definitely on the cards for some time in the future. Apart from that, I can't say too much until we're ready to release it!! But thank you for the chat.
---
Follow TRUTH on Social Media:
Website | Facebook | Twitter | Instagram | SoundCloud | YouTube | Twitch | Bandcamp