Kam Sator is right at home behind the decks and he dropped by to talk about his early days, musical evolution, and future endeavors!
---
Kam Sator began honing his craft back in 2012, shortly after his first expedition to EDC Las Vegas. During this time his love affair with the scene grew exponentially, and he found himself exploring every crevice that the dance music industry had to offer, with a soft spot for big room, electro, and trance. Turns out he was a natural, and before a blink of an eye, he began landing gigs with Glow Rage, and clubs all over the Gulf Coast of Alabama, and the panhandle of Florida.
Life often has other plans and while he ultimately took up a career in restaurant management, Kam Sator remained eternally loyal to his passions. In fact, he never turns down an opportunity to move the masses, and whenever he steps into the DJ booth, the party shifts into gear as uninhibited full-body responses ensue. What is he playing these days? While he's never one to shy away from laying down a heavy techno hammer from time to time, Kam Sator is settling into his niche, kicking back under the cool banner of melodic techno and tech house.
After a short stint in Atlanta, Georgia, oftentimes playing Scott Steiner's Sound Not Found – Silent Sessions, today, you can find him expressing his DJ prowess in the charming city of Rochester, NY at events and venues like Whirly Wednesday and Photo City Music Hall. But, what's most exciting is what waits on the horizon. As we speak, Kam Sator has put the wheels in motion to establish his own event series, with the ultimate goal of opening up a club compound. He would love nothing more than for you to join him on his ever-evolving journey, so get to know the man behind the decks and enjoy his exclusive guest mix as you read on!
Stream EDMID Guest Mix 359 || Kam Sator on SoundCloud:
---
Let's kick off this get-to-know-you session with a look back at your history. When you first got into DJing, you quickly landed regular bookings with Glow Rage. Can you give us the scoop about some of your most memorable experiences with the company?
I had some great times working with Glow Rage. I was able to travel and play in over 25 states in the US, on multiple tours. Some of my favorite memories with them were at a popular music venue called Soul Kitchen. At every show there, the crowd was sold out and the energy was insane. Aside from the big show turnouts, some of my best takeaways were really getting to experience tour life, and building some impressive relationships with music industry people from all over the US. Many of those are still great contacts to this day.
What were some of your favorite go-to tracks in your setlist back then, and how do they compare to what we would hear in your setlists today?
Back when I first started touring, my arsenal of music ran the gamut of house. I wouldn't say I ever really had a go-to track, but I focused on including music that was unknown or from artists that had small followings. Of course, I was also drawn to some pretty big names like 4B, Hardwell, and Jauz. Fast Forward a bunch of years to the present, and now I play variations of both house and techno. Back then it was about the big ups and downs in tracks whereas now, I'm more focused on creating the experience. Some of my favorite artists to play today are Tale Of Us, KAS:ST, Lampé, Damian Lazarus, and Armen Miran.
Let's explore that a bit deeper. Walk us through your full musical evolution and talk about how exploring a wide variety of dance music has developed you into a better DJ.
The evolution is a bit funny because I should've known 10 years ago that my interest would begin to change when I checked out Pete Tong at TomorrowWorld. I sat there at the back of the crowd trying to figure out why I couldn't walk away from his set. I wasn't fully invested yet, but definitely intrigued. Now I know why; You just can't beat the deeper sounds of house and techno.
But, starting from the beginning, wild mainstage party vibes drew me in until trance came knocking at my door, thanks in part to the thrilling soundscapes of Bryan Kearney and Simon Patterson. Attending the very first Dreamstate was all it took to become perpetually hooked! After going through a few years of saturating myself with literally nothing but trance, I came across a producer by the name of Green Velvet – you may have heard of him [laughs] – and his unique house style slapped me square in the face! This is where my life took an unexpected turn.
While I didn't think any genre could have a hold on my heart quite like trance, my friends Erin and Ben convinced me to join them at Dirtybird Campout East down in St Cloud, Florida. After one of the most insane weekends of my life I gave myself completely over to Dirtybird's unique house stylings. Within just a few years my taste spun further down the rabbit hole into techno territory via MOOD and Drumcode, and I've honestly never looked back. Of course, this all translates through the choices I make in the DJ booth.
To me personally, the feeling, ride, and emotion you get from techno and house are hard to compare with any other genre. But, exploring a plethora of styles has really helped mold me into the artist I am today by allowing me to craft sets and sounds you wouldn't normally hear.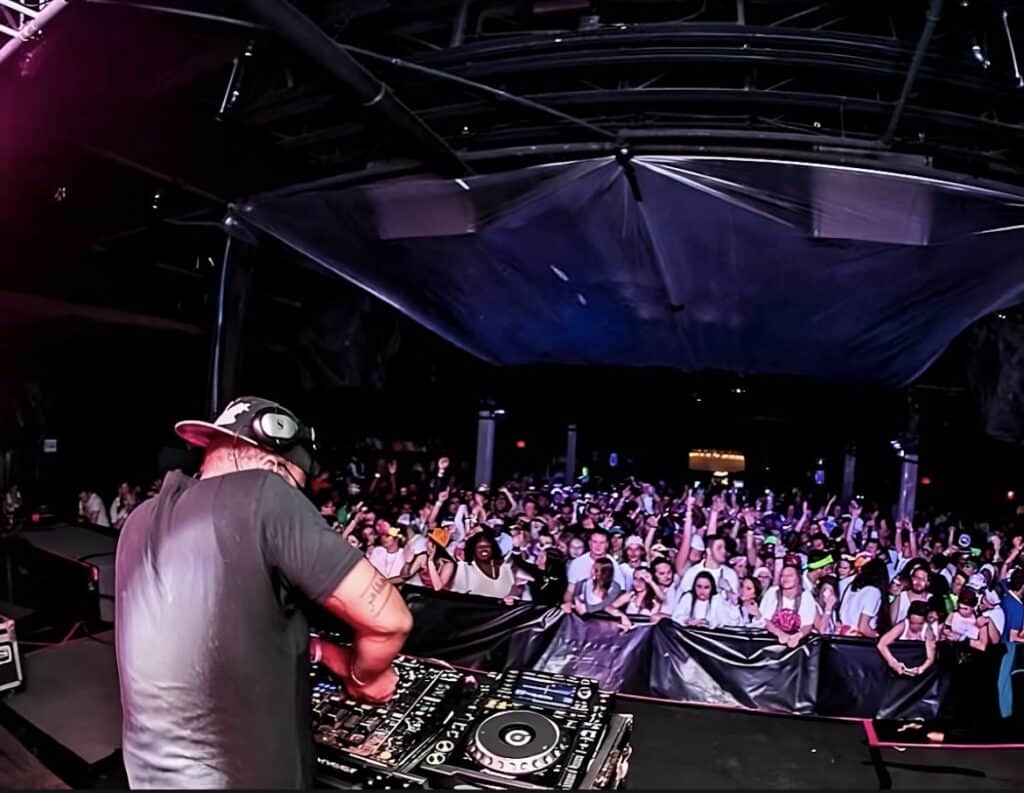 Beyond DJing, you spent some time working for R3GAL as head of PR and artist relations. Tell us about your experience with them, and would you ever want to tap back into those job titles? Why or why not?
I spent about two years with them and had some great experiences. The company was based out of New Orleans, and under that umbrella, we had about 8-10 artists ranging from bass music to trance and everything in between. Overall, I'm a business-minded person, loved all the moving parts of this role, and succeeded at it. I could see myself working back on this side of the industry. It was extremely rewarding and I gained some great industry experience from it.
You also played a big role in Hangout Music Festival in the past. Tell us about your official responsibilities and what you took away from that experience.
So, this is almost a two-part answer. I spent roughly six years total working with the Hangout Corporation, and have nothing but great things to say. Specific to the Hangout Music Festival I helped to oversee the artist/staff relations side with my focus on food and beverage. I put in many long hours with the catering team but well worth it! For two of the years I was there, I also helped put together the afterparties held in the Hangout Courtyard after the event concluded. I even got to DJ the afterparty once and it was a night I'll never forget!
Within the Hangout group, I also did the live music booking for their restaurant location on Okaloosa Island, Florida, called The Gulf. This tied into being the on-site manager for our outdoor concert series, responsible for everything minus the actual stage build and headliner booking. The company regularly brought in national acts. Working within multiple different departments under their umbrella did nothing but help me hone and improve my skills in the music industry. It further solidified the fact that this is the industry I want to forge a career, whether it be in the forefront or behind the scenes.
Now, let's talk about your current situation. We can often find you working the decks at Photo City Music Hall in Rochester. Can you talk about what the scene is like in this small eccentric city in Western NY?
To my surprise, the music scene in Rochester is thriving. Even though there's a lot less than in Atlanta, Georgia (where I just moved from), the shows here are incredibly special. The crowds that come out are here for the music, and at the end of the day, I just want to send my passion through the speakers to all who will listen. This area is very bass-heavy, but once you find the right people the options for house/techno are actually more available than I thought they would be. I haven't had any issues staying busy in Rochester whether DJing or simply attending an event.
When preparing your set, you go in with an idea of what you want to play, but turn to your gut once you're up there. Can you walk us through your thought process as you build the experience?
This is a great question. So, it really does vary. Sometimes I go into a show with an idea of where I want to go, and other times I just find the perfect opening track and then let my mind build the experience from there. I play a lot through feeling, if that makes sense. Building an experience for everyone listening is truly so important to me, while also expanding minds to sounds or artists you've never heard before. I love when people leave my set watering at the mouth for a setlist because they've never heard any of the tracks I've played.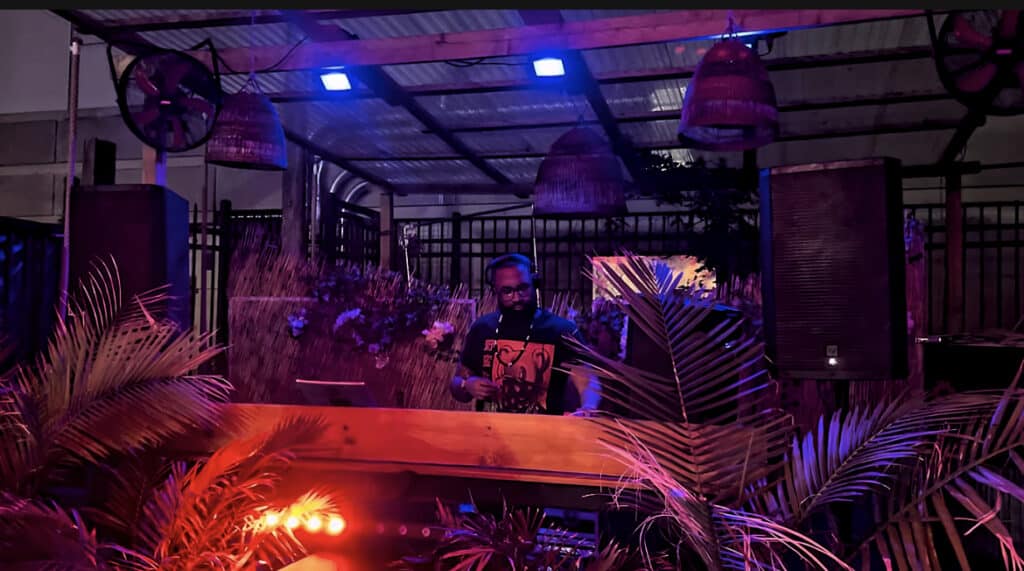 What would you say is the most challenging thing you face in this industry as a non-producing DJ? Any chance we could see a production from you in the future?
Honestly not really too much, it all depends on where you want to see yourself and what you want to get out of this industry. I've met great producers that aren't good DJs, I've met great DJs that aren't good producers, and I've met some that are superb at both. Now obviously, not producing may limit the number of bookings you get or how high you get on the "DJ totem pole," but, at the end of the day, if you're happy with what you're doing and where you're at, that's all that matters.
Yes, production is coming soon. I have some great tracks that are near complete. I would say sooner than later I'll be ready to share some of the sounds I've been working on. Of course, it's all tech house and techno variations.
Recently you released a mix under the presentation of Grape Zebra. Can you open up about how this name correlates with a potential career endeavor you've had your mind on?
Grape Zebra is amazing. For starters, it's a name that I'm creating shows under, focusing on high-quality music, sound, and lighting, for an audio and visual experience like no other. Ultimately, I'd love to open up my own venue that'll have a house club, techno club, and then Grape Zebra, which will be the after-hours spot, ideally all in the same compound.
I can't go too far into detail as I'm still fleshing out my vision, but, the best way I can describe it is a house and techno venue CREATED by house and techno people FOR house and techno people. Within its walls, we'll create a unique sensory experience that checks all the boxes for a proper night out. But for now, be on the lookout for Grape Zebra Presents here in Rochester, NY. Details for our first event (in partnership with Keith Wozniak aka Bucky) are coming soon so stay locked into socials!
As usual, I love to end on a fun one. If you could do a back-to-back with any DJ on the planet, who would it be and why?
It's a tie for me between Nicole Moudaber and Damian Lazarus. Nicole really embodies everything I love about house and techno. Also, I think she would be a blast to perform with. Her brain operates on another level, and I would love to create something special with her behind the decks. Damian literally touches on everything I love about house music. The way he can craft a set and control the masses is insane. I love working with artists who'll push you technically and both of these two amazing people would do just that!
---
Follow Kam Sator: