Dreamstate SoCal was an overall hit for its seventh edition, with an uplifting atmosphere, mystifying stages, and enchanting music.
---
As North America's largest trance festival, Dreamstate SoCal delivers year after year with a stacked lineup, multiple immersive stages, radiant performers, and a sea of attendees who further make the experience worthwhile. The trance community is surely alive and well as the festival draws in fans of all ages year after year, with some coming out of rave "retirement" to make the trek to their favorite festival. No matter who you come across at Dreamstate, everyone is truly there for the love of the same music, making the vibes of this festival some of the best of any show.
Featuring a selection of the scene's most prominent artists and rising talent, Dreamstate's musical curation was a success across all stages during its return to the NOS Events Center November 18-19. Mainstage mavens like Ferry Corsten, Armin van Buuren, and Audien enchanted all who stepped foot in The Dream. The Vision uplifted attendees into a pure state of trance with music from Solarstone, Paul Oakenfold, and Bryan Kearney.
Related: Miss the magic that was Dreamstate SoCal 2022? Relieve the experience with these livesets!
There was never a "bad" place to spend your time at Dreamstate, as various genres were bumping at all stages. Those looking to kick their trance experience up a notch could step into the psytrance realm at The Sequence, featuring music from artists like Blastoyz, Vini Vici, and WHITENO1SE. In contrast, progressive sounds and hard trance could be found at The Void through David Forbes, Renegade System, Taylor Torrence, and more.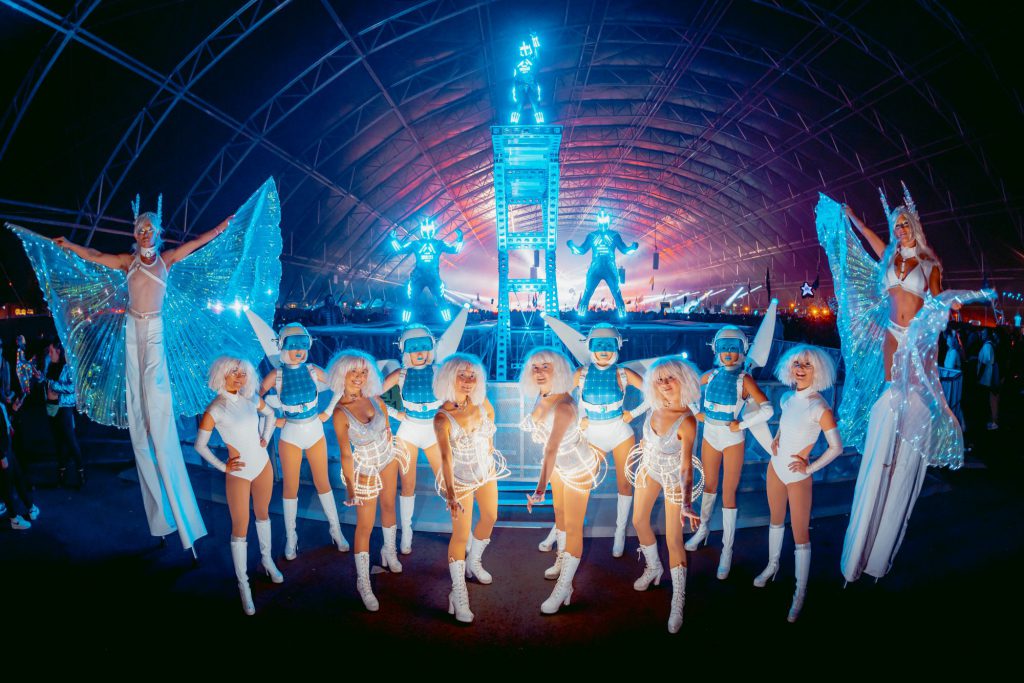 Dreamstate SoCal welcomed returning artists to the bill and newcomers making their US debuts, like Rinaly and 8Kays.
Arriving Friday night and making my way quickly through security, I found myself heading toward The Void to catch Ukrainian 8Kays in her U.S. debut. She was a real treat and captivated the crowd during her whole set, playing progressive tracks like "Dance With Me" with Kevin de Vries. The Void itself this year was a major upgrade with a new location, larger stage design, and top-tier sound that didn't overlap with the other stages. Near the end of 8Kays, I made my way over to The Dream to catch part of Matt Fax's performance, who also entranced the crowd as people from all over were drawn into his set. I noticed that the mainstage design was a bit scaled back and shorter compared to previous years, like in 2019, when it featured multiple tall structures that resembled a cathedral.
One disappointment this year was the removal of the shuttles that would take attendees from the Carousel Mall parking lot to the venue. It was at least a 20-minute walk from the green baseball lot, where I parked, to the NOS Events Center, and the walk back after the show can be especially tedious when you're drained from a night of partying. There was a premier parking option that ran around $40 a night; however, this sold out ahead of the second day when my group considered purchasing it. Next year, it would be nice to see the shuttles reinstated as they were a reasonably quick, seamless, and complimentary ride to and from the venue, adding a thoughtful touch for attendees opting to drive to the show.
While the foundation of Dreamstate is trance, progressive and techno were on full display during the weekend too.
I mainly spent the rest of night one at The Dream, catching artists like Giuseppe Ottaviani, who incorporated many techno elements into his set, and Elysian, who elevated my soul into a blissful state of trance. Techno and hard trance were heavily infused into the entirety of Dreamstate SoCal this year, further expanding on the genres we can expect to see at the festival. Ben Nicky wreaked "Emotional Havoc" during his performance, playing out tracks like "We Come 1" with Distorted Dreams and a hard trance rendition of Ian van Dahl and Marsha's iconic classic "Castles In The Sky."
Ferry Corsten and Paul van Dyk also displayed the evolution of their sound during their Dreamstate SoCal performances; Ferry opted for a selection of progressive tracks and melodic techno, while Paul delved deeper into the trance realm. While some may be critical of artists heading in a new direction with their sound or experimenting with different tastes, I think it's exciting to see the progression of an artist's repertoire and the change that ensues over time as different trends emerge in the scene.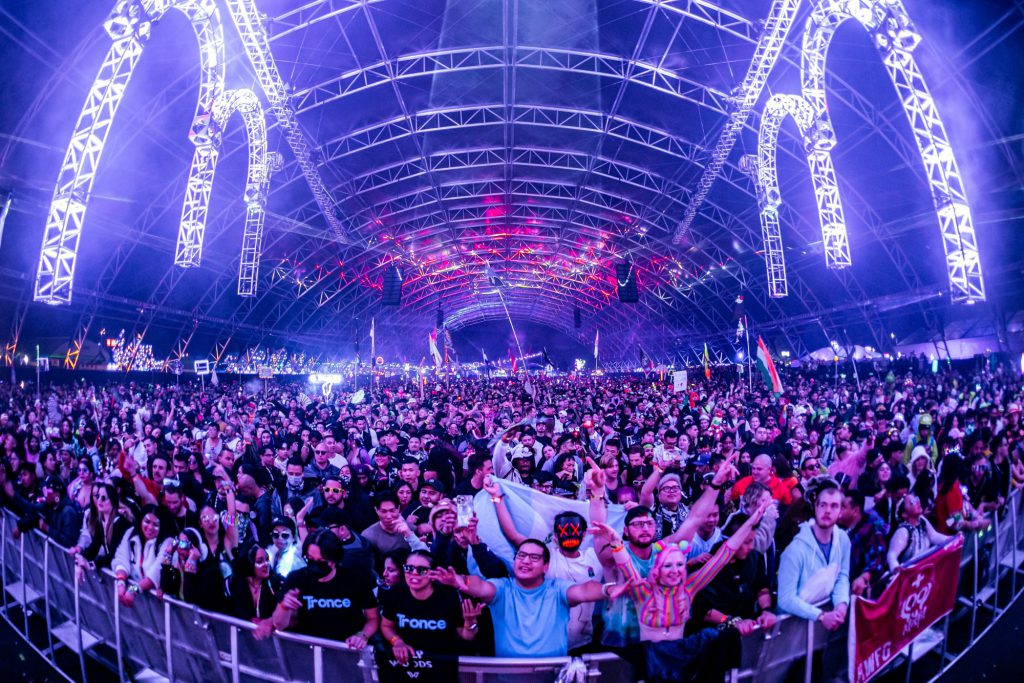 Positive vibes ran rampant throughout the weekend, with trance lovers uniting to celebrate their passion for the genre.
I had the pleasure of meeting ravers from all generations and walks of life, including those who had flown in from places around the world and those who had attended events way longer than I have. I struck up a wonderful conversation with a group of ravers older than me in their 40s who were wearing the same furry, checkered jacket as me, discovering that they've attended EDC and Dreamstate in their early years and have been going ever since. It was amazing to chat with them and learn what the scene means to them and their love for trance.
The entirety of Dreamstate SoCal for me this year was mainly spent in the VIP area at The Dream. This was my first time experiencing VIP at the festival, and I was stoked to check it out finally. Accessing the front of the stage was convenient, and the area was generally not overcrowded, with a good amount of dancing room. There were also elevated viewing platforms to provide the perfect line of sight over the crowd.
I wish there were more space heaters throughout VIP and the venue in general, though. I don't recall seeing any, and there definitely should have been more, as temperatures dipped pretty low during the festival. I was also disappointed not to see any hot chocolate in VIP this year, as I remember my friends who have attended in past years raving about this yummy amenity. Other inclusions like a hair braiding and makeup station, kandi making station, exclusive food trucks, bars, restrooms, photo ops, and water stations elevated the experience and made the area your one-stop shop for the entire evening if you decided to.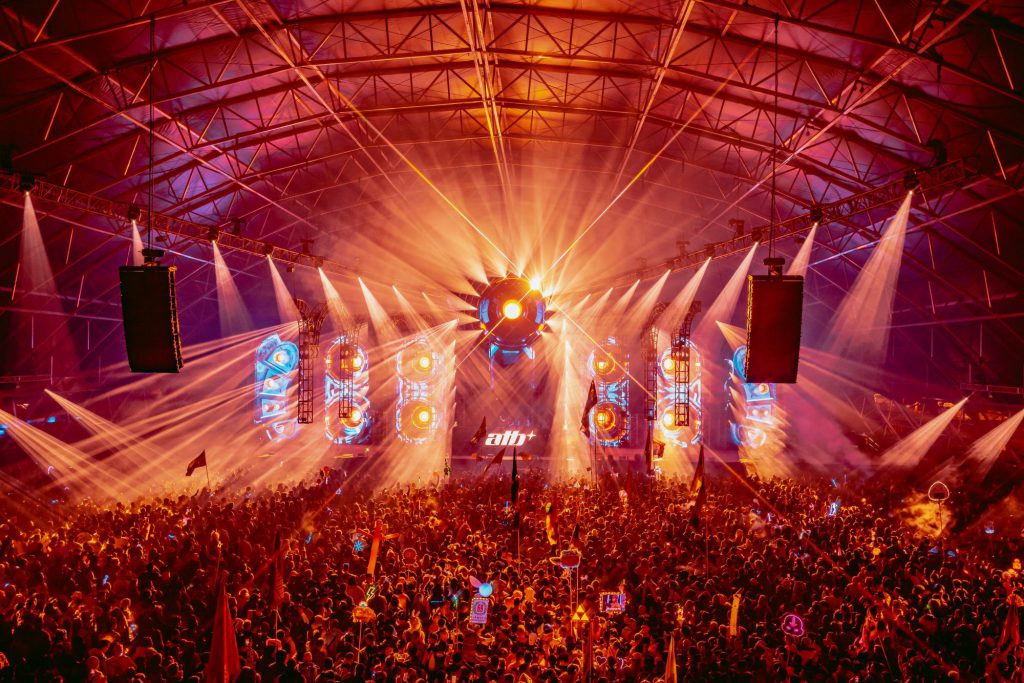 The trance excitement continued into day two, with another day full of mind-blowing sets and overwhelming positivity.
Trance legend ATB soothed our souls and had us dancing our hearts out as he played a solid selection of classic tracks like his "Ecstasy" with newer releases like "Starlight (Keep Me Afloat)" from Martin Garrix, DubVision, and Shaun Farrugia. He even mixed in some techno, like Charlotte de Witte and Enrico Sangiuliano's remix of "The Age Of Love." I was captivated by his energy onstage, and he had the crowd moving along to his electric state. ATB played many beloved classic trance songs, even taking us back to 1997 as he closed out his set with the original version of "9pm (Till I Come)."
Audien's trance set was a fun treat. He played a variety of genres from progressive house to progressive trance, including crowd favorite "Pompeii," his remix of Bastille's renowned release. Making his way to the decks next was Armin van Buuren, who took us full steam ahead as the sound immediately got louder and pulsated throughout the stage. He electrified the room, incorporating hard, jaw-dropping releases like Avao's "Text Me" and Will Sparks' "Hard," and ending with hardstyle via Brennan Heart and Toneshifterz' remix of his "Blah Blah Blah" to create a truly unique, genre-transcending performance.
A mind-slaying set from Abraxis took us home and ended the night on the best note possible. Comprised of Seven Lions and Dimibo, Abraxis' dynamic performances are always special as we journey through layers of psytrance. I had a good laugh while watching all three members of the Abraxis Institute hyping each other up onstage; Seven Lions playing the air guitar in a white coat while Dimibo clapped and cheered him on will forever be etched in my mind.
Memories were made, bonds were strengthened, and friendships were created this year at Dreamstate SoCal.
Every year, I look forward to celebrating the music and meeting the people of Dreamstate and trance enthusiasts from around the globe and from all walks of life. While I am only a few years into the trance scene, I come back to Dreamstate every year with more knowledge and sets to look forward to, and I leave with a larger appreciation for the scene. Here's to another successful Dreamstate SoCal, and I can't wait to make my return next year.
---
Follow Dreamstate: