Insomniac is teaming up with Vibee to take over Resorts World's Las Vegas Hilton and transform it into Hotel EDC during EDC Las Vegas 2023.
---
After a decade of creating immersive experiences at the Las Vegas Motor Speedway for editions of EDC Las Vegas, Insomniac is continuing on their path of innovation. The launch of Camp EDC in 2018 has been a rousing success for those making their way to Sin City to dance the day and night away under the electric sky, and now they've set their sights back on The Strip for another fresh experience – Hotel EDC.
From May 19-23, 2023, Insomniac and Vibee will take over Resorts World's Las Vegas Hilton and transform it into an electronic music lover's dream hotel experience. This lodging option will be unlike any other offered in the past in Las Vegas as the massive, 88-acre property will become a rave wonderland filled with specialty art installations, wellness sessions, and plenty of other exclusive perks that range from food and cocktails to gift bags and other surprises.
Additionally, one of the biggest benefits of staying at this exclusive Headliner hotel is access to special parties at Ayu Dayclub, which will feature some of the top artists in the dance music scene throughout the weekend. The daytime Headliner Headquarters at RedTail will also give those staying at Hotel EDC plenty to do during the day while also hosting Insomniac Radio for special interviews and DJ sets.
VIP tickets are the only pass-type that remains for EDC Las Vegas 2023, but if you hadn't scored your GA or GA+ pass yet you're in luck, because Vibee has obtained a limited number of festival passes to give those booking at Hotel EDC the option to get tickets. Packages for Hotel EDC will be available for a $99 deposit starting on Thursday, December 1 at 12pm PT for EDC ticket holders and on Monday, December 5 at 12pm PT for the general public – head over to their website for more details and read on for the exclusive amenities.
---
Hotel EDC 2023 – Exclusive Amenities
ACCOMODATIONS
3-night stay at Las Vegas Hilton at Resorts World, checking in Friday, May 19 and checking out Monday, May 22, 2023.
Dedicated EDC TV channel to enjoy DJ sets and exclusive content from the comfort of your room.
Exclusive gift bags for each guest.
Hotel soundtrack provided by Insomniac Records.
Dedicated Vibee concierge on site.
PARTIES
Official Hotel EDC day parties at Ayu Dayclub, all weekend long.
Free entry late night to Zouk Nightclub Friday and Saturday nights (subject to capacity).
Pop up DJ sets throughout the property.
EXPERIENCES
Morning wellness experiences.
Eye-catching EDC photo ops and performers.
Daytime Headliner Headquarters at RedTail, with games, prizes, karaoke, speed dating and drink specials, plus interviews and DJ sets from Insomniac Radio.
Special EDC pop up store on property.
FOOD & BEVERAGE
Headliner Hall Pass with $30 in daily credits for each guest to use on property.
Recharge after the show with extended hours and special menu items from Suns Out Buns Out and Mulberry Pizza, including custom Pasquale's Pizza!
Daily Headliner Happy Hours with drink specials on site.
---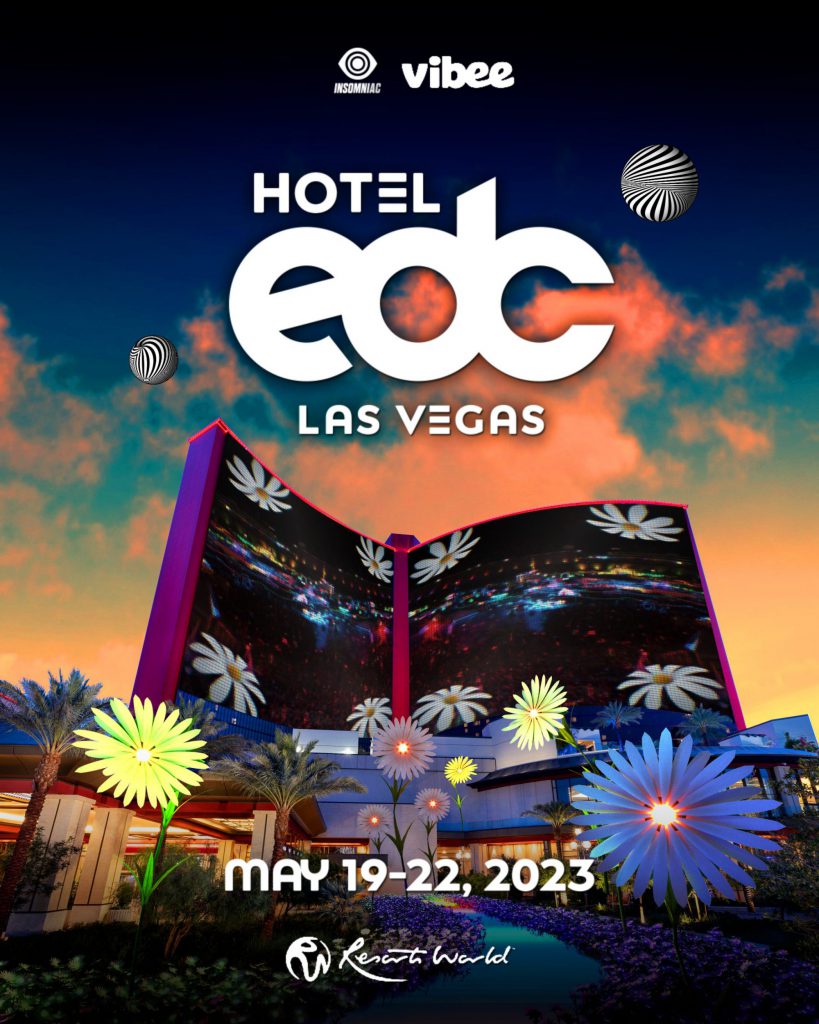 ---
Connect with EDC Las Vegas on Social Media: