After a successful first edition, Basscon Records is back with Devotions: Chapter II, enlisting a mix of veterans and the next generation of hard dance.
---
Earlier this year, Basscon Records introduced a new compilation series named Devotions: Chapter I, where producers from all over the world were put together to create a lethal mix of the highest quality records that the hard dance scene offers. This new concept introduced fans to the next generation of hard dance music like Novakaine and DVRGNT, as well as seasoned veterans that deserve their flowers, such as DJ Thera. The first edition was well-received and garnered enough success to spawn a second volume dubbed Devotions: Chapter II.
Similar to the first edition, the second chapter of Devotions seeks to make a statement in the hard dance scene. Within the album, fans can hear tunes that cover all of the sounds and subgenres of hard dance with artists like TYEGUYS, BEL AIR WITCH, Haaradak, Proto Bytez, and many more. Very quickly, Basscon Records is becoming the premiere hard dance label in America, and the tracklist on this compilation album proves it.
Crank that volume up and enlighten yourself with Devotions: Chapter II on Spotify or your preferred platform, and read on for a deeper dive into the tracks!
Stream Devotions: Chapter II on Spotify:
---
Devotions: Chapter II is filled to the brim with high-quality tunes from all over the world.
The second edition of Devotions kicks off with a collaboration among Recharge, Proto Bytez, and Drean titled "The Broken." This tune delivers an epic clash of styles that seamlessly blends stunning melodies, monstrous screeches, and vocals about never giving up and never breaking. Although Proto Bytez had a relatively quiet year, this team-up with Recharge and Drean made for a perfect return to releasing music.
It's tough to follow up a pure hardstyle record, but if anyone in the States can do it, it's none other than Water Spirit. While the producer is known for their hardcore beats at 200 BPM, they slowed down the tempo to deliver a "Great Wave" of screeches and distorted kick drums. On this track, Water Spirit showcased multiple kickdrums and incorporated vocals that urge listeners to hop on the great wave of hard dance music that's taking the States by storm!
Up next is a tune titled "Never Knew U" that comes from the mind of a homegrown standout in BEL AIR WITCH. Over the years, this producer has gone from hidden gem to undeniable talent in the scene as he perfectly embodied American Hard Dance's spirit. "Never Knew U" demonstrates his vision as he mixes elements from different genres like drum and bass breaks, dubstep growls, and rolling psy trance basslines to create a hybrid record that works perfectly in the context of American Hard Dance and is also a personal favorite. To top it all off, he threw a donk on it in the middle of the drops to keep the energy high and bouncy.
The bangers keep coming as DEAD X delivers his latest creation, "Sailor Man."
The All-American Boy turns up the tempo to 160 BPM to deliver a record that exists for the sole purpose of being obnoxiously hard and loud, complete with aggressive rawstyle kicks that knock your socks off. As the vocal says, listeners will be left with no thoughts other than "who is DEAD X, and why is he so sexy?" after hearing this track. If he's not on your radar yet, make a note of him now, as the future is bright for this producer.
On this year's edition of "5 Hard Dance Artists To Watch In 2022", TYEGUYS joined the list of producers that the hard dance scene should keep an ear on. Less than a year later, they're living up to the hype as they finally landed their first release on Basscon Records titled "Reaper" in collaboration with two other Basscon newcomers, INNER DEMONZ and Blupill. "Reaper" incorporates the bouncy energy of TYEGUYS with the signature dark and eerie aura of INNER DEMONZ and tops it off with the rap vocals of Blupill. All artists involved took a chance by crossing multiple genre boundaries, and they executed it beautifully.
ALESSA.A burst onto the scene in 2019 with her first official release landing on Revealed Recordings. Ever since, she's explored many genres like progressive house, hardstyle, and big room. Today, she's back in the realm of hardstyle with "Hurricanes," a tune that checks off every box for euphoric hardstyle with electrifying melodies, a gruesome anti-climax, harmonious vocals, and deep kick drums.
OverDrive follows up with "N.R.G." Similar to Proto Bytez and Recharge, OverDrive are veterans of hard dance that have been released on labels worldwide, collaborated with the biggest names in the scene, and now they've finally made their way to the States to dominate the airwaves. The Australian producers get the party started on "N.R.G." with some reverse bass before transitioning into exhilarating melodies and kickdrums that tread the fine line between Hard Dance Heaven and Hard Dance Hell.
Basscon has taken fans around the globe, and now listeners make the trip to Mexico to get to know who Haaradak is with his latest track, "Kick & Bass."
Haaradak proves to the world that he is one of the best producers to come from Mexico in just two minutes. He shows that less is more by keeping it simple with punchy kicks, minimal screeches, and pads that create an extraterrestrial atmosphere. HPNOTIC then teams up with Aurede for "Why Don't You Stay," a beautiful collaboration that takes influence from happy hardcore with uplifting melodies and a classic reverse bass switch-up to keep listeners on their feet.
After this collaboration, Retaliation showcases his seasoned production skills in a record that provides a flurry of kickdrums, video-game-like synths, and a sprinkle of bright melodies. The Dutch producer made his presence felt through the biggest labels such as End of Line Recordings, Scantraxx Prospexx, Barong Family, and more, making it only a matter of time before labels in America started noticing.
Devotions: Chapter II closes off with "Badass B*tch" by SOFIA. SOFIA made a name for herself under Arkangel, but earlier this year, she fully embraced her new persona with her Dirty Workz debut. She's keeping the momentum rolling with "Badass B*tch" landing on Basscon Records and proving that she's one of the baddest women in the scene. This record not only has the ground-and-pound elements of rawstyle but also provides infectious reverse bass and euphoric melodies.
Devotions: Chapter II sets the standard for what Basscon Records should continue to do.
As a passionate fan of hard dance, I'm thrilled about Basscon Records' direction with the new Devotions series. In the past, it's felt like the Basscon brand has purposefully overlooked talent in the States because the "star power" wasn't there yet. However, both editions of Devotions have successfully showcased homegrown talent and veterans of the scene from all over the world in an effort to create that star power that, to them, wasn't there before.
Although it's taken quite a while for the brand to catch up and make an effort to create new stars and build up producers that already have solid foundations, the future is looking brighter every day that passes on. Basscon Records is rapidly becoming the hard dance label to release on, making it exciting to see what's coming next for the hard dance giant in America.
---
Devotions: Chapter II – Tracklist:
Recharge & Proto Bytez – The Broken (feat. Drean)
Water Spirit – Great Wave
BEL AIR WITCH – Never Knew U
DEAD X – Sailor Man
TYEGUYS & INNER DEMONZ – Reaper (feat. Blupill)
ALESSA.A – Hurricanes
OverDrive – N.R.G.
Haaradak – Kick & Bass
HPNOTIC & Aurede – Why Don't You Stay
Retaliation – Let's Go
SOFIA – Badass B*tch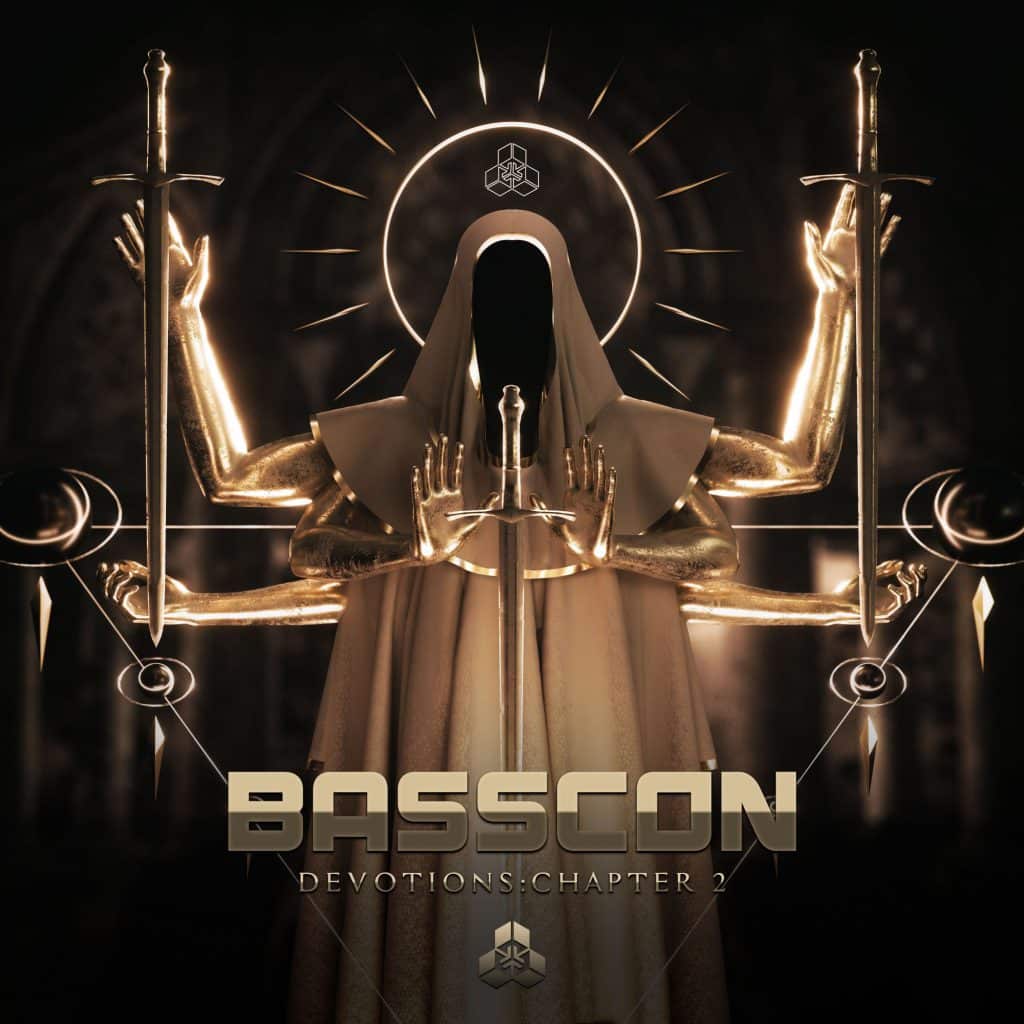 ---
Follow Basscon on Social Media:
Website | Facebook | Twitter | Instagram | YouTube | Twitch | Spotify