Nocturnal Wonderland was full of lasting memories, energetic sets, and fun characters, with some improvements to be made.
---
North America's longest-running dance music festival, Nocturnal Wonderland, returned to Glen Helen Amphitheater on September 17-18 for the 27th edition of the event. This coveted Southern California festival delivers year after year with its stellar lineup, welcoming atmosphere, and inquisitive characters and performers roaming throughout the venue. The venue itself also immerses all who step foot into Glen Helen into a whimsical wonderland with its rolling green hills and towering mountains surrounding attendees.
I myself am no stranger to Nocturnal Wonderland, with this being my third time attending the show. I always look forward to the overall vibes of this festival; you can expect to see ravers of all ages when approaching the gates, and I'm sure some of them have been attending since the festival's inception in 1995. This is one concept that remains true every year at Nocturnal Wonderland, and I always look forward to chatting it up with friendly festivalgoers from all walks of life.
Related: Want more insight into this year's edition of the festival? Check out The Good and Bad of Nocturnal Wonderland 2022.
Arriving and leaving the festival both days was a breeze for me, but multiple stories from other attendees made it clear this was not the case for others.
Having attended before, I knew my way around the dreaded parking situation and the proper exit to take off the freeway heading toward Glen Helen. I was luckily directed to the Tan lot this year, which is fairly close to the festival entrance compared to other lots. This made it easy to drive right out after the festival ended, but I know other attendees in the farthest lots waited upwards of four hours to leave their parking area; I really felt for them as this happened to me last year. This is a struggle that's plagued Glen Helen for years now; if Insomniac added more workers in those lots to direct traffic, I'm sure this would alleviate a lot of stress for everyone involved.
Heading into the festival on the first day, attendees were also met with a long wait at the security check when arriving at sunset. Insomniac was quick to resolve this issue as I did not encounter this on the second day. Walking into Nocturnal Wonderland is always one of the most exciting parts of the weekend as attendees walk up a colorfully-lit ramp into the festival, hear the sounds of the creatures of the night, and see the surrounding views from the top of the hill near the Labyrinth stage.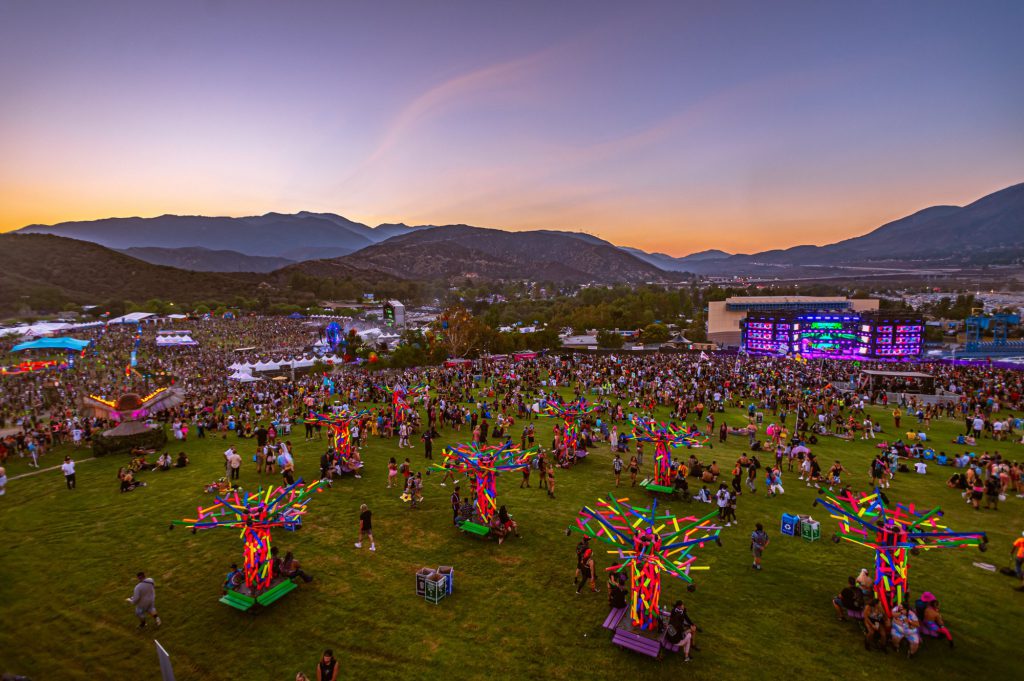 Nocturnal Wonderland delivers every year when it comes to the artists featured on the lineup.
Fans can expect to see some of their favorite artists, hear a variety of genres, and even stumble upon new sounds or rising producers in the scene. Trivecta was a treat on Saturday, laying down future bass beats on the Labyrinth stage and evoking emotion in headbangers' hearts. Moksi lit up the decks of the main stage, Wolves' Den, as they had the crowd bumping to their bass house bangers.
Over on the stage between these two, Sunken Garden, Westend threw down a fascinating house-fueled set that made me stop and listen when I only planned on passing through. A techno remix of Fred Again.. and Swedish House Mafia's "Turn On The Lights again.." caught my attention and drew me into the stage. This was my first time catching Westend, and it definitely won't be my last. Repopulate Mars did a stage takeover here on this day, and their artists surely did not disappoint, with label-head Lee Foss, Eats Everything, and Armand van Helden among the roster.
The first day ended with a heavy dose of bass for me as I made my way back to Labyrinth to catch MUST DIE! b2b Tisoki, who incorporated a plethora of hardstyle tracks into their set as well. Adventure Club at Wolves' Den did a wonderful job of catering to old and new fans alike with a selection of songs off their latest album along with fan favorites like "Need Your Heart" with Kai and "Crash 2.0" with DallasK. They also displayed new anime-like visuals featuring characters of themselves which were a hit with the crowd. ILLENIUM closed out the evening with a solid DJ set and accompanying fireworks show.
Sound bleed was an issue that was not present in recent editions of the festival.
The production of Nocturnal Wonderland overall this year was a bit underwhelming, and some of the stages were competing with one another at times. Wolves' Den and Sunken Garden's volume levels were raised and lowered at times, with the smaller Sunken Garden stage usually being the louder of the two for some reason. If you were standing toward the back of the main stage, you could clearly hear the house music erupting from Sunken Garden's speakers; Wolves' Den was also very quiet if you weren't standing near the front of it.
With the removal of the fourth stage or an art car that's been present in years' past, I was expecting the same production level or even more to be applied to the remainder of the stages. Instead, Wolves' Den and Labyrinth did feel toned down this year in terms of the level of detail and height of each stage, which also left me a bit disappointed.
Those issues aside, I was happy to return on the second day for another round of fantastic sets.
I started my night off with Blanke, who put on an exceptional show full of heart-tugging tracks and heavy basslines that made for one of my top sets of the weekend. DJ Hanzel, though, definitely takes a spot at the top of my list as well as he took the crowd at Sunken Garden "von deeper." R3HAB performed a thrilling big room set that reminded myself and other attendees of their early raving days, and he managed to mix in current sounds from the future rave genre as well. Dillon Francis and REZZ closed out my time in Nocturnal Wonderland, making for the perfect back-to-back sets of Dillon's fun-loving tracks before REZZ's grimy beats took us all to another dimension.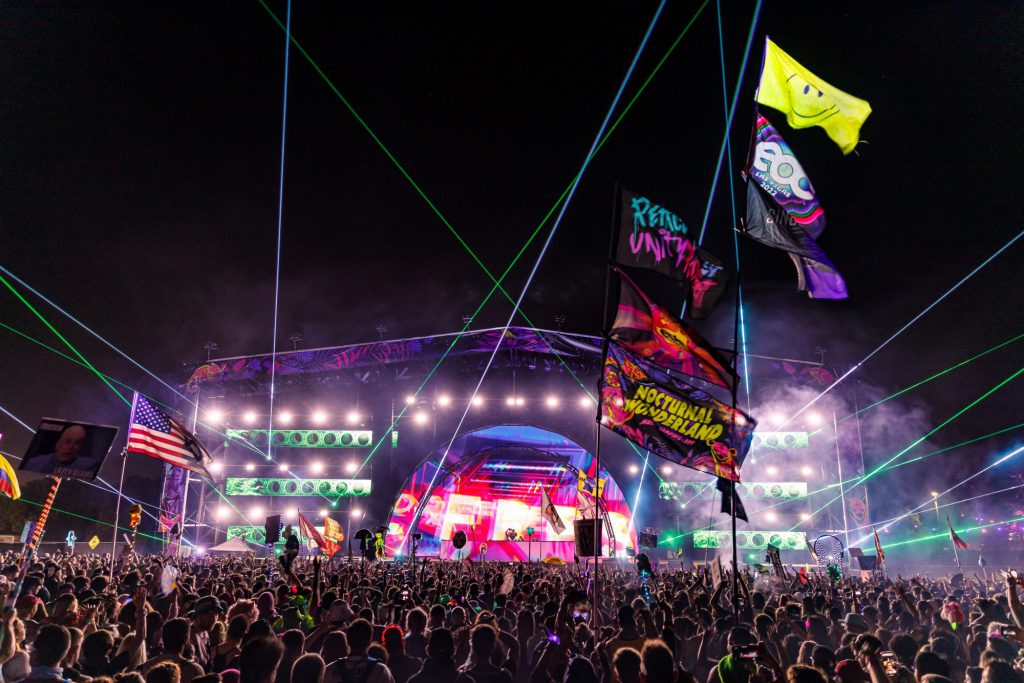 Nocturnal Wonderland was a lively time for all creatures of the night, but improvements should be made.
Overall, my time at Nocturnal Wonderland was well spent, and I believe most other festivalgoers had a phenomenal weekend as well. However, those who have been attending for years will recognize the drop in production. That aspect typically improves each year with most of Insomniac's festivals, so I was surprised to see that decline for its most recent edition.
I'm sure that camping would provide an entirely different festival experience with its afterparties and silent disco, as well as alleviating parking concerns; I hope to experience that aspect of the festival in the future. I also have faith that Insomniac will fix issues such as sound bleed for next year's event. I look forward to life being breathed back into production for future editions as it approaches its 30th anniversary.
---
Connect with Nocturnal Wonderland on Social Media: