This year's edition of Nocturnal Wonderland brought a range of positive and negative moments that made for a mixed experience.
---
As the longest-running festival in North America, Nocturnal Wonderland holds a special place in many ravers' hearts. The festival's inception in 1995 set off a longstanding tradition of bringing a magical experience of dancing, music, and art. This year's edition returned to the fan-favorite venue, Glen Helen Regional Park, for another year to bring attendees the best of dance music with a plethora of talented artists, including everyone from REZZ and Andy C to Armand Van Helden and Dillon Francis.
While Nocturnal Wonderland brought a magical experience with mesmerizing music, an immersive camping experience, and plenty of hidden gems to find this year, there were simultaneously some differences we noticed that undoubtedly affected some attendees' experiences over the weekend. Read on for the positive and negative moments we encountered this year – and let us know about your experience at the festival by dropping us a comment on Twitter.
The Good and Bad of Nocturnal Wonderland 2022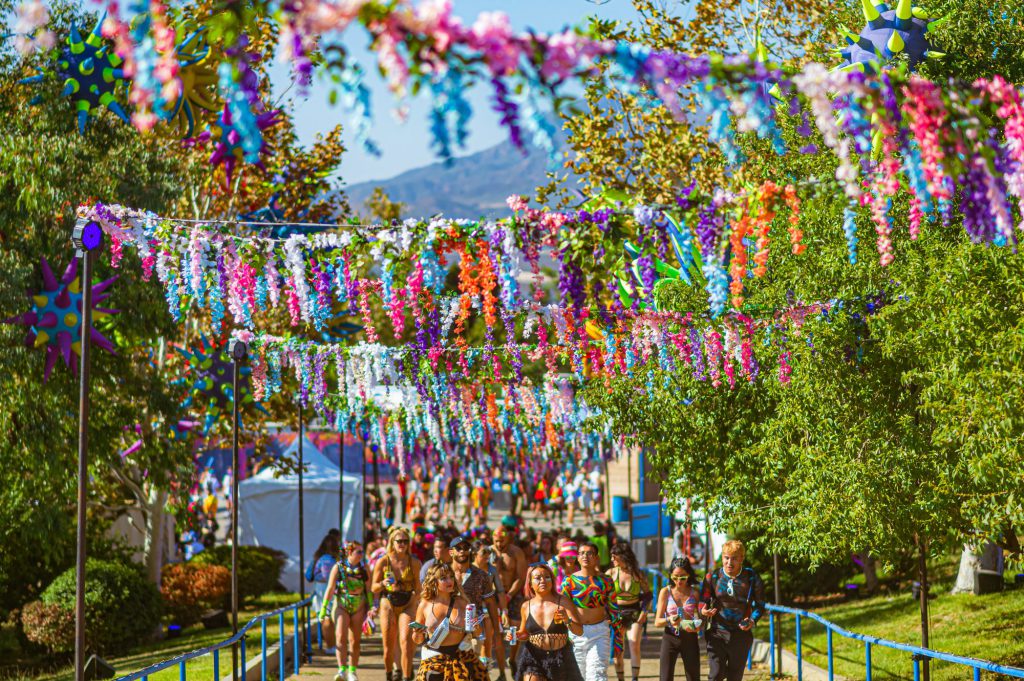 Entering the venue was a breeze after the long walk from the parking lot.
Getting to the venue was effortless, with great indicators and signs to get everyone to the right place. Insomniac's free event parking was a huge bonus, and we were happy to see spacious lots that were easy to find and remember. The workers guiding cars and pedestrians were sweethearts, doing a great job managing traffic in both aspects. Once we arrived at security, they were pretty thorough without being invasive and kept lines short. Once past security, we came to a beautiful walkway with art hanging above our heads and misters all along the sides that let out into the venue. It was our favorite part about getting inside!
Exiting the venue wasn't as efficient with congestion, traffic, and a long walk back to our cars.
At the end of night one, however, we were unfortunate enough to see that walkway get overly congested, with people packed like sardines and moving as a herd in batches to get through the exit and out to the long walk to their cars. Similarly, the parking lot congestion took some time to get through, with so many people trying to get out at once. It took many people at least an hour to get to their cars, then another 30 minutes to get out of the lot, if not longer. It served as a good lesson, as many chose to leave early on night two, preventing some of that congestion in the crowd and parking lots the second time around. We look forward to seeing next year's exit strategy improved to avoid overcrowding.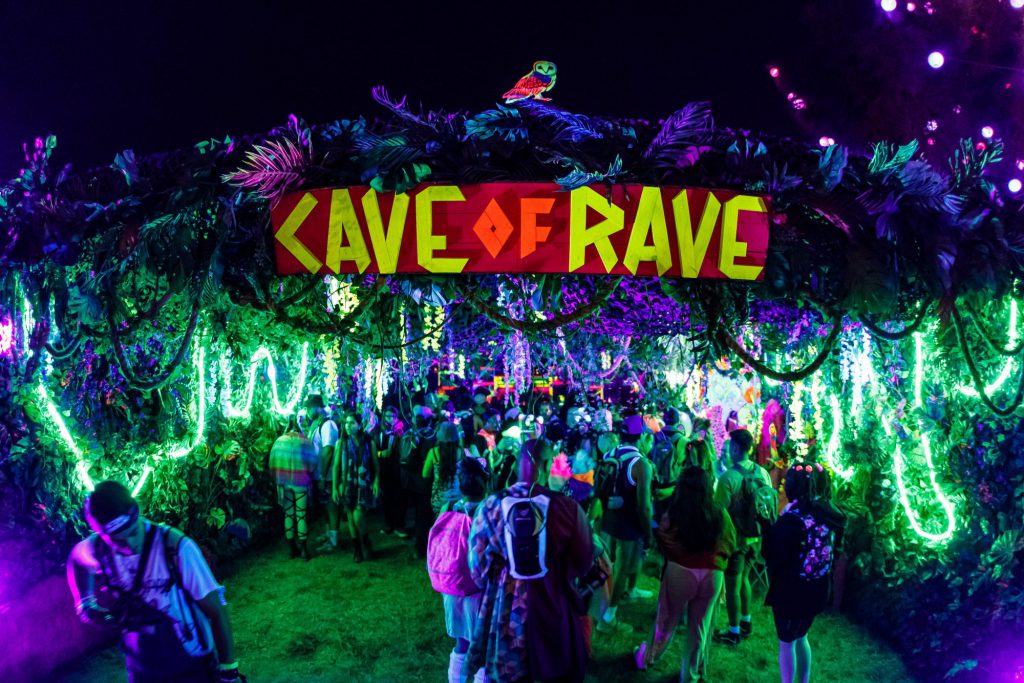 The Cave of Rave brought attendees a unique, colorful experience.
For those lucky enough to find the Cave of Rave, it was its own experience within the Nocturnal Wonderland grounds hidden between the camping entrance and the relaxing mushroom garden. The Cave of Rave was a jungle crevice filled with interactive art and a banging stage with drum and bass and house all night long with two rooms on either side, one with 3D art you could stand on and feel on the walls. Opposite that room was one where ravers could watch footage of past years, pose in front of a camera to become part of that footage, and check out past flyers, including the first one made for the festival.
This year's edition faced significant sound issues.
Many attendees would normally list the festival's production as a major appeal for attending, yet this year's production was unfortunately not its best. There were multiple instances at each stage where the volume was very low, and we could hear it being turned up, then back down again. While sound volume was one issue we noticed, there was also the issue of the sound bleeding from the Sunken Garden stage and the Wolves' Den. This year it was as if the two stages were in a competition and constantly being turned up over each other. There were even spots where you could hear both stages at once. We hope to see the stage placement be improved next year to bring back the impeccable production we know and love.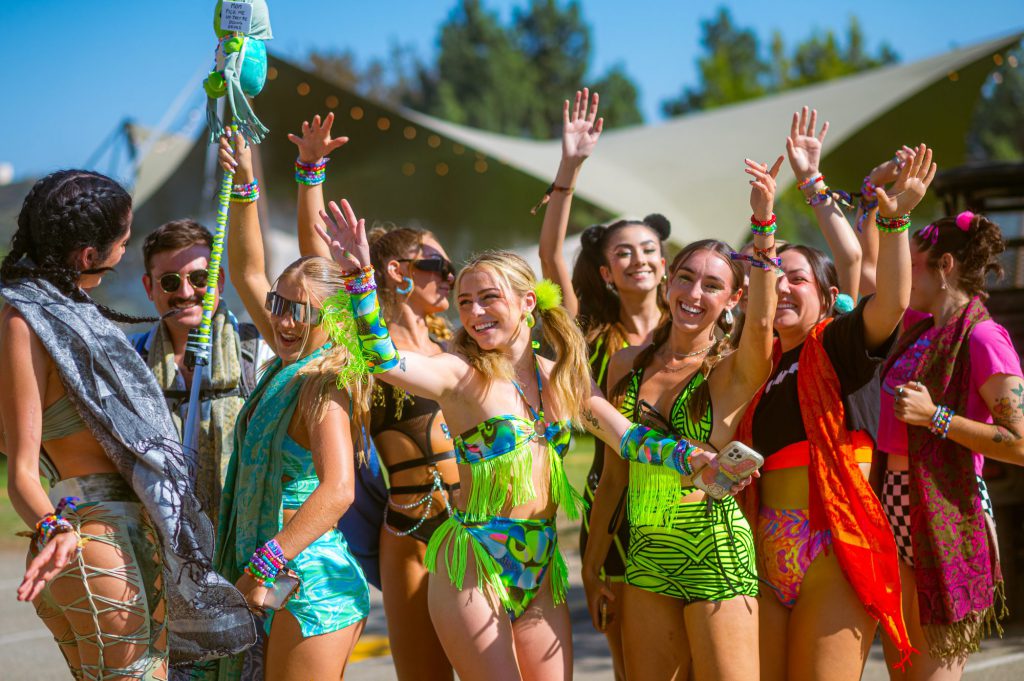 The community was present, welcoming, and dancing to their hearts' content.
Known for its community and creativity, Nocturnal Wonderland is a festival that allows everyone to be their most authentic selves without judgment. Starting with people's unique campsites and eccentric outfits, attendees use every ounce of creativity to show out for the festival. Nocturnal often brings out the best crowds, with everyone vibing as they dance from stage to stage. We love to see everyone unabashedly dancing to the beat of their own drum. It's a beautiful sight to see, as these things serve as a way to bring people together, creating a sense of community and starting countless friendships.
While festivals allow people to let loose and try new things, we implore everyone to prioritize their safety.
Over the years, music festivals have become places for people to have fun, let loose, and experiment, but whether that be through sexuality, dress style, or recreational drug use, we implore everyone to do so in a safe manner. This year, Nocturnal Wonderland had two reported deaths. We were heartbroken to hear of the passing of our fellow ravers and know that we can do better to prevent them from happening.
As we mourn those lost, we also want to help prepare everyone to help prevent it, should the need arise. Attendees should know that all festivals hosted by Insomniac have medical tents where attendees can go for medical support without repercussions, whether for themselves or a friend. Additionally, Ground Control is there to help anyone in need as they patrol the festival grounds.
While we hope that all festivals can provide free testing sites and prevent any more deaths from happening in the future, we must do our best to protect ourselves and each other now. If you choose to partake, please test your substances. DanceSafe is a helpful site to get a test kit for anything you might be partaking in. EndOverdose is also a much-needed resource for free Narcan and fentanyl test strips. Whether you consume drugs or have friends who do, it's always important to be prepared in case of emergencies.
---
Connect with Nocturnal Wonderland on Social Media: