MUST DIE! sat down with us at North Coast Music Festival to discuss his FERAL FANTASY tour, "GRAVEBLOOM," and more!
---
It's no surprise that MUST DIE! engraved his name into the electronic music scene and continues to stay at the top. Over the past decade, he's become renowned for his releases in the dubstep realm but has also created a plethora of sounds in other genres along the way as he's paved the path of his career.
Last year saw MUST DIE! release CRISIS VISION, which perfectly exemplifies his range as an artist with tracks bending from hardstyle to dubstep, trap, and even electro-house. He's shown no mercy in 2022 as well, with releases like "ANGELWARE," "Skill Check" with Eptic, and his most recent single, "GRAVEBLOOM."
Now, as MUST DIE! embarks on his fall FERAL FANTASY tour, a sense of fearlessness is being shown through his showcase of diverse sounds. North Coast Music Festival was the second stop on the tour and was unlike any other set we've seen from him over the years as he dashed all expectations.
Prior to his set at North Coast, we had a moment to sit down with MUST DIE! to get his thoughts on the current state of the electronic music scene, his friendship with dubstep don Eptic, the creation of his latest release, and so much more. Listen to "GRAVEBLOOM" on Spotify, grab tickets for the FERAL FANTASY tour, and read on for the full conversation!
Stream MUST DIE! – GRAVEBLOOM on Spotify:
---
Hey Must Die, thank you for taking the time to speak with me today. What is your first impression of North Coast so far? What has stood out the most to you? 
I liked that there was Avril Lavigne on the main stage. That's all that's happened to me since I've been here. [Laughs] I just walked in shortly before talking to you and heard Avril Lavigne being played out, and I was like, yes! I bought this album when it came out. That is for sure what's stood out to me so far.
This show is the second stop on your FERAL FANTASY tour that will take you to Asia and throughout North America. What sets this tour apart from others you've embarked on, and are there any specific stops you're most excited to play?
Nothing. It's just a tour! Well, the music is different; it's more eclectic. My set is not majority dubstep now. There's still a ton of it, but I'm just kind of all over the place. I wrote a lot of dubstep over the past couple of years, so people might think I write a lot of dubstep. But historically, I'm all over the place. 
So to me, it feels like I'm back at home, and to other people, it feels like a big departure. It's definitely the most comfortable tour I've done. I don't feel like I have to prove anything. I feel really happy. It's the first tour I've ever enjoyed doing. Touring is hard, but therapy helped. Therapy and antidepressants, let's go! 
I don't even know where I'm going; I've looked at the tour poster maybe once. I know I'm going to Hawaii. I just played in Tokyo again this past weekend! That's nice cause I have so many friends I haven't seen in so long. I've been super excited about Tokyo, Bangkok, and Honolulu. I'm also excited to play the Caverns! 
On the release front, you recently dropped your latest banger, "GRAVEBLOOM." Can you walk us through the creation of this track? What was the production process like for this body of work?
This one is interesting because I just started with one thing and didn't really edit it. I laid down the intro and what happens and let that be what it would be. I played it out for a while and thought I needed a second half of the song, but then I realized I didn't want to, so I didn't. I just wrote a different song out of it, and I just kept them the same. 
So basically, it's two songs stuck together. I didn't think to take out parts from either to make it flow better. I just let it be what it was going to be, which is not something I typically do. I usually keep things very self-contained. But with this one, I didn't care if it sounded pieced together because it was, and that's cool. 
You've released many dubstep tunes over the years but have dropped everything from house to hard dance. Is there any genre you haven't made yet or one you'd like to return to in the future?
I have not released a straightforward trance song in a really long time. I would love to do that. I also have never been happy with any of my drum and bass efforts at all. I look to drum and bass producers very highly. I don't think I will make any drum and bass until I've gotten good at it. 
The goal is to come back and make something on par with some of my favorites. But not right now; I need to hone it. It's such a difficult genre to pull off, but it's probably my favorite dance music genre. The last thing I want is to look like an American dubstep producer making drum and bass. I never want to do that and don't feel like I have done that, but it still feels like a flirt rather than a full-on commitment.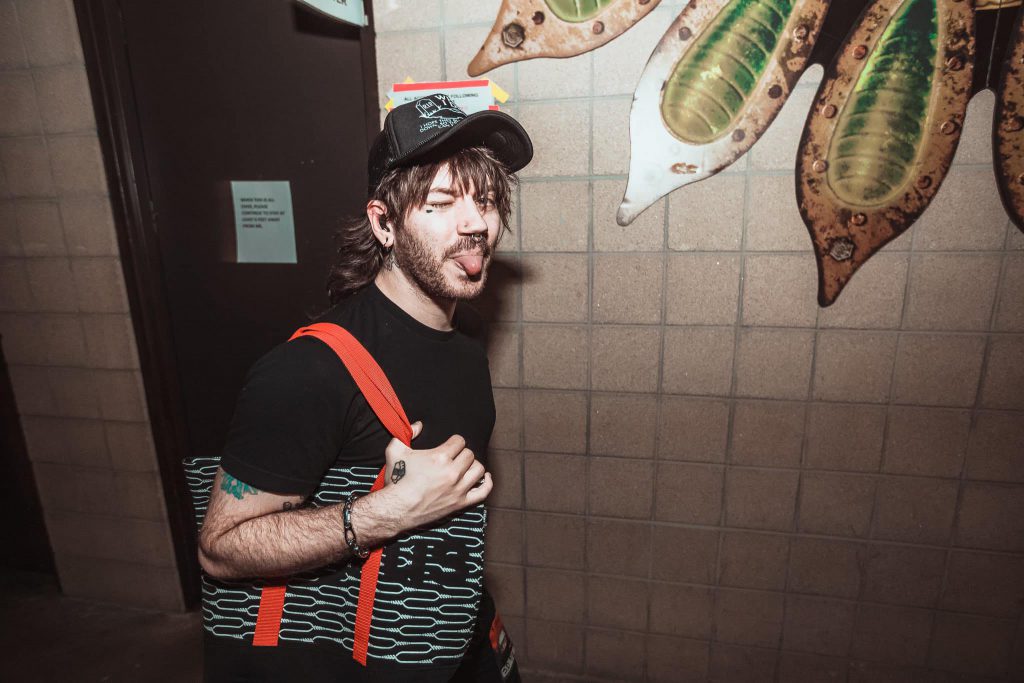 Looking back on the past decade of your career, what's been the most memorable moment you've experienced so far?
Oh goodness. My most memorable moment is my friendship with Eptic, easily. He and I have had so many forever memories of cool experiences we've gotten to share. We used to tour together so much, and we came up together. Every major milestone for me can be looked back on as what Michael and I were doing. I honestly think my friendship with Eptic sums up my whole career. It's kind of sweet. 
What are your thoughts on the current state of the bass music scene and the electronic music scene as a whole?
I have a lot. There's a lot of exploitation and fuckery going on. Musically, we've never been in a better place; people are really talented. Inspirationally, I've never been more bored in my life. Lineup-wise, this is a piece of dog shit time, and also, major companies are fucking us by the boat load, and I would like it if they would all fuck off. 
I would also like it if the fanbase would stop being a bunch of shirtless misogynistic men and for everyone to be nice. I also think we should stop letting people who don't write their own music make money. We should give more money to the people who make music. 
We should also give money to smaller venues and locals. Monopolies are bad; that's just how it is. It's not even personal. Everyone wants their job, I want my job, so I try not to ruin my job. 
As an artist who has been at the forefront of voicing their opinions on platforms like Twitter and helping spread awareness of what's going on, what are some steps you feel we should take to be more active and involved?
Me? Voicing my opinion on Twitter? [Laughs] I think that understanding the vast difference in viewpoint from a consumer versus a creator can help the fanbase identify with the things we are voicing. It is unfortunate that we are often made to present ourselves in a way that blinds the fans from strife, struggle, or injustice unless it's perceived as dramatic. 
But there are some very not dramatic injustices. For example, Spotify is a useful, wonderful platform that doesn't give us enough money. It sucks because I use Spotify to listen to music; it's what I do. I wish we had other options and fans voiced those opinions in an informed manner where it would actually drive reform. Whereas when artists do it, we don't have a choice; we have to use it. If we get off it, we lose all of our listeners.
I wish the fanbase was more educated, but it is no fault of theirs. I wish more artists were less afraid of losing opportunity and keen on banding together to protect each other. There's a lot of looking out for yourself, and I don't blame them. You can bite the hand that feeds to help everyone, or you can get yours and get out. I think both make sense from both perspectives. I would rather lose my job and help others. If I get doinked out of here for pissing someone off, that's okay, but I understand why fans don't.
Finally, are there any specific goals you hope to achieve before the end of the year?
Transforming into an animal. I would like to do something fucking weird. I would like to get bitten by a vampire. Immortal life sounds like I could do that by the end of the year. Maybe in Finland. If anyone is reading this and you know somebody, let me know, and also, if you know anyone who can turn anyone into bugs or frogs. I could just get rabies. I read a whole book on rabies. It's a really good book called "Survivor Song." I don't want rabies, though; I'd rather just turn into an animal.
---
Follow MUST DIE! on Social Media:
Website | Facebook | Twitter | Instagram | SoundCloud | YouTube