Nocturnal Wonderland transported all who walked through the gates of Glen Helen into another mystifying world for its long-awaited return.
---
Those who have attended Nocturnal Wonderland in years past know how special the Southern California festival is. With the title of being North America's longest-running festival and remaining at the same beloved venue since 2013, there's just something in the air at Glen Helen that keeps fans coming back for more. Maybe it's the big grassy hill overlooking the rest of the venue, the larger-than-life stages, or even the costumed performers roaming the venue dressed as or carrying different animals or insects that all contribute to the festival's magic.
I was excited to make a return to Nocturnal Wonderland after falling in love with the festival back in 2019 when I attended for the first time. The vibes were at an all-time high before the festival. Everyone, myself included, was excited to get back to Glen Helen and its dancefloors after experiencing the past two years.
Related: Want to dive deeper into this mystical festival? Get to know the history of Nocturnal Wonderland!
Headliners are transported to a mystical realm once they walk through the gates of Nocturnal, and animal sounds enter guests' ears from every which way as they head up the pathway. Once inside the venue, they're immersed with enchanting decorations, and you may be lucky to catch a flock of "birds" or butterflies making their way toward you. These performers take the event's ambiance to the next level, truly making you feel like you are in Wonderland.
Honestly, the festival felt like it picked up right where it had left off pre-pandemic. The energy inside the venue felt very similar, and fans were also generally conscious of your space if you were wearing a mask. Of course, one difference was the check for vaccination or a negative COVID test at the entrance to ensure all guests were safe. But if you forgot your card or your test results, staff were ready to administer a rapid test to get you into the venue — and that was a quick, seamless process.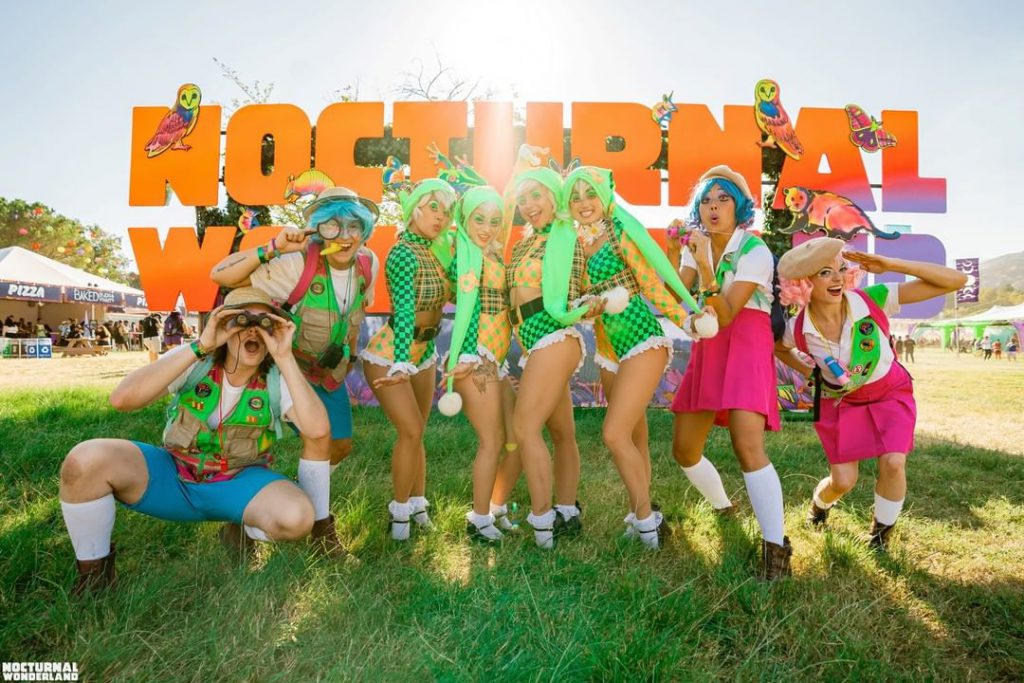 The Labyrinth stage is a major improvement from 2019 and packed a punch with mega bass.
One of the first stages fans encounter upon entering is the Labyrinth. This place was jam-packed with a solid lineup of mainly bass artists through the whole weekend, including Flosstradamus, 12th Planet, Dion Timmer, and JEANIE, as well as drum and bass sets from Reaper and Modestep B2B Downlink. This stage was music larger, louder, and brighter this year, a perfect escape for headbangers throughout the festival.
The Wolves' Den and Sunken Garden were in the same locations as 2019 but featured new stage designs. Something else that was new was a smaller stage called Owloch Grove, which made an appearance where the art car sat during the previous edition. Inevitably I preferred the art car being there though; the energy was always insane for any set that took place. However, I'm excited to see it at future festivals instead, like EDC Las Vegas just right around the corner.
There was never a shortage of sounds to experience throughout the whole weekend to keep the party going.
From bass and trance to drum and bass and house, there was always new music just right around the corner. I spent a good amount of my Saturday between the Labyrinth and Wolves' Den stages. JEANIE and Champagne Drip threw down delicious bass-fueled sets and constantly had everyone in an uproar. JEANIE drew in quite the crowd as well for having such an early set in the day.
Regard was a treat over at Wolves' Den. I had never heard of him before but am definitely a fan now; his style of house music had all of the main stage moving and grooving to his sound. Audien played a fun and surprising set, going even harder than I thought he would. I had the pleasure of meeting him right after his set and snapping a photo with him, which is definitely something I'll always remember! Saturday also saw a fiery set from NGHTMRE and legend deadmau5 who closed out the night.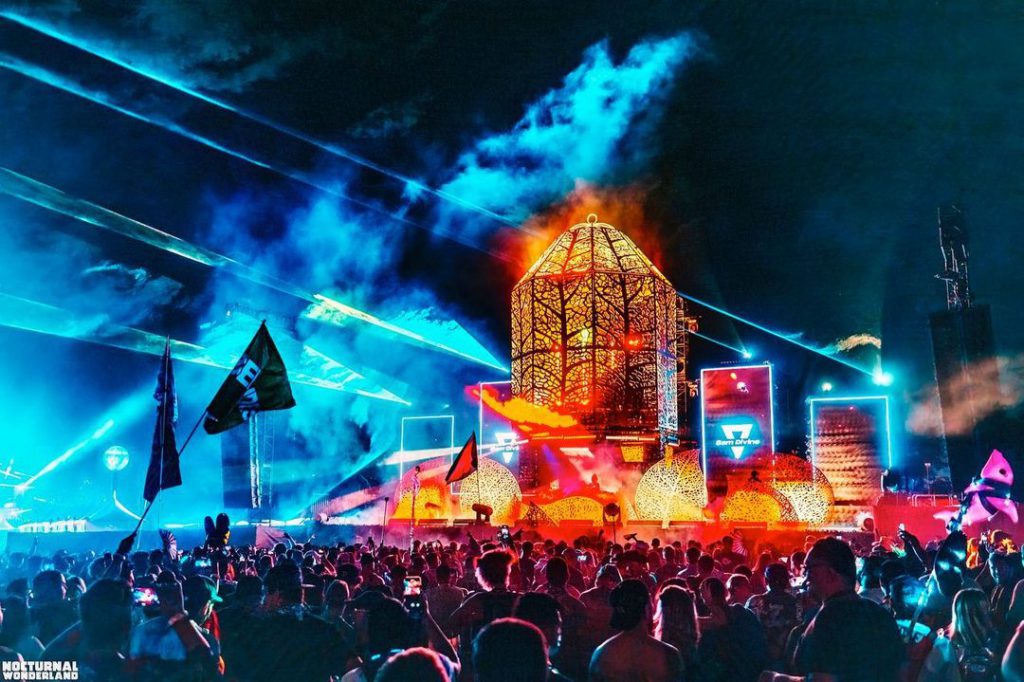 Sunday was a major treat for future and melodic bass fans as Ophelia Records took over Sunken Garden.
When Seven Lions' Ophelia Records announced they'd be doing a stage takeover at Nocturnal Wonderland, I was immediately intrigued to find out who exactly would be playing. The lineup did not disappoint as Jason Ross, Wooli, Kill The Noise, Crystal Skies, Last Heroes, Gem & Tauri, and newcomer Xavi were slated to perform throughout the day at Sunken Garden. I enjoyed the melodic house beats of Gem & Tauri and finally hearing their beautiful debut EP All You Need in person.
The select sets I did see the rest of the night completely blew me away. The crowd for the Ophelia takeover would only get larger throughout the day into the evening. Jason Ross blends heavy dubstep, melodic bass, progressive, and even psytrance all so effortlessly; he was the artist I was most excited to see, and he definitely had both myself and the crowd in their feels before landing again on massive basslines.
Next on the Ophelia lineup was Wooli who threw down gargantuan-sized beats to match his mammoth persona. Kill The Noise threw in some unexpected psytrance, including a hilarious rework of the Spongebob Squarepants theme song sped up to 140 bpm. Ophelia fans then hopped over to the Wolves' Den to see label boss Seven Lions close out the night. His set was intriguing as always with so many different genres to keep pulling you back in, including melodic bass, dubstep, and bass house. Taking over the decks at Sunken Garden after the Ophelia takeover was Sub Focus for a drum and bass set which I wish I made my way over to; however, I couldn't escape the hold Seven Lions had on me, and I remained at the main stage through the rest of the show.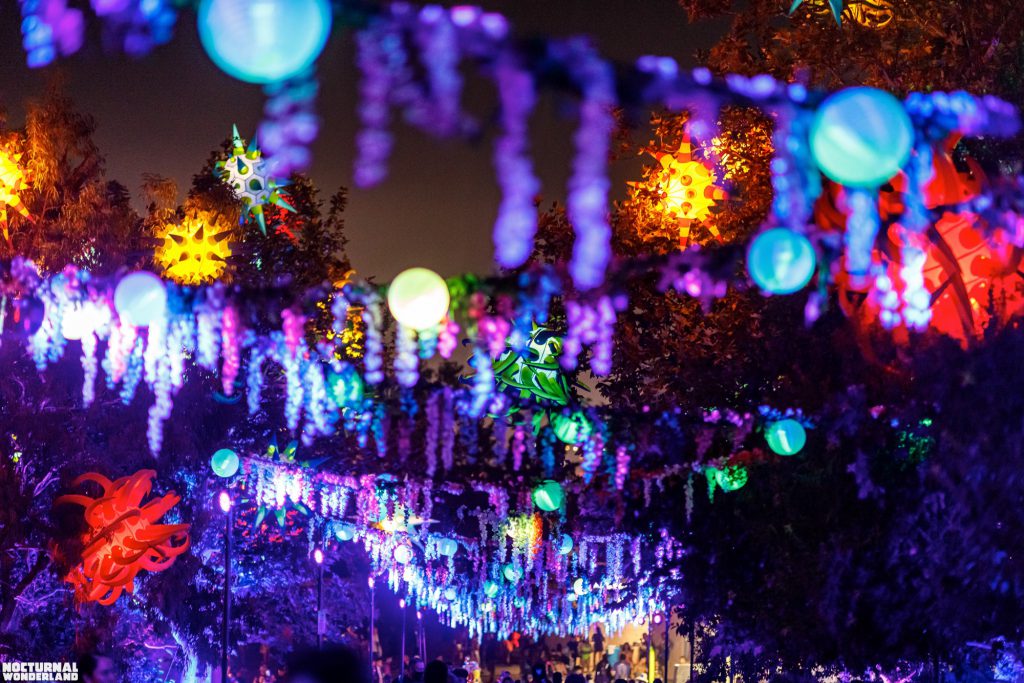 A vast majority of the Nocturnal's logistics were very well laid out.
The stages were all in prime locations with no sound bleed occurring. Having alcohol and food stands right next to the sides of the main stage was extremely convenient, and I never encountered long lines here. The only lines I saw were for one small ice cream stand near Sunken Garden and, surprisingly, for the bars in the back of the festival away from most of the stages. Restrooms were also right next to here though, so I could see how people would be taking care of multiple needs in this one area.
The festival itself was beautifully decorated with string lights hanging over most of Glen Helen and art pieces blending into some stage designs as well. With performers walking around holding massive butterflies and a quirky caterpillar bumping along to the beats, attendees' faces would immediately brighten whenever they came through the crowd.
While I myself did not camp, I had friends say nothing but positive remarks when discussing it, except for it being colder than expected. There were a number of extra sets after the conclusion of the festival and before it kicked off, including a surprise one from ZHU, as well as other activities like yoga and swimming to enhance your time at the venue.
Parking on the other hand was a major struggle if you arrived later in the day.
The only aspect that I was completely disappointed in was the parking, but also am not quite sure of a solution since that has plagued the venue for nearly a decade now. On Saturday, my squad made it to the venue in the late afternoon/early evening, and we knew we'd encounter some traffic. It was way worse than expected, waiting in a line of cars for about an hour just to get into a parking lot that was a mile and a half away from the venue's entrance.
Leaving the show that night was just as bad, taking another hour just to walk back to the car and maneuver our way through a sea of people leaving – and that was with leaving the venue a bit early. I was winded and tired both getting into the venue and leaving from all the walking. Then, another hour of waiting in line to leave with seemingly no one directing traffic. PLUR definitely didn't exist in the parking lot that night. Your best bet to avoid this is either to camp or get to the festival as early as you can to secure the closest parking lot near the venue's entrance.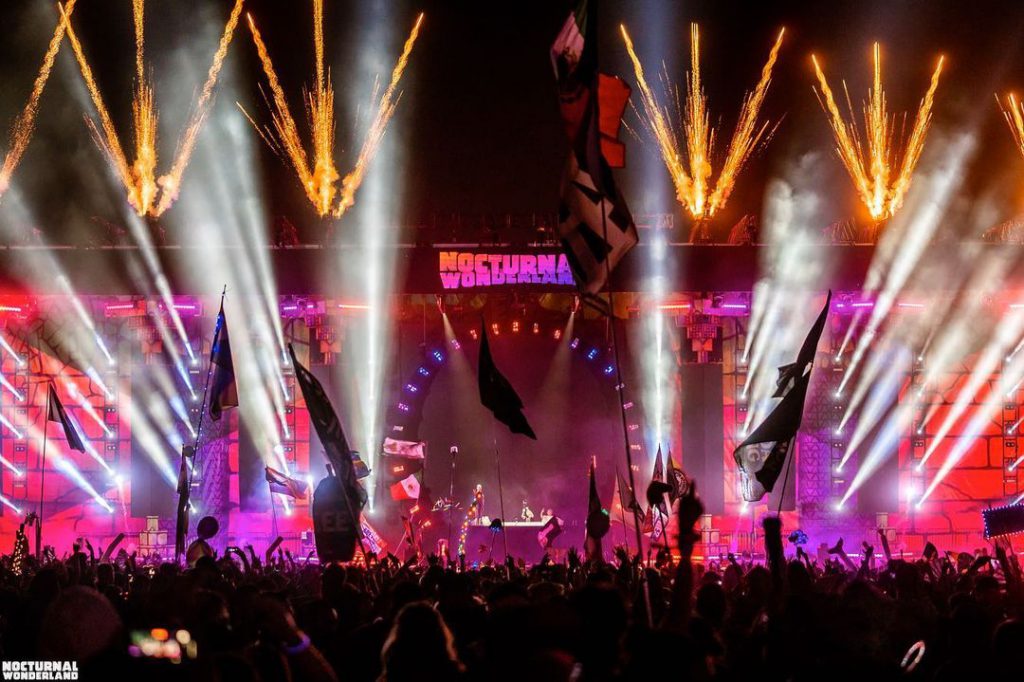 Nocturnal Wonderland made a solid return to Glen Helen and we hope to see it return to the venue again.
Nocturnal Wonderland is one of the most beloved camping festivals in Southern California, and it's easy to see why. The music, beautifully dressed headliners, art, and good vibes all created an unforgettable weekend. I was met with nothing but happiness and positivity when running into old friends and making new ones. Whether you camped, drove to the show, attended for one or both days, you surely had to feel the magic the festival brings – and we can't wait to see what Insomniac has in store for 2022!
---
Connect with Nocturnal Wonderland on Social Media: