Beloved bass duo Adventure Club gifts fans with a dose of melodic dubstep in their long-awaited album LOVE // CHAOS, out now via Ultra Music.
---
Adventure Club is a name that any bass lover would instantly recognize. Their signature melodic sound with heavy-hitting chords and an aura of euphoria has kept them relevant in the scene for years. With a flurry of releases this past year, like "You'll Never Be Alone" with Kaivon and "Away From Myself" with ALRT, fans can now rejoice as the duo's second album, LOVE // CHAOS, is finally here.
A follow-up to 2016's Red // Blue, the 25-track LOVE // CHAOS is "a culmination of everything [they've] learned, loved, and lost throughout [their] career." It also confirms Adventure Club as masters of bass and satisfies fans' cravings for more music from the duo. As true connoisseurs of their craft, they make sure to cover a variety of genres in the album, from gargantuan dubstep to lighter, emotion-filled bass and even a touch of fun, dance-ready house music. Teeming with impressive collaborations between Said The Sky, Nurko, Blanke, HALIENE, and more, Adventure Club truly knows how to find balance amid all the love-fueled and chaos-brimming tracks.
Embark on a journey through LOVE // CHAOS via Spotify below or your favorite streaming platform, and let us know what you think of the new album in the comments!
Stream Adventure
Club
– LOVE // CHAOS on Spotify:
---
LOVE // CHAOS is a perfect mixture of Adventure Club's melodic and heavy sides, with an added treat of previously unexplored soundscapes.
Adventure Club kicks off the album strong on "Never Surrender" with Codeko and Sarah De Warren. The euphoric drop into their masterfully-crafted melodic bass evokes nostalgia and reminds fans of their original sound. Even the lyrics "Fight 'til it's out, I'll never surrender" aligns with their fanbase and ongoing themes of superheroes.
The album flows into more melodic tracks like "High Like This" featuring Dia Frampton, another example of the duo's signature sound in a whirlwind of elevated synths, and "Drive" featuring Tilian and BEAUZ, a song for the summer perfect for cruising down the highway. Other tracks, like "Lonely," see Adventure club team up with SHARPS to offer a fun twist for hard-bass lovers as the second drop dives into some major filth.
"Never Enough" with Modern Machines is a fun surprise for fans as the duo explores upbeat, symphonic sounds of drum and bass.
It's refreshing when artists dabble in unsuspecting genres and even better when the tracks they create flow with their sound. "Never Enough" fits perfectly on LOVE // CHAOS with its drum and bass vibes amidst the melodic bass spectrum of the album.
Ensuing tracks like "Come Clean" with Justin Jesso and Prince Fox and "All In" with Boy Apocalypse and GSPR return to the familiar melodic side of the album, offering powerful, euphoric drops that soothe your soul. In tune with the Adventure Club spirit, "Rebellious" with Yuna offers lyrics such as "I'm rebellious, I'm a fighter," wrapping up the first half of the album and also reminding listeners of where they started with similar lyrics in "Never Surrender."
If you attended Adventure Club's "Death or Glory" tour, you know that there's no denying the duo's capability and their dubstep production prowess. The crushing weight of their heavier tracks leaves no survivors, especially when the heat comes when least expected. "Infinity," featuring Kindred and Boss Mode, does precisely that by throwing bass lovers in for a treat at about the one-minute mark. That's where the heavier side of Adventure Club fans know and love that also manages to tug at their emotional side arrives.
Adventure Club delivers in the second half of the album with tracks like "Move It" with Birthdayy Partyy and "Stronger" with Lucii.
These two tracks showcase the duo's versatility and ease of collaborating with other artists. "Move It" with Birthdayy Partyy explores bouncy, club-ready house melodies and is a tune fit for any summer festival. It's the song we never expected to hear from Adventure Club, but also the track we never knew we needed.
The same goes for "Stronger" with Lucii, a collaboration that fans were most looking forward to once the album tracklist was announced. Lucii's entrancing vocals blend effortlessly with the countless filthy bass drops throughout the track. The overall grime is reminiscent of some of Adventure Club's earlier tracks, like their remix of Brand New's "Daisy."
Heartwarming melodic bass also continues throughout as well.
This is seen in "Anywhere" with ARMNHMR and HALIENE and "Safe With Me" featuring Soar and Luma. The boys return to old-school AC vibes with distorted bass drops on "Back To You" with Sara Diamond and innate storytelling from Cammie Robinson's vocals on "Broken Love." These tracks seemingly align with the "love" portion of the album and blend well throughout the "chaos" of more hard-hitting tunes. Wrapping up the album is the satisfying arrival of "Away From Myself" with ALRT that properly ends the journey through overlapping themes of duality.
LOVE // CHAOS is a hit with OG Adventure Club fans and will surely attract new listeners along the way.
The duo successfully revisits their signature sounds to please their fans that have been here from the beginning and enlighten new ones along the way. With the exploration of other genres like trap, house, and drum and bass, Adventure Club has unquestionably solidified their position as pioneers of the scene, and we can't wait to see what they do next.
---
Adventure Club – LOVE // CHAOS – Tracklist:
Never Surrender (with Codeko & Sarah de Warren)
High Like This (with Squired & Dia Frampton)
Drive (with BEAUZ & Tilian)
King of Nothing (with Fancy Monster & SOUNDR)
Lonely (with SHARPS)
Here
Never Enough (with Modern Machines)
Come Clean (with Prince Fox & Justin Jesso)
Colorblind (with Nurko & Dayseeker)
Already Know (with Said The Sky & Caly Bevier)
All In (with GSPR & Boy Apocalypse)
Rebellious (with Yuna)
Infinity (with Boss Mode & Kindred)
Still Awake (with Blanke & Becca Kreuger)
Safe With Me (with Soar & Luma)
One More Try (with Outwild & Kotomi)
Stuck (with Cabuizee & GION)
You'll Never Be Alone (with Kaivon)
Move It (with Birthdayy Partyy)
Next Life (with Crankdat & Krewella)
Anywhere (with ARMNHMR & HALIENE)
Stronger (with Lucii)
Broken Love (with Cammie Robinson)
Back to You (with Sara Diamond)
Away from Myself (with ALRT)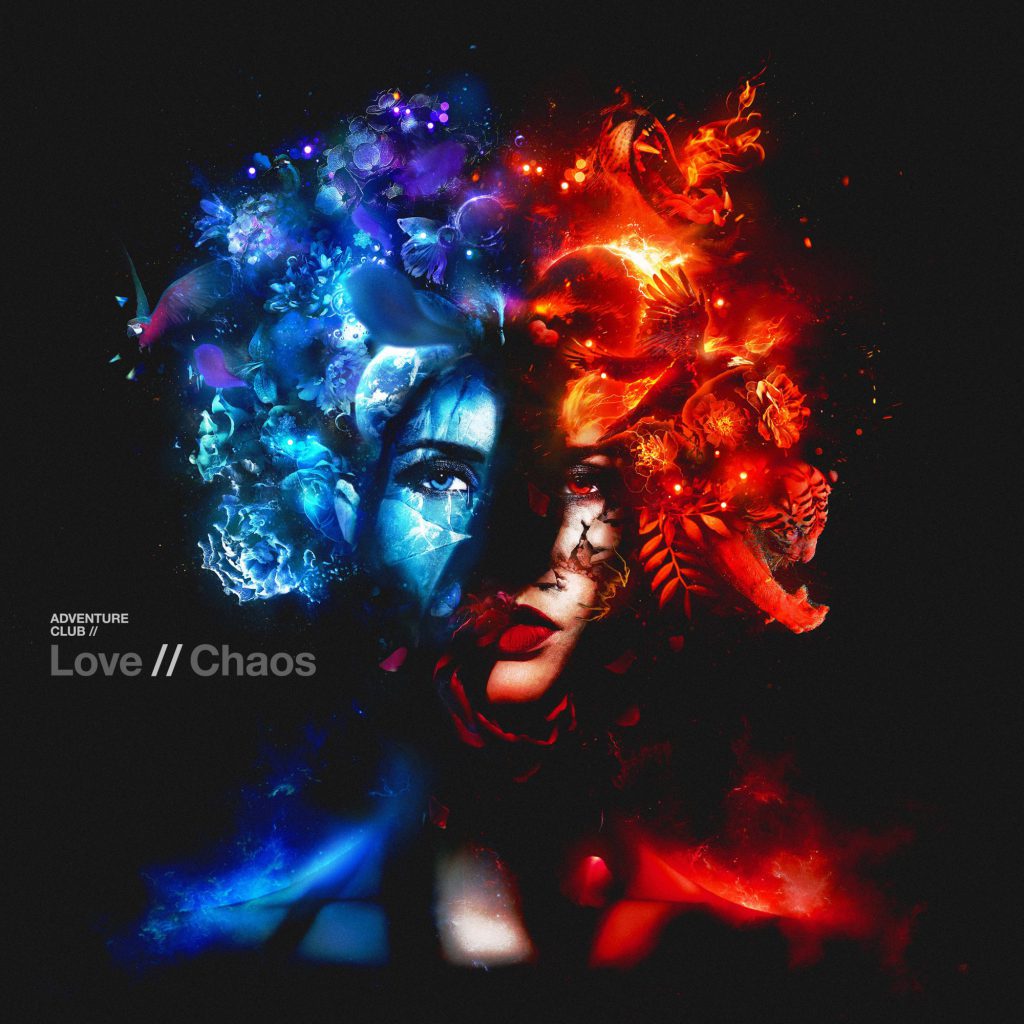 ---
Follow Adventure Club on Social Media:
Website | Facebook | Twitter | Instagram | SoundCloud | YouTube | Twitch