After releasing her first solo-produced single, Ruth Royall stopped by to chat with us about all things singing, songwriting, and producing.
---
The UK drum and bass scene is home to an array of women producers who are constantly breaking new ground, and Ruth Royall is one of them. Whether you know her as the front of drum and bass group Paper Dragon or as the vocal feature on tracks like Mollie Collins' "Remedies" and Ekko & Sidetrack's "Paper Birds," she's rightfully earned her name as one of the best rising artists in the dance scene over the years. Now looking to launch her career as a solo producer, her takeover of the drum and bass scene is only just beginning.
To ring in this new step on her artistic journey, she's unveiled her first track that features all her own production with "Light the Fuse." Like a stick of dynamite, the track builds up steadily before exploding into drum and bass mayhem, accompanied by vocals that burn like a raging fire. She's quickly proving with tracks such as these that she's a jack of all trades when it comes to music, as her DJing and production skills capture all the same energy and drive of her vocals.
The UK native has accomplished impressive feats left and right, drumming up massive support in the meantime. Between playing massive festivals and consistently putting out heaters, there's no end in sight for Ruth's takeover of the dance scene. She spun up a high-octane mix for us featuring tunes from herself as well as familiar faces like Fred V, Grafix, and Sub Focus – check it out below, and read on for an in-depth chat with the drum and bass dynamo herself!
Stream EDMID Guest Mix 336 || Ruth Royall on SoundCloud:
---
Hey Ruth Royall, thanks so much for stopping by to talk to us today! To get an idea of your background, where did your love for genres like Drum & Bass, Garage, and House originate from?
Thanks so much for having me! My earliest memory of loving dance music was when I lived in my hometown Stroud, and my friends and I would racket around the Southwest in my mate's crap car, following all the sound systems and free parties. Everyone would wait for the party line to open to find out the location, and then we'd pile in, and off we'd go. I was only about 16 at the time, and I remember just finding the whole thing so exciting. We'd arrive at these things, and it was like bass music was our reason to all meet and connect. That's what felt special. 
When I started my own musical journey, I sang neo-soul and R&B music. I was just a session singer at that point, and that's what all the other singers sang, so I did too, but I was always obsessed with how to make my own music sound more electronic. I was really into artists like Imogen Heap and Zero7 (it's pretty nuts to think I'm now releasing on the same label as them) and was constantly experimenting with electronic beats and synths. I was listening to dance music almost constantly, but I didn't make the leap into DnB until I started touring with Fred V & Grafix in 2018.
In addition to producing, you are also an incredible songwriter, composer, and vocalist, even being twice nominated for Best Vocals at the Drum & Bass Arena Awards. Has singing and songwriting always been something you've loved to do?
Thank you so much! That really means a lot. I definitely consider myself a songwriter first, it's what I've done the longest, and it's the only thing I don't think I'll ever stop doing. It's how I understand myself. Sometimes I don't really know how I'm feeling until I write about it. It helps me to process painful things and also helps me to understand the world around me. You have to be really observational as a songwriter, even with yourself, which can be a really healthy thing. Songwriting helps you to feel everything very acutely for a time and then let it go. 
Tunes of yours like "Step Into Your Power" with Makoto as well as your upcoming single "Light the Fuse" are empowering tracks with poignant messages behind them. Can you talk a little about your songwriting process and how you go about writing such emotive lyrics?
Thank you! I really try to be positive when I'm writing; even if it's a hard subject, I always try to resolve the story with love or positivity, or hope. I just feel like people (including myself) often turn to music for support and to feel good. I want people to listen to my music and come away feeling energised or nurtured. Although a lot of my songs are personal, I want everyone to be able to connect with them and find their own anthem inside the songs.
Speaking of "Light the Fuse," this track represents your second ever solo release, and your first ever track with your own solo production. Were there any challenges you faced going about the production process alone? What was the most rewarding part about creating this track?
This was the first time I was able to really express the sound I wanted to make musically, and that felt really empowering. I'm very lucky to work with Axel Boy, who helped me a lot with this track. I knew I wanted this early '00s sounding wobbly bass to sit under the break, and he helped me to get that sounding spot on. I would write the parts for the song, build the song's arrangement and feel and then we would sit together and pull it apart and finesse the sounds until the bass was fat enough to drop kick a subwoofer. 
You came up in the scene as the front of drum and bass outfit Paper Dragon. Now that you're making your own music under the Ruth Royall project, how do you anticipate this solo journey will be different for you in terms of your sound and style?
Paper Dragon was very eclectic. It was a melting pot of four brains coming together to express themselves. It was great to feel part of something and have no rules. My manager Jon who was the fourth member was the brains behind it all. It was amazing to see him build something up from nothing and flex his creative skills not just as a producer and songwriter but in how he shaped the whole progression of the act. I feel like we learned a lot about each other through that process, and it has given us a rock-solid foundation to build my solo career from. His understanding of strategy and determination to make something work and his understanding of how creative people function and what they need to flourish is unmatched. 
Kris and Bruce are both incredible producers, and I learned loads from them. They both have incredible attention to detail and are so knowledgeable when it comes to sound design.
Although I'm now pursuing a solo project, I still feel very much a part of a team. I work super closely with my manager and co-producers. I've worked with the same PR team and publishers for the past few years, and the whole team at NewState are really invested in the project. When we get a win, everyone gets excited, so now more than ever, I feel like it's a team even though it's me at the front of it.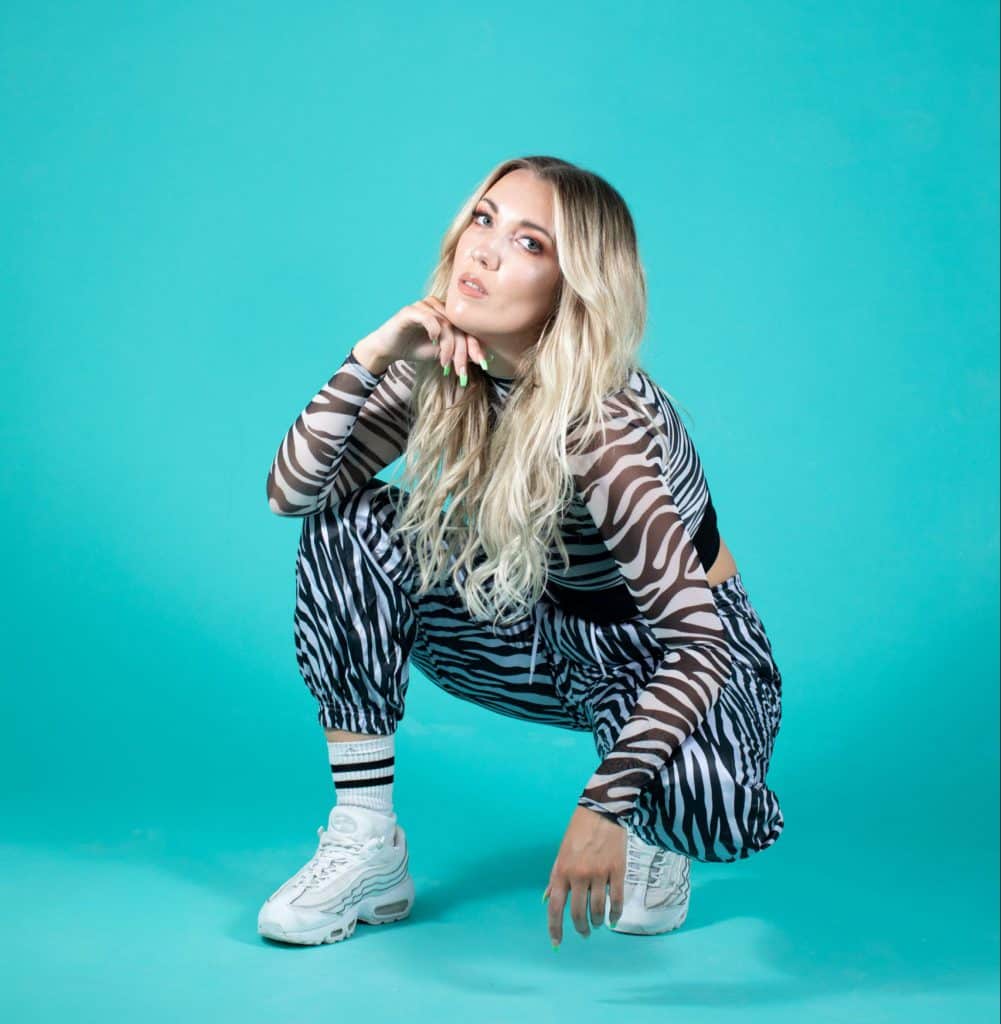 Congratulations on performing alongside Grafix at Glastonbury! What was your experience like playing at such a massive festival as this one and others like Love Saves The Day?
Thank you so much! It was as amazing as you'd expect. Grafix is a really close friend, so it was really special to be able to perform with him at Glasto. I also hosted the Glade Dome for the whole weekend, so it was a really special festival for me. I've been to Glasto loads and played before, but this was the first time I've played to people singing my lyrics back at me. I still find that really surreal.
Love Saves The Day was next level. I opened for Sub Focus and played to the biggest crowd I've ever played for. I was extremely nervous, but once I'd hit that cue button, it felt like the most natural thing in the world. The crowd was wild with so much love and energy. I'd say it was probably the best gig of my life. 
When you're not in the studio making stellar tracks or taking the stage at major festivals, you can be found on the Paper Beats radio show over the airwaves of Bristol's SWU.FM. What can a new listener tuning in to this show for the first time expect?
Haha! Oh yes, we basically live at SWU FM when we're back in Bristol. I absolutely love our radio show; it's so much fun. I do it with my manager Jon Savage, and we just rinse all our favorite tracks and chat absolute nonsense while we're at it. It's a very fun show, and we have loads of guests, guest mixes, and top-notch segments like 'the rave confessions,' 'stinker of the week,' and 'tune for the weekend.' People can text in on the burner phone while we're on air, so it's always a really interactive and hilarious show. We have the Friday drive time slot, which we feel very lucky to have; the whole team at SWU is great, and we love doing our show. You can listen back to all of them on SoundCloud and Mixcloud, and there is now an SWU app too!
Who are some of your favorite women also coming up in the drum & bass scene right now that we should be listening to?
How long have you got? DnB is absolutely full to the brim with incredible female artists, vocalists, and DJs at the moment. Some of the women who have been most inspiring to me lately are Charlie Tee, Riya, Georgie Riot, Koven, A Little Sound, Emily Makis, Charlotte Haining, and Clementine Douglas.
You should also check out Collette Warren, Mollie Collins, Natty Lou, AMA, APH, Mandidextrous, Sakura, Solah, Flava D… I could go on! [Laughs]
To wrap things up, what is one goal you hope to achieve as an artist, and just for fun, one totally random thing on your life bucket list?
Hmmm, that's really hard. I guess I want the freedom and ability just to create all the time. I love to play live, and I would love to be able to do a proper headline tour someday. That would be a dream. 
Bucket list? To write a song and perform it live with Cinematic Orchestra.
---
Follow Ruth Royall on Social Media:
Website | Facebook | Twitter | Instagram | SoundCloud | YouTube