Dance music enthusiasts, gather around, and sink your teeth into the wicked artists invading cosmicMEADOW at EDC Las Vegas 2022!
---
EDC Las Vegas is like Disneyland on steroids. This one-of-a-kind event is something that every raver must experience before they retire. The moment you touch the Las Vegas Speedway, you feel this overwhelming sensation of bliss, and for three glorious days, ravers from all over the world come together to experience this magic. You can call it a utopia, a place where all are welcome, where you can hit pause on the outside world and live freely while you get down and boogie.
No matter where you go at EDC Las Vegas, you'll hear music blasting from a stage or art car, but there isn't a stage like cosmicMEADOW. Hosted by HARD, this stage is known for showcasing various genres and giving attendees a taste of everything. It's the first stage you see when you walk into the venue from the grandstands, and the heavenly sight will make you shed a tear. Trust us when we say it's a moment you'll never forget. In addition, it's the perfect stage to catch a breather, sit on the grass, and soak up the energy radiating around you. 
This year, cosmicMEADOW features an infinite list of talent ready to bring the heat. Big-ticket names like Dillon Francis, Good Times Ahead, Jauz, Tchami, and Yellow Claw will deliver nothing but greatness with their festival-ready sets full of endless bangers and classic tunes. In addition, rising assassins like k?d, Wenzday, WHIPPED CREAM, Wax Motif, and Qrion will leave your jaw on the dancefloor with their soul gripping sets. 
If you're a house head, you'll enjoy the dreamy sounds of Shiba San, Yolanda Be Cool, and a b2b between BIJOU and Hasbtrakt that is sure to be iconic. For those looking to turn up and enjoy the fun wave, catch Hulk Gang (4B and Valentino Khan), JSTJR, and Diesel (Shaquille O'Neal). That's not all, though. CosmicMEADOW is blessing ravers with stellar b2b, including A-Trak b2b Craze, Westend b2b Lucati, and Nitti Gritti b2b Wuki. Above all, Porter Robinson is bringing his side project, Air2Earth, to the Las Vegas Speedway, so prepare to lose yourself during that enchanting experience. 
It's clear that cosmicMEADOW has a lot to offer, and as a treat, we've curated a special playlist featuring tracks from every artist playing this year. Check out our other EDCLV2022 stage playlist for quantumVALLEY, neonGARDEN, bassPOD, and wasteLAND – and stay tuned for more stage playlists dropping daily.
While GA tickets are sold out, there are still a few VIP passes available, so grab them now before it's too late. Stream the cosmicMEADOW playlist on Spotify below, and let us know who you're excited to see in the comment section.
Stream the EDC Las Vegas 2022 cosmicMEADOW Playlist on Spotify:
---
EDC Las Vegas 2022 cosmicMEADOW – Lineup: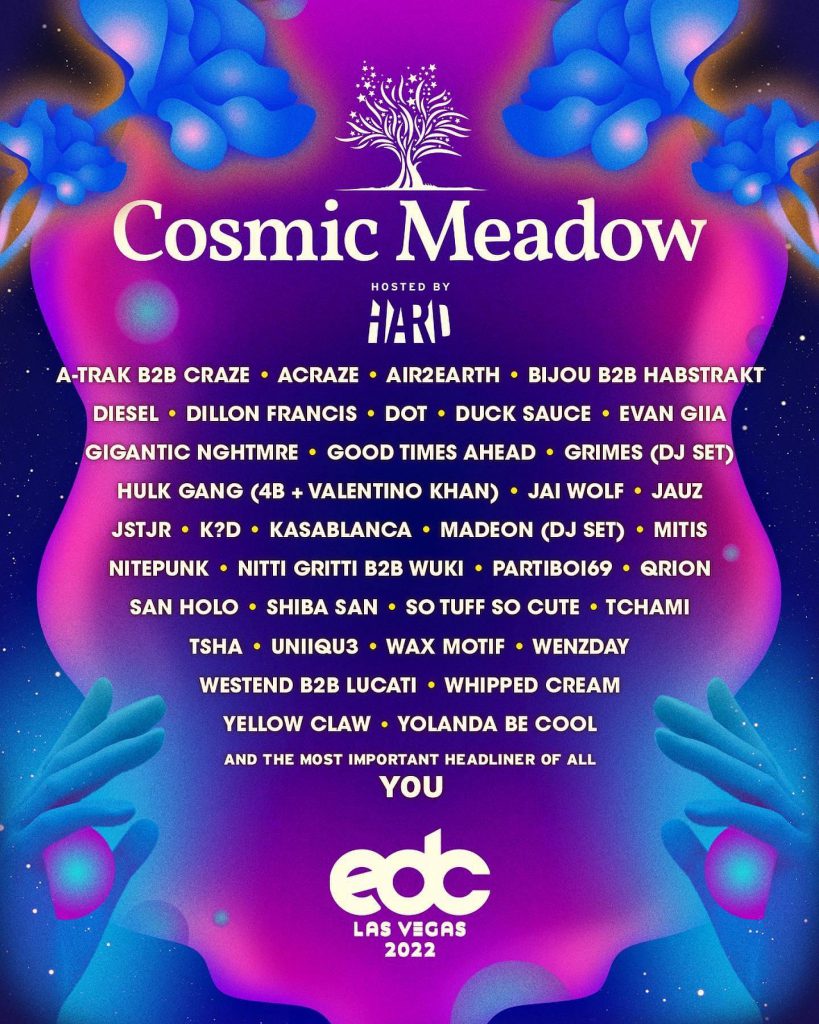 ---
Follow EDC Las Vegas on Social Media: