As trance lovers prepare to make their way home to quantumVALLEY at EDC Las Vegas, let's bask in the euphoric music that transcends the soul!
---
Time is ticking away and we're so close to entering the vibrant grounds of EDC Las Vegas once again. It goes without saying that the anticipation for the upcoming edition of the festival is reaching a boiling point as everyone prepares to dance the day and night away at the Las Vegas Motor Speedway. One of the greatest genres to get you moving is trance, with a vast array of character traits that run from uplifting and euphoric to complex and psychedelic – but whatever you're pleasure, quantumVALLEY has the music to unleash your spirit!
Hosted by Dreamstate, the DJs set to perform at quantumVALLEY will push you into a state of nirvana while pure elation inspires you to reach your hands high to the sky. Acts like Aly & Fila, Giuseppe Ottaviani, and John O'Callaghan will shoot you to the moon, while Astrix, Khromata, Tempo Giusto, and Vini Vici will get your feet bouncing! Of course, there's also Ferry Corsten, Paul Van Dyk, and ilan Bluestone who'll inspire the happy tears to flow. As the welcoming atmosphere cloaks your senses, all of your stress will fade away and you'll exit with a fresh outlook on life and sweet memories that will linger on in your daydreams.
Now, if that got you buzzing with excitement, get ready to lose all control because that's just a little taste of what's to come. With almost 30 acts on the lineup, there's a ton of electrified music to soak up, so, we've collected some of our favorites and popped them into a playlist for you to enjoy. It's important to point out that while Mr. Brooks isn't featured in the playlist, he's a must-see at quantumVALLEY. His energy behind the decks is wildly infectious and he always makes sure to take attendees on a life-altering journey filled with unforgettable twists and turns.
With that being said, as you make your final plans and start packing your bags, make sure to give yourself a little break from the chaos for an uninhibited dance session. And don't be shy to let your excitement vibrate clear out of your body because you're about to make your way home to the desert, through the grandstand tunnel, and into a neon paradise to celebrate under the electric sky!
While GA tickets are sold out, there are still a few VIP passes available, so grab them now before it's too late! Stream the quantumVALLEY playlist on Spotify below, and let us know who you're excited to see in the comment section!
Stream the EDC Las Vegas 2022 quantumVALLEY Playlist on Spotify:
---
EDC Las Vegas 2022 quantumVALLEY Lineup: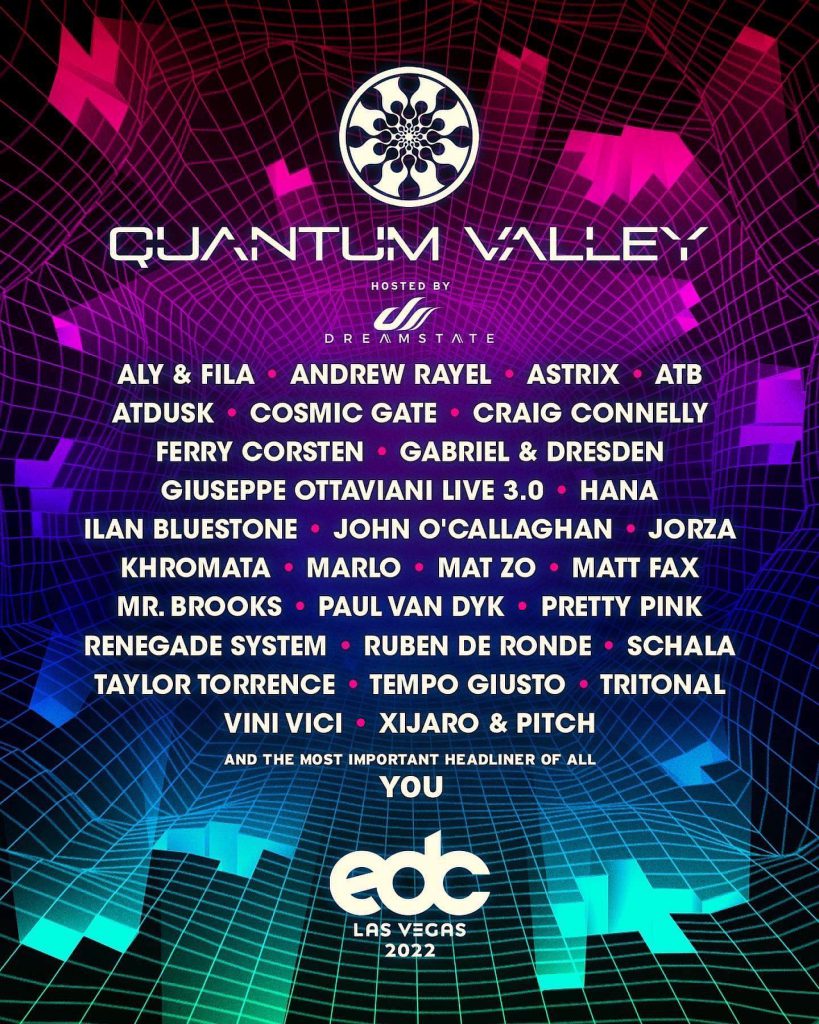 ---
Follow EDC Las Vegas on Social Media: