Shiba San's set at The Fruit in Durham, North Carolina, proved to be a much-needed night of fun before the long Thanksgiving weekend.
---
Something is charming about The Fruit in Durham, North Carolina. One could point to the fact it's such a modest venue that no one would ever know it could house energizing raves without strolling by and hearing it first-hand – or the irony of parking at a Human Resources lot before walking into a venue. But in reality, it's the fact that some magical memories have been made there, which was only further enforced when Shiba San took the stage on November 20.
There were no lines outside the venue, and the entry room was packed with miscellaneous objects and a coat rack, I did a double-take to ensure I was even at the right place. But lo-and-behold, as I walked past the entry and heard the familiar thuds, I knew I was at the right place – albeit slightly different from when I last visited – which was also a Shiba San set a little over a year ago during pre-pandemic times.
I arrived in time to listen to two openers – the first of which was a local DJ named Kultur.
Kultur's tech house set was a nice warm-up to what would be a lively night. The crowd bopped along to the music, occasionally leaving the primary mass of attendees to grab drinks at the back of the venue. Casual attendees lounged at seats while chatting with friends and strangers alike.
The second opener was another local DJ with the moniker of Séance. His set was more ambient than his predecessor's, with a plethora of melodies booming through the speakers. As the night drew closer to Shiba San's arrival, Séance moved away from more serene notes and into sounds that would engage the crowd, playing sprinkles of drum and bass or remixes of sing-alongs. It became the perfect dose of energy before the man of the hour himself casually strolled past the crowd, hopped up behind the decks, and began to transition into his own set.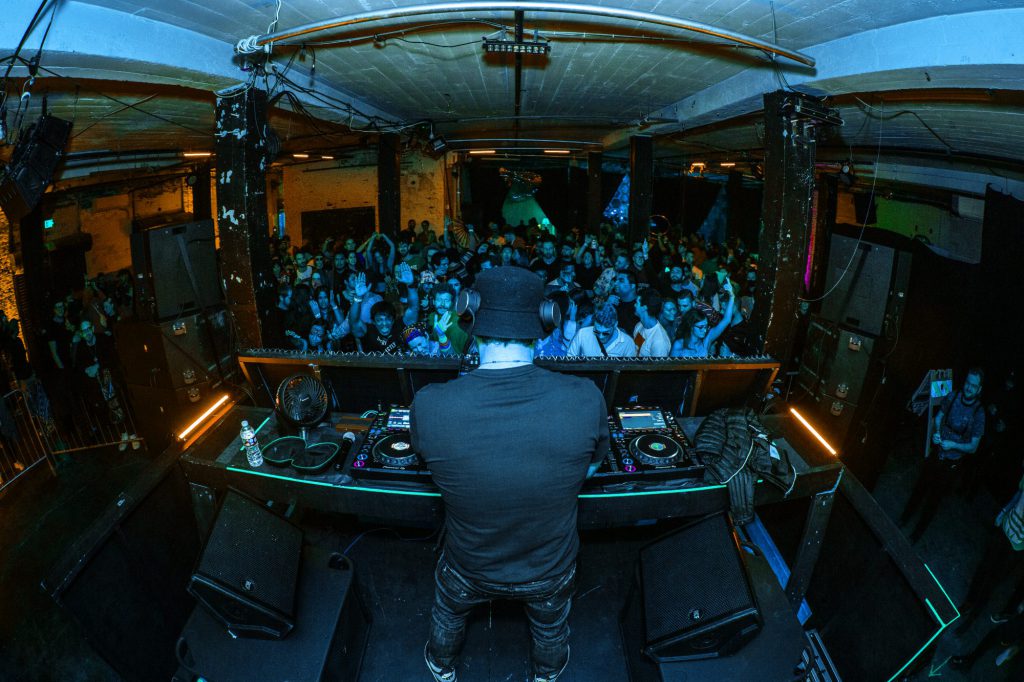 The transition was seamless from melodic house to Shiba San's signature tech house sound, and the energy that swelled at The Fruit was like no other.
Shiba San's music was clean, with every note and beat hitting like a breeze of crisp ocean air. It was a refreshing set to experience, especially when being able to focus on the music and get lost in a crowd with other people who felt the music just as hard as I did. As a huge supporter of artists on his label, Shiba San played plenty of tunes from others that have graced Basement Leak alongside his new music like "Drop The Shh" with Nautik.
It's also important to note that the venue had no visuals whatsoever. Beyond pulsing lights that changed colors every once in a while or the preexisting remnants of art installations from other shows at the venue, it was visually void of stimulation. This made Shiba San's set all the more impressive, with him relying solely on his sound to both captivate and orchestrate the crowd. It's not an easy feat, but he made it look and seem so natural.
Despite how exhausted I was late into the night, Shiba San kept everyone moving along to his music until the final beat dropped. It was special to hear him again since he was the last DJ I was able to see before COVID-19 shut down venues. His music is always a solid choice when it comes to the tech house realm, and he delivers it in full when playing live. Even in the "quieter" moments, there was always something to listen to and appreciate – and I can't wait to catch him again the next time he swings through The Fruit.
---
Follow Shiba San on Social Media:
Website | Facebook | Twitter | Instagram | SoundCloud