Infrasound Festival returns for its 10th anniversary featuring headliners like G Jones, OPIUO, SPOR, CharlestheFirst, and more!
---
After having to reschedule multiple times due to the pandemic, the festivities for Infrasound are finally a go for their 10th Anniversary celebration this year. Taking place September 30 – October 3 at Harmony Park Music Garden in Harmony Park, Minnesota, bass fanatics across the scene were already hyped for the upcoming edition, and now they're raving about the lineup that is absolutely stacked beyond belief.
Taking over the Funktion Ones at Infrasound this year are headlining artists including the renowned G Jones, Mala, CharlestheFirst, Ivy Lab, SPOR, and even OPIUO who will be traveling from New Zealand to take on the decks. They're not the only ones, however, as they will be joined by others such as Com Truise, Richard Devine, kLL Bill (Mr. Bill x kLL sMTH), Mimosa, and The Widdler, to name a few.
Along with the bigger names on the lineup are a flurry of rising artists in the scene as well. Standouts DJs and producers such as A Hundred Drums, Enigma Dubz, Black Carl!, Mystic Grizzly, and VEIL b2b NotLö are just a few of the talented experimental bass artists scheduled to perform this year.
If you missed out on the Infrasound Family Reunion back in June, you're sure to not miss this year's official gathering as it is set to be having iconic sets playing all throughout the weekend. But tasteful dubs aren't the only thing Infrasound Festival has to offer this year. Live mural painting from renowned psychedelic artist couple Aaron Brooks and Ellie Paisley are set to be cooking up some beautiful art all weekend. There will also be an abundance of food vendors, merchandise, small creators, as well as a very special "GrLL Smth & Friends" BBQ, hosted by kLL smth!
Take no time wasting in preparing for this year's Infrasound, as it's expected to be stacked to the brim with wobbles, wubs, and good times. Tickets are on sale now via their website, so act fast before they sell out!
---
Infrasound 2021 Lineup: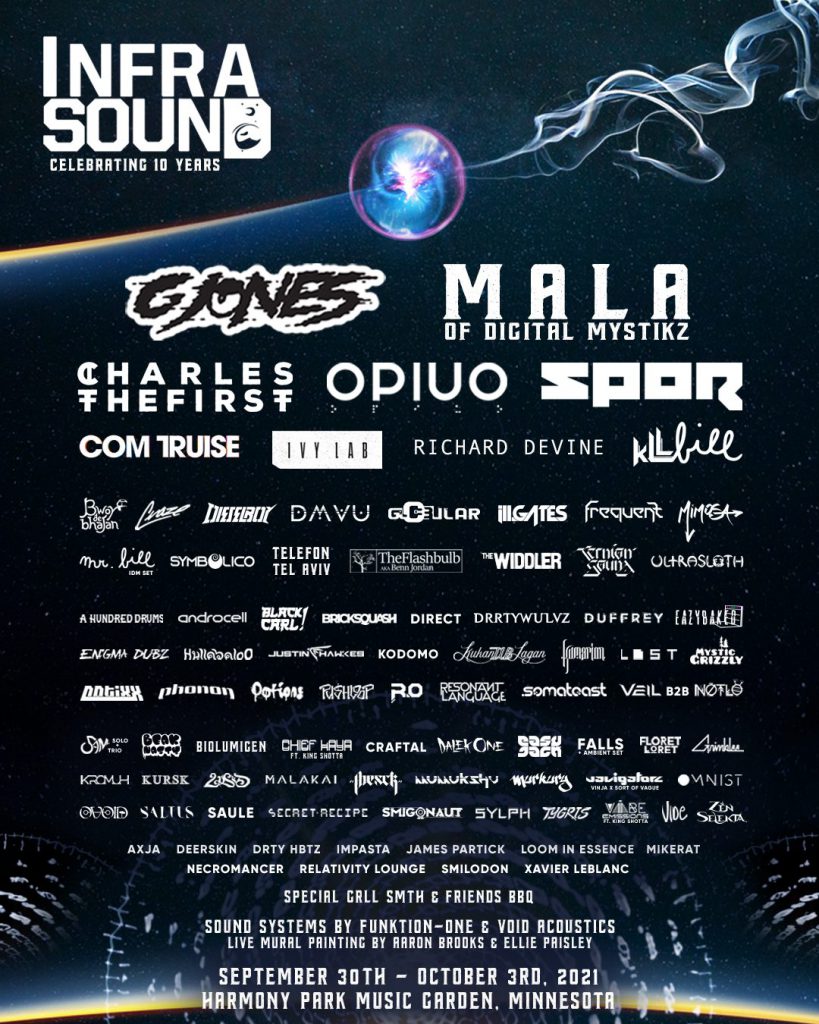 ---
Infrasound 2021 – Lineup By Artist:
G Jones
Mala from Digital Mystikz
Charlesthefirst
Opiuo
Spor
Com Truise
Ivy Lab
Richard Devine
kll Bill (kll smth & Mr. Bill)
Craze
DieselBoy
DMVU
Gobular
ill.Gates
Frequent
Mimosa
mr.Bill (IDM Set)
Symbolico
Telefon Tel Aviv
The Flashbulb
The Widdler
Ternion Sound
ultrasloth
A Hundred Drums
Androcell
Black Carl!
Bricksquash
Direct
Drrtywubz
Duffrey
EAZYBAKED
Enigma Dubz
Hullabalo0
Justin Hawkes
Kodomo
Kumarinn
Lost
Mystic Grizzly
Notixx
Phonon
Potions
Pushloop
R.O.
Resonant Language
Somatoast
Veil b2b NotLö 
Sam (solo + Trio)
Beak Natty
Biolumigen
Chief Kaya (ft. King SHotta)
Craftal
Dalek One
Easy Jack
Falls (Ambient Set)
Floret Loret
Grimblee
Kromuh
Kursk
Malakai
mumukshu
murkury
Navigatorz
Omnist
Ovoid
Saltus
Saule
Secret Recipe
Smigonaut
Sylph
Tygris
Vibe Emissions (ft. king Shotta)
Vide
Zen Selekta
Axja
Deerskin
Drty Hbtz
Impasta
James Partick
Loom In Essence
Mikerat
Necromancer
Relativity Lounge
Smilodon
Xavier Leblanc
---
Follow Infrasound on Social Media: