HARD Summer made its way to the NOS Events Center for the first time in the face of COVID-19 and scorching temperatures – and it was a blast.
---
Since its inception, HARD Summer has been a staple festival of the SoCal music festival scene, and it's one that will always hold a special place in my heart. This festival was the first massive I ever attended back in 2011, making this past weekend my 10-year festival anniversary, and quite frankly, it was a worthy celebration.
This year, the festival touched down at a new venue for the first time, the NOS Events Center, but brought its standard stacked lineup and typical temperature forecasts in the high 90's as well. While HARD Summer is a festival that is personally difficult to attend because of the weather, I can't ever seem to stay away. But this year, I really wasn't sure what to expect. 
I went in prepared for the scorching hot weather, mask in hand, hoping for the best – and I was not disappointed. The care and attention to detail that was put into creating and laying out this festival were obvious, and with such a talented and experienced team behind the scenes, that was no surprise at all. And while some aspects of the festival felt familiar, there were also some major differences this year that shaped my experience.
Of all the venues I've attended HARD Summer at, the NOS Events Center was by far my favorite.
Lucky for most attendees, the NOS Events Center is the home base for many of the most beloved festivals in SoCal, so it's not at all foreign. Booking hotels and arranging transportation was fairly easy, and it still felt like home. After attending previous editions at other venues in Pomona, Fontana, and Los Angeles itself, the one in San Bernardino was my favorite for a few reasons.
Since it's been a frequent home for festivals, Insomniac has definitely figured out the logistics of this venue over the years. Getting to the venue was a breeze. There were multiple options between ridesharing, parking and taking a shuttle from one of many lots, or taking the Metro from Los Angeles. Through the HARD app, attendees got frequent updates on which parking lots filled up, which no doubt saved some people time and effort. With multiple lines and hardworking staff members, getting through security was also quick and easy. 
As for the journey home, there were drinks and street dogs to buy on the walk out of the venue, places to sit while you waited for your ride, and ample outlets to keep your phone charged in the ridesharing area, which was a thoughtful detail. The shuttles also came quickly to take people back to their parking lots, and everyone was sweet and cordial with one another. The shuttle drivers even played great music, and were super friendly! It was seamless and extremely effective from my experience, although I arrived and left relatively a bit early to beat the rushes.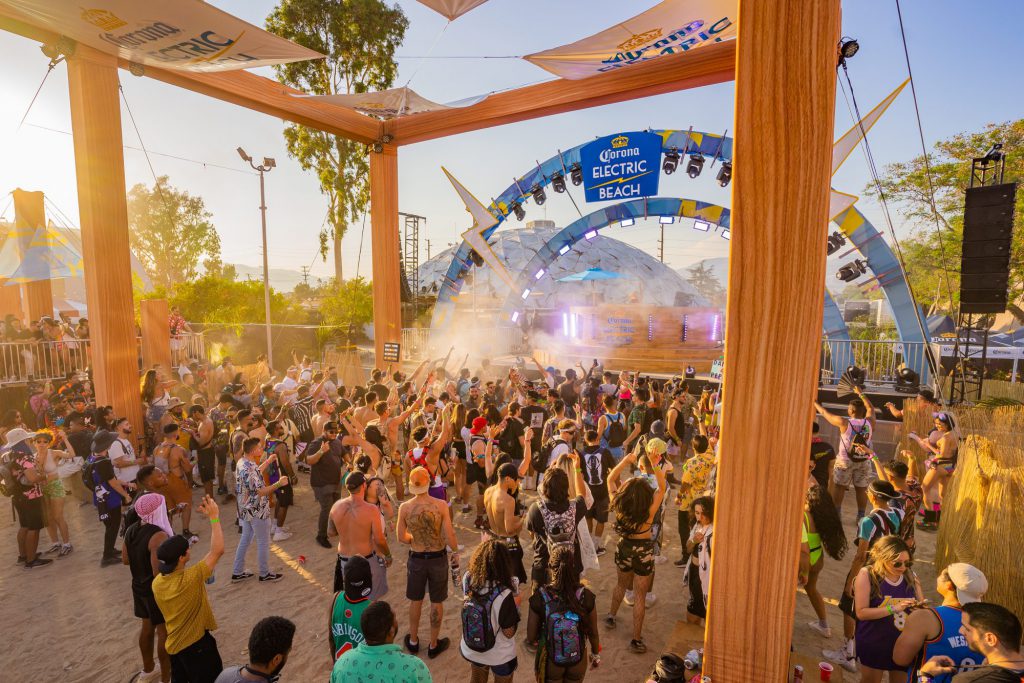 In the face of the pandemic and soaring temperatures, event organizers did an incredible job making attendees feel comfortable. 
There was an abundance of misters and giant fans, tons of comfy grass to chill on, and so many tables and comfortable places to get some space and cool down. (This was one of our 5 favorite things about HARD Summer!) One more bonus about the NOS Center is that there is virtually no dirt or dust, unlike many other venues had in past editions.
The stages were beautifully designed, and for the most part, offered ample space. The Green Stage and Purple Stage definitely had the most open space, with the Pink Stage coming in at a close third. All the stages had incredible sound and visuals. I ended up spending a lot of time at these three stages, grooving at the Purple Stage, shuffling at the Pink Stage, and headbanging at the Green Stage. I also got major summertime vibes dipping my toes in the sand at the Corona Electric Beach Stage. Luckily there wasn't much wind, so there wasn't any sand in the air, because that's one little hidden gem I can never stay away from! 
The HARD and HARDER stages, on the other hand, were pretty packed, especially at the end of the night (a crowd is to be expected, but even the other stages had tons of room during peak hours). People were a little pushy at these stages, probably because they felt really closed in. One minor downside that affected almost all the stages was the sound bleeding between them — you'd be trying to enjoy a house set, but the bass music from another stage would be going off pretty close by. But, all it took was a little extra focus or moving to the furthest side of the crowd away from the neighboring stage to tune it out.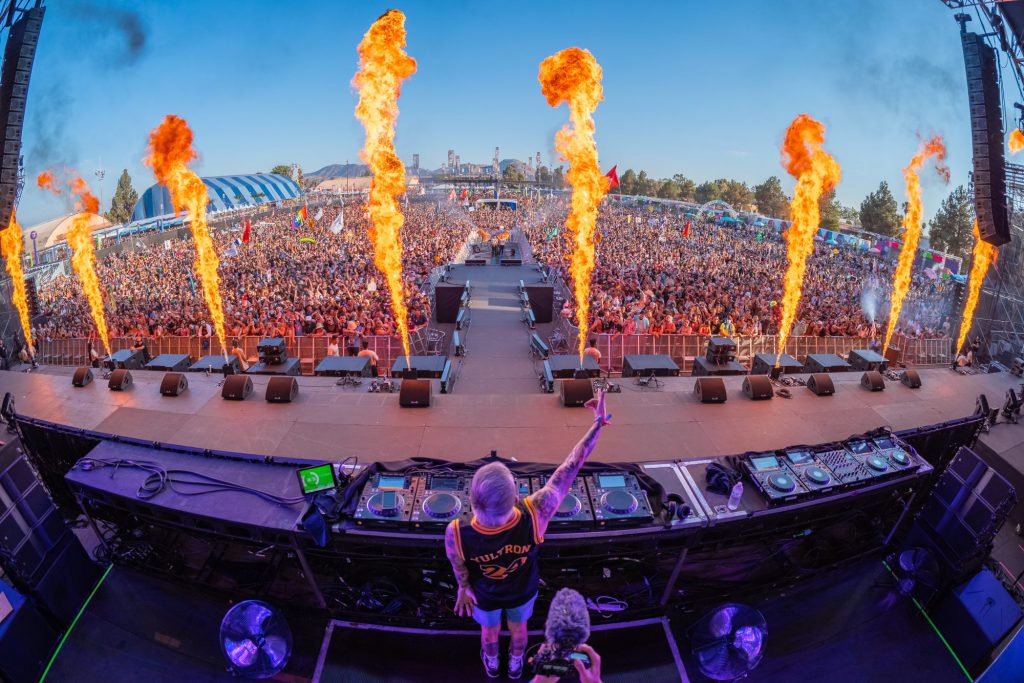 Coming back from a long span of time without live events, there wasn't a single artist who held back during their set.
The energy from the artists and in the crowd was absolutely amazing. Artists finally got to drop tracks they'd been working on the past year for one of the first times in front of a crowd, and we felt their excitement. Even at the opening sets in the peak of the heat, the crowds were jumping up and down and head-banging with everything they had. Every set I saw gave me full-body chills in the best way, and there were definitely a few standout moments throughout the weekend. 
Lucati gave us a sneak peek of his bouncy new track, "Back 2 a Time" while rinsing down the crowd with water. Elohim played the first volume of her Journey to the Center of Myself project complete with bright, trippy visuals. BENDA had the bassheads present and hyped at 3pm, and 1788-L's bass shook me to my core.
Dillon Francis absolutely smashed his set with unpredictable drops, layers on layers of mixing, fire, and dazzling fireworks. REZZ went over her time by about 30 minutes and nobody dared stop her from full-on hypnotizing every human in her vicinity. Ekali's set was heartfelt and emotional and Manila Killa brought out juuku to perform their recent collab, "Just Lost" which was great to hear live as well. Overall, the energy was just what I'd been dreaming about for the past year and a half, and I could feel the same from the artists on stage.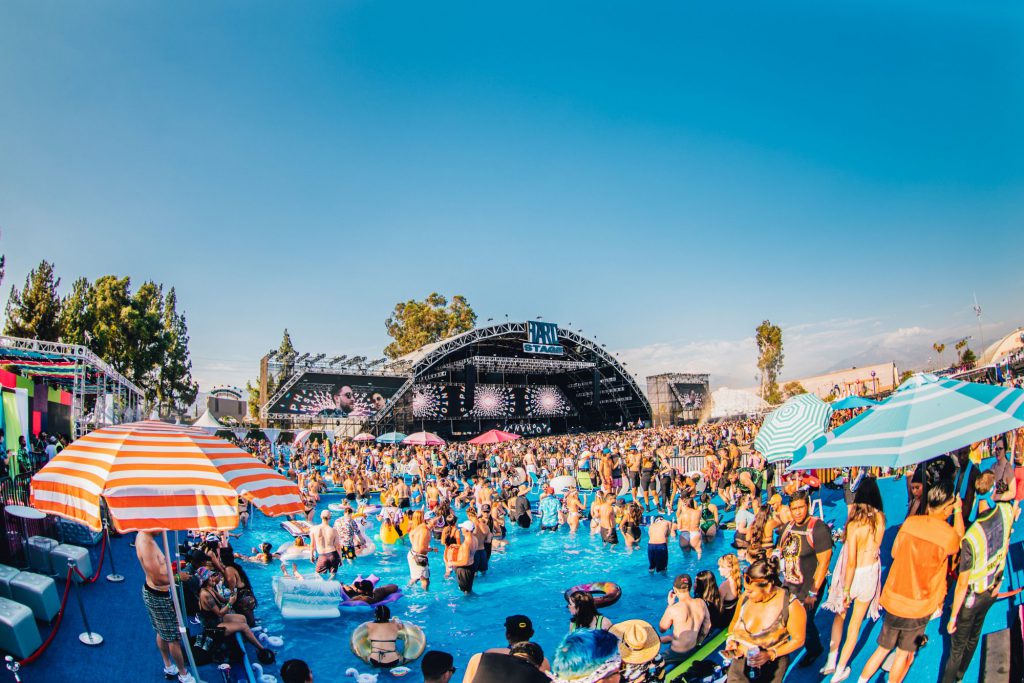 If you've considered going VIP (or in this case, VIP+), HARD Summer is a great festival to splurge on and really get your money's worth.
I'll be open and admit I've never purchased a VIP wristband for a festival before, but after experiencing the VIP sections and amenities at HARD Summer, I don't think I would go without it in the future — especially at another HARD Summer. Not only are there shorter lines for food, drinks, and at the water stations, there are also air-conditioned bathrooms, ample space to kick back and chill, and tons of goodies at the concierge booth from sunscreen and mouthwash to chilly towels and reusable cups for your drinks.
The main benefit of VIP in my opinion is the ample space, especially in these times when the pandemic is still looming you really can't put a price tag on that peace of mind. The energy is considerably lower in the lounge area, so you can feel your mind and body resting in between high-energy sets and dancing. Although VIP+ got really crowded towards the end of the night (which might have been due to people hopping over from GA), it was still more laid back than being in the crowd. Rest assured, they went above and beyond to make sure you get the best bang for your buck at with VIP at HARD Summer.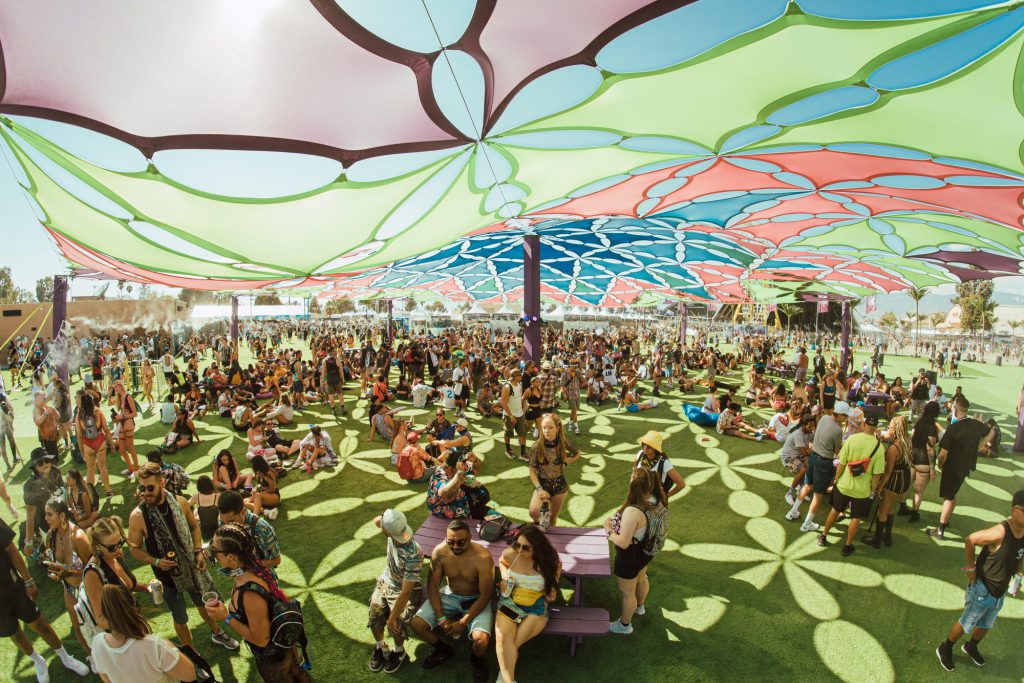 While the festival was carefully designed to give attendees the best experience possible, I still felt a little bit uneasy about the looming pandemic. 
With no requirements for vaccination or a negative COVID test, it really was on you to be responsible and hold yourself accountable. Very few people were wearing masks, some were shoulder-to-shoulder in the crowd, and if they're comfortable doing that, then they had that choice. I personally chose to wear a mask the majority of the time, and I found it surprisingly easy to keep my distance from people, especially in VIP. To be fair, I'm usually at the back and tend to find those little pockets of space in the crowds regardless. All in all, there were very few times where I felt uncomfortable or unsafe.
I'm grateful that this festival was able to happen at all, and you could feel that same energy from every attendee, artist, and staff member there.
Festivals like HARD Summer aren't just entertainment — these events are people's livelihoods, from artists and their crews to staff members and more. There are ways to party safely, and while there is always room for improvement as we continue to learn about this pandemic, the masterminds behind HARD Summer took some great steps towards making everyone more comfortable. The excitement and pure gratitude were palpable from every corner, and I had a huge smile on my face from beginning to end. 
---
Connect with HARD Events on Social Media: