Dillon Francis reimagines some of his most iconic tracks with a surprise VIP release dubbed Very Important Music on Mad Decent.
---
Since first breaking onto the scene Dillon Francis has risen to the top to become an iconic artist in dance music. From his comical videos to his hard-hitting tracks, and of course his vibrant performances, he's further proven that over the years. In 2020, Dillon Francis stayed active with new releases, "Touch" and "You Do You" with BabyJake, while he also presented a highly successful three-day IDGAFOS live stream festival.
Known for experimenting with different genres, Dillon Francis has surprised fans once again with a pleasant blend of VIP remixes for them to feast their ears on. Dubbed Very Important Music, this brand new EP is out now on Mad Decent and features five fresh edits of some of his most iconic songs such as "White Boi" with Lao Ra and "Hello There" with Yung Pinch.
For his track "Be Somebody" with Evie Irie, Dillon Francis spins it into a very groovy track just in time for the return of festival season. With steady rhythms and enthusiastic synths, this VIP mix will be sure to make you want to get up and dance. This VIP mix takes the BPM down and deepens the bass giving it that danceable disco twist.
The VIP mix of the aforementioned "Touch" with BabyJake maintains its slow tempo and deep synths but Dillon Francis takes it on a more progressive route. The track evolves into a club-ready banger, perfect for a late night out. And the final track on the release is a VIP mix of his highly coveted "Coming Over" with Kygo. Dillon Francis takes this track into the drum and bass realm while keeping a touch of tropical house elements throughout for good measure, this is a take on the track we didn't know we needed until now.
Overall, this release provides an elegant array of Dillon Francis's unique tastes and dynamic production skills. Very Important Music is a warm welcome to the upcoming season and we can't wait to hear these VIP edits played out live on a booming sound system. Make sure to listen on Spotify or your favorite streaming platform and let us know your favorite VIP mix off the EP in the comments.
Stream Dillon Francis – Very Important Music on Spotify:
---
Dillon Francis – Very Important Music – Tracklist:
Touch (feat. BabyJake) [VIP Remix]
White Boi (feat. Lao Ra) [VIP Remix]
Be Somebody (feat. Evie Irie) [VIP Remix]
Hello There (feat. Yung Pinch) [VIP Remix]
Coming Over with Kygo (feat. James Hershey) [VIP Remix]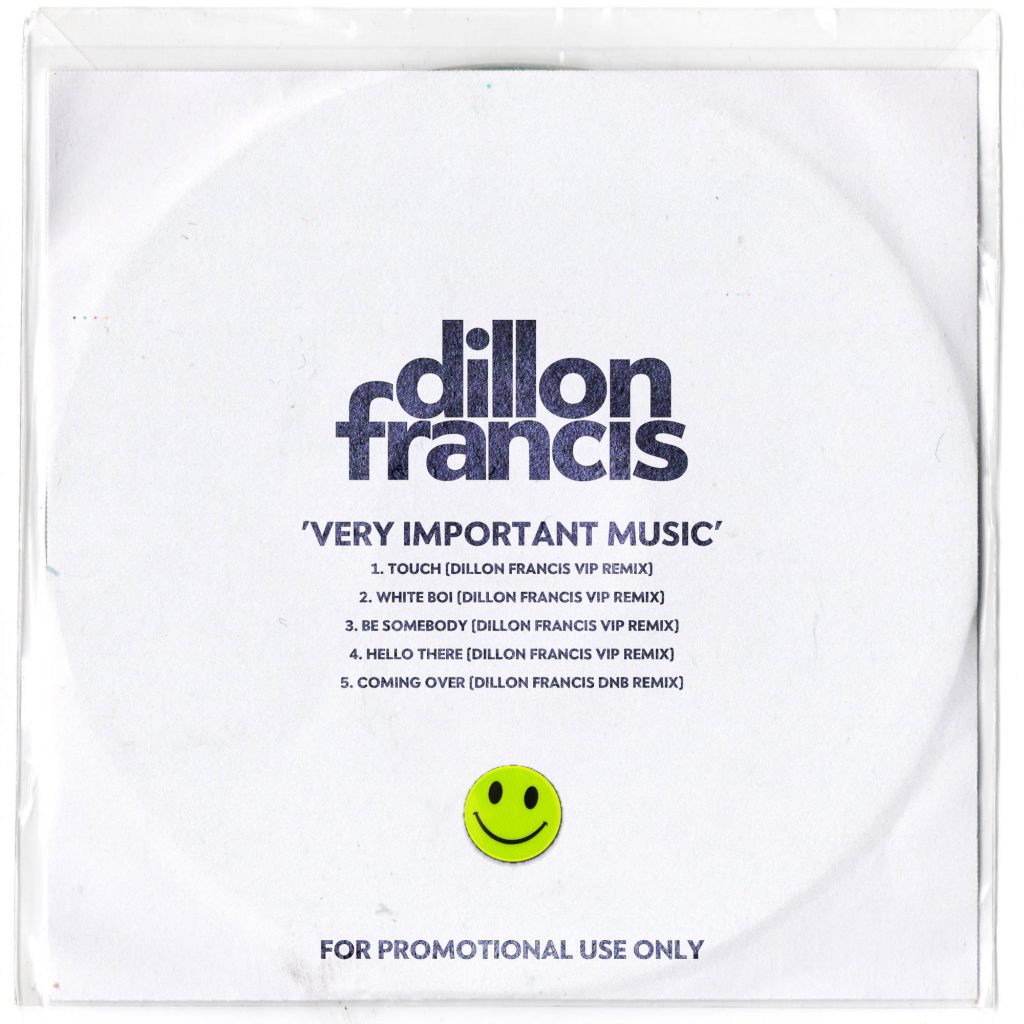 ---
Follow Dillon Francis on Social Media:
Website | Facebook | Twitter | Instagram | SoundCloud | YouTube | Twitch