Ekali brings the heat in his debut album A World Away and shows the world there's more to his music than filthy flips and heavy beats.
---
When you're deep in the festival circuit, it's easy to produce endless bangers that make the crowd turn up, but what happens when you want to add some emotion to the mix? Grab some tissues because Nathan Shaw, better known as Ekali, is making us face our feelings in his debut album, A World Away.
Available now for your listening pleasure, A World Away demonstrates the depth that Ekali brings to his productions. With each passing track, he makes it clear that he wanted to create an album that exposes the musical layers that exist beneath the surface. As a result, this album is one that will take you on a gorgeous, emotional excursion that you'll want to come back to again and again. 
Take a listen to A World Away on Spotify below, download or stream the album on your favorite platform, and read on for my take on this release from Ekali!
Stream Ekali – A World Away on Spotify:
---
Lead track "Fairy Tale" will have you feeling as if you're in a dream and quickly became my favorite song on the entire album.
The chords, the vocals, the percussion, the drops, the builds are absolutely stunning. I could feel every ounce of energy that Ekali invested in this track. The production is insanely intimate, and the level of detail involved in this song is epic. Words can't describe the feeling, the vibe, the reaction this song produces every time I listen.
In fact, the last 60 seconds will make goosebumps develop on your skin, it leaves you in this trance-like state. I felt like I was floating in a dream as Elohim sings "life is a fairy tale." I instantly felt all the feels. I suggest closing your eyes and take in a magical moment. If I could give Ekali a standing ovation for this track, I would. 
Ekali gets a ton of kudos for working with unique vocalists and "Drown" with Au/Ra exemplifies that fully.
I've never heard of Au/Ra, but I was instantly drawn to her voice which is unique and compliments the song in a magical way. Besides the flow of the track, the best thing about "Drown" is the lyrics, my favorite part being "your forces of nature are blurring my focus now, and all these emotions I still haven't figured out, gotta keep them from the surfaces from you now so I'll push these feelings under 'til they drown."
I could feel the passion in Au/Ra's voice as the words tugged at my heartstrings. The delicate melodies make for an easy listen especially the mesmerizing drops. Anyone who is in the midst of a difficult time with a loved one will probably find this song insanely relatable. 
"Cage" is all about immersing yourself into the melody of a song.
Sometimes you just need a track that sparks a sense of ease and "Cage" brings that to the forefront. It's smooth, easy-going, and transcendent. I'm a sucker for songs that allow me to zone out or detach from reality for a split second. It's dramatic, but there's something truly special about a song that's able to do the following. I just wish the song was longer.
"Power" is the heaviest track on the album so the name is fitting.
This is the track where I thought to myself, "here's the guy that lured me into his set at Beyond Wonderland 2019." Seriously. It starts off slow and begins to builds into a fantastic drop that's difficult to put into words. Although I respect a good banger, I feel like this track could've hit harder. However, considering the entire vibe of the album, it makes sense that Nitti Gritti and Ekali dialed it back a bit but perhaps a VIP edit will surface. Overall though, this particular collaboration is stellar and it'd be nice to see the two work together again in the future. Sometimes you need to manifest what you want to see. 
Your emotions will run free while listening to "Flow Through Me."
This song is absolutely beautiful, especially the BPM shift around the 1:50 mark. It felt as if I was flowing with life instead of trying to control everything around me, completely free. I would've expected this song to be the closer on the album because that's the vibe it exudes.
In fact, it feels like the final chapter of the story, but Ekali chose to close the album with "Hard to Say Goodbye" instead. Don't get me wrong, that song is touching as well but I think if he made "Flow Through Me" the final track it would've brought a better sense of completion to the collection of songs as a whole.
These are just the tracks on A World Away that I gravitated towards most and couldn't stop playing on repeat.
I wanted to focus on the songs that hadn't been released yet since Ekali has steadily unveiled tracks from the album in the lead up as well. Songs like "Hard to Say Goodbye" with Illenium that features Chloe Angelides, "Be Fine" featuring Wafia, and "Runaway" featuring Reo Cragun all speak for themselves and add even more power to the album as a whole.
Overall, A World Away is beautifully produced and constructed. From start to finish it left me impressed and I'm stoked to see what he creates in the future. Let us know which tracks resonated with you the most in the comments!
---
Tracklist:
Fairy Tale —

with Elohim

(4:15) 

Runaway (feat. Reo Cragun) (3:09) 

Braids (2:45)

Drown (feat. Au/Ra) (3:01) 

Cage —

with mossy.

(2:45) 

Faithless (2:53)

Power — with Nitti Gritti (2:32) 

To A Friend (Interlude) (1:06) 

Back To You (feat. Kiiara) (2:53) 

Be fine (feat. Wafia) (2:39) 

Flow Through Me (2:47) 

Hard To Say Goodbye (feat. Chloe Angelides) — with Illenium (3:17)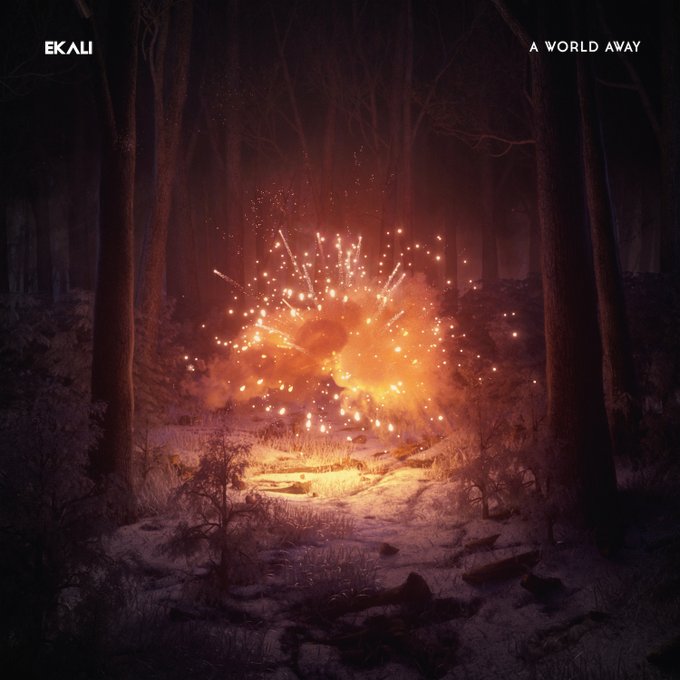 ---
Follow Ekali on Social Media:
Website | Facebook | Twitter | Instagram | SoundCloud | YouTube