Relentless Beats and REZZ have given us good news – AREZZONA is set to happen this July along with its original lineup.
---
It feels like the scene is truly getting back into the swing of things in the US, especially with the number of events being announced. Whether it's new ones dropping or old ones being rescheduled, the live music magic in the air. One of the events that got postponed in 2020 that fans have been patiently waiting for news on is AREZZONA, REZZ's curated showcase in Arizona. And today, Relentless Beats announced that the event had been officially rescheduled for July 3 this year.
Along with the new dates, it was also announced that all the original artists announced on the lineup will be playing the show as well. Fans will be blessed with a set from REZZ, of course, along with G Jones, CharlestheFirst, Of The Trees, and Youms. There are a couple of changes with this new date though. The event will now be going till 2AM, and because of this, the age restriction has changed to 18+. For anyone under 18 or unable to make it, they'll have till 5PM on June 1 to request a refund.
For those who are able to attend, this is going to be a night of all sorts of sounds. REZZ did an incredible job of curating this lineup and bringing artists who deserve all the love in the world. Each one brings something different to the table and is sure to warm the crowd up and prepare them for the main event. After going as long as the scene has without showcases like this, it's easy to tell that the energy that's about to ensue is going to be unreal.
For those who already had tickets for the original event, those are still valid for the new date. For anyone else looking to purchase ones for the new date head on over to Relentless Beats' website to snag them now.
---
AREZZONA 2021 Lineup: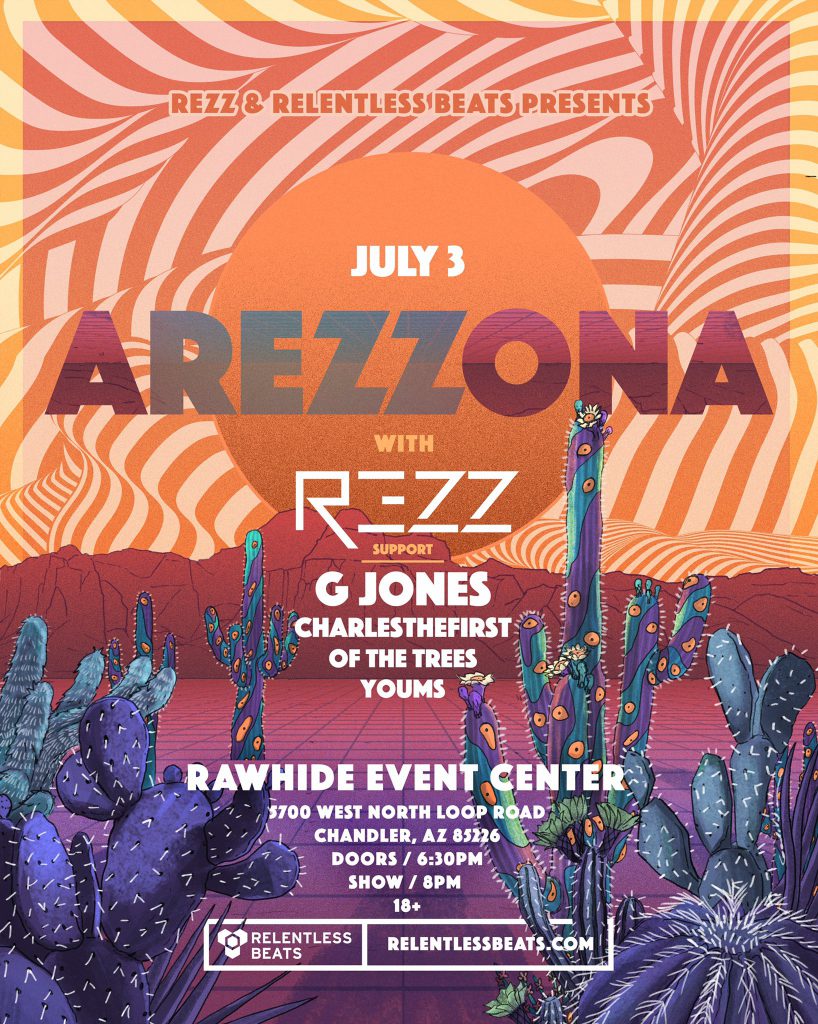 ---
AREZZONA – Lineup By Artist:
REZZ
G Jones
CharlestheFirst
Of The Trees
Youms
---
Connect with REZZ on Social Media:
Website | Facebook | Twitter | Instagram | SoundCloud | YouTube
Connect with Relentless Beats on Social Media: