Le Youth stopped by to chat about starting PRGRSSN Records, his vision for the label, and what's in store for the rest of the year ahead and beyond.
---
There is no doubt that Los Angeles-based producer Le Youth has made a massive presence as a producer in the progressive and melodic house scene as of late. His seemingly endless supply of steady releases continues to showcase his unique take on progressive sounds and tracks like "Miraje" and "Underwater" show the scope of production and natural elements he so elegantly composes.
Alongside his own whirlwind of releases, Le Youth has set out to create the perfect home for soundscapes to explore, PRGRSSN Records. Since its inception, the label has enlisted a promising list of artists spanning a range of genres artists including Leossa, Merkie, Urcos, 28mm, Jake Kaiser, and Anakim among others. Le Youth recently shined a spotlight on the forward-thinking, progressive nature of the imprint with his latest mix, Discoveries, which sees the maestro explore tunes from the next era of the scene and more.
With life getting back to normal, Le Youth hasn't skipped a beat when it comes to keeping in step with the ever-changing music industry. Needless to say, he keeps extremely passionate and busy with all his projects, yet we were lucky enough to catch up with him for a chat. So stream Discoveries on SoundCloud below, check out his tour dates, and read on for the conversation to dive deeper into the mind of Le Youth!
Stream Prgrssn presents "Discoveries" (Mixed By Le Youth) on SoundCloud:
---
Hey Le Youth, thank you for stopping by to chat with us. Last year you started your own label PRGRSSN, what was it like for you beginning that process and finding artists that you felt best fit?
Yea, thanks for having me. For years, my team and I had been doing most of the heavy lifting for these labels anyway, so it felt natural to me. I knew how to put records out so why not just start my own label and brand. It was time for me to take control of my own music and identity.
The moment I announced that I was starting a record label, I started getting music submissions. There is so much talent in the world, it's overwhelming. I realized pretty quickly that I wasn't going to be able to sign everything I liked, there just wasn't enough time, so I had to be very selective. That was and continues to be, the most difficult part for me.
Since its debut, you've introduced some incredible artists to the world including Leossa, Jake Kaiser, Merkie, and Anakim, among others. What is your vision for the label as you continue to dive deeper into 2021 and beyond?
My vision for the label side of Prgrssn is to continue releasing outstanding music that I believe in, including my own from time to time. I want to sign artists, not producers. There have been some hiccups along the way, but I think I've done a good job at that so far.
Next year, we're planning on bringing back the Prgrssn Show series. We have some cool things planned. We'll probably also see a couple of full-length albums from some of our artists.
Beyond launching the label, you've also had a steady stream of releases with a very distinct style. While your early releases were more house-focused, the newer tunes have found a home within the progressive and melodic house realm. What prompted that shift?
In 2019 I made the decision to take Le Youth in a different direction, musically. I started getting bored with making house music. Making music that inspires me is the reason I started making music in the first place. Making the change was scary at first, but now I couldn't be happier.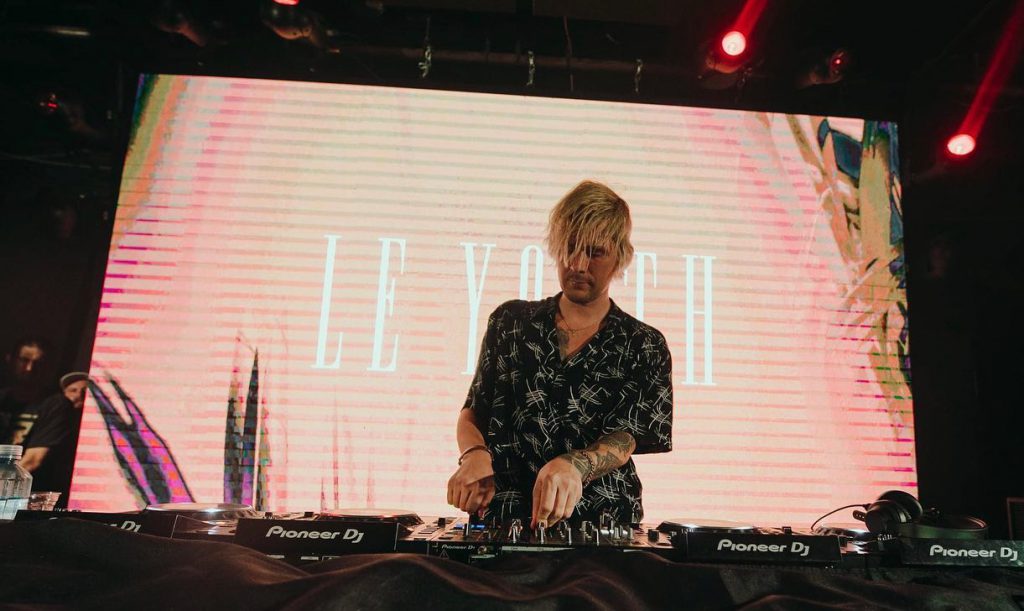 Earlier this summer you released "Miraje," this track, among others, seems as though they take on a very nature-oriented theme, what inspires you to write each song, and how do natural elements take shape when you are writing?
When I made "Miraje" I had been spending a lot of time in the desert–making frequent trips to Joshua Tree just to get out of Los Angeles. The high desert is incredibly inspiring. I highly recommend it if you're stuck creatively.
You have worked with some huge artists in the past including, Ava Max, Gryffin, Karen Harding, among many others, how does the process of writing with others differ from when you are writing a solo track?
Music-making is very personal to me. In the past, I wasn't the best collaborator, if I'm being honest. I'm better now, but in the beginning I struggled. Even before Le Youth when I was in a band, I wrote all the music alone. For me, making music is conveying an emotion through sound. When someone else is involved, that becomes more difficult, especially if we're not in the same room.
The past year was filled with plenty of ups and downs, and with the loss of live shows for an entire year it was devastating for artists. How did that change or shape your view of the music industry and your own career as well?
The lockdown was a blessing in disguise for my creative process. It allowed me to stay in my space, not interrupted with traveling and shows, and continue writing. I made a lot of music over that year.
The lockdown made me realize that what I love the most about touring is being able to connect with people. I know that sounds cliche, but it's true. It didn't change my view of the music industry because I knew it would bounce back eventually. It was just a matter of when.
Now that shows and festivals are beginning to resurface, you also announced your North American tour. What kind of experience can fans expect to see when they catch you? Are there any surprises in store?
I'm so happy things are finally picking back up. My tour schedule is really crazy right now. If you've ever been to a Le Youth show, you know things can be sort of unpredictable… like anything can happen.
Last weekend in Nashville, I invited a couple of people up on stage and half the crowd followed them up. They all just surrounded me and we just danced. Eventually, they shut it down but it was so much fun. Those moments are the reason I'm still enjoying this so many years later. Very rarely is there a show without something memorable happening.
Finally, with much of the year now in the rearview mirror, what are some goals you have for the remainder of 2021 and beyond?
I really need to hand in my album. lol
---
Follow Le Youth on Social Media:
Website | Facebook | Twitter | Instagram | SoundCloud | YouTube | Twitch