Space Yacht releases the second volume of Tech My House, and it's packed with fresh faces and trippy tunes set to send you into orbit!
---
When it comes to throwing a fierce party, Space Yacht never disappoints. But when the pandemic hit, founders Rami Perlman and Henry Lu realized that they were going to have to get extra creative to keep their beloved brand alive while supporting the dreamers looking to breakthrough. From Twitch and their Tune Reactor show came the birth of their label and the first Tech My House compilation as they blasted past their boundaries while staying true to their mission. Today, we celebrate the next batch of rising stars with the official release of Tech My House Vol. 2!
Get ready to dance like nobody's watching as Tech My House Vol. 2 features 14 energy-soaked tracks from beatmakers across the United States and the UK. So who has been tasked with entertaining the party animals? Crossing the threshold of fame, we have Arnold & Lane and Chapter & Verse who know what it takes to pull out the crazy raver that lies within you. And then there's Pass the 40 who really wants to show you how he gets down in the Lone Star state while OBAŸASHI shares what she considers one of her favorite tracks she's ever produced.
Looking to get into some shenanigans, Late Night Munchies founder Tony H instigates a game of "Hot Potato" and fresh off of his very first festival performance at Dirtybird CampINN, Contribe delivers a cultural vibe you're going to love. And that's only a fraction of the fun. With 17 talented artists paving the journey, there are surprises around every corner. What's more? When it comes to the cover art, Pretty Done, Space Yacht's new resident visual artist, has used his doodle-style expertise to send our brains into a tailspin.
With all of the pieces in place, it's time to do what we came here to do and dig deep into the beats. Grab your copy of Tech My House Vol. 2 on your favorite music platform or text "TMH" to 323-364-6336 for a copy of the mp3s. Then, continue on for my take on the tracks.
Stream Space Yacht – Tech My House Vol. 2 on Spotify:
---
After ingesting this album it's best to break down the experience by grouping together tracks with a similar vibe. Let's begin with the tunes that came with some ultra serious groove!
There are four tracks that caught my attention in this category and they are OBAŸASHI's "Make Me Feel," Heim's "Break The Rules," Chapter & Verse's "Walk With Me," and Ōsé's "Feel." Let's begin with "Make Me Feel." This track gets the juices flowing with a low octave bassline pump and an immensely satisfying lyric line that makes us "feel the funk."
"Break The Rules" follows in the same lane with no-nonsense classic house vibes taking front and center. The rise on this track will give you life as the ferocious kick keeps your body bouncing to the beat. Pay attention because you'll hear cheering in the background which makes me want to run straight to my favorite club to celebrate life (and maybe break some rules) with my chosen family.
"Walk With Me" begins with a crisp and vibrant drive before diving into some floaty trancey vibes. OK Chapter & Verse, you definitely have our attention. To top it all off, the vocal lifts me up to fly amongst the birds as the take-me-to-church vibes vibrate through the airwaves. A few well-placed synth blasts followed up by an unexpected array of trippy sound details make this track sparkle bright.
But, it's "Feel" that offers up the most intense groove of the lot. As you focus on the lyrical focal point prepare to fall victim to the high octane rhythm. Once your feet jump on that beat the instrumental accents throw a sense of chill into the mix, making for a well-rounded and pleasurable experience. There's no doubt that you will be humming this tune long after the track comes to an end.
Then, there are the tracks that will surely send you into a giggle fit while your feet do the happy dance!
Are you ready to let go of all inhibitions and get gloriously silly on the dancefloor? If the answer is yes then Arnold & Lane, Tony H, Pass The 40, and Not Not have the music to match. There's never a dull moment with Arnold & Lane and on "Momma Told Me" the boys show off their rebellious side! It tells a story of denying your momma's wishes, an act that we have all been guilty of at one point or another. The counterculture will surely be singing along to this track on the festival front. It just makes so much sense!
Tony H keeps the fun flooding in with "Hot Potato" and suddenly I feel a strong desire to gather up my friends and play the silly game we all grew up with! The quirky sound bytes, sizzling bassline tone, and instructive lyrics keep that potato bouncing from hand to hand while my feet vibrate with energy.
Pass the 40 keeps that spark alive with "All I Do" but instead of tossing a potato, we're welcomed to run around in a psychedelic fairyland where being weird is the name of the game. When that eerie synth comes into play I can feel my body lurch straight through a wormhole into another dimension.
Rounding out this group we have Not Not's "Double Doses." This track literally features lyrics that say, "we gettin' stupid" and so you can begin to understand why this offering makes me giddy from the inside out. Now, while the playful tempo and inspiring lyrics may get you feeling loose as a goose and ready to rage, remember to always enjoy your party favors in moderation.
Are you feening for some festive heat? Contribe, Vanilla Ace, Swavé, and Hitta have got you covered!
You're going to want to loosen up your hips for the next two tracks because the culturally inspired party energy is going to make that body twist! So, get your passport ready because we've been invited to party down in "Colombia!" This track, produced by the amazing Contribe, features a spoken clip surrounded by a wind instrument, accordion, and festive drum accents. The combination makes me want to run out into the street to dance under the tropic sun!
Vanilla Ace, Swavé, and Hitta bring us back to the States for some beachside action with "When In Miami." I'm obsessed with the brass instruments that welcome the setting sun as the percussive details mix with the warm salt air. This track is incredibly satisfying because while it inspires soft and sultry emotions, the melodics pop with color and overflow with life.
Last but not least, we have the tunes that drip with sassy attitude!
San Pacho, No Thanks, Nico Crespo, Capozzi, and xENO are the artists chosen to drop into his category because their tracks make me want to scrunch up my face like I just bit into a lemon while grinding down low. In preparation, San Pacho and No Thanks supply a confidence booster with "What's Up," a stark reminder to my introverted self to say hi to the DJ. This is the perfect tune to get people mixing and mingling while showing off their skills!
Now that I feel much more assertive, Nico Crespo unleashes "The Sorceress" who ultimately brings me to my knees. While down there I start to feel my booty begin to percolate as my upper half winds to the hypnotic melody. As "The Sorceress" sings her twisted hymn I find myself eternally locked under her control as I dance for her pleasure.
Now that I'm totally hot and bothered, Capozzi throws some cold water on me and gets me back in the game with "Buss It." This track is busting with a no-frills attitude and heaps of swagger. You know that face I was talking about? Maximum stank face level unlocked! All I can think about is popping bottles at the club as I twerk with my besties in the VIP booth.
Finally, xENO inspires me to shake what my momma gave me with the appropriately titled, "Shake That." From the red hot laser element to the flirty lyric exchange and the synth expression that expands and dissipates, this track boils with attitude. Taking direction from famed duo Walker & Royce, excuse me while I let my body do the talking.
In summary, Tech My House Vol. 2 left me impressed!
Just like my personality, this album came with multiple layers both serious and silly. If you're looking to fill your next party with music for any mood or hour of the day, you absolutely need to add this to your library. I want to give a major shout-out to Space Yacht for lifting up the dreaming artists of the world. Your love and respect for this industry don't go unnoticed and I'm through the moon excited to see who you'll feature next!
---
Space Yacht – Tech My House Vol. 2 – Tracklist:
Arnold & Lane – Momma Told Me
Vanilla Ace, Swavé, Hitta – When In Miami
Chapter & Verse – Walk With Me
Pass The 40 – All I Do
San Pacho, No Thanks – Whats Up
Capozzi – Buss It
xENO – Shake That
Tony H – Hot Potato
OBAŸASHI – Make Me Feel
Nico Crespo – The Sorceress
Heim – Break The Rules
Ōsé – Feel
Not Not – Double Doses
Contribe – Colombia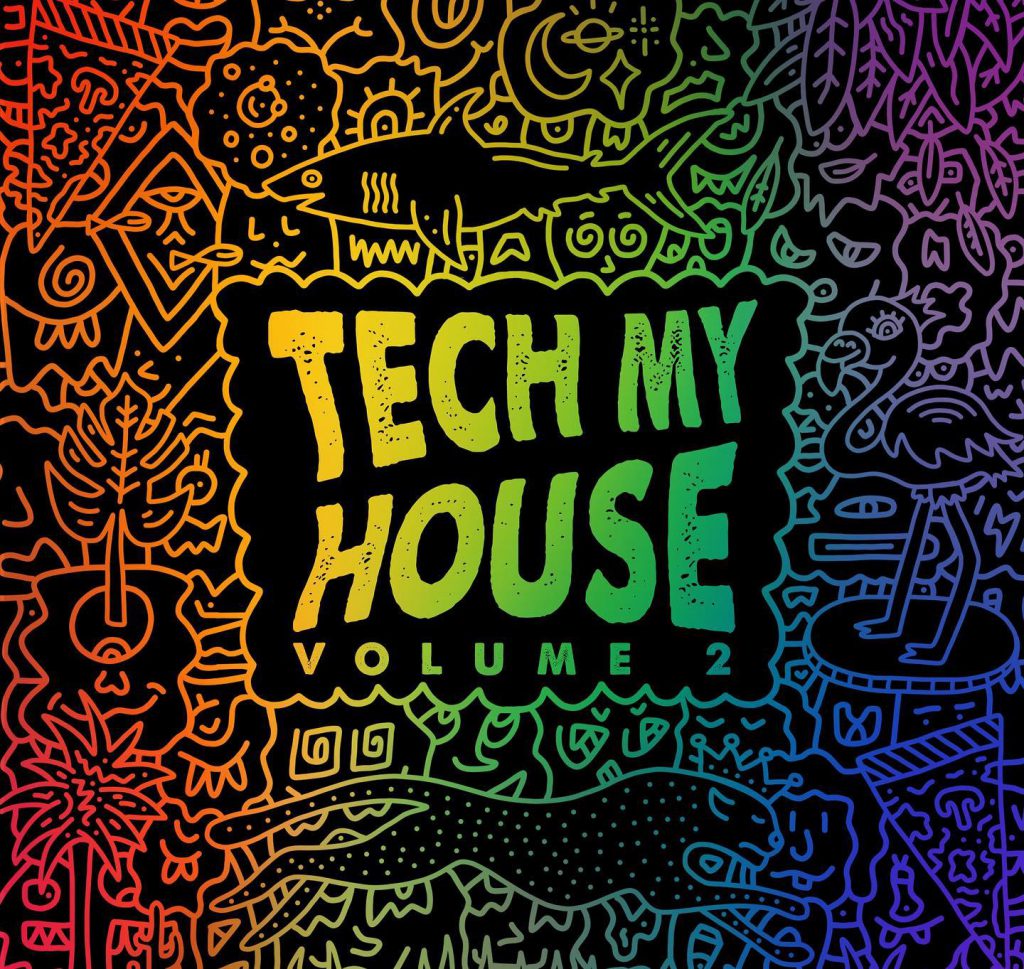 ---
Follow Space Yacht on Social Media:
Website | Facebook | Twitter | Instagram | SoundCloud | Twitch