This August, Insomniac brings Crush back to San Francisco with a stunning lineup featuring Blossom, Wuki, Good Times Ahead, and more!
---
Insomniac Events is feeling the love these days, especially now that live music events are back in full force in California. Following the success of Day Trip Festival this past Fourth of July holiday weekend, the biggest promoters in the scene continue to announce more events up and down the West Coast. And today, Insomniac is surprising the Bay Area with a pretty sweet announcement – the return of Crush SF.
While Crush typically occurs in February on or around Valentine's Day, Insomniac couldn't wait until 2022 to bring this festival back. So, this summer, the two-day event is set to return to the Bill Graham Civic Auditorium for two dreamy nights, August 13 – 14. Respectfully. To make this announcement even sweeter, Insomniac dropped a pretty stacked lineup full of artists who are bound to make you hug your boo, friend, or parent in the crowd while catching them.
The Crush SF lineup features a mixture of future bass artists like Said The Sky, Jason Ross, William Black, and Wooli – all of whom will plug into their emotional side to elevate the love flowing through the venue. Then there are those like NGHTMRE, Wuki, Good Times Ahead, and Dion Timmer who will erupt the place with relentless energy, making every human body in the crowd go nuts. Finally, rising star Blossom is holding it down for the ladies, and we're confident she's going to send your wigs into orbit. (But we can do better with representation on lineups in 2021. Just saying.)
It's safe to say that the lineup is full of divine talent destined to make the first Crush back since the pandemic one that's special. Previous editions of Crush have also touched down in SoCal, Texas, Colorado, and Arizona, so keep your eyes peeled on those potential locations this year as well.
San Francisco, you're in for a special treat, and now that we're back to live dance music events it's a beautiful thing to see! Tickets go on sale Thursday, July 13 at 12pm PT via the official Crush SF website, let us know if you plan to attend in the comments!
---
Crush SF 2021 – Lineup: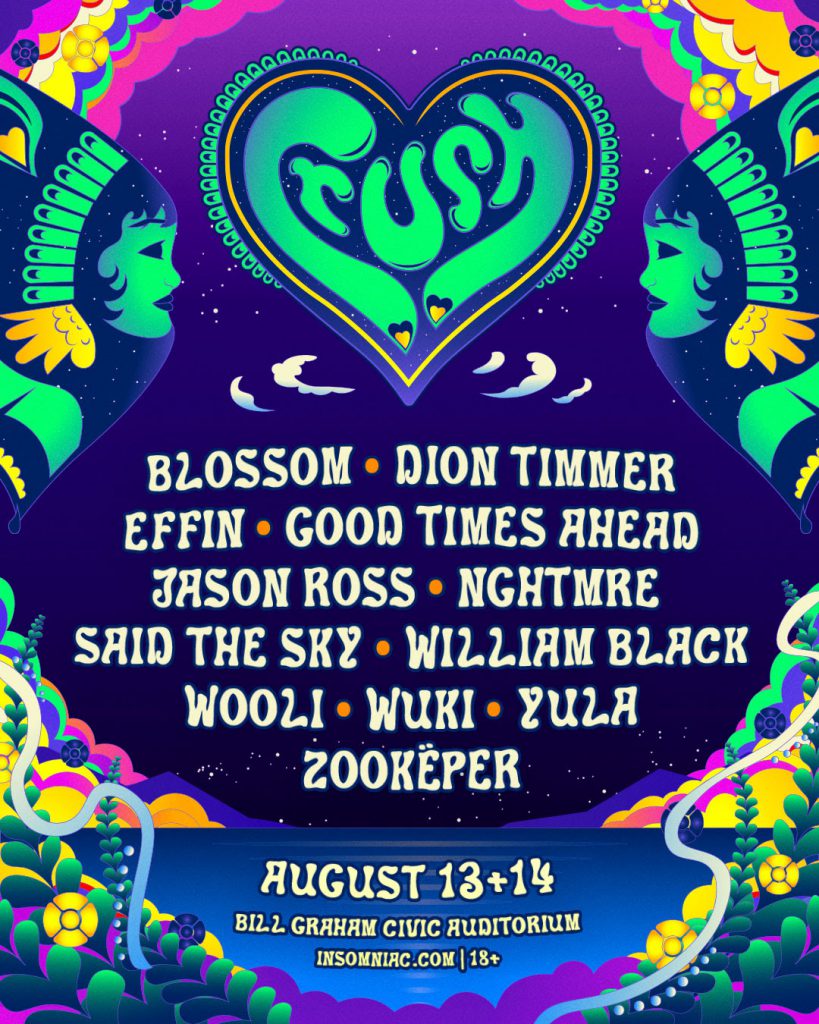 ---
Crush SF 2021 – Lineup By Artist:
Blossom
Dion Timmer
Effin
Good Times Ahead
Jason Ross
NGHTMRE
Said The Sky
William Black
Wooli
Wuki
Yula
Zookeper
---
Follow Crush on Social Media: