Space Yacht founders Henry Lu and Rami Perlman talk about their new label, Tech My House, Vol. 1, taking risks, and so much more.
---
Southern California staple Space Yacht is a trailblazer in the growing dance music community. Since its inception, founders Henry Lu and Rami (LondonBridge) Perlman continue to invest their all in the brand. What started out as a weekly party turned into innovation over the last six years and they clearly don't have their sights on slowing down anytime soon.
Just like everyone else in the world, the pandemic flipped the switch on all their plans for 2020, but that didn't stop Lu and Perlman from making magic. To keep Space Yacht connected with the community, they turned their attention to the internet. Platforms like Twitch provided a new space for them to try new things that included their Tune Reactor show, which led to the launch of their label as well.
Back in January, Space Yacht hit a major milestone with their new label, releasing their first compilation, Tech My House Vol 1, which featured a number of artists selected through Tune Reactor. The compilation is a masterpiece that represents the brand at its core values – to push dance music forward and celebrate the culture and its people. During this time they also embarked on another new endeavor crypto art, and it's taking off like no other. For those who don't know, their second collection sold out in three minutes. Three minutes!  
You can't ignore the hustle, the drive, and passion these guys have. I had the pleasure of chatting with Lu and Perlman, and from the moment Zoom connected, they welcomed me with a big smile and high energy. Within seconds it felt as if I knew them for years, and we talked about everything including their record label, tasking risks, brand identity, and so much more. 
In the end, I learned that Henry is a Gemini and Rami is a Pisces— a wild yet effective combination, but it makes sense if you've ever interacted with them. I left with nothing but respect for everything they do, how forward-thinking they are, and how much they love the community. Their intentions are genuine and it's refreshing to see. As a result, it turned me into the biggest Space Yacht fan, so listen to Tech My House Vol. 1 below and read on for the full conversation!
Stream Space Yacht's Tech My House Vol. 1 on Spotify:
---
Hi Henry and Rami, congratulations on the Tech My House Vol. 1 compilation. It's so good! Can you tell us what inspired the compilation? And the process of getting it done in a pandemic world?
Henry Lu: Ppre-COVID. Rami and I were in the office, coming up with, as we usually do, a theme for the night. The lineup happened to be tech-house, and I think it was either Rami or myself threw out the punchline, "Well, you can tech my house," [laughs], and then Rami said, "yo, that is what we're going to call the party," and it's the name that stuck.
Rami Perlman: Yup. [Laughs]
H: [Tech My House Vol. 1 tracklist] that's kind of the typical lineup for a Tech My House party, which was the nexus of the name. You know how Space Yacht does it; we'll mix in buzzing new names and top tier secret guests.Those opener sets are super important. It's not about just, "you sold the most tickets, and there you go, here's the set." It's like, are you making art? Are you forwarding a great message to your community? That's just kind of our DJ booking philosophy. 
Naturally, the artists who would have filled our lineups became the roster for our label.
R:  For the last five years, we have amassed this kind of tribe, so to speak. And it's deeper than just a fan base. Henry and I were at the Space Yacht residency every Tuesday. We know these people, [and] if we didn't do something to stay creative, then very quickly people forget, and we didn't want to lose that connection. 
Twitch started the A&R process for the label, so when talking about Tech My House, our Twitch show is like a demo review and reaction show.Very quickly, we started getting all this great music, and that became the funnel for this compilation. Where if you look at the tracklist, I would say 70 to 80% of what's on this compilation are either artists we knew but hadn't necessarily booked yet, or got to know better through the Twitch show. 
We have always stood up for the new person, you know, the person who has been working their asses off in their bedroom and want to play their first show and their music. To Henry's point about the booking process, the music starts first. And we always were like that when we booked our shows. About 80% of [the Tech My House tracks] came through Tune Reactor, meaning we heard it for the first time live on air. And then we have this process of bookmarking it if we like it, and then we separately listen to [the track] on our big speakers.
How important is the experience of the music for you guys? How big of a role does that play in what you try to listen for on Tune Reactor?
H: We're music first, and it always starts there. But it doesn't end there. And the must itself doesn't exist in a silo. The first year of Space Yacht, part of the entrance experience was [that] you go through is this kind of grungy alleyway that was converted into a mini garden and the legendary Space Yacht smoking patio started there. The idea of a smoking patio is "the hang" where people want to get out of the immediacy of the club, the music, and just step out and talk, it became a trope within the Space Yacht world, I suppose. 
All these little things add up to not only the experience but the story, you know, the loreof Space Yacht, like what are these things that are super intangible, but yet still highly impactful.Going into COVID, the music now impacts the way I live my life in the living room.I now have time to listen to hour-long podcasts and albums from start to finish. We are signing music that can reach into people's lives, you know, a bit more impactfully and positively.
R: I want to call out the closing record by Ocean Roulette and Burko. It's called "Tribes" and Ocean has been a friend of ours, he's played Space Yacht countless times. When we heard that record on Tune Reactor, Henry and I both were just like, "this is in the desert 5 AM sunrise, with your family, your crew, who are your family, and that best feeling." And I said, "that's how I want to close out this compilation with that." It's the end of the journey.  We really feel like it's a great reflection of the Space Yacht community of producers, these producers are the people who come to our shows who have played our shows who have followed us, and all these people are part of our world.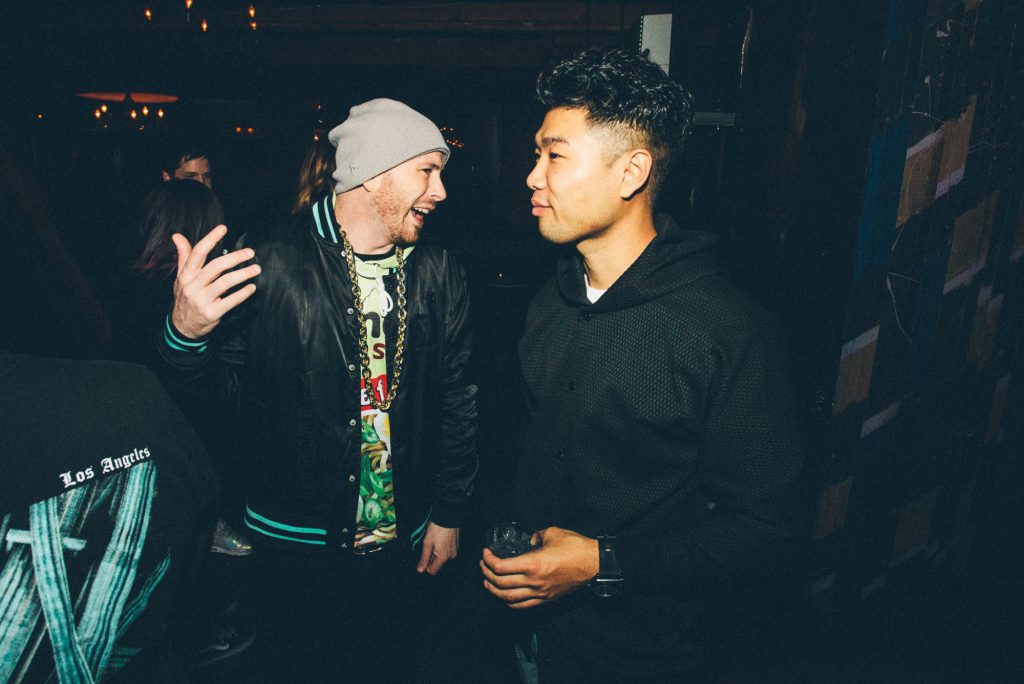 Space Yacht, in my humble opinion, is a brand that's innovative, fearless, and disruptive, in the best way possible. From your point of view, what does it mean to take a risk? And what lessons have you guys learned over the last six years together?
H: It's so bizarre, it's the first time we've been asked this.
R: Yeah, yeah, it's a great question.
H:  In a way, we're taking risks every day, where we put it upon ourselves to experiment with new things. There is an element of adaptation. A lot of the things we did in COVID—the crypto art, the label, the YouTube and Twitch launch, those are things we would have done eventually. But that's a little bit different from saying, "you having to do this within two weeks. It's COVID now."
R: Right.
H: You gotta do it now,and you gotta figure it out.
R: Right, that's right. 
H: All of a sudden Twitch has become pretty big for us. E-commerce is amazing. Crypto is amazing. Nine months ago, we would have thought, "Why the fuck are we doing this? This makes no sense." Some might even say it's not contributing to music culture, but once again, back to the idea and the philosophy that music doesn't exist in a silo, right? Art helps carry this culture and sound forward as a vessel.
R: What I will say is that every day we take risks. But we have the ability to take calculated risks because of the amount of time we've been doing [this]. Taking risks is basically what our brand was founded on.
Can you talk more about crypto art? What inspired you guys to pursue that endeavor?
R: I think the dance music community is about to see it everywhere, so this might be new to you, but in two weeks, it's going to be everywhere. The way that crypto works is that it's called an NFT. It's a token that lives on the Ethereum blockchain. Prints, visual artists, and musicians are now starting to make limited edition collectible things, and NFT takes the place of the signature, [and] it's the thing that authenticates the piece you're buying. 
So when you bought a Space Yacht piece of crypto art of the skeleton twerking and eating pizza, the way that you know you own it is that you bought this token, this NFT that's connected to that piece of work. What we're excited about is how that can apply to records. It's kind of like a limitless edition, where you can enjoy it as a music listener, which is first and foremost, but what if you're a sneakerhead? or an art collector? or a Pokemon collector? It's new stuff for us. We're really, really loving it. Just like the apparel, just like our shows, these are all expressions of our brand. These are all ways that Henry and I are creative and express our creativity.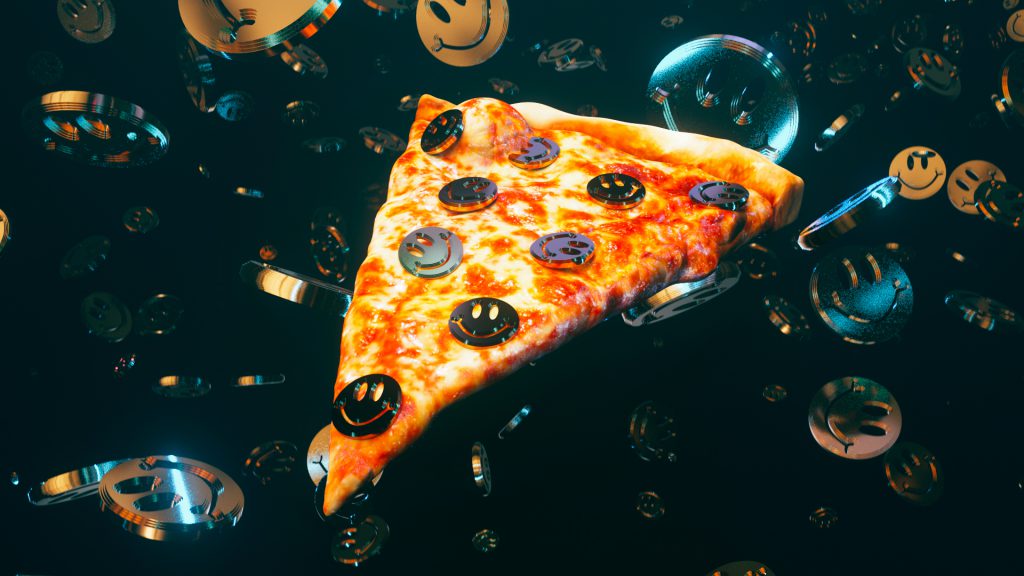 Can you tell us about how your previous social media marketing experience helped with the Space Yacht brand?
H:We come from a space where we spoke this language, having worked in marketing and social media. 
Rami is a creative connector. He's known for the "blue sky" exercises. As if we were thinking about random ideas without limitations. And myself, my way of manifesting my past experience is all about power and leverage. That is, how do I leverage what's available on the internet or social media (or whatever thing that's out there) to deliver a message and be creative with it. 
R: I think the biggest thing for us out of that social media job, I think, is that we met each other. Yeah, we learned stuff, and we did cool things, but I also think the real learnings in marketing and brand awareness today have come from Henry and I just working every day together
In closing, what are some things you're planning to do when we are all able to come back together again?
H: You know, to be honest, we've been so focused on trying to see how we can explore the different things we've always wanted to do. There will be a time when we make this transition back into real life, we'll have to address and go above and beyond to make people not only feel safe but actually be safe. When we start converting back to "real life," many people are going to feel different types of way about what's OK and what's not, and that's just how it's going to be for at least a year, maybe even two years— because we're mentally prepared for that, we're ready to take it slow, and look at the steps, how do we approach it the right way? 
R: We're probably at the bottom of the totem pole because we're not known as an open air party. We're not a festival. I think Henry said everything that I want to say. What I'm looking forward to is that first time at Sound where I can get on the mic once it's safe(or Henry can get on the mic), we are at Space Yacht, we are all together, let's just live our best lives.
---
Follow Space Yacht on Social Media:
Website | Facebook | Twitter | Instagram | SoundCloud | Twitch