Steve Darko teams up with Nik Thrine on the outrageously fun, two-track EP, Small Things, out now on Dirtybird Records!
---
When Steve Darko stepped under the Dirtybird limelight with Fried Or Fertilized back in May 2018, his life would change forever. On his rise to stardom he served up endorphin spiking house heaters in the form of Firecracker, That's Hot, Whistle Tippin, and in 2021, we saw him stampede across yet another checkpoint with the unveiling of his debut LP, Midnight Swim. So, in true form, Steve Darko hasn't wasted any time translating his imagination to music and now we get to celebrate the official release of Small Things alongside Nik Thrine.
Making his Dirtybird debut, Nik Thrine comes to us as a breakaway project from the former Smeed & Suspense (he was Smeed). His music vibe runs the gamut of house and with Steve Darko in his corner, they've crafted a wild two-track package that's experimental, engaging, and psychologically arousing. Take the title track for instance – it begins with a solid pump of the bassline, nothing too far out of the ordinary, but things get rather bizarre before we have any time to get settled.
They say that the devil is in the details and "Small Things" is chock-full of strange and intriguing sounds around every twist and turn. The pulsating and undulating overhead melody pings the brain to respond with extreme euphoria. The lyrics are equally as wacky, even more so on the latter half. "I try to write about small things. Paper, animals, house, house, house, house…" As the lyrics drop out we get hit with a crunchy synth expression that skyrockets our trippy experience into overdrive. As the vocal distorts there is one final descent into madness before we reach the B-side.
"Droids" swoops in with jaw-dropping force, packed with a rhythm that's going to urge you off the couch for a flashy dance break. But, just as you begin to get your shuffle on, the airwaves becomes overwhelmed with ear-piercing robotic blips and bleeps. Instantly the mind is transported to a futuristic planet where humans and droids live in perfect harmony. This is a tune made for the deep hours of late-night when we're searching for a soundscape that will unleash our own inner cyborg. Another home run hit for Steve Darko and fellow beatmaker, Nik Thrine!
Purchase or stream Small Things on your favorite music platform, listen to the EP below, and let us know what you think in the comment section!
Stream Steve Darko & Nik Thrine – Small Things on Spotify:
---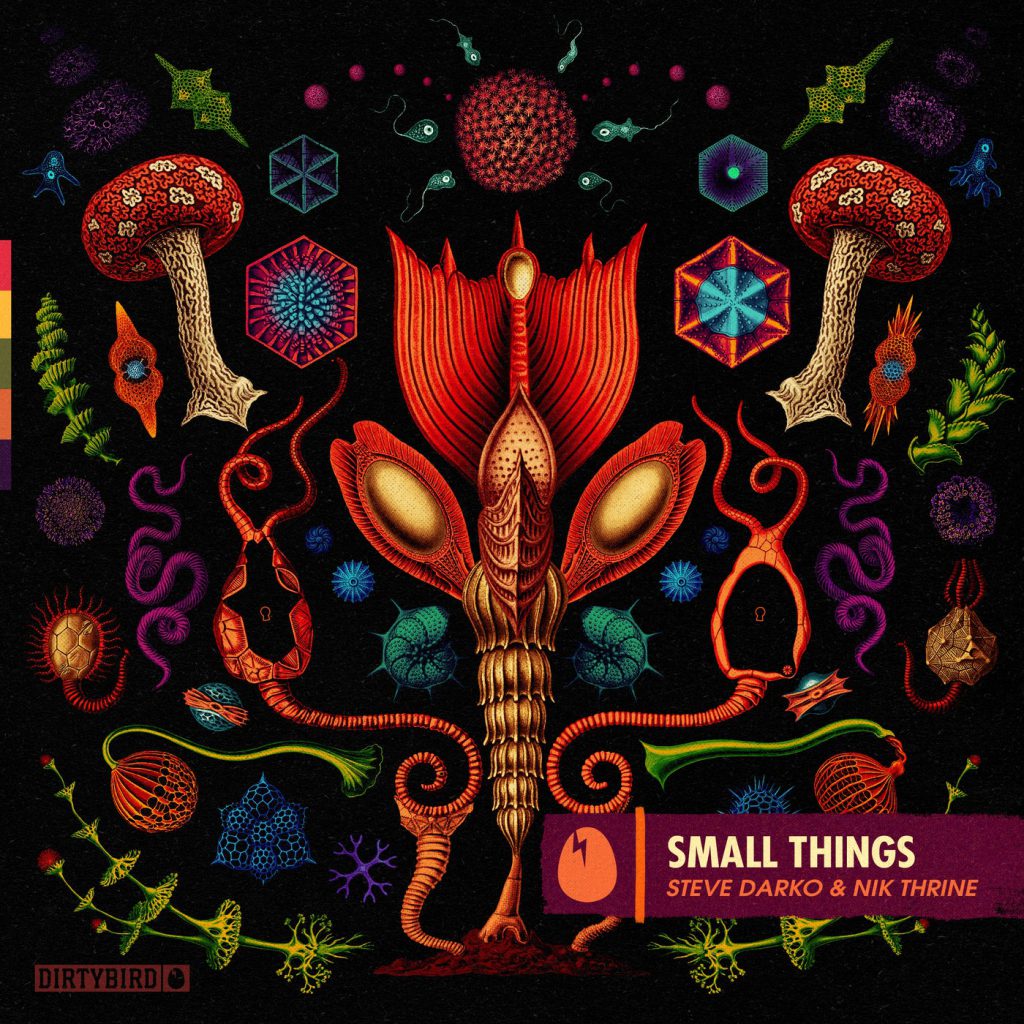 ---
Connect with Steve Darko on Social Media:
Facebook | Twitter | Instagram | SoundCloud | Spotify
Connect with Nik Thrine on Social Media:
Facebook | Twitter | Instagram | SoundCloud | Spotify