Following the release of his debut artist album on Dirtybird, Midnight Swim, Steve Darko stopped by to chat about his production process.
---
If you've been following the house scene over the past few years the name Steve Darko is one that that should ring a bell. The Boston-native first debuted on Dirtybird in 2018 with his quirky two-track Fried and Fertilized EP. Since then, his career has sky-rocketed, having graced staple labels like Box of Cats, Country Club Disco, Psycho Disco, and even got to go on tour with Dirtybird label boss Claude VonStroke.
Working as a software engineer at iZotope creating production and post-production software and hardware as his day job, it's no surprise why VonStroke champions Darko as one of his favorite producers. And his tracks equally display his vast knowledge and talent for making music, which has quickly pushed him to become one of the most talked-about rising stars in the scene.
After five years of perfecting his unique self-named "eel-house" sound, Darko decided it was time to bring us his first artist album, a colossal 14-track LP titled Midnight Swim on Dirtybird. The album, which includes the two tracks from his Descending EP released as a teaser, is a diverse journey into his mind. Pulling inspiration from everything from hip-hop and bass to house and techno, this album, in short, is a musical masterpiece.
Luckily for us, we were able to snag a few minutes of his time following the release to chat about the album and the process behind making it in detail. Stream Midnight Swim on Spotify or your preferred platform, check out our full review of the album, and read on for the conversation with Steve Darko about this defining moment in his music career.
Listen to Steve Darko – Midnight Swim on Spotify:
---
It's been awhile since we chatted last. How have you been? It seems like you have Lots of exciting things happening. 
Been too long! I've been doing well, staying busy.
Over the years you've released various Dirtybird tracks. Is there something that pushed you to release your first artist album on the label at this time? 
Yeah, I've been making music as "Steve Darko" for the past five years or so and feel that I've really settled into my sound, but was itching to work on something a bit different from what I normally write. The thought of working on an album felt like a breath of fresh air and seemed like a great way to expand my sound. 
I've been working with Claude VonStroke and Dirtybird for the past few years and we'd talked about the possibility of an album in the past, but officially agreed to kick things off back in August 2019. I can't be thankful enough for Claude and the team for the opportunity and support along the way – especially for a relatively new cat to the scene like me.
And 14 tracks? That's massive! How long has this LP been in the works?
Thanks! It took just about fourteen months.
I know Boston has been shut down for basically a year now. Did the quarantine have an effect on you making the album? 
Yeah, it's had a pretty major impact on how the overall vibe on the album ended up. Being in quarantine certainly takes its toll on anyone emotionally, especially when it's combined with all the madness that went on during 2020 (and beyond). The plus side to all of this was that I've had loads of extra time to work on music when I'd normally be traveling around touring.
The tracks throughout the album display a lot of diversity with your ability for production and sound design. Is there a particular message you are trying to get across with the album? 
From me as a producer – Midnight Swim felt like a great venue to introduce some new productions that don't fall into the house/techno realm. I was making all sorts of different styles of music before I started making "Steve Darko" stuff five years ago and I used the album as an opportunity to revisit some styles I used to work on a lot and continue to polish them. Talking about tracks like Euclidean Dreams, Love 100, and On My Own. At some point, I'm thinking of potentially spinning up a side project to work on some different styles that are too divergent from the Steve Darko sound.
From me as a human – I tried to have Midnight Swim reflect on some of these dark times we've all experienced over the past year or so, but tried to balance it out with some more uplifting cuts as I'm hopeful for a brighter future. I wanted it to take the listener on a journey balanced between darkness and light and hopefully show them something that inspires them or at least helps them escape from the stress of everyday life.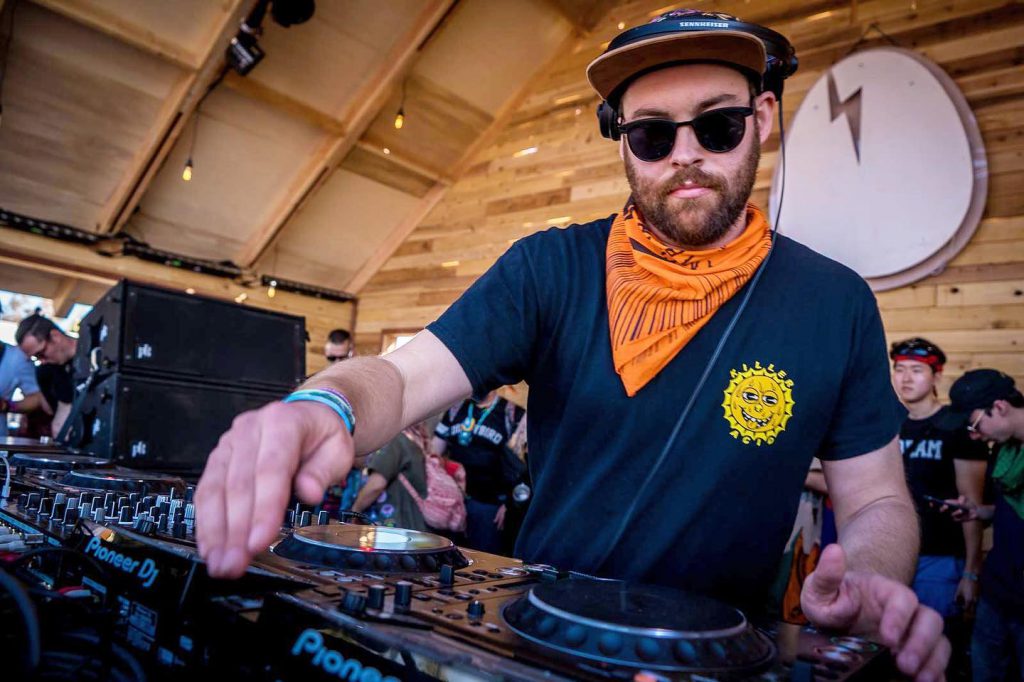 Like always, the LP is one track after another of your unique Darko vibe and distinct self proclaimed "eel-house' sound. Do you have any particular favorites?
It's definitely hard to pick favorites, but "Descending," "How Many Times," "Block's Last Trip," and "Dominical" are up there. 
Some of the tracks have an early Dirtybird feel. Was that on your mind at all during production? 
Yeah, the earlier Dirtybird sound is what really turned me on to house music to begin with and has always had a major influence on my sound. I wanted to pay my respects to the label and the artists that have influenced and inspired me over the years. Plus, those classic funky, trippy, bouncy, weird house beats just never get old and I know most Dirtybird fans love it just as much as I do.
I read a bit on how you produced the Descending EP. Tell me a bit more about your production methods used throughout the album. 
I recorded and produced everything in Ableton Live and used a variety of different hardware gear: synthesizers, a drum machine, effects pedals, etc. Typically I'll start a new song with the beat – either cooking something up with some samples in Ableton or with the Elektron Analog Rytm drum machine. Next, I'll come up with a bassline – sometimes with the Moog Sub 37, sometimes with a softsynth like Serum.
What happens next really depends on the track. Sometimes I'll record a vocal; sometimes add some pads or keys; twist around some weird samples – anything can happen I just go with the flow. If I make a sound that I like, I stick with it and move on. I did most sequencing of hardware gear from Ableton but used the Toraiz SQUID sequencer for a few tracks as well which was a blast.
Any upcoming live streams or shows to promote the album release? 
Yes, we just had the Midnight Swim release party on Sunday, February 7 on Dirtybird Live and I'll be doing an album listening party the following Tuesday, February 9 during my Darko's Dungeon show, which starts at 9pm EST.
Anything else you want readers to know about your album or other exciting upcoming news? 
I hope you enjoy the album! Hope to be doing a tour at some point, but the timing is still a bit unknown at this point. In the meantime I'll be hanging at home and doing my weekly Darko's Dungeon livestream on Tuesday nights, so come by and hang! Always a solid crew and a good cast of characters in the chat. Music-wise, I'll probably start putting new releases out in a few months, and maybe I'll start up a new label this year… who knows! Good to chat with you, thanks for having me!
---
Follow Steve Darko on Social Media:
Facebook | Twitter | Instagram | SoundCloud