After teasing the flock with two mind-melting singles Steve Darko has officially released his Midnight Swim album on Dirtybird!
---
Steve Darko is a Boston-bred tech house genius who continues to impress the world as he grows into the superstar that lives within him. He officially stole the show with his releases that come off as strange, intriguing, and almost alien-like as they graced labels including Box Of Cats, Psycho Disco!, Slothacid, and, of course, Dirtybird. If there's one thing for certain, it's that he takes his craft very seriously, and he's a man who knows how to control the dancefloor!
Today's a magnificent day as Steve Darko has unveiled his debut LP, Midnight Swim on Dirtybird. We've already succumbed to the power of "Descending" and "Red," two tracks that properly built the anticipation for an album that taps into the raw emotion and headspace of the beloved tech house maestro. In fact, Midnight Swim was developed as an escape from the tragedies of 2020, flinging out moments of peace and joy while hammering down his unhinged signature style.
But, it's not just Steve that we get to see along the way. He has brought along some friends. VNSSA, Rachel Alix, Nala, Phlegmbuoyant, Bøats, and his mentor Claude VonStroke, have been called upon to help him move beyond his own horizons. The resulting package is full of life and drenched with a psychedelic personality. So, if you are ready to enter Steve Darko's dimension 2.0, then turn your speakers up and get ready to lose your mind!
Purchase or stream Midnight Swim on your favorite music platform, listen to the full album below, and continue on for my take on the tracks!
Stream Steve Darko – Midnight Swim on Spotify:
---
Within seconds of pressing play on Midnight Swim I quickly came to realize that Steve Darko is absolutely insane.
Going into this experience I knew that Steve Darko was going take me far outside of my conscious reality, escorting me to a colorful fantasy land of his own design. "Descending" is the track that gets the engines revving and within the first few seconds of swirling sound my mind is swept away into the deep end. Off I go to mix and mingle with the freaky creatures of the night.
Once I arrive at the gates of Steve Darko's wild tech house utopia, I'm welcomed with a festive celebration of drums. The jubilant pounding lights me up with adrenaline and once the vocals slide in, "Smooth Like Butter" evens me out. The cool tone and cosmic sound bytes make me feel right at home as I shimmy and shake my way into the party.
Suddenly, I see Claude VonStroke materialize before my eyes as the soft simmer of "How Many Times" shifts the mood. This track reminds me that among all of the debaucherous moments on the dance floor there's always room to get serious. Oh wait, I spoke too soon! About halfway in "How Many Times" has decided to cannonball into the quirky side of the pool. The wobbly sound blips have me raging with curiosity to see what comes next.
Maybe it's the sound of crashing waves or sheets of rain slamming the pavement, but soon after the previous track ends I can feel the moisture in the air around me. This is what "Euclidean Dreams" delivers and suddenly I've left the party to find myself locked within a beautiful dream. This track is one of the most experimental thus far and I feel possessed as my body contorts to match each and every musical inflection.
There's no turning back on our bizarre adventure, but Steve Darko allows for a quick moment to breathe.
"Oohs & Arps" offers up a moment of respite from what has been nothing short of intense. As I snap back to reality the sweet and simple vocal raises the hair on my arms. It's just so satisfying, blending with the layered synth waves. There's just enough detail to keep things interesting but it's never overzealous. It's an offering that cleanses the pallet.
With a fresh outlook on my journey, Steve Darko calls on the assistance of Nala to swim beside me and sing as I'm led back to the gate of our alternate dimension. "Red" is incredibly playful and it makes me contemplate my favorite color (blue) as the party moves into the twilight hours. I feel the weirdo inside me begging to come out and say hello and with Darko's signature style giving the nod, I dance like there's no tomorrow.
I'm happy to report that we're going to stay in the vocal lane for a few more minutes. "On My Own" makes me feel so euphoric as Rachel Alix's voice morphs from sweet to sour. It happens quickly but if you catch it, this stylized effect is going to flip your lid! As the deep melody burns through my spirit I fall back into my imagination with a heightened sense of confidence and swagger.
Silly me! I should have known that it isn't wise to get too comfortable because there's always a twist around the corner when Steve Darko is around. "Block's Last Trip" featuring Phlegmbuoyant starts off totally innocent but then things get really weird. I look around me and see spiritual entities, futuristic cyborgs, and aliens from far off planets all grooving to the suttle pluck of the guitar as a demonic growl keeps us all in check.
The abnormal auditory detail is off the charts and it just keeps on developing!
You can imagine my elation after seeing VNSSA's name on the tracklist. She's one of the most exciting artists in the scene right now and her collab with Steve Darko on "Wavy" still gets regular plays in my household. As for this appearance, "Hypnotized" does exactly what the title infers. I follow the lead and visualize VNSSA staring straight into my soul. I feel my body turn into a puddle of goo as my vision begins to blur. Leaving my sanity behind, I cruise through a colorful wormhole led by the extravagant sound design.
Living in this alternate reality feels amazing as "Love 100" begins to play. This is a tune that takes abnormal to the next level. I love listening to this one on my headphones because the closer the sound is to my ear, the more the bouncy bass affects my brain. I feel like "Love 100" was crafted specifically for our alien companions and when I close my eyes I imagine dancing with them in a glowing white room as we cruise around and abduct the rest of our human festival fam!
The only thing I want right now is to make my way to the nearest planet before ending up at the edge of the universe with no way back. Steve Darko must be a mind reader because he pulls me down to bust a move on solid ground with "The Only Thing," a lovely club throwback that features laser synths and a bright vocal focal point. Of course, our alien friends are still in tow and you can hear their space ships zigging and zagging in the background.
As I begin to explore this thriving planet a million lightyears away from Earth, Boston duo Bøats has teleported over, strapped with the mellow soundscape of "Eelation." This track makes it easy to settle into the new surroundings, so colorful yet full of mystery. I feel peaceful and serene as I realize my auditory trip session is nearing the end. But for now, I can't help but sink deeper into the undulating melodics.
Once again, I close my eyes tight. When I open them I find myself back on Earth.
But, there's a twist. I do not find myself back in the comfort of my own home. Instead, I'm in the middle of a glorious rainforest surrounded by lush greenery and I'm drawn, like a moth to a flame, to the friendly chirps in the canopy. "Dominical" pulls at my heartstrings as I become one with the living world. I can almost taste the flavor of fresh rain running off of the glistening leaves. The vibe is incredibly organic and uplifting.
"Closure" is all that is left to experience and I have to be honest, I'm a bit sad that this album doesn't go on for another 14 tracks. I've been completely caught up in each and every profound detail as every track wildly different from the last. With somber vibes, "Closure" swirls overhead like a hurricane and as I run fast out of the forest to avoid the storm's wrath I fall into the pool, through the wormhole, and back out the other side where my Midnight Swim officially comes to an end.
It's as if my head has spun right off into orbit and I want to give a shout out to those, like Steve Darko, who say to hell with basic and normal!
Give me something that I'll stay up and think about in the middle of the night. Give me something that not only makes me move but makes me tap into the deepest crevices of my psyche. Midnight Swim left me confused, aroused, terrified, and eelated all at the same time and further proving that Steve Darko is a musical visionary with an even brighter future ahead of him.
---
Steve Darko – Midnight Swim – Tracklist:
Descending
Smooth Like Butter
How Many Times w/ Claude VonStroke
Euclidean Dreams
Oohs & Arps
Red (Feat. Nala)
On My Own (Feat. Rachel Alix)
Block's Last Trip (Feat. Phlegmbuoyant)
Hypnotized w/ VNSSA
Love 100
The Only Thing
Eelated w/ Bøats
Dominical
Closure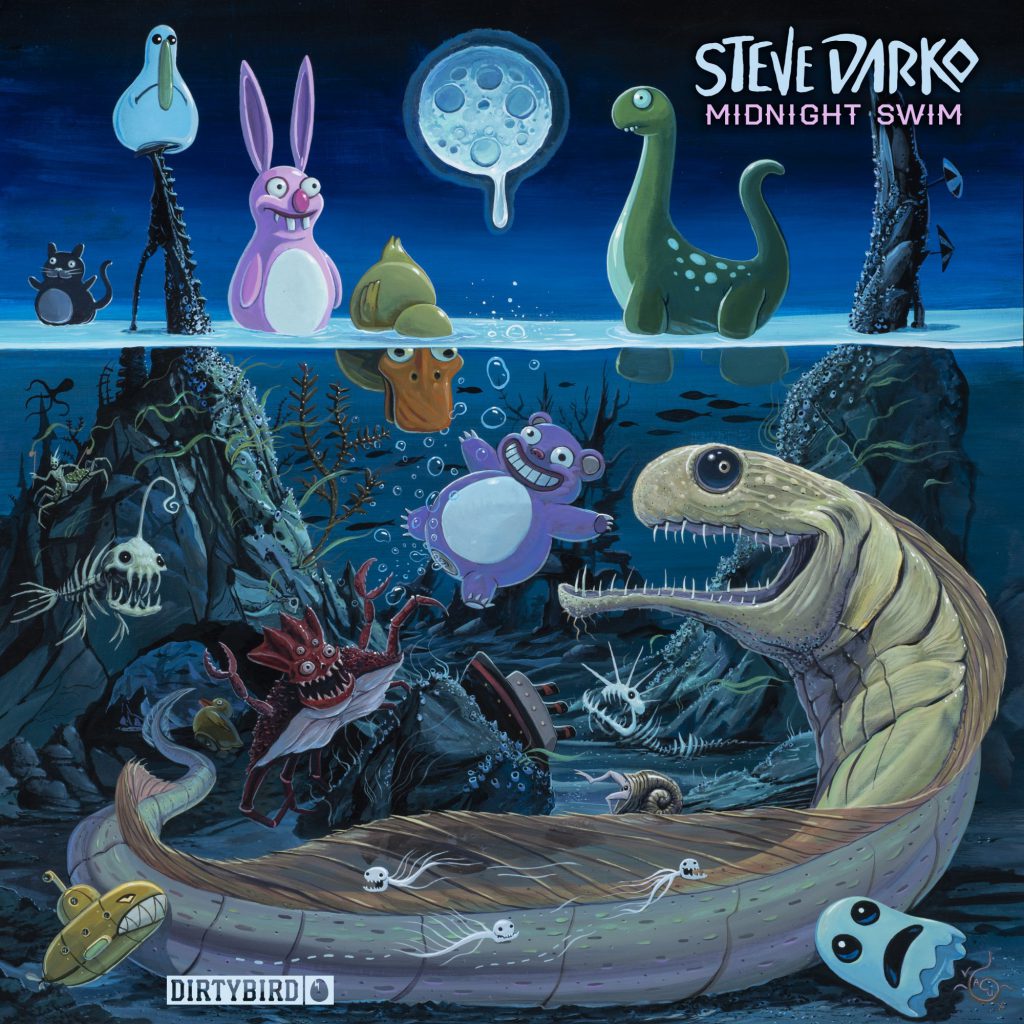 ---
Connect with Steve Darko on Social Media:
Facebook | Twitter | Instagram | SoundCloud