Marbs and Evan Casey officially uncage Birds On A Wire featuring vocals from Katie Kilbride and a label debut by Damian Lazarus!
---
In August of 2019 Marbs and Evan Casey introduced Desert Hearts Black to the world with the brooding three-track Torus EP alongside fellow member Rinzen. With jaws on the floor, we fell under the spell and followed their techno bending journey of sonic proportions while artists like Andreas Henneberg, Sammy Legs, and Vanita kept us locked in the dark domain. It's easy to conclude that this is a unique label that prides itself on establishing an introspective mood.
Now a year and a half later, Marbs and Evan Casey hold fast to their eclectic vision with the official release of Birds On A Wire. With two tunes and a remix to whip us into a frenzy, they also get to welcome the prolific Damian Lazarus to the Desert Hearts family. The Crosstown Rebels head honcho has been making our bodies react for almost two decades, refusing to be trapped in a genre bubble as his knowledge and influence continues to shape the industry. He's the perfect choice to give "Birds On A Wire" a spectacular twist.
In addition, we get to fall head over heels with a brilliant vocal expression from songbird Katie Kilbride. Her voice reigns supreme among the experimental soundwaves, telling a story that was inspired by humans and nature at morning twilight. Katie's inclusion proves that Marbs and Evan Casey pay attention to each and every detail in order to ensure the listener leaves in complete awe. So, without further ado, it's time to take flight.
Purchase or stream Birds On A Wire on your favorite music platform, listen below, and continue on for my take on the tracks!
Stream Marbs & Evan Casey – Birds On A Wire on Spotify:
---
Enter this experience with an open mind as Marbs and Evan Casey exude the qualities of being experimental.
There are some tracks that require you to enter into a certain headspace and "Birds On A Wire" is a prime example. A healthy heap of dissonance plays out between the creepy top-end details, bassline, and lyrical tone. It may come off as a bit uncomfortable and confusing at your first gander, but that's where the magic lies! The deeper you allow yourself to melt into the psychedelic aura, the more you will feel your mind begin to connect with their vision. This was never meant to be a dancefloor banger, but instead, a portal to transcend the conscious state.
Once your brain is firing on all cylinders, it's time to see what Damian Lazarus has cooked up. For his re-shape of the title track, he adds just a touch of progressive rock to shift the temperament. The melodic accents seem like they were plucked right out of the spirit realm and when they morph around the soft guitar riffs it increases the fascination. Suddenly Lazarus lifts listeners to the sky with the chirping of the birds to guide the way. This track is perfect for a spin around dawn, as it flings out new day positivity and auditory rays of light.
But the mind-boggling journey doesn't end here. "When Yesterday Ends" brings us full circle to lurk under the cloak of night. Once again, Katie Kilbride's dominating voice takes front and center with haunting inflection. There's a sweeping soundwave in the background that seems to burrow its way like a parasite, deep into the farthest crevice of my soul. The reverberating synth notes simply add to the terror. This is what nightmares are made of and I don't ever want to wake up.
Marbs and Evan Casey have outdone themselves on this one and deserve a resounding round of applause.
It's not too often that I'm beyond shocked by the sounds pummeling through my speakers and Birds On A Wire has me questioning reality as I know it. Marbs and Evan Casey have found a way to pull me completely into their world and with each and every re-play I feel their grasp squeeze tighter and tighter. Their creative decisions are unhinged yet stunning in the best ways possible. They're true forces to be reckoned with in this industry.
---
Marbs & Evan Casey – Birds On A Wire – Tracklist:
Birds On A Wire (feat. Katie Kilbride)
Birds On A Wire (Damien Lazarus Re-shape)
When Yesterday Ends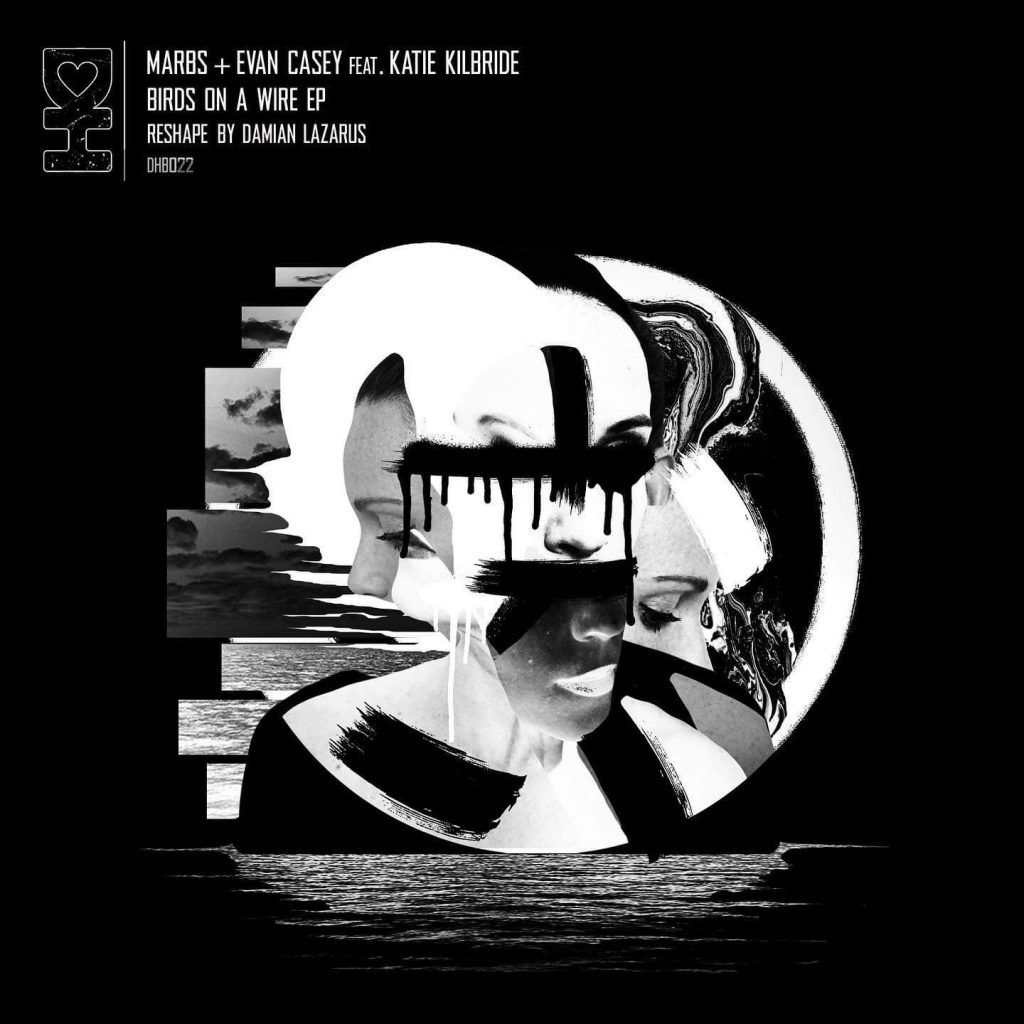 ---
Connect with Marbs on Social Media:
Facebook | Twitter | Instagram | SoundCloud | Spotify
Connect with Evan Casey on Social Media:
Facebook | Twitter | Instagram | SoundCloud | Spotify