Join the EDM Identity Team as we highlight the artists playing in September at The Gorge for ABGT250!
---
ABGT250 marks a special occasion: it's the first-ever Above & Beyond weekender, and we wanted to do something to commemorate the experience. Each week leading up to the event, we will feature two of the artists on the lineup, along with some recent releases or mixes so you can get to know their sound. Next in our series is… Eli & Fur!
Don't forget to check out the other artist bios in our series to get hyped for what is certain to be one of the best weekends of the year!
---
Meet Eliza Noble Alta Lora and Jennifer Skillman, who you know as Eli & Fur.
These two amazing ladies hail from London, England and have been working together since they were teenagers. They met at a performing arts college outside of Guilford where Eli studied music technology and Fur preferred studying art. Their love of music brought them together in the early stages of their DJing career, emailed many promoters their sets, and often played at house parties with friends.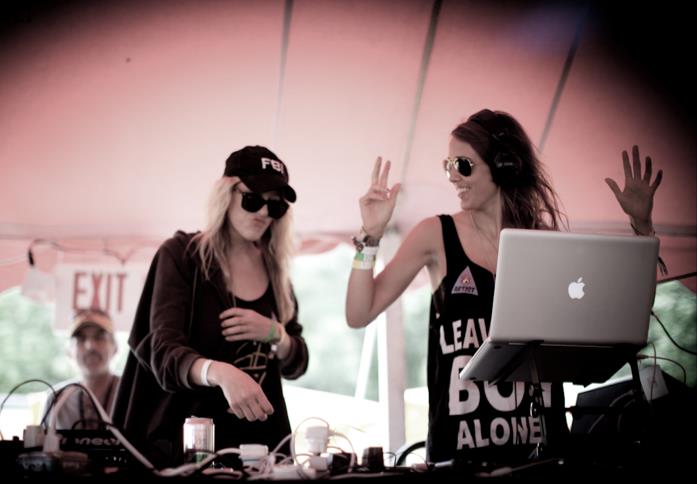 DJing was only the beginning for them as they progressed into songwriting as well. Eli writes the songs and plays guitar, while Fur plays on the keyboard.
Both artists contribute to each song as singers and they also play both DJ sets and live sets. During their live shows, the ladies have separate instruments, separate controllers, portable keyboards, and mics when they want to sing live. In an interview with Huck Magazine, they said they were inspired to add live elements by artists like KiNK and Neville Watson.
The duo continued to make music in the years to come, but 2015 marked a special year with a North American tour.
They documented their 15 date tour with a Go-Pro throughout the United States. The ladies used a variety of modes of transportation such as planes, trains, automobiles, and boats. They documented their visits to radio stations, studio sessions, TV networks, and clubs along the way. Their recorded adventures inspired the California Love EP. The footage for the "California Love" music video featured the girls' adventure around America.
After the conclusion of the tour, Eli & Fur clearly had no signs of stopping, having now performed around the world at some of biggest clubs to best festivals. In 2016, Eli & Fur played alongside Carl Cox during the final edition of his Space residency. This year alone, the names Eli & Fur have shown up on lineups for HARD's Holy Ship, Ultra Music Festival, and Coachella.
Eli & Fur have been dominating the airwaves of the deep house scene with many quality releases.
Since launching their careers, Eli & Fur have made a name for themselves with some epic tunes on labels ranging from NYX, Defected, Toolroom, Cr2 Records, Anjunadeep, and more. Eli & Fur's releases tend to feature a quality deep house vibe that really fit the Anjunadeep mold with deep basslines and wispy vocals. Their 2013 release "You're So High" reached Number 3 on HypeMachine, and it was 2014 when their debut track on Anjunadeep, "Feel the Fire", was released for fans all over the world.
Most recently, Eli & Fur released massive tune "Chlo" and teamed up with Way Out West on "Running Away". They are also set to officially release a tune "Wendy Legs" on September 15, right before the event this month. Make sure to catch their set at ABGT250 for a truly unique sound unlike any other!
---
Connect with Eli & Fur on Social Media:
Facebook | Twitter | Instagram | SoundCloud | YouTube