Genix sat down to chat about Warehouse55 and his new album before his open-to-close set at Anjunabeats After Dark in San Francisco.
---
At 9pm on Saturday, October 14, Anjunafamily were already lined up outside the doors of The Midway, awaiting a night full of music from their favorite label. The main room would see sets from rising star Laura Van Dam and Anjunabeats mainstays Mat Zo, ilan Bluestone, and ALPHA 9. Tucked away in the more intimate back room, another heavy hitter, Genix, would bring the full force of his Warehouse55 set with an open-to-close. Those who chose to venture here would be taken on a four-hour journey through pulsating beats and rumbling basslines.
The Warehouse55 concept pays homage to the rave and club scene of the '90s, the spirit of which has been lost in the commercialization and boom of electronic music across the world. "Everything's gone very Vegas; it's bottle service, it's champagne and VIP. There's nothing wrong with that because it all helps add to the scene, and it brings in all different types of people," Genix said. "But coming from someone from that era where the music scene, all that old rave stuff really came to fruition in the UK, I love it."
As trends come and go within music, we're noticing sounds that defined this era are coming back. "Everything goes full circle musically, and they generally say it takes like 20-odd years to do that. The generation of kids of today wouldn't have heard the music when I was a kid of the day. So it becomes cool again," he said.
This is why Genix brought Warehouse55 to life: not only to harken back to a bygone era but also to revisit his early influences and diversify his own live sets, allowing him to be more creative as a DJ. "I've been DJing for 20 plus years, probably since I was 16, and I find these days, as my profile is growing bigger, I'm playing more festivals and more club events where you've only got a one-hour time slot or maybe a two-hour time slot for a headline," he reflected.
"You don't have time to actually take the people you play music to on a journey. By that, I mean starting off in a certain sound, building it and bringing it down, and playing certain songs that come before other certain songs so it emphasizes moments in your set," Genix said. "I'm known for many sounds, many genres, so I'm trying to spread my wings and not be known just for one sound."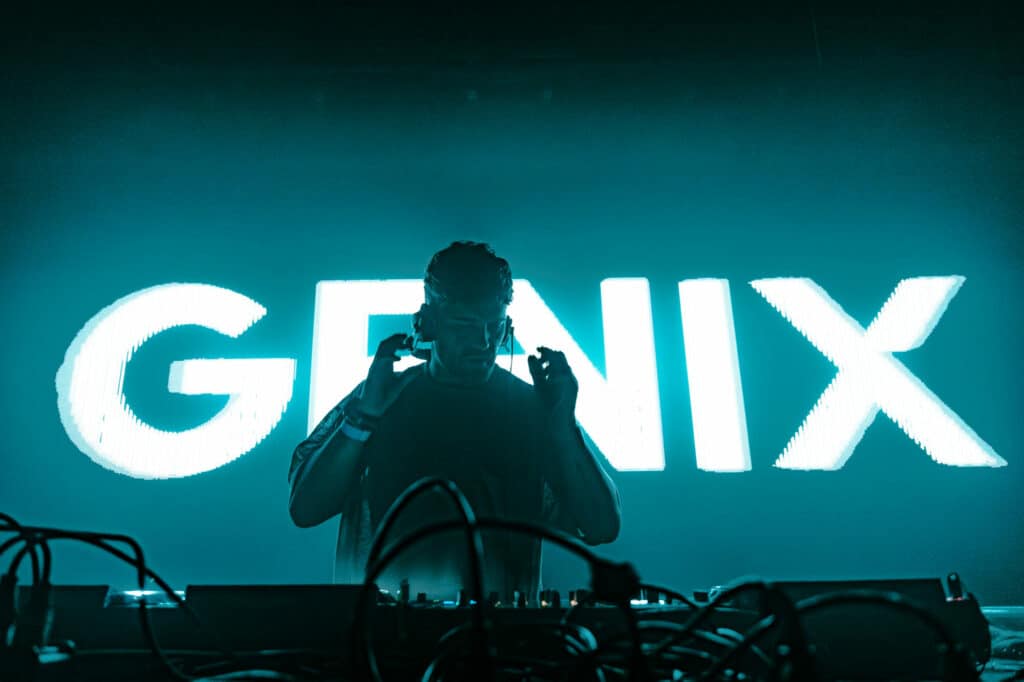 For those lucky enough to have experienced Warehouse55, it's hard not to be taken by the movement in the music and succumb to the soundwaves that crash into your body. I was looking forward to it, especially after hearing how Genix's pre-party for ABGT500 in Los Angeles was. Minimal production and a smaller space at The Midway allowed for the crowd to get up close and personal with Genix as the music completely enveloped them. There weren't any distractions, and it was impossible to stand still.
Earlier this summer, Genix took the Warehouse55 set on its first tour through hand-picked venues in six cities. "We selected the venues that fit the vibe," he said. "You don't want a main stage set up for techno because it's not about having ice cannons, LED walls, and all these things. It's about getting your head down, dancing, and losing yourself in the darkness and the smoke." To Genix, a prime example of a proper venue was the show in Los Angeles, which was in an actual warehouse. "It was like something out of old '90 clubbing films. It was amazing, and it felt like we were bringing a bit of the old back," he shared.
The tour also made its way through London, Colorado, Texas, and Washington. Being able to play to crowds on both sides of the pond has also brought another sense of nostalgia for Genix, who notices "massive" differences between them. "I love playing in the US because it reminds me of the UK like 15 years ago. People years ago in the UK used to dress up and put on all their outfits like they were going to EDC," he explained.
Genix's love for the sights and sounds of the '90s is also shaping his music. In addition to both volumes of Warehouse55, his 2021 album 199X gave way for experimentation around what he grew up with. Now, looking forward to 2024, he announced a new album that will continue to expand on this experimentation and exploration.
Despite being heavily rooted in a previous decade, Genix is reinterpreting those influences to make sense in today's context and is drawing from current artists who are inspiring him as well. "I really like people like Will Clarke. He's got this amazing way of fusing the old sort of house sound with really saturated beats," he shared. "I like Eli Brown as well. I'm a really big fan of him. Those guys are kind of techno, a bit of trance, a bit of house in there. Genre-wise, I'm not the same, but I'm doing similar things to what they're doing with their music."
There is no stopping Genix, who will be reaching new heights with this highly anticipated album and who amazes with his Warehouse55 and record-breaking sets. He continues to find ways to grow as an artist and incorporate his early musical influences and his loves outside of his music into his work. His love for hiking has translated into productions.
With his eyes set on the new album and goals to hike Mount Rainier in Seattle and Half Dome in Yosemite, Genix continues to impress. And aren't we so lucky for it?
---
Follow Genix:
Website | Facebook | Twitter | Instagram | SoundCloud