Anjunabeats mainstay Genix channels classic, industrial techno and brought it to the post-modern rave era at his debut Warehouse55 event.
---
Let me preface this piece with a little bit of background about myself. I grew up too young for '90s raves (sorry, Spencer Brown), but my mother spent her 20s living and going to school in Brooklyn in the '80s. All throughout my childhood, as I was discovering electronic music from my parents' old record and 8-track collection (if you know, you know), my mom would tell me stories about how she would go dancing all night to artists like Frankie Knuckles and Carl Cox in random word-of-mouth locales from nightclubs to abandoned warehouses.
Fast forward to 15 years later. As part of the incredible weekend celebration for Above & Beyond's 500th Group Therapy episode, a plethora of after/pre-parties were announced, including an Anjunadeep takeover at Exchange, Andrew Bayer for a Duality showcase at Academy, and Genix's debut Warehouse55 event at 1720. While the former two are typical Anjuna events, Genix's event was definitely an eyebrow-raiser, so much so that even the most devout followers of his transformative journey over the last few years didn't know what to expect.
Within days of its announcement, it was sold out, which is both remarkable, and a testament to the open mind many brought to the weekend festivities. With Norway's Fehrplay and fellow UK producer Bexxie on support, the pieces were there for an unforgettable night.
1720 is a warehouse-turned-venue near the infamous Skid Row district in LA, and as any OG raver will tell you, "The sketchier the locale, the better the music played."
In preparing for this event, I told myself that if this was as proper as I was hoping it would be, I wouldn't bring my phone, and I'd just live in the moment, even more so than the rest of the weekend. Upon walking into the venue, I knew I was in the right place, a hole-in-the-wall entrance bellied the massive inside. The production was very minimalistic, with one LED backdrop for the artists and a few strobe lights. I felt like I'd been slipped a note by a local to show up just to go dancing with like-minded friends and fans.
In an era where production is larger than ever, with lasers, visuals, and fog machines becoming as integral as ever, this enhanced Fehrplay's dark and silky progressive textures that graced Mood of Mind and Days Like Nights and transformed Bexxie's incredible energy into the raw power that dominates classic UK Garage. As much as this felt like a Genix-led event, hearing the two of them play their sets felt like seeing the side of them we don't get to see at typical Anjuna events, the side that got them so deep into this scene that they didn't require the flash and pizzaz. All they needed was to keep the crowd sweating and dancing.
With the openers crushing both of their sets, the crowd truly drenched from sweat, it was time for the main man himself to step up. At this point, I, like many others, had given up on trying to keep a shirt on (seriously, I thought "Disco Inferno" by The Trammps was tough, but Genix's "Techno Inferno" was by far the hottest I'd ever felt at a show), and well, the man understood the assignment. Whereas Genix's headline sets typically are just rinsing IDs to the faithful, his Warehouse55 set was all about the energy. With only strobe lights and an LED banner showing his name, every kick, every hi-hat, every snare, every 808 sub, and 303 riff felt raw and uncaged.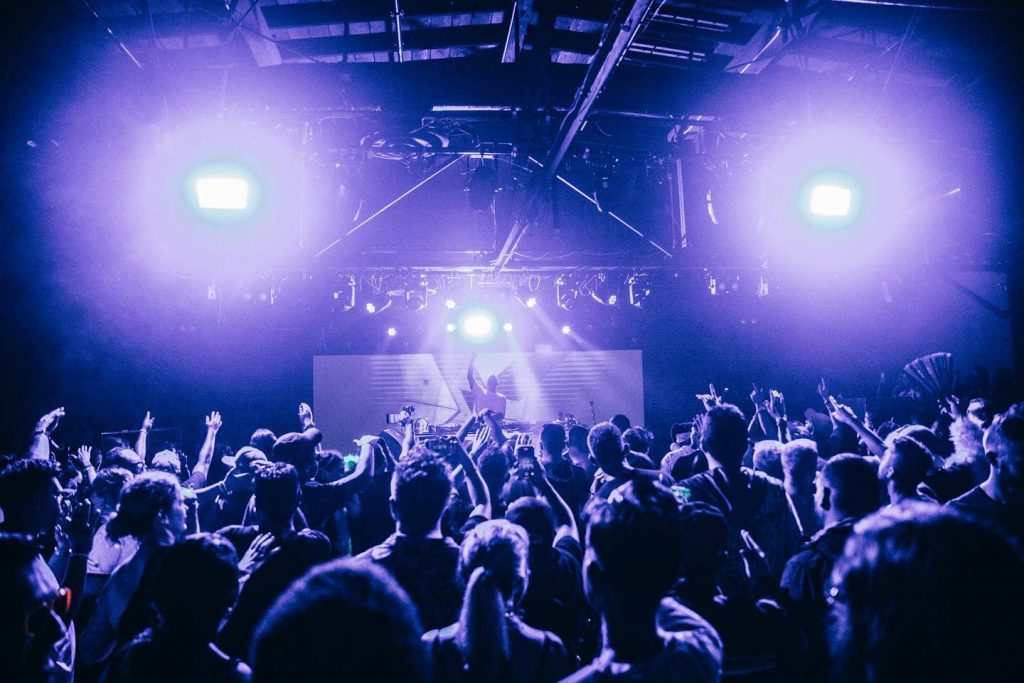 Floating through effortlessly between techno and breakbeats, I found myself both hypnotized and immersed in the experience.
At one moment, it finally clicked for me what mom was trying to get across years ago: It was dark, crowded, stuffy, unbearably hot, and uncomfortable, but I couldn't imagine being anywhere else but the center of that dancefloor. You could barely see anyone, and you could barely tell what was going on, but all you needed to know was that the DJ was going to keep spinning – and that's what raving is all about.
The later the night went on, more and more of my self-consciousness faded away. In the era of the "EDM Influencer," it's so hard to remember the scene was founded for the outcasts, by the outcasts, to find a safe place just to dance. In that warehouse, on that floor, next to some of my closest friends, I found my shell stripped away, reduced to just my raw love of dance music, and looking around and seeing everyone in that same state, it really drove home that our scene needs more events like this.
With the EDM scene blowing up stateside, a lot of people don't understand how we got from warehouses and fruit factories in Detroit, Chicago, and NYC, to multi-million dollar, multi-day festivals, and in my opinion, that history lesson is what keeps our scene pure despite its rapid expansion. When you learn that the roots of this movement, you develop an appreciation and reverence for how we got here, not gatekeeping, but more like group bonsai tree trimming. It's cathartic in the same sense. Sculpting, watering, and nurturing this scene so that others can appreciate it as we did. It's something we're all responsible for maintaining, and most of the time, we don't even realize we're doing it; we're just dancing, including our friends, and making memories like any other musical event.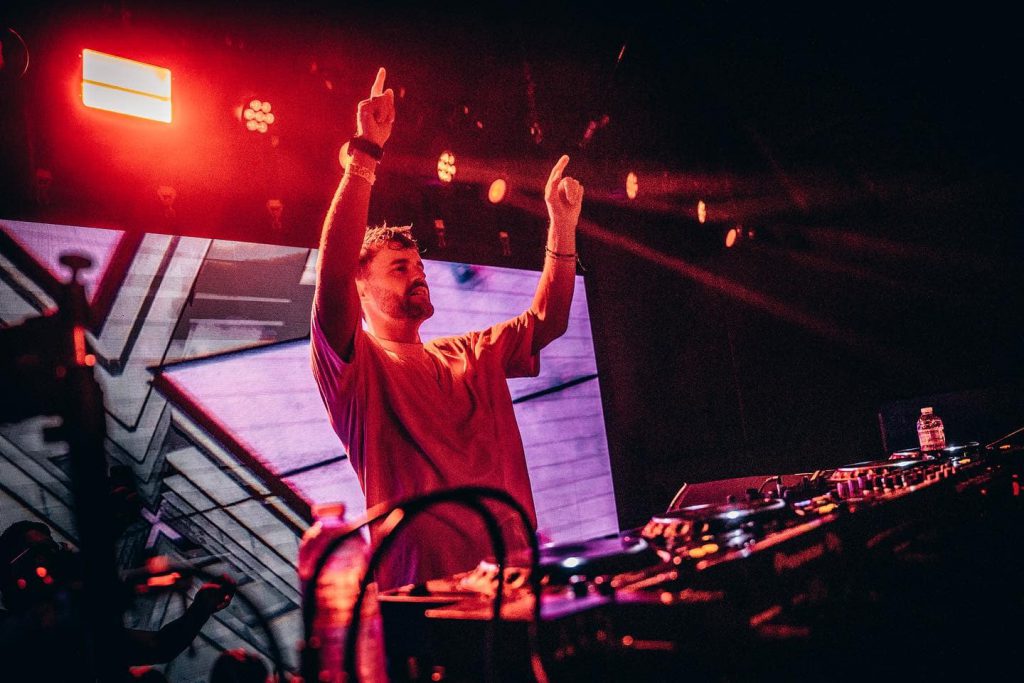 It was liberating to go to an event stripped down to the music – no tricks, no gimmicks, just some DJs, some flash drives, and a place to play it out.
And while there were definitely moments worthy of a video or two (like Genix playing out the lead singles for the Warehouse55 project as well as his remix of Nox Vahn's "Brainwasher"), for the most part, I couldn't tell you most of what was played, and as someone who loves track-listing sets, this was one of the first times I was thrilled I wasn't able to. I didn't need to know what was played, I didn't have to have it later, I was just impressed watching everyone that night spin some of the best sets I've ever witnessed.
A few days back, at the unofficial Anjunafamily meetup, Genix came out just to listen to some tunes and make friends, so naturally, I asked what the inspiration for the Warehou55 event was for him, and he very plainly said, "It's about the music. I've made everything from proper trance and chillout to breakbeat and techno, I'm not a single genre artist, so this gives me room to explore my inspirations and focus on delivering authentic and quality sets."
So to anyone questioning whether we've lost heart in the scene, I implore you to skip the nightclub every once in a while, skip the lasers, skip the air conditioning, and walk into a warehouse, or better yet, a Warehouse55, and by the end of it, you'll know, the core is still strong if you know where to look.
After leaving the venue circa 3AM, I sent a video one of my friends had recorded to my mom, who is now in her 60s, and she told me, "That's as close to the good ol' days as you're gonna get, it looks exactly like it did in my 20s, but for a new generation."
---
Follow Genix on Social Media:
Website | Facebook | Twitter | Instagram | SoundCloud