The stars have aligned, and CamelPhat have Spiritual Milk officially flowing through the speakers. Listen as we dig into the tunes!
---
When Stars Align label heads and creators of the GRAMMY-nominated track "Cola" have officially unleashed a brand new album. Spiritual Milk arrives three years after their debut album, Dark Matter, and it sees CamelPhat raise the bar even higher. This creative explosion even spills over into the album art as they turned to surrealist Niko Christian to bring the "modern psychedelic" vibe to life.
The album consists of 16 tracks, ready and waiting to shift your mood into carefree and thoroughly satisfied. To get there, CamelPhat have called on the help of vocalists and producers alike, including SOHN, Ali Love, Mathame, Kölsch, and others. Fans have already begun to fall in love with Spiritual Milk ever since a few of its tracks were previously released. The latest was "Higher," featuring indie-pop band London Grammar. It came to life back in July, and the high-octave purity in lead singer Hannah Reid's voice has been lifting us straight to the heavens with every play.
Two of the tracks also received a bit of a Spiritual Milk facelift since hitting the scene. The first is the illustrious album opener called "Hope" with Max Milner. It's difficult to imagine the feelgood original being any different, but CamelPhat does it justice with a wind chime introduction and an extended body. The second is "The Sign," a track that can be found on Anyma's breathtaking LP Genesys. CamelPhat did an awesome job setting the vocals among a gorgeous orchestral build. In a nutshell, it adds breadth to the overall personality of the piece.
Once you secure your plans, there are still 13 more soul-touching tracks to explore, and we don't want to keep you waiting. Go ahead and smash the play button as I break down the character of each track. Grab your copy of Spiritual Milk on your favorite music platform, stream the album on Spotify, and continue on for my take on the tracks! Let us know what you think of the tunes on Twitter!
Stream CamelPhat – Spiritual Milk on Spotify:
---
As CamelPhat implied, it's time to put away our dancing shoes and pour up a glass of Spiritual Milk.
After getting swept away with the "Hope" edit, CamelPhat hit the ground running with "Rennen" featuring singer-songwriter SOHN. His voice dances effortlessly along with the accompanying piano, making you want to close your eyes and smile. In a sense, it feels like home. That sentiment moves us seamlessly into the next track. "Home" features the soothing vocal stylings of RHODES and we begin to dip our toes into deeper territories. This track sits us in the pocket of dark divinity with a simmering rhythm and glittering melody intertwined within a story of tumultuous love.
After we move through "The Sign," we land on "Compute," a track that samples Kraftwerk's quirky "Computer Love." Just for funsies, CamelPhat place a modern spin on the classic, calling on Ali Love for maximum effect. What we get is one of the most delightfully jarring tunes of the collection, commanding attention with sharp tones and a lumbering beat.
I know we're attempting to keep the dancing shoes in the closet, but this track makes it utterly impossible! Now that all bets are off, melodic techno duo Mathame and songbird Frynn drop by to get us moving with the peppy beat of "Many Times." This track keeps the '80s throwback alive with a familiar vocal flavor and synth style. Now that we've had our fill of retro, we begin to move back into the here and now. "In Your Eyes" allows listeners to peer deep into the soul of CamelPhat with a soundscape that would rock the big speakers off of their mounts, featuring larger-than-life vocals and thunderous auditory elements.
From here, SOHN circles back to cool us down. "Turning Stones" is a track you need to add to your playlist the next time you want to escape into nature. The sweet melody rushes in like a whispering wind, inspiring the body to sway as the moon casts a glow through the trees.
At the halfway mark, CamelPhat keep the surprises coming with a festive re-edit of PPJ's "Primavera."
PPJ is a trio comprised of producer Povoa, lead vocalist Páula from Tampon Tango, and Jerge, a member of Christine & The Queens, among other creative outlets. Their song "Primavera" taps into '80s electronica, thus making it the perfect selection for CamelPhat to play with. But, instead of keeping with the theme as they did with "Compute" and "Many Times," the guys set their thinking caps to the future and create a tune that makes you think of a beachside party in the year 3000. They even take the time to inject brief moments of interstellar sound effects to seal the deal.
As the album continues to "Bloom," so will your obsession for this next track. It kicks off with a twinkle, and before you know it, the images of a blooming flower take over your mind's eye. From bud to petal, all the way through the wilting stage, it's a slow yet awe-inspiring process. CamelPhat capture the unfolding of life so brilliantly, pointing to their out-of-the-box creativity.
From delicate beauty to colossal attitude, Danish musician Kölsch jumps in on this next one. With a name like "Colossus," it has to make a big impression. It does so with blaring tones and a muscular bassline. "Emberz" keeps the fire burning with Shimza and vocalist Julia Church. Shimza's South African heritage is felt through and through on this offering, and Julia inspires an energetic release that simply can't be contained. In a nutshell, "Emberz" is just so much fun. Turn the speakers up to maximum volume and enjoy the dance.
Now that we've worked up a sweat, tilt your head up and feel the "Rain" wash it away. Canadian electronic music band Desire takes a crack at this one and it may be one of the most refreshingly eccentric of the lot. The main vocals are dreamy, enhanced by moments of oral oddities and crisp spoken word, set among droplets that fall from the melody.
"What A Day" we're having, and it doesn't stop here. For this next track, the London-based group Eynka is joined by Delilah Montagu. "What A Day" proves to be a somber selection, tugging hard at the heartstrings. The power is in the progression, culminating in a complete emotional release as tears roll down the cheek.
"Higher" is reserved to pull us up out of the trenches before "Love Is Something" serenades us to the curtain call. English singer-songwriter Jake Bugg steps into the spotlight to dish out guitar-led indie rock, proving once again that CamelPhat aren't a one-trick pony.
As a whole, Spiritual Milk provides the sustenance needed both on and off the dancefloor.
When CamelPhat dove into this project, their goal was to create something that could be appreciated far away from the lasers and lights. What they ultimately delivered was so much more, though.
This collection of soul-quenching music has something perfect for any occasion, whether it be kicking back at home, expressing yourself at an underground rave, reaching out to a lost love, uniting with the festival fam, taking a walk through your local park, or traveling the world. As the years go by, it's been an honor to watch CamelPhat flourish. There's no doubt that they'll continue to raise the bar, not only for themselves but for the entire dance music industry.
---
CamelPhat – Spiritual Milk – Tracklist:
Hope (with Max Milner) (Spiritual Milk Edit)
Rennen (with SOHN)
Home (with RHODES)
The Sign (with Anyma) (Spiritual Milk Edit)
Compute (with Ali Love)
Many Times (with Mathame & Frynn)
In Your Eyes
Turning Stones (with SOHN)
Primavera (with PPJ) (Re-Edit) 
Bloom
Colossus (with Kölsch)
Embers (with Shimza & Julia Church)
Rain (with Desire)
What A Day (with Eynka & Delilah Montagu)
Higher (with London Grammar)
Love Is Something (with Jake Bugg)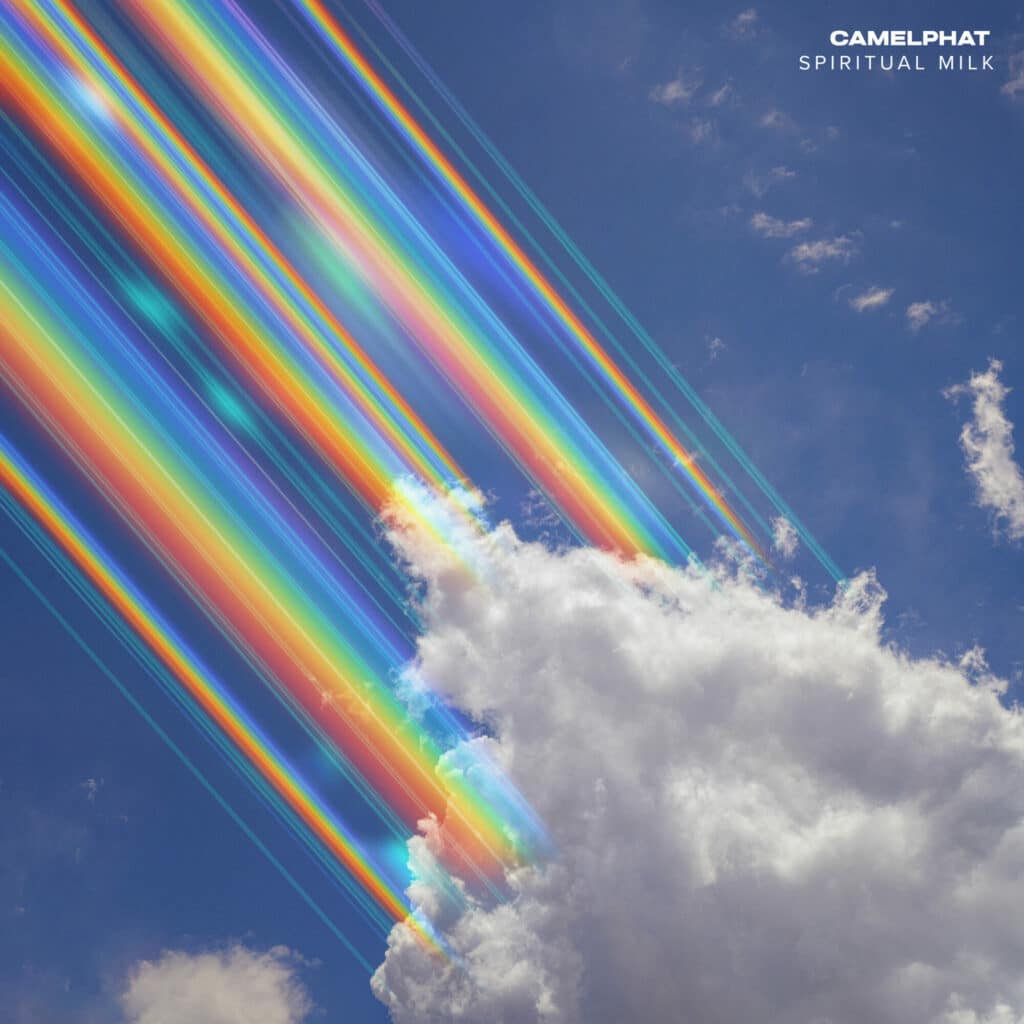 ---
Follow CamelPhat on Social Media:
Facebook | Twitter | Instagram | SoundCloud | YouTube