Anyma presents his debut album, Genesys, bringing along Chris Avantgarde, Grimes, CamelPhat, and more to help tell the tale.
---
In recent years, Tale Of Us have become one of the most talked-about acts in the industry. The duo not only take dedicated beat-seekers on breathtaking roller coaster rides with grand melodic techno performances, but they've mastered the use of gripping visuals to elevate the experience. Tale Of Us' deep interest in the human condition — mixed with music, technology, and nature — has spilled over into their solo work as well. Today, Anyma, one half of the famed duo, expands on this focus with Genesys, his debut album on Interscope Records.
In order to bring the vision to life, Anyma calls on the help of masterful music makers who possess the gift of vision. These include familiar Afterlife faces like Chris Avantgarde, Innellea, and Rebūke in addition to critically acclaimed Canadian musician, singer, and songwriter Grimes, and the GRAMMY-nominated duo CamelPhat. This is just a glimpse of the action when peering at the full tracklist, which features 14 songs and a total of nine collaborators.
Anyma has been teasing Genesys since 2022 when he premiered his audiovisual show of the same name. The vision and the tracks had already begun rolling in earlier that year, first with "Angel 1" alongside Innellea. He went on to sprinkle tracks out as the seasons came and went, creating a spark throughout the fanbase that would never be extinguished — most notably with the iconic Chris Avantgarde collaborations, "Consciousness" and "Eternity." We'll forever be locked to the memories of Printworks and the awakening of Eva, the NFT that stopped us in our tracks. He also gave us "The Sign" with CamelPhat, and the longing embrace in Amsterdam between Eva and her counterpart instantly floods the system.
"Explore Your Future" was the fifth single to officially drop. As an ID, it made our jaws drop to the floor as we watched a brand new set of visuals live from Zamna in Tulum. "Welcome To The Opera" with Grimes and "Syren" with Rebūke were the final two to arrive ahead of the big reveal, and they have already made just as much impact on the dancefloor as their previous counterparts. The glitching on "Syren" alone is enough to send the body into chaotic motion! It seems as if Anyma has figured out the exact formula needed to create experiences that leave listeners speechless and begging for more.
Before we get into the unreleased tracks, grab your copy of Genesys on your favorite music platform, stream the album on Spotify, and let us know which tunes you're vibing with on Twitter. Continue on for my take on the rest!
Stream Anyma – Genesys on Spotify:
---
While we've gushed over what has come before, it's now time to enjoy the present.
Let's begin with "Chordial." This is one of a handful of solo originals on Genesys, and while it drips with the familiar Anyma flavor, what stands out the most is the heavenly voice that dances in the background. Her sweet sound sticks to the mind like honey on a beehive. "Samsara" keeps with this gentle tone as well, and Iranian-Dutch singer-songwriter Sevdaliza puts on an incredible show. Her vocals are raw and real, just as the lyrics suggest, and the jaunting melodics are as big as Anyma's professional personality.
Another collaboration that exudes charisma is "Save Me" alongside Cassian and Poppy Baskcomb. This track has a lovely ebb and flow, incorporating waves of comfort with moments of sheer power. Above all else, it will bring tears to the eyes with its underlying message. "Save Me" flows perfectly into "Unearth," a track on which Anyma rides alone. The synths certainly stand out in this tune. As they play around with one another, the listener is left staring into the night sky with childlike curiosity.
Anyma is starting to feel lonely again, so he calls on the companionship of Delhia de France, who offers her expertise on "Walking With A Ghost." This track is delightfully haunting, intertwining spectral vocals with melodies plucked from the gates of a nightmare. The dark energy holds strong on "The Answer." It begins with the blare of an organ and then proceeds to throw the room into madness with its boisterous high end. Taking a hightail detour to the end, "The Pact" achieves amazing progression. It provides breathing room to reminisce on the ride while bolstering the energy with a perky, driving bassline.
In the end, Genesys takes fans on a nostalgic expedition through Anyma's humble beginnings. It provides extra clarity on who he is as an artist today.
Anyma is an artist who has only branched out from his Tale Of Us union for three years. In those years, though, he has shown us that he has what it takes to dominate all on his own. Much of his music — like "Consciousness," "Eternity," "The Sign," and, in my opinion, "Syren" — will forever be locked in history as timeless works of art. Knowing that this is just the beginning should make your heart race. He is only going to get more creative from here.
---
Anyma – Genesys – Tracklist:
Eternity (with Chris Avantgarde)
Welcome To The Opera (with Grimes)
Chordial
Samsara (with Sevdaliza)
Explore Your Future
Syren (with Rebūke)
Save Me (with Cassian & Poppy Baskcomb)
Unearth
Walking With A Ghost (feat. Delhia de France)
The Answer
The Sign (with CamelPhat)
Angel 1 (with Innellea)
Consciousness (with Chris Avantgarde)
The Pact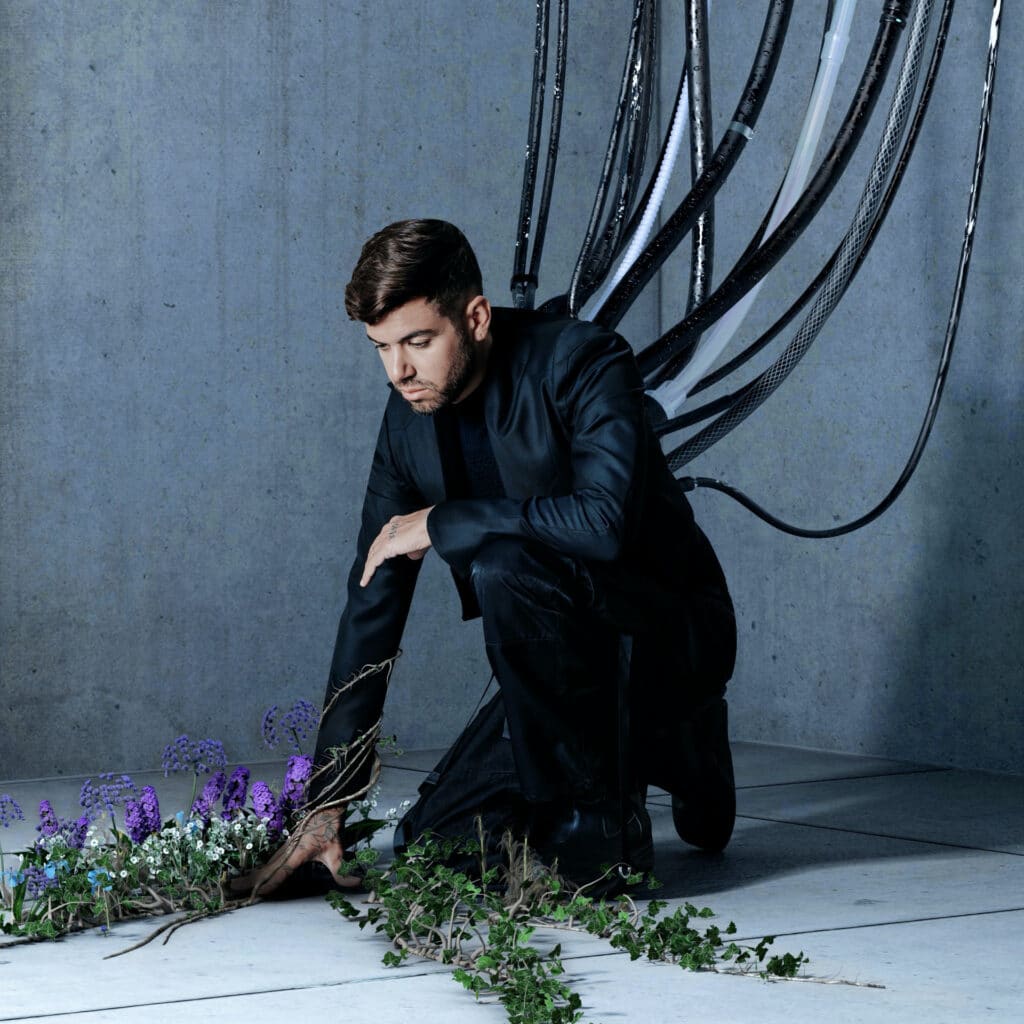 ---
Follow Anyma on Social Media:
Facebook | Twitter | Instagram | SoundCloud