The Funk Hunters and Defunk release a freakishly delicious single alongside Westwood Recordings' 10 Year anniversary album.
---
Founded by The Funk Hunters' Nick Middleton in 2013, Westwood Recordings has worked hard to cultivate a stronghold of creativity "by artists for artists," with ideas emerging from the label often falling outside of the standard concepts of dance music; funk, rock, pop, and maybe even a slight twang can all apply if done properly. Outside of a decadently eclectic artist lineup, clever branding opportunities across the entertainment industry have shown Westwood Recordings both exposure and success.
Westwood Recordings has recently undergone some changes in terms of its logo and branding, but the mission remains constant: "Elevate great music." Honoring the momentous occasion of the label's ten-year anniversary is the seven-track release, 10 Years of Westwood Recordings, featuring some of the group's most esteemed artists. Adding another foot-stomper to their collection of collabs, The Funk Hunters and Defunk head things off with "Freak," a mid-tempo delight with an added punch of oddball bassline riffs that slap when the volume is cranked up.
Minimalized vocals and drums offer quirky guitar and piano melodies room to shine while Moontricks ooze a casual-cool vibe that onsets slowly but makes an impression via "Nebulizer." Listeners who love a clear story in a song need not miss the Stickybuds "Family Man" featuring Glen David Andrews. Wailing guitar, boisterous vocal moments, and a steadfast beat tell a tale with a twist.
LIIINKS walks a different path than the artists on the prior tracks, and that creative freedom, given Westwood's mission to foster their artists, is a statement of the label's authenticity. Lyrically-charged fragility and an emotionally catchy chorus render a versatile track that could thrive in a variety of settings, even if surrounded by dissimilar sounds.
The second half of the release offers uptempo aggression that strays across the lines of bass, trap, DnB, hip-hop, and beyond. Unsurprisingly from the mind of a drummer, Kotek is very clear both lyrically and rhythmically that everyone must "stop what you're doing and dance" on "Dance With Me." Simplicity lies within the treble, while multiple points of movement are consistently interesting underneath.
Future-funk aficionados Sugarbeats keep the album grooving along with "Wild Cat," a surefire club-winner that is likely already being added to rotations. No stranger to the business of meshing and meddling across genres, K Theory kills several across a single track to really drive Westwood's vision home. "I came for the bag" repeats on "Outlaws," featuring Peytn, a pleasant album-closing sentiment of prosperity for the label moving forward.
Listen to 10 Years of Westwood on your preferred platform, and be sure to let us know which track is your favorite on Twitter!
Stream 10 Years of Westwood on Spotify:
---
10 Years of Westwood – Tracklist:
The Funk Hunters and Defunk – Freak
Moontricks – Nebulizer
Stickybuds – Family Man (feat. Glen David Andrews)
LIIINKS – One Thing About Me
Kotek – Dance With Me
Sugarbeats – Wild Cat
K Theory – Outlaws (feat. Peytn)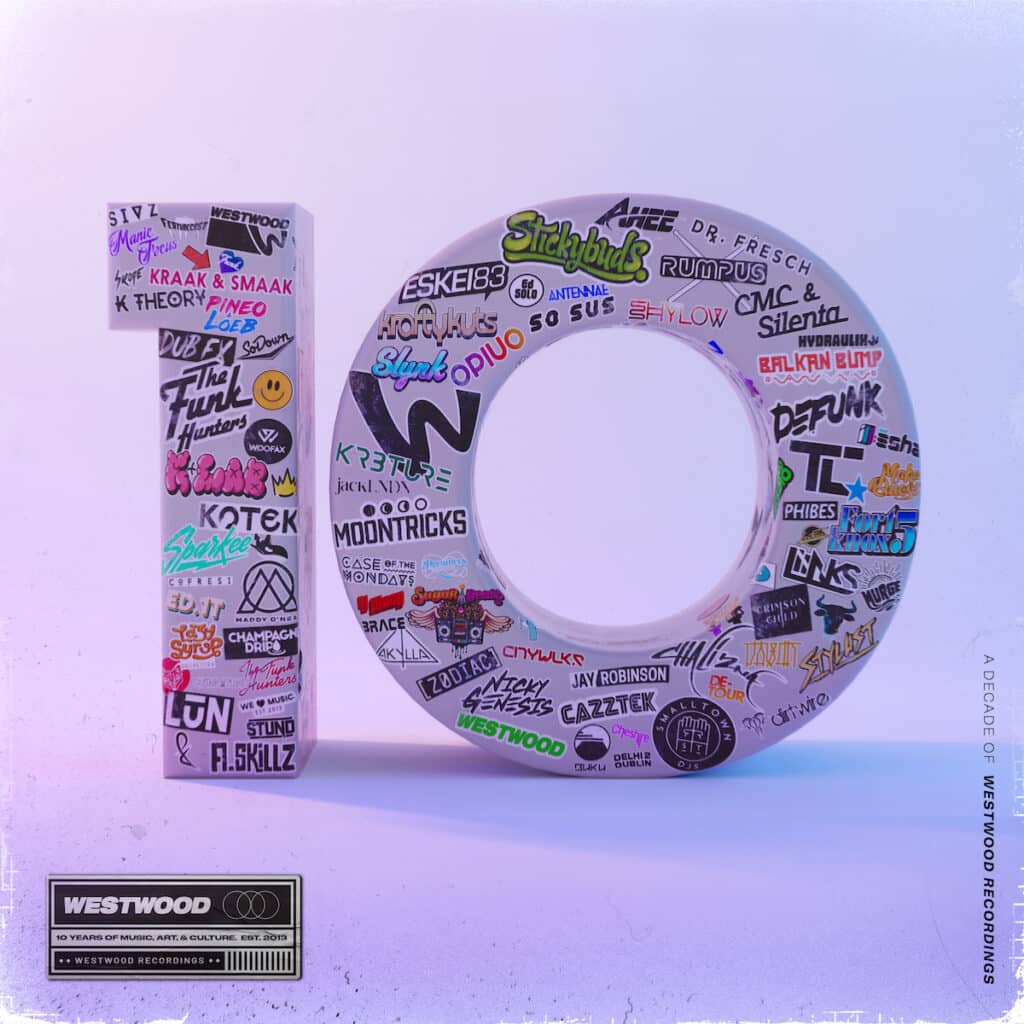 ---
Follow Westwood Recordings:
Website | Facebook | Twitter | Instagram | SoundCloud | Spotify