Future funk duo SugarBeats is dropping more feelgood grooves with their new EP Stereo Midnight, out now on Westwood Recordings!
---
Westwood Recordings is having all the fun! Out today is their newest release, Stereo Midnight EP by SugarBeats. As a melodic glitch hop band with a heart of soul, SugarBeats fits perfectly within Westwood's groovy grasps.
Some Westwood artists like Staunch and The Funk Hunters themselves gravitate toward the heavier side of funkstep, while the SugarBeats swirl within an uplifting cloud of electro-pop and groovy synth-jazz.
Stereo Midnight showcases their flair for fusing retro and contemporary through melodic, soul-raising stylings, deep bass design, and skillful live composition. 
Stay tuned for the SugarBeats' 2018 West Coast tour, as they set off with a fully loaded arsenal of sub stacks and live instrumentals.
Stream SugarBeats – Stereo Midnight EP on SoundCloud:
The feelgood vibes of Stereo Midnight's opening track "Super Sauce" are impactful long before the song reaches its chorus. Visions of a disco ball glistening over the multicolored dance floor of a retro discotheque swing in tune to this track's uplifting beats. 
The EP's second track "Hypnotic" has a GRiZ-style, electro jazz feel with the sexy sax bellowing through a bouncy, upbeat rhythm. Hanna Winters' smooth vocals bring the track to hypnotic heights, making it my personal favorite on the album.
SugarBeats turn up the blues with "Son of an Outlaw", which kicks off with a playful yet soulful intro, then drops into a deep, sultry refrain. This track's irresistible jazzy instrumentals and funky chord stabs will lend this track to countless live plays well beyond its release.  
"Can't Get Enough" brings it all together in a jazzy disco tune with a modern glitch hop gild. It inspires reflection on the good times, and emphatically anticipating to those to come.
Stereo Midnight is a gleaming testament to SugarBeats' dedication and skillful execution of their craft.
Since 2012, they've tirelessly continued to raise the bar for their ever-evolving style, with no signs of slowing. Keep an ear out as they collaborate with other like-minded artists and keep world-class sound systems blazing with their uniquely sweet and savory sounds.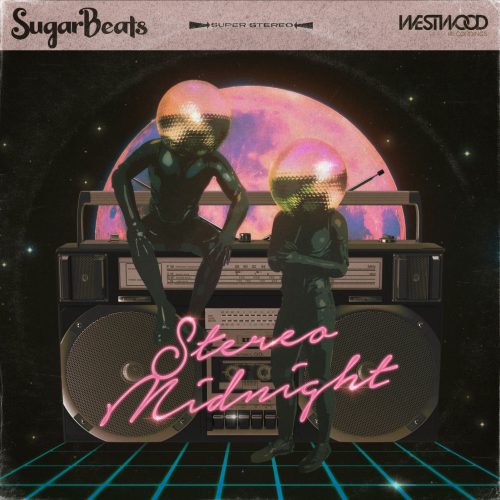 ---
Connect With SugarBeats on Social Media:
Website | Facebook | Twitter | Instagram | SoundCloud