Before making their Basscon Wasteland debut, we caught up with Youri from Warface to discuss their origins, Forgotten Future, and more.
---
Since their inception nearly a decade ago, Warface has claimed their spot as top producers in the realm of rawstyle and taken their unique sound all over the world with them. The duo has dominated the hard dance scene in style by dropping absolute bombs of records like "Detonated," "Breaking The Rules," and "The Awakening" with D-Sturb. They've constantly experimented with the latest trends and sounds of hard dance music to create some of the most brutal records, while also taking pride in being unique and not afraid to throw in elements that don't necessarily "belong" in hard dance tunes.
The past two years have been quite the ride for Warface as they've had to juggle the COVID restrictions of The Netherlands while also trying to share their new music with a live audience. There was a glimmer of hope when they announced their special Live For This event, but that got rescheduled despite cooperating alongside the guidelines at the time for in-person events. Nonetheless, Warface released their album, Forgotten Future, at the end of 2021 and luckily began touring once again this year with the first stop being Basscon Wasteland.
Warface stole the show during Basscon Wasteland and delivered one of the best sets of the weekend. Their signature ground-and-pound kickdrums along with a red-hot crowd made for an epic set of brutality with some surprising twists such as dubstep and future house sprinkled in the mix. Usually, these genres are nowhere to be found in hard dance sets, but Warface made it known that they aren't afraid to take risks.
Right before Warface's set, we caught up with one half of the duo, Youri, to discuss their latest single "Sensory," Forgotten Future, their origins, Defqon.1 At Home, and so much more. Check out "Sensory" on Spotify and read on for the full conversation.
Stream Warface – Sensory on Spotify:
---
Hey Warface, thanks for taking the time to chat with us today here at Basscon Wasteland. Before we move on to other things, I'd like to turn back time a bit. How did you find your love for hard dance music, and what inspired you to create Warface?
I was always interested in CD players and music, but I never wanted to be a DJ. When I became older, I was always on YouTube and downloading music. I lived in the most southern part of The Netherlands, but the parties were usually in the North or the middle, so we always had to drive two hours to go to the bigger festivals.
I didn't plan to be a DJ. It was a big dream to be a big organizer like Q-dance, and I decided with a couple of friends that we were going to organize parties in our region. I even played my own events for the first few hours because DJs are expensive.
And then, at one of my events, I met Remco, my co-producer, who's not here. He was watching me perform, and he told me, "Man, the tracks that you're playing and what you're doing… I think we have the same taste in music." Then Warface came out of that, and a year later, we released our first album. It's crazy!
Can we go a little further into what Remco does for Warface?
Warface started as a duo for the first two years. Before we signed to Most Wanted DJ Agency and started my label, End of Line Recordings, Remco asked himself, "Is this really what I want to do? Going on tour and doing performances? No. I want to be in the background making music. We're still Warface together, but you will be the face. I will be at home being a producer, and then we will make the tracks together." 
It works out very well because if I have an idea, I go to him to work things out and the other way around. I never have to stress that I don't have studio time because Remco will always be there in the studio.
In November 2021, you released your album Forgotten Future. You explored new elements and genres, so how was the production process different from your other albums?
We started to create a lot of different stuff musically. I'm really into pop-punk and rock. I'm always into dubstep and other genres, and I want to make something fresh and unique for the Warface project.
Where did the name Forgotten Future come from?
Forgotten Future is the future we never had. We started to produce the album in 2020 because we were going to release it that year at the end of my event, Live For This, but the pandemic came. We said, "What the f*ck? We have so many good ideas. What's going to happen now?" So we decided that in 2021 we were going to do the new event and the new album. 
We didn't have a name for [the album]. A couple of months before we were going to release it, we decided on Forgotten Future because the entire album is a collection of all the music that we would've released during the pandemic, but there were no events. It's all a forgotten future, and that's the idea behind it.
Last year, you played Defqon. 1 At Home. It was an amazing show, but how is it different from performing on stage to a real crowd like tonight?
The response. The response from a live audience is something you can't fake. But for Defqon. 1 At Home, the production of Q-dance for that livestream event was insane and big. But when I was doing the show, the only people there were the camera guys and the special effects team. For me, it was so crazy. I did a couple of different live streams that year, but I couldn't get used to it. It's like I was only performing for cameras. 
I need to feel the audience. I don't care if it's a small or big event; I need to have feedback from the crowd. That's what I really missed. I think I can speak for all of the other artists who also missed that over the past two years.
Luckily we're slowly starting to come out of the pandemic now, and we're getting big shows and festivals like tonight. You're here now in America, so what's your favorite thing to do when you're out here and playing for an American crowd?
There's a difference between Europe and America. In Europe, we are down-to-earth and easygoing. If you're coming to the US, everything is bigger, and everything is better and louder. And for me, I like that. When I go through customs, I think, "I'm in a movie right now. Everything is crazy. Everything is big." It's already a dream to be here.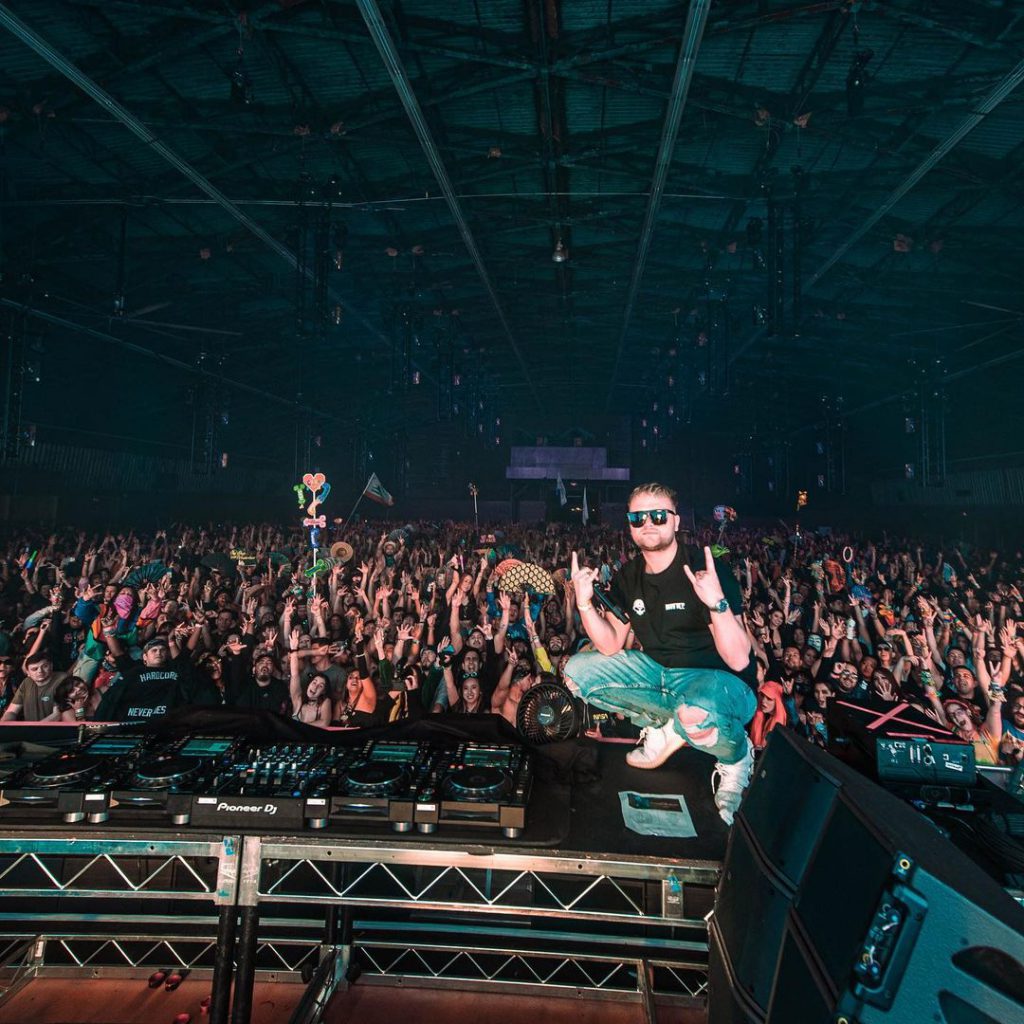 Your newest song, "Sensory," is unique because you mixed future house with rawstyle. How did you combine the two different genres in one song?
I think it's a mix of a lot of different styles. We were sitting in the studio, and we had that cool vocal chop that we found in a pack, and then we were vibing. We talked about it, and I felt like making something house-y and bouncy, and then, we created the break with the future house. The track was done very quickly in two days. It came naturally with no solid idea behind it, but it all started with the vocal.
Were you worried about releasing something so different than what your fans are used to?
I don't care what the people say or think about it. What we feel [as artists], that's what we do. Of course, it's nice to have good reactions, but I think Warface has grown into something really big because we are different. Many people on the dancefloor became haters because of that – but in the end, I'm happy with how everything went. I never really cared about what people think about the music because the most important thing is that I like it, Remco likes it, and if you don't like it, don't listen to it.
Your music has taken you worldwide to play at almost every festival. Is there anywhere you would like to see hardstyle grow into what it's like in Europe?
I would like to grow my name in more places like the States, for example. It would be a dream if I could play on cosmicMEADOW at EDC Las Vegas. It would be awesome if a hardstyle act could play there, and if it could be me. 
It's always hard for hardstyle and hard dance to grow. I think it's growing, but slowly. If you look at Ultra Music Festival Miami this year, they have the Dirty Workz stage there. They're doing something great by giving hardstyle a good platform with Ultra, and it's a good step.
Finally, now that "Sensory" is released, can you share with us what else is coming soon for Warface?
I'm going to release a collaboration with Brennan Heart. He's one of the founding fathers and a legend. Since the beginning of my career, we have been in touch because we were from the same region, but we never met and would only cross each other at events. About two years ago, [Brennan Heart] sent me a message saying that we have to do something now. That's a significant achievement for me. It's good that we can shut down because of the pandemic and start fresh now with a new goal in this new era of hardstyle. I'm really proud of this one.
---
Follow Warface on Social Media:
Facebook | Twitter | Instagram | SoundCloud | YouTube | Spotify