Italian duo Krowdexx unleashes their debut album, ICONS, to highlight the future of their project with a brand-new signature sound.
---
In late 2022, rumors were circulating the internet that the Italian duo Krowdexx was splitting up or retiring. Their social media accounts went completely black with all posts removed, and many fans' fears were becoming a reality when DJs such as Rooler contributed to "confirm" these rumors of retirement. The chatter grew until Krowdexx finally came back to say that all rumors were fake. They were preparing for the next stage of their project – a brand-new album with a completely new sound.
The duo was previously known for mixing euphoric elements with rawstyle because they believe that hard dance is more than simple screeches and hard kicks. Now, they're taking their signature style to the next level by incorporating uptempo kicks in rawstyle tracks. This is the latest trend taking the scene by storm and has been coined downtempo. There have been many instances of this music in years prior, but the scene has become much more accepting of this style, and Krowdexx perfected it on their newest album, ICONS, landing on Gearbox Digital.
Over the course of ten tracks, Krowdexx takes listeners on an ambitious journey with their new sound that solidifies their status as ICONS in the hard dance scene. Apart from solo tracks, Krowdexx brought much of the AR Gang onto the album in collaborations with Mish, Sickmode, and Levenkhan. In addition, they bring the heat with a brutal collaboration with Barbaric Records label boss, Barber. Prepare for absolute mayhem, play it loud on your preferred platform, and read on for our full review of Krowdexx's latest album, ICONS.
Stream Krowdexx – ICONS on Spotify:
---
ICONS begins with the title track, "ICONS," a banging introduction to the future of the Krowdexx project.
"ICONS" places listeners on a phone call with Levenkhan where they can hear him call out the hard dance scene and how many members within it try to be fashion icons with no success at all. This record highlights the raw sound that Krowdexx is known for while also giving listeners a taste of their new sound with the addition of zaagkicks within the drops. Pairing this with heavenly melodies and harmonious vocals set the tone perfectly for the madness to come.
"LOSE IT" is a collaboration with none other than Sickmode that seamlessly combines the styles of both acts for a stunning record that will surely destroy any dancefloor it's played on. Listeners can expect the signature elements of both producers, like kick drum switches, in addition to fun breaks and captivating pre-drops. "All You Freaks" throws some variety into the mix with reverse bass, rolling psytrance basslines, and a climax that sends listeners to the pearly gates of Hard Dance Heaven.
"Piece Of Me" follows up and is the record that highlighted Krowdexx's melodic side the most. The tune starts with a futuristic ambiance and transitions into gated kicks in the first drop, satisfying the craving for harder music. The rest of this track highlights positive lyrics and euphoric melodies but keeps raw kickdrums in the drops. "How You Feel It" teases an electrifying melody in the beginning but makes listeners stick around until the end to experience its full power in the final drop. In the meantime, Krowdexx sends listeners on a detour through aggressive, distorted kicks and acid techno influences.
"Time To Shine" is a collaboration with Mish, where her style shines brightly throughout.
Just as Mish used to be in the crowd making bass faces, she's come full circle and is now the one giving other people the same feelings she once had as a fan. This tune perfectly captures the energy and unleashes it all in the drops, making for a certified banger and a dream collaboration come to life. "So Hot" is a simple yet exemplary rawstyle tune that doesn't try to do too much and proves why less is more when it comes to an album full of far-out records.
"LOST IN THE MUSIC" is the most experimental track on the album. It keeps traditional elements like raw kicks, but it changes direction in the middle of the song when the tempo slows down to deliver a bass house/future house drop, showing that Krowdexx isn't afraid to take risks in their music. The scene experienced something similar in 2022 when Warface released "Sensory," so it was great seeing that inspiration carry on more than a year later. After the house drop, "LOST IN THE MUSIC" takes another turn by including lots of Future Rave influences with melodies and sounds resembling that of David Guetta and MORTEN.
"I Can't Believe It" is the penultimate track, and although it's hard to pick a favorite, this one builds a strong case with great leads, arpeggiated melodies, and one of the best uses of zaagkicks in the first drop. "SM4$H THE SPE4K3R$!" closes off the album in an uptempo collaboration with Barber. For this record, 'I hope you are wearing earplugs' as Krowdexx and Barber go no holds barred for an epic conclusion to their debut album.
ICONS does exactly what it's supposed to, which is to highlight Krowdexx's new sound and put them in the conversation for the most underrated producers in the industry at the moment.
ICONS is an exceptional listening experience as it helps contain the downtempo style that is becoming incredibly popular in the scene right now and classifies it well. It's versatile in terms of genre influences but also in the sense that it will deliver the intensity that hard dance fans seek, whether they stream alone at home or listen to its tracks during a live show.
The only thing that felt a bit jarring is the high number of fakeout drops in the album because they lose novelty when they're used in almost every song. Putting that aside, it's clear that Krowdexx poured a lot of time, energy, and love into this release – it feels like a cohesive project instead of a collection of singles. This album left me craving more, and I'm excited to witness the evolution of Krowdexx's new artistic vision.
---
Korwdexx – ICONS – Tracklist:
ICONS
LOSE IT with Sickmode
All You Freaks
Piece Of Me
How You Feel It
Time To Shine with Mish
So Hot
LOST IN THE MUSIC
I Can't Believe It
SM4$H THE SPE4K3R$! with Barber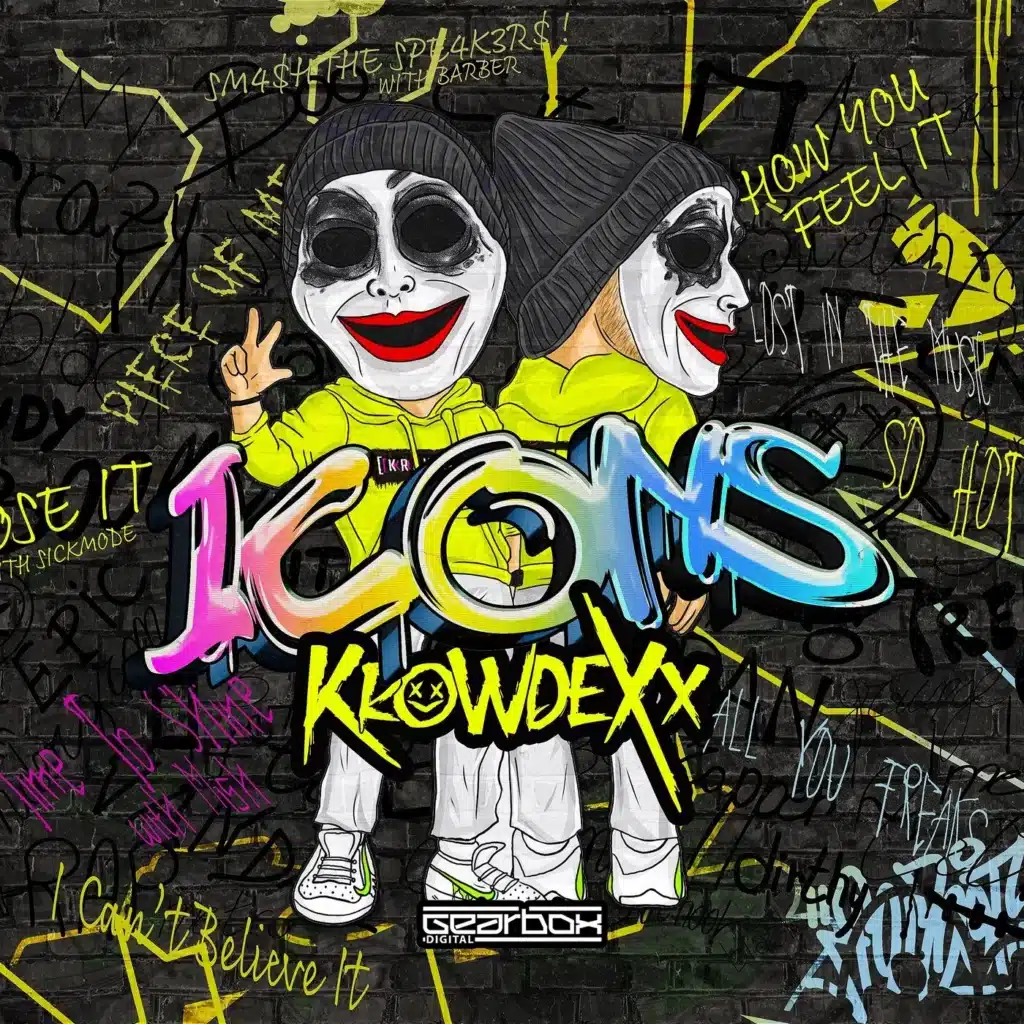 ---
Follow Krowdexx:
Facebook | Twitter | Instagram | SoundCloud | YouTube | Spotify