Water Spirit returns to Barong Family and catapults fans into the future of hardstyle with the ETERNITY EP.
---
When it comes to powerhouses that the American Hard Dance scene has fostered, Water Spirit is certainly a name that comes to mind. They've been able to hone their producing skills to evolve alongside the scene to create a home for themself in hard dance. Throughout their journey, Water Spirit has been able to cross off many milestones such as performing at EDC Las Vegas, Project Z, and recently, they closed down day two of Basscon Wasteland. Just last year, Water Spirit was a fan in the crowd at America's premier hard dance festival – a testament to their growth and progress as an artist.
Today, they are here with the first-ever Water Spirit EP, ETERNITY, landing on Barong Family. The EP begins with "ETERNITY," a record that shows off their versatility through the use of multiple kickdrums, an intro and a break that keeps listeners on their feet, and a sprinkle of techno influences. "ETERNITY" ends with a voice that asks the question, "what drives our identities? Are they given?" This could be ominous to some, but as a listener, I took it as a sign of confidence that Water Spirit knows who they are and where they want to go.
This body of work encompasses everything that is Water Spirit. The amount of love I've put into it will be reflected to the listeners. I'm so grateful to finally get this out into the world, and I hope everyone enjoys it as much as I did making it. This is only the beginning of what's to come.

Water Spirit
Get a taste of Water Spirit's newest direction with the ETERNITY EP on Spotify or your preferred platform, and read on for a deeper look at the tracks!
Stream Water Spirit – ETERNITY on Spotify:
---
"ORIGIN SYSTEM" picks up exactly where "ETERNITY" left off by continuing the vocal sample, which says, "or are they created?"
Once again, Water Spirit pulls from other genres with rolling hi-hats that are reminiscent of trap music. Backed by a futuristic ambiance with unintelligible vocals, this makes it feel like listeners are far from home. The first drop unleashes the rolling basslines before returning to the peaceful ambiance from the beginning. The second drop in this tune takes a completely different direction with an emphasis on the harder kickdrums.
"MOTHERSHIP 303" is the penultimate track on the ETERNITY EP, and my personal favorite. Starting with drum and bass breaks and a futuristic melody, a spine-chilling vocal sets the tone by saying, "welcome to the silent nothingness… I'm just creating space for what is supposed to come." The rest of this tune has it all, from gated kicks, laser kicks, an epic fakeout in the second drop, and unique sounds that aren't typically used in hard dance – or anywhere.
"LOST" is a synth-wave-inspired track that closes off the EP and shows off Water Spirit's melodic side, which is rarely explored. The first drop sprinkles in a 303 bassline and adds more character by using vocal chops as a primary sound. In the break, Water Spirit delivers one of their best melodies to date, sending listeners into Hard Dance Heaven. The final drop takes some inspiration from trance music with an arpeggiated melody backed by distorted kicks. The very end delivers one of the best bits of the EP when a voice comes through to say, "let's play it again."
Apart from being sonically great, ETERNITY truly represents Water Spirit's vision for the future of the project and in their eyes, the future of hardstyle. It's a great listen for longtime fans and opens the door for new listeners that haven't fully accepted the 200 BPM records that this producer is known for. There's much more to come, so stay tuned to the frequencies of Water Spirit.
---
Water Spirit – ETERNITY EP – Tracklist:
ETERNITY
ORIGIN SYSTEM
MOTHERSHIP 303
LOST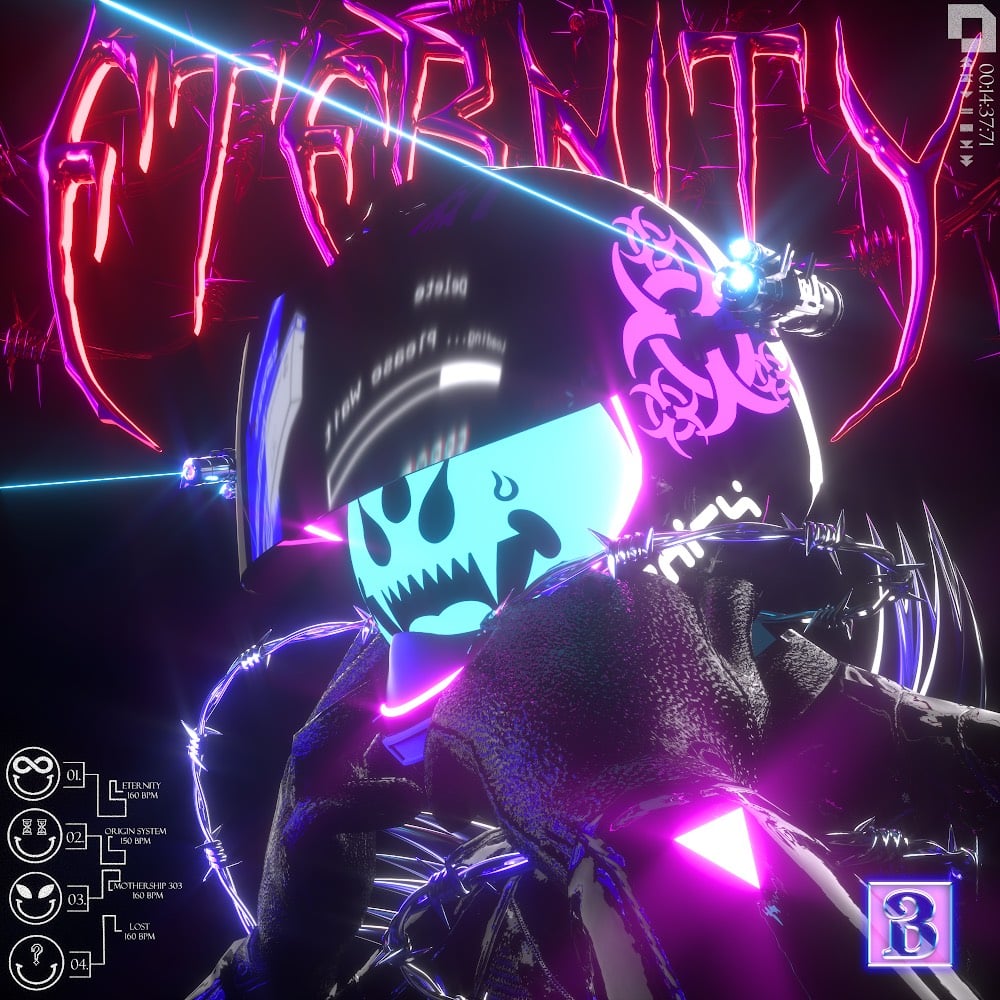 ---
Follow Water Spirit:
Facebook | Twitter | Instagram | SoundCloud | Spotify