The Untz Festival returns to the beautiful Sycamore Ranch with a lineup featuring Of The Trees, DMVU, IMANU, Freddy Todd, and more.
---
One of Northern California's most beloved bass festivals is back – and bigger than ever. The Untz Festival returns to the gorgeous Sycamore Ranch in Browns Valley this May 12-14 just in time for the weather to start heating up, but the river is still cool. Amidst the debate last year on whether the festival would even return for its 7th year, many collectives have come together to put on its biggest lineup yet, with elevated experiences to be expected. This week, festivalgoers are getting prepared for the upcoming festivities after the lineup for the festival was revealed.
The 2023 lineup sparks a family affair with beloved artists returning like Of The Trees taking the top spot, a DMVU downtempo set, and a classic Yheti sunrise set. There's also quite a bit of jaw-dropping back-to-backs included as well, with Ternion Sound b2b Hamdi and Of The Trees b2b Freddy Todd (their Blaap alias) gracing the stage, making all the festival goers breathe heavily with excitement. Some other awesome additions include isqa, Esseks, and IMANU, along with a debut b2b performance featuring NotLö and Curra. The undercard is filled with some bass prodigies as well, including Beat Kitty, Ooga, Mirror Maze b2b Nik P, Chef Boyarbeatz, Elisuh, and much more.
The Untz Festival also emphasizes supporting underground collectives and organic music groups, which is why the lineup consists of takeovers from a number of promoters and collectives. The Bay Area's Wormhole Music Group returns with their stage takeover, as well as LA's very own B-Side, Gradient Perspective, Inquiry Collective, Qualia, and Bass Waffles (which always hand out free waffles during their sets). And bringing out the big guns is Memory Palace Records, Of The Trees' label, featuring all new sounds from mountain movers in the scene.
As for the venue, Sycamore Ranch is located just a half hour outside of Sacramento and has some of the best grounds, with flat lands, a gorgeous clean river running throughout, and shady trees lining the pathways and stages. The Untz Festival has a more intimate vibe to it that music enthusiasts may enjoy, so you don't have to beat packed crowds or deal with bad festival etiquette. Everyone is kind, generous, and just happy to be there with some considering it their annual reunion of friends from across the country.
Camping this year includes walk-in, car camping, RV, and premium upgrades for most choices. Choose to camp right on the river for some early morning views, or near the stage if you plan to dance all night. Two and three-day tickets are still available via their website but are expected to go fast post-lineup announcement. Stay tuned for more info closer to the fest, and we'll see you in May!
---
The Untz Festival 2023 – Lineup: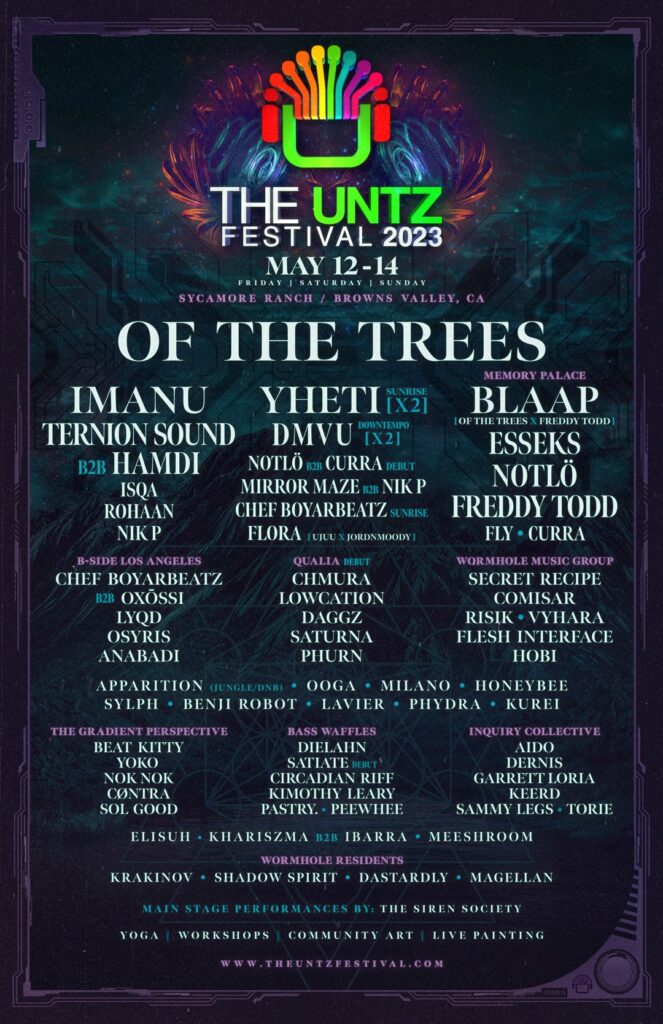 ---
Follow The Untz Festival:
Website | Facebook | Twitter | Instagram | SoundCloud