Denver-based bass producer THRASHA swung by after the release of her latest single to chat about her first steps in the scene and more.
---
Colorado has become a hotbed for talented artists in the electronic music scene and it seems like with each passing year there are more who have flocked to the state to make it their home. One of the newest artists in the bass realm who is beginning to rise through the ranks is THRASHA, and she's looking to take some massive steps in 2023.
THRASHA's inspirations are drawn from a range of talented artists in the scene that includes everyone from NGHTMRE to Samplifire, and she has channeled her grimy, experimental sound into the releases she's unveiled so far. Last year saw her deliver some massive tunes, "ENDGAME" and "Show Me," and her first single of 2023 "Unbeatable," arrived back in January. This track sees THRASHA dose listeners with an onslaught of heavy bass while offering cinematic elements to help add depth to its message of overcoming obstacles in front of you and beating the odds.
Looking to gain some insight into THRASHA's backstory, newest single, and plans for the future, we caught up with this bass queen for a quality chat. Check out her exclusive mix on SoundCloud and read on for the full conversation!
Stream EDMID Guest Mix 360 || THRASHA on SoundCloud:
---
Hey THRASHA, thanks so much for chatting with us today! Before we dive into your more recent accomplishments, let's turn back the clock – can you share how you developed a passion for electronic music? Who were some of your favorite artists early on?
I started getting into EDM in high school, way back in 2010/2011. One of my best friends at the time asked me if I had ever heard of this dude named Skrillex and I've been hooked ever since. I remember staying up late on school nights, listening to Flux Pavilion's remix of "Cracks" and "Haunt You," and was completely captivated by it.
My friends and I began going to shows soon after that, with my first EDM show being The "X" Tour with Excision and Liquid Stranger in March of 2012. That same year, I attended my first festival with my squad in New York, called Camp Bisco, and have been a bass music junkie ever since. Some of my favorite artists early on were Skrillex, Dillon Francis, Kill the Noise, Wolfgang Gartner, Porter Robinson, Zeds Dead, Adventure Club, Crystal Castles, Pretty Lights, and Knife Party.
What's the story behind how you got your start as a DJ/producer? Was there a specific moment you realized you wanted to pursue a career in this space?
Throughout high school and college, I always had an intense passion for [bass] music and was constantly attending shows and festivals. I picked up music production in the summer of 2014 and started by producing downtempo, hip-hop, trap, and future bass. I didn't really know what type of music I wanted to make and it was really just a hobby at that time.
I also started getting really into Lana Del Rey's music and would watch interviews of her on YouTube to learn more about her music. I remember watching an interview where she was discussing her success and mentioned the following quote, "Choose your role models wisely, find out what they did and do it". Soon after that, I discovered an artist named NGHTMRE. I heard his song 'Street', loved it, and was really interested in his backstory, so I searched him up on YouTube as well. I came across a video uploaded by Icon Collective where he talked about how his journey into bass music began and how he turned his passion into a career. His story really resonated with me because I felt like I had a lot in common with him, including us both attending Camp Bisco 2012.
After seeing that first initial video, I went down a rabbit hole for hours watching any video about him that I could find, and felt really inspired afterward. He became someone I really looked up to in the industry and I studied his path [to becoming a DJ/producer] in order to learn how to create my own. As a result of this, I began DJing in April of 2016 and the rest is history!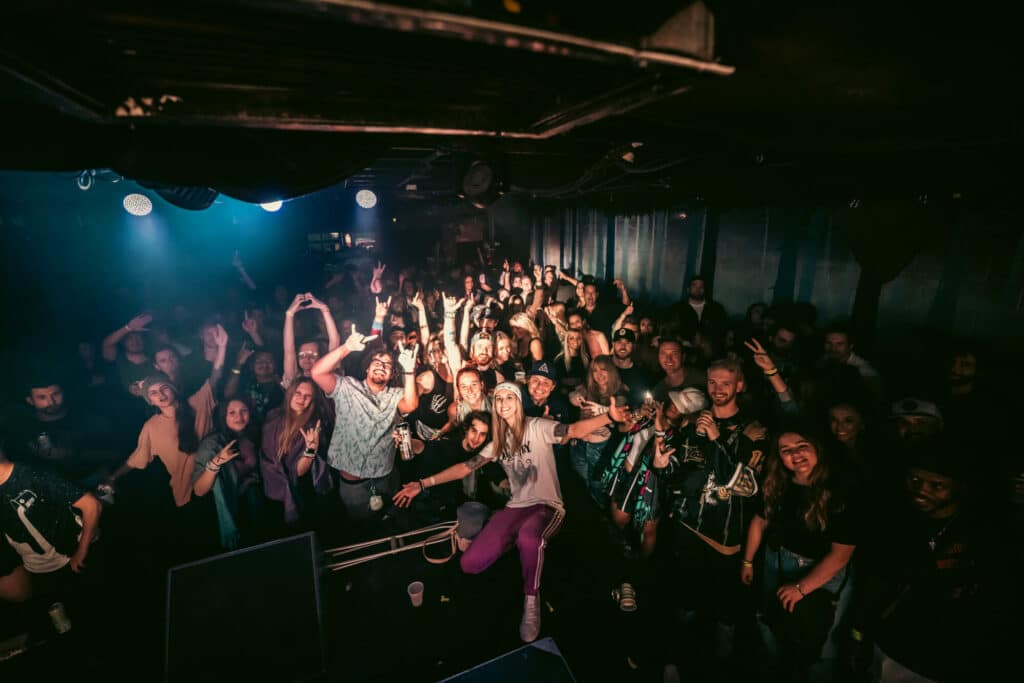 Your debut single, "ENDGAME," dropped less than a year ago, and you've released a number of tracks since then. How do you feel you've grown as a producer during this time?
Since releasing "ENDGAME," I have learned an insane amount of techniques and overall knowledge about music production and have begun developing more of my own sound. I feel as though I have grown my skill set in a number of ways, particularly in sound design and coming up with themes. It can be super challenging to learn more advanced sound design, so figuring out what steps need to be taken in order to up my game is crucial. Over the past few months, I've begun to push my sound in a more cinematic direction and taught myself to use new VSTs to create more realistic and organic soundscapes.
"Unbeatable" is your latest track that has been released for the world to hear and offers up gritty, in-your-face bass in contrast to lighter, cinematic moments. Can you share what the production process was like behind this track?
With "Unbeatable," I wanted to write a record that told a story about a defining moment; a moment that tests your character and in return shows you what you're truly made of. I knew that I wanted to create an epic track that felt emotional yet heavy at the same time, which is where the cinematic elements came into play.
Over the past couple of months, I have really dialed in to sound design and learning more advanced techniques to up my production game. I incorporated a lot of cinematic elements into this track, including strings, piano, and war drums, which was really fun to make. I pushed myself harder with this track than any others I've produced, because I wanted to really incorporate a cohesive theme using sound design techniques that I hadn't tried before.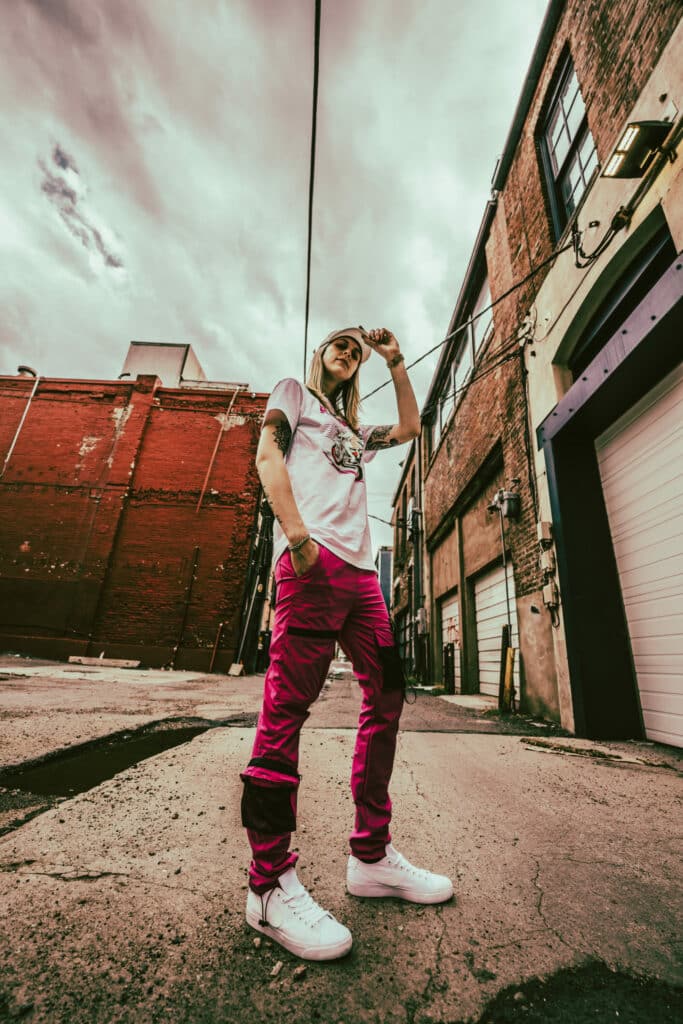 As a rising artist, how have you made yourself feel unbeatable when it comes to struggles you might have faced so far?
There are definitely some ups and downs that come with learning music production, especially in the beginning. I believe that my genuine passion for bass music and the community has kept me going even when I thought I was going to give up or couldn't do it. If I ever doubt myself, I think about how far I have come [musically/skill wise] and how much progress I have made as an artist. I started out as a big fan and am lucky enough to have turned that passion into a career. When things are a bit difficult or stressful, I always remind myself of that. If I'm having a bad writing session or "off" day in the studio, I try to give myself time away from creating in order to decompress by playing video games, listening to another genre, or hanging out with close friends.
I also believe it's important to have a good support system behind you in order to succeed, especially in the early stages. I am lucky enough to have a really solid team who has my best interest at heart and is always looking out for me. I can't explain how crucial it is to be working alongside like-minded people who see your vision and what kind of artist you can become. Having a good support system helps keep me on track on my down days and is a good source of motivation when I need an extra push in the right direction. If I ever feel like I can't finish a track or pull through on something, I think about my team and it always motivates me to keep going.
What are your thoughts on the local scene in Denver?
What's dope about the Denver bass scene is that there is constantly something to do, whether you're into experimental bass or house music, there are a ton of venues that help artists find a home to showcase their music. I am super grateful to live here because I am constantly having opportunities to play and network with people in the industry.
Just for fun, when we come to the Mile High City to visit for a weekend – where would you take us to grab a bite to eat and catch a show?
There are a ton of great food spots around Denver, so it's hard to choose, but one of my favorites is Steuben's. They have super good Nashville Hot Chicken and sandwiches. When it comes to venues, I love going to Mission Ballroom and Bass Ops at Club Vinyl or hitting up a house show at Temple.
Finally, with the whole year ahead of you, what are some goals you hope to achieve in 2023?
Some of my biggest 2023 goals include landing my first label release, dropping a few collaborations, and putting out my debut EP. I want to continue to grow as a producer and really zero in on making my brand the best it can be. My team and I are working on landing a few more out-of-state shows too! I would love to play more out-of-state shows.
---
Follow THRASHA:
Website | Facebook | Twitter | Instagram | SoundCloud