Fresh off the release of Just What The World Needs, Walker & Royce dropped by to give us the scoop about their US tour and more!
---
Beloved house duo and Rules Don't Apply head honchos Walker & Royce are wasting no time kicking off 2023 with a bang. They've been hard at work planning their brand new Just What The World Needs tour that kicks off on January 27 in Detroit and will touch down at major cities along the way, including New York, San Francisco, Austin, Chicago, and more. If you're planning on making it to the Los Angeles show at Shrine Expo Hall, make sure to enter our contest for a chance to win two tickets! Otherwise, head over to their website to purchase your tickets.
To turn the dial up on the anticipation, Walker & Royce have lifted the veil on their latest EP, appropriately titled, Just What The World Needs. The feisty two-tracker is brought to life by VNSSA on "Outer Space," who already has two other collabs with the boys under her belt, as well as Mindchatter on "Same Way Down," who Walker & Royce boast as one of their current favorite artists. So, before we get into the chat, let's dive headfirst into the EP and check out the highlights.
"Same Way Down" gets the gears grinding with a techy bassline pump while the smooth atmospheric melody places the listener in a calm state of existence. The track levels up with Mindchatter's ear-pleasing vocal performance, lightly guiding the spirit through a sea of ultra-uplifting sound elements. "Outer Space" sends the party into unbridled mayhem with silly sound bytes and trippy vocals. Fans can always count on outrageous production design from this group of music makers, establishing the dancefloor as a safe space to let your inner wild child run free!
With their exciting new EP pumping through speakers across the globe, the stage is set for an entertaining and successful tour run. Make sure to grab your copy of Just What The World Needs on your favorite music platform, stream the EP on Spotify, and then continue on for our chat surrounding their upcoming tour!
Stream Walker & Royce – Just What The World Needs on Spotify:
---
Hi guys, thank you so much for taking the time to chat! First off, how was your experience playing Holy Ship Wrecked?! Can you walk us through the week and give us the inside scoop on all the shenanigans? 
We had such a blast at Ship Wrecked, you might have heard this before, but it's like DJ summer camp. We all stick around for a few days of fun in the sun and lots of frozen drinks. It was nice after such a busy year to be able to just have a few days in one spot. The RDA party kicked off the first day for us, and the rest is a blur.
Now you look forward to the future with your own tour featuring support from VNSSA, Black V Neck, OMNOM, Mindchatter, and Kyle Kinch. When planning this tour, what are some of the challenges you've faced, and what do you enjoy most about the planning process?  
We are so excited to do this tour, but it is a lot of work and a lot of moving pieces. We have new music, new visuals, and merch too. What is specifically different about this tour is the venues are all large and mostly event spaces instead of full-time clubs. That means we have a hand in planning everything from the stage design to the lineup to how many lasers we want. It has been so much fun being able to do all this. Plus, the artists we are bringing with us are amazing. We are going to be proud of the shows we put on.
Are there any particular stops you're most excited about? 
Not to sound silly, but we're excited about all of them. Each one of these shows is in cities we have a history with, with promoters we have a history with, it really feels like a family affair. It feels like we are going on spring break in college with all of our best friends.
Let's dive into the concept of the tour – Just What The World Needs. Tell us the backstory of the concept's birth and how you'll integrate the depth of that concept into your show (special visuals, interactions with the audience, etc.).
We got the name from our friend and artist Trice; he had put on an idea for a t-shirt. (Trice did the first draft of the tour art as well as the album art for our Self Help album.) But like everything we do, it's a little bit of humor that can be taken multiple ways. On the one hand, things are bad, and maybe this tour is what the world needs, but on the other, it's an eye roll, like who are we to say what the world actually needs? It also is the name of our new EP out now on our Rules Don't Apply Records which has two collabs with two of our favorite artists VNSSA and Minchatter. Both of them are on a few stops on tour as well.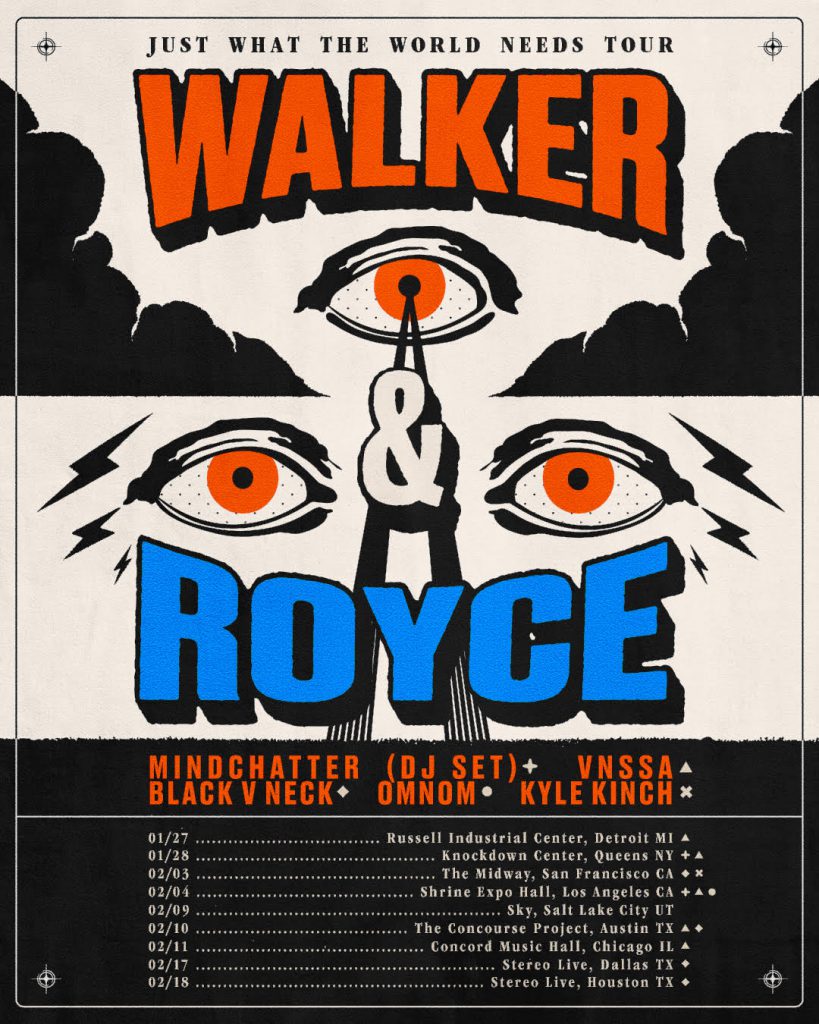 Unfortunately, we've all witnessed, or experienced firsthand, many of the major world issues going on right now and have felt the mood of the human race shift during the last few years. Can you give your thoughts on the therapeutic value of music?
To quote Danny Tenaglia and Celeda… "Music is the Answer to Your Problems." You can do so much with music it's insane; it really is an international language. Music can pump you up or calm you down. It can make you feel happy or sad. It can help through a breakup, and it can relay a message. We don't know where we would be without music.
Now let's get even more personal. In relation to the last question, can you talk about a specific time in which music helped pull you out of the trenches?
Honestly, music is our life. It's our passion. It's our career. I can't think of a time music didn't help bring us out of the trenches.   
Beyond music, in your opinion, what's the biggest thing the world needs most right now, and what are your thoughts on how we can achieve it?
This may be a bit hippy-dippy of us, but love and understanding, that's the truth. You don't have to agree with everything everyone does, but you also don't have to stop them from doing it or prevent them from doing it. Let people be who they want to be and do what they love.
Shortly after Just What The World Needs comes to a close, you'll be heading to Ultra Music Festival in Miami! This will be your very first time DJing at one of the most celebrated events on the planet. Walk us through all the emotions surrounding this booking, and if you're able, can you share some unique ideas you have in store for this particular performance? 
We are super honored to be playing Ultra and to top it off, we are doing it with our Dirtybird family… We have been going to Miami for Miami Music Week or Winter Music Conference  (whichever one it's called now) for many years and have never been to Ultra. We haven't thought too much about what we are going to do, but we should start. One thing for sure is that it will be wild. 
Wrapping up our event chat, what are some things that the industry needs to fix when it comes to the festival/event circuit when comparing it with the scene a half decade or more in the past? In essence, what does the world need most in order to keep us happy and grooving?
There's always some annoying thing to complain about at shows, like fan clacking or too many people on their phones. None of that matters. Just have fun and forget all the other stuff. If the vibe is right and the sound system is bumping, then the party is good.
There's one last topic to tackle before you go. Of course, it's your Just What The World Needs EP! This release brought along two amazing collaborations with VNSSA and Mindchatter, with the latter being your first collaboration together. Can you give us the scoop on how your working relationship came to fruition and what it was like working with him? 
Just What The World Needs is the first W&R release on our Rules Don't Apply imprint, and it has two great tracks that we hope are just what you need. We first met Mindchatter when we did a remix of his track "Language," which we absolutely love, from there, we started working on some original ideas, bouncing them back and forth, and here we are.
"Outer Space" is such a wild track, and this isn't your first collaboration with VNSSA. Can you walk us through its development and talk about the different elements of the creative process?
This is the 3rd track we have done with VNSSA, so we guess it's now a trilogy. VNSSA is one of our favorite DJs/Producers, and we get a lot of our inspiration from her. She rips her DJ sets all the time and is always pushing what sounds we think would work on a crowd. See her Claude VonStroke remix for reference. So really, what happened is us trying to make a VNSSA track, but we did it with VNSSA. [Laughs] It has been going off super hard in our sets.
Guys, thank you so much for your time. I hope you have a safe and amazing time on tour!
---
Follow Walker & Royce:
Website | Facebook | Twitter | Instagram | SoundCloud | Spotify