Walker & Royce's Self Help Remixes pay homage to an LP close to perfection, all the while morphing its essence for a fresh and welcoming round two!
---
In 2017, Walker & Royce lifted our nightlife experience to the next level and helped us to grow in a spectacle of sound with a little bit of Self Help! This week, the house music dynamos took us back for another session of conscious reflection, bringing along a pack of musical counselors including Justin Jay, Justin Martin, J.Phlip, and many more, to reshape the beat on Self Help Remixes, out now on Dirtybird Records.
Walker & Royce's debut LP will forever dominate as a timeless and truly influential body of work. So, when the news came out that Self Help would be going under the magnifying glass for an interpretive go-round, many of us sat at the edge of our seats, dying to know whether the artists taking on the task would do the album any true justice. But as the incredible Dirtybird track record would prove, there was simply no room for worry!
With the release now written in the books, it is time to dive in headfirst and help ourselves to the new face of Self Help! What are your favorite remixes on the album? We would love to know. Tell us your thoughts in the comment section below!
Listen to Walker & Royce – Self Help Remixes on Spotify:
---
Kicking things off with urban quirk, Self Help Remixes gets the body primed for the grind!
"My Own Thang" featuring the swaggy vocals of Sophiegrophy will forever and always be one of my favorite house music party pumpers. It's one of those tracks that inspires my feet to slide and groove as the Dirtybirdesque tripped out sound bytes pull me out from inside myself for a turn up of epic proportions. For the remix package, John Tejada delivers two brilliant new renditions each very unique in its own right.
Stripping back the track as he highlights the drums and tweaks the synths, John Tejada darkens my musical horizons with a little touch of rhythmical grit. As I am a sucker for the synthesized crunch (for the lack of a better term) I am instantly hooked and find myself hitting repeat over and over again.
For his dub version, John twists "My Own Thang" even further as he chooses to do away with the lyrical line in the first half of the track, focusing strictly on the beat progression. When the lyric finally makes its appearance I find myself yearning for more but quickly accept that this is not a version meant for the peak hours at my favorite club. Instead, it offers up a taste of stylistic diversity and nods to John Tejada's out of the box musical character.
Heading straight back into dance floor worthy territory, "Can You Pass That?" continues to inspire through a lighthearted tale of unity and bonding as Mr. JPatt reminds us to pass that! In true Walker & Royce fashion, the original gets our cells vibrating with energy as the tripped out dynamics send us into a wormhole full of unbridled celebration and lunacy!
For the Justin Martin & Ardalan Dub, the boys take the crazies one step further as they get weird with sections of vibrating rise dripping with psychedelic dramatic effect. Even the soberest among us will feel highly intoxicated after just one listen! This just may be my favorite remix of the lot!
I may have claimed "Can You Pass That?" as the highlight of the album, but Justin Jay sneaks in to try and flip my world upside down!
In full disclosure, I have to be very clear and let the world in on a little secret. "Take Me To Your Leader" is and probably will forever be my all-time favorite house track. When I fell in love with the genre last year, this was the track that sent me forward to explore all that there was to know about the Dirtybird family of talent. Hearing it played at Dirtybird East was one of the highlights of my time spent on the Forever Florida grounds and so when I learned that Justin Jay had remixed my beloved track, I was wildly interested!
Diving in deep, Justin Jay offers up a soulful groove yet keeps my body locked in as I explore the outer reaches of the universe with my alien friends in tow. With the tech-driven kick as my guide, I find myself hypnotized by the soft simmer that balances hard drive with melodic bubbles of easy-listening soundwaves. While nothing can ever truly touch the perfection of the original, the iconic Justin Jay has certainly lived up to the task: now a true and relevant member of the alien club!
"Rub a dub dub, three ravers in the club..who do you think they be?"….
Yet another one of my favorite house tracks of all time, Walker & Royce hit the nail on the head with the production of "Rub Anotha Dub"! With Green Velvet leading the vocal expressions, it is simply impossible not to lose yourself in the mayhem of sound emanating from our very own raver nursery rhyme. Enter in leading lady J. Phlip and "Rub Anotha Dub" transforms for the acid house lovers among us. Wildly different from the original yet surprisingly perfect in every way, this one hits me deep in my rave feels. As the perfect auditory backdrop for a glove show or poi session, I can't wait to hear this one unleashed on the dance floor as I get swept away by both light, color, and sound!
Now a remix album would not be complete without a little love from the Self Help boys themselves! Walker & Royce jump back in the saddle to touch up "Role Models" and deliver it to the masses in its most festive form. Bring on the percussion and ethereal wonderment as the uplifting melody captures my heart and inspires me to get off of my couch and dance like nobody is watching! While the lyrics tell of a tale about getting lost in the bottle, I am going controversial on this one to say that this remix stakes claim to the throne as the most arousing and motivational pieces to the Self Help Remixes puzzle.
But wait! There's one more remix waiting for my nod of approval and on "Love & Marriage," Franklyn Watts takes me out with gusto and romantic flair! If I could rewind time and marry my husband again this would be the track that would welcome us into our reception. Yes, call me a dance music fanatic but there is no denying the emotional effect born from the electrified beats that we crave. Franklyn Watts holds true to the essence of love by paying respect to the original quirk as he injects a new flow of playful build and laser sharp synth detail. For all you lovers out there… this one's for you!
No matter what the hour, the mood you are in, or the company you keep, the Self Help Remixes offer the perfect soundscape to set your day on the right path!
They say that music is food for the soul and Walker & Royce are here to dish out your very own portion of auditory TLC to keep those pesky emotions on track. With Self Help still dominating the airwaves within tracklists all over the planet, it is the remixes that have upped the ante, filling us up with more joy, happiness, purpose, and contentment than we have ever known. As house music continues to ignite our endorphins, you can be assured that the Dirtybird family will always be here to guide us on a journey full of booty shaking thrills and fun!
Check out Walker & Royce and the Dirtybird family of beat makers at this years edition of Dirtybird Campout West! 
---
Walker & Royce – Self Help Remixes Tracklist:
"My Own Thang" featuring Sophiegrophy – John Tejada Remix
"My Own Thang" featuring Sophiegrophy- John Tejada Dub
"Can You Pass That?" featuring Mr. JPatt – Justin Martin & Ardalan Dub
"Take Me To Your Leader" featuring Dances With White Girls – Justin Jay Remix
"Rub Anotha Dub" featuring Green Velvet – J. Phlip Remix
"Role Models" featuring OnCue – Walker & Royce Empty Bottle Remix
"Love & Marriage" featuring Dances With White Girls – Franklyn Watts Remix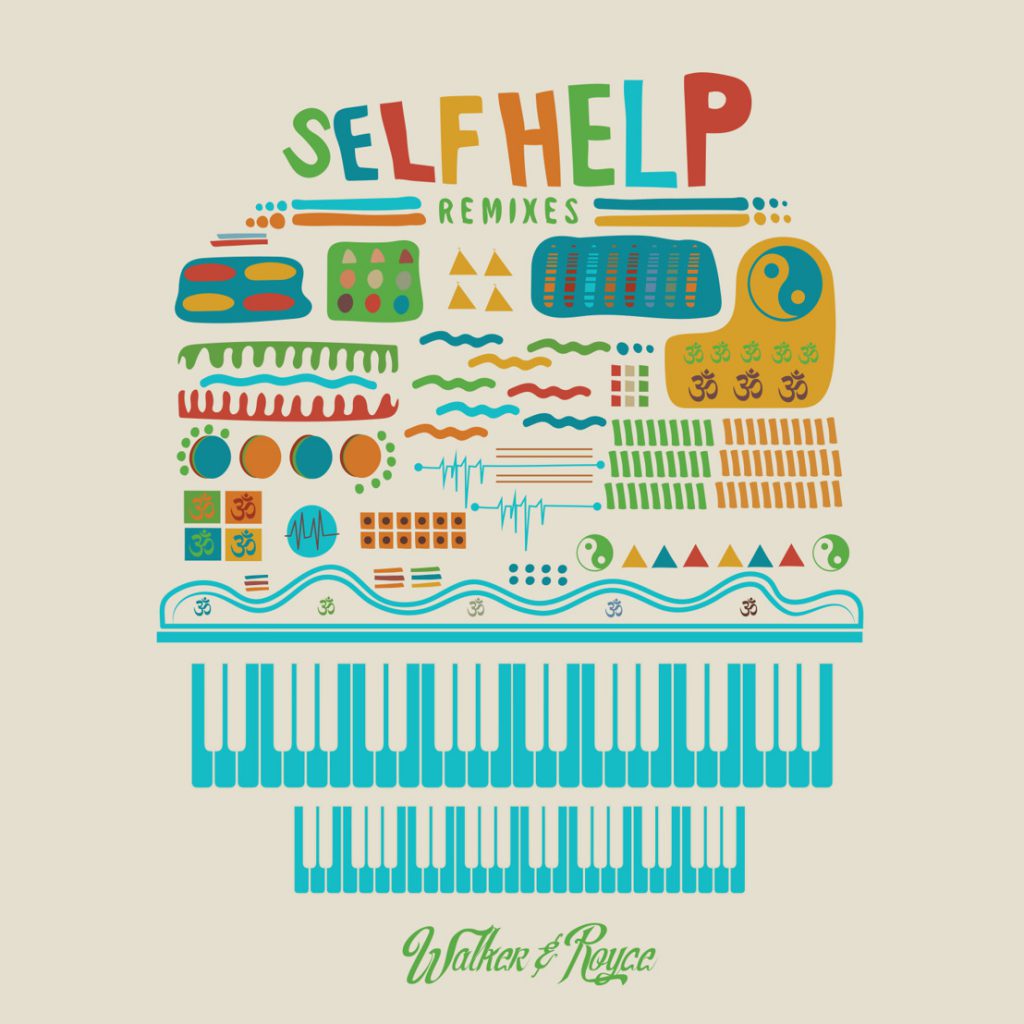 ---
Connect with Walker & Royce on Social Media:
Facebook | Twitter | Instagram | SoundCloud
Connect with Dirtybird on Social Media:
Website | Facebook | Twitter | Instagram | SoundCloud